Best Managed Forex Accounts – Find the Right Account For You
Fact Checked
Everything you read on our site is provided by expert writers who have many years of experience in the financial markets and have written for other top financial publications. Every piece of information here is fact-checked. We sometimes use affiliate links in our content, when clicking on those we might receive a commission - at no extra cost to you. By using this website you agree to our terms and conditions and privacy policy.
There are many different forex account types you can use to trade financial markets. For forex traders who are a little nervous or just like to be a bit less hands-on, brokers have created managed forex accounts.
In this guide, we look at what makes the best managed forex accounts, and how you can benefit from them. Read on to find out about the best forex managed accounts available.
Best Managed Forex Accounts List 2023
So let's start by looking at the forex brokers that offer the best managed forex accounts. Whether you are a money manager looking for a brokerage to run accounts through, or an investor looking to take advantage of the profit potential of experienced traders, these are the best forex managed accounts that you should consider:
eToro – A market leader in copy trading through CopyTrader and CopyPortfolios
AvaTrade – Managed accounts and AVA Social are strong tools
IC Markets – Strong on PAMM and MAM accounts with STP execution on bulk orders
Vantage FX – Flexibility through the PAMM account on MT4 and MT5
FXPro – A European broker with good accounts for money managers
Forex92 – A fund management firm offering investors professionally managed accounts
INFINOX – Zero cost to invest in managed accounts and rewards for managers on IX Social
Key To Markets – Huge choice of accounts from a specialist PAMM service for both investors and money managers
FXPrimus – Excellent visibility and choice of PAMM accounts for both Master and Follower
FP Markets – ECN execution and low commission for money managers help to keep costs down

eToro – Forex
Visit Site
CFDs are complex instruments and come with a high risk of losing money rapidly due to leverage. 74% of retail investor accounts lose money when trading CFDs with this provider. You should consider whether you understand how CFDs work and whether you can afford to take the high risk of losing your money....
Additional characteristics
Top 10 Forex Managed Accounts Reviewed
1. eToro – A Market Leader in Copy Trading via CopyTrader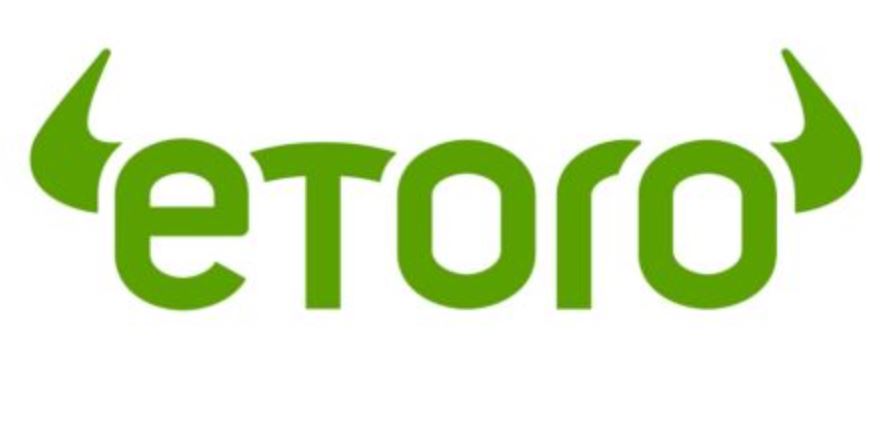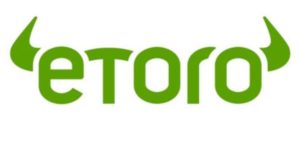 eToro is one of the leading lights when looking for the best forex managed account. eToro has an excellent trading platform that is one of the most users around, and the CopyTrader function is one of the huge benefits of trading with eToro. Copy trading is a form of portfolio management that allows a trader to follow and copy a trader's positions straight into their portfolio.
With the size of the eToro client base, there is an impressive selection of traders to copy and all at zero cost to the investor. Full stats and great information on the traders' track records, make eToro one of the leaders of the bunch. eToro is regulated in Europe by the CySEC (Cyprus) and the FCA (UK).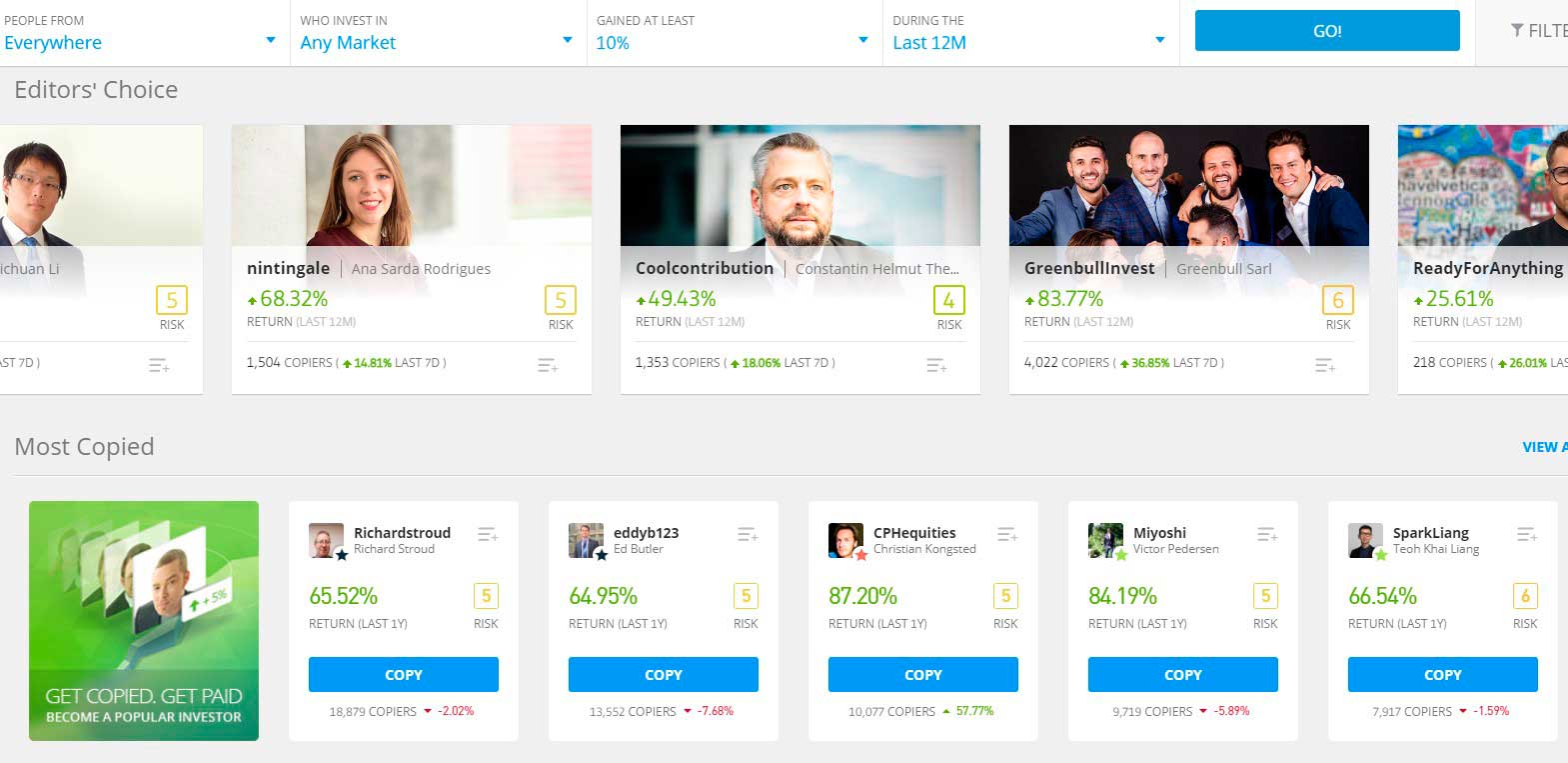 Past performance is not an indication of future results
There is also the next step up in eToro's copy trading service with the CopyPortfolio function. Top Trader Portfolios comprise the best performing and sustainable traders on the platform. Market Portfolios are also available across various asset classes. Each CopyPortfolio performance is assessed and managed by eToro's investment committee.

Pros:
Zero costs for investors following other traders.
An impressive and extremely user-friendly platform that is ideal for copy trading.
An excellent selection of traders to choose from on CopyTrader
Minimize risk further with CopyPortfolios
Huge selection of financial instruments to chose from on the platform
Strong regulation
Cons:
Some traders may find analysis tools slightly limited within the charting
Your capital is at risk.
2. AvaTrade – Managed Accounts and AVA Social Are Strong Tools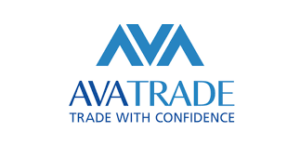 For money managers looking to trade for their clients, the MAM account through AvaTrade should be considered. The MT4 MAM terminal gives strong account service and functionality to the money manager looking to trade block trades for client sub-accounts.
Account managers can trade using EAs (Expert Advisors), can set up sub-groups for different strategies, and have the flexibility for different commission structures.
There is great liquidity, reliable execution and the spreads are competitive.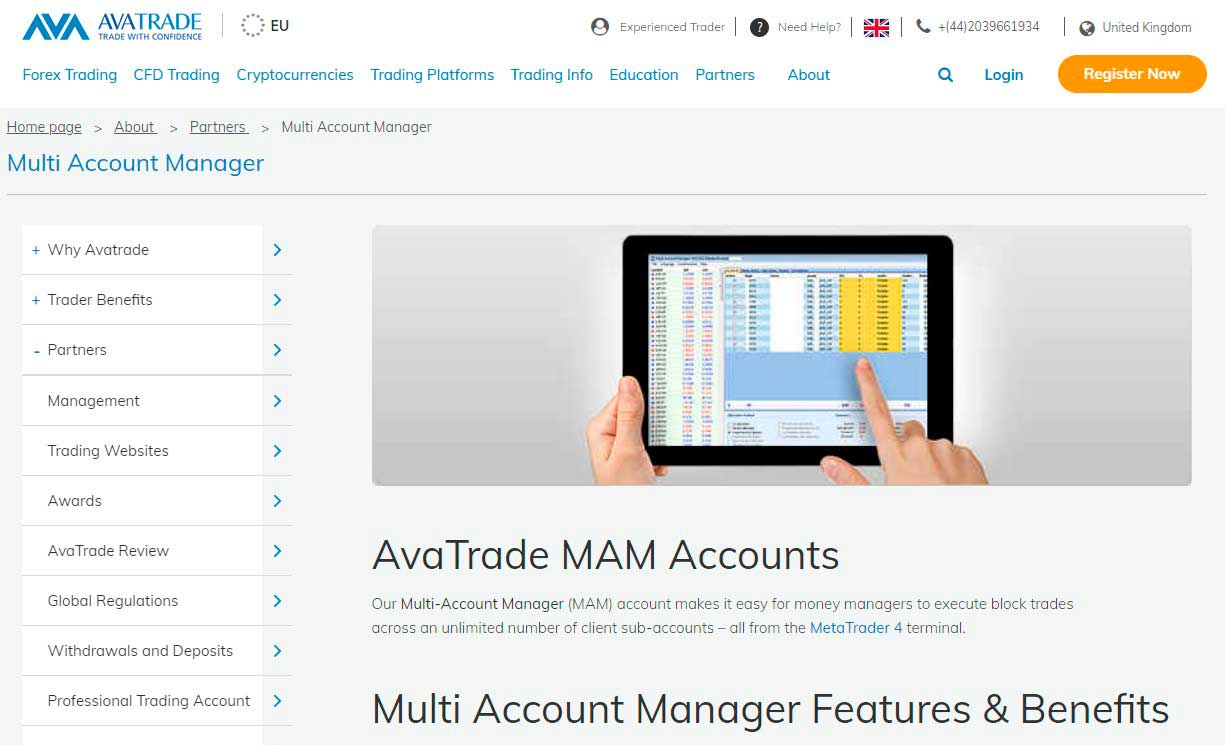 Pros:
Multiple account types available including balance, LAM, PAMM and equity
Multi-language trading platforms cater for traders across the world
A dedicated IB manager
Strong regulation across multiple jurisdictions
Cons:
Inactivity fees of $50 USD per quarter kick in after just three months
Your capital is at risk.
3. IC Markets – Strong on PAMM and MAM Accounts With STP Execution


IC Markets is another broker that money managers should look for managed accounts. With strong functionality for MAM and PAMM accounts via the MT4 platform, trades can be placed through Full, Mini, and Micro lot accounts.
Another feature of the service is the ability to add and remove funds without affecting the trading activity. This is important for the smooth management of client turnover. Furthermore, IC Markets executes the bulk order via Straight Through Processing (STP) which helps to improve trust and trading transparency but also helping to reduce pricing irregularities between the master and investors.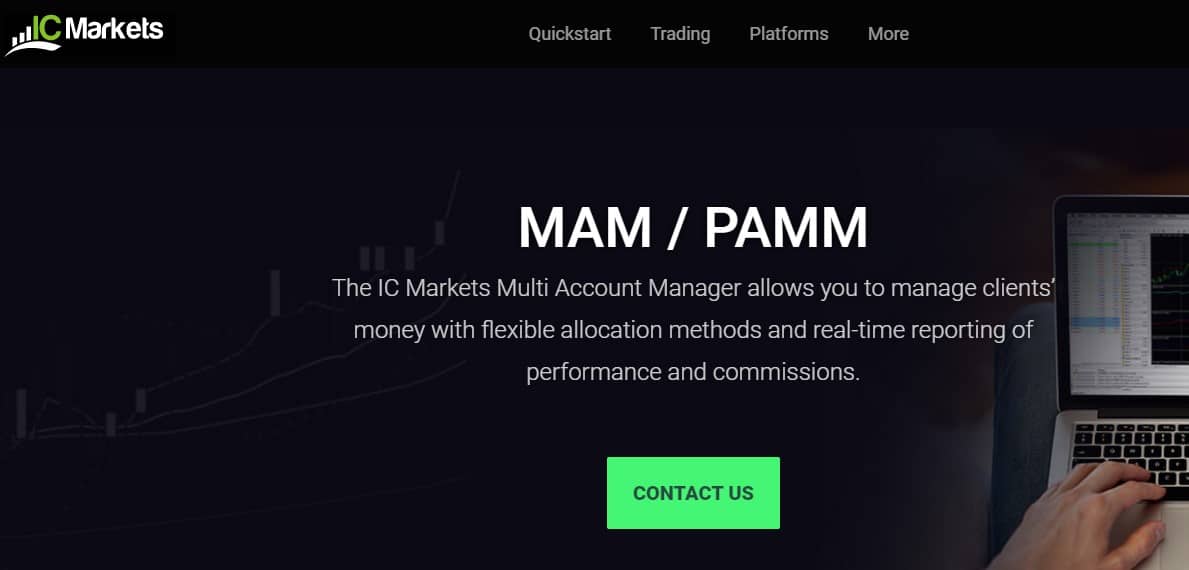 Pros:
Straight Through Processing execution on bulk orders for the master account.
PAMM, LAMM, MAM allocations with variations of each available.
Professional reporting analytics available for the money manager and their clients.
Cons:
Considerable administration for money managers to set up accounts
Your capital is at risk.
4. Vantage FX – Flexibility Through the PAMM Account on MT4 and MT5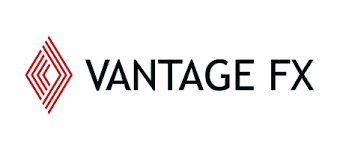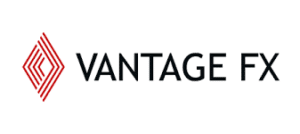 Some brokers partner with a third party to deliver managed accounts. This can enable an advanced service and the Vantage FX PAMM Account does just that.
The Vantage FX PAMM Account on MT4 and MT5 platforms allow a flexible performance fee structure, where investors can deposit and withdraw at any time. Using the PAMM structure of the managed account also means there are no rounding issues that can be faced by lot allocation, whilst also being able to have the equity allocation method.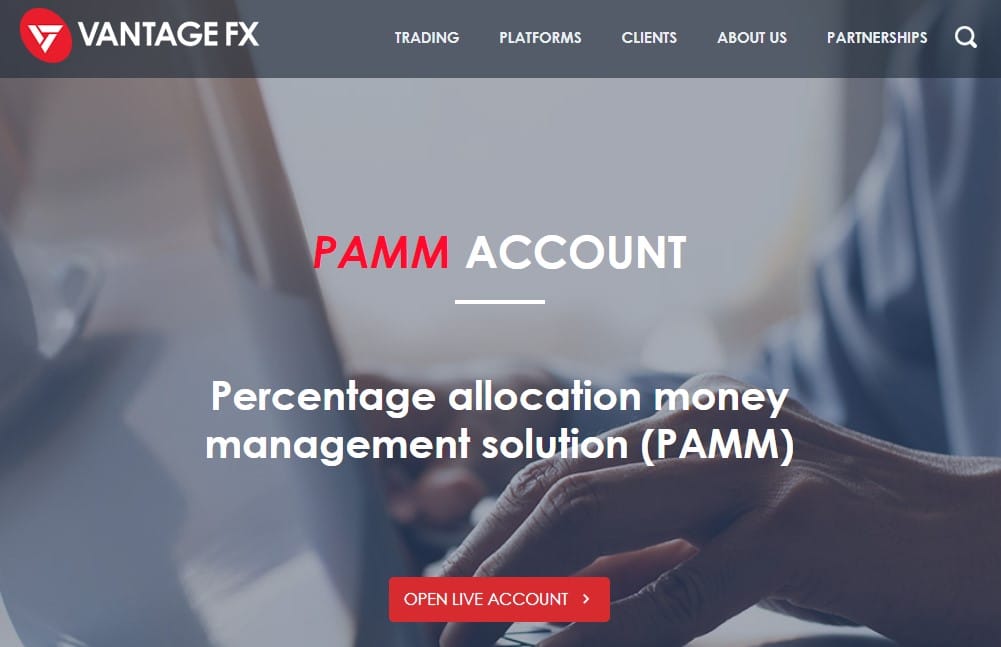 Pros:
A reward system for money manages through the "Innovative Agent" account
Tight spreads as low as zero on forex trading
Unlimited investors with equity allocation
Cons:
Just over 300 traded instruments is a relatively narrow selection
Minimum deposit of $200 for traders on Standard STP account
Your capital is at risk.
5. FXPro – European Broker With Good Accounts for Money Managers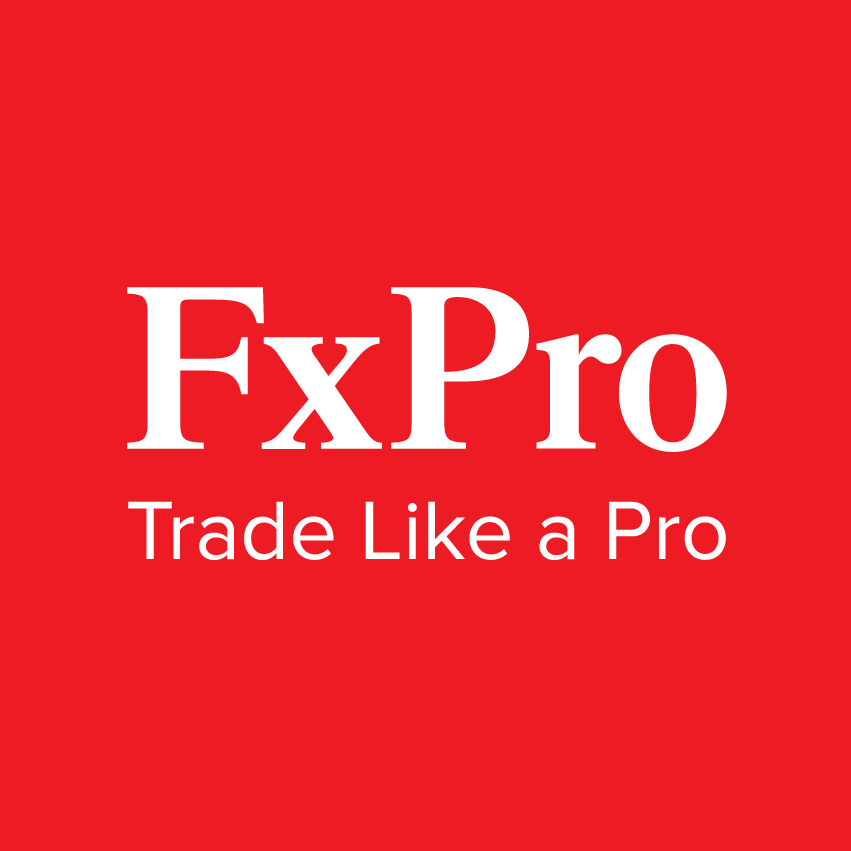 With both PAMM and LAMM accounts available, the managed accounts at FxPro give the money manager a lot of versatility in how they manage their account.
The ability to set fees and have a range of allocation methods available makes the FxPro MAM accounts a strong offering for master account managers. Allocation can be done via lots, equal risk, equity, percentage, and balance. This gives the money manager good flexibility.

Pros:
PAMM and LAMM accounts give money managers full control
Money managers can set their fees
Managers can earn rebates from FxPro
Cons:
Your capital is at risk.
6. Forex92 – Fund Management Firm Offering Managed Accounts

Forex92 makes it into the Top 10 forex managed accounts even though it is not a broker. When you are looking for a specialist in managed accounts, then Forex92 could be a consideration. Forex92 is not a broker but is a UK fund management firm that partners with regulated brokers such as BlackBull Markets and AVA Trade.
It works by the investor signing with a forex broker (they have a list of brokers they work with) and funding the account with a minimum of $10,000. Once your account is funded, then you will need to hand over your MT4 login details to the team at Forex92. For added security, signing a Limited Power of Attorney (LPOA) can also be done.
Forex92 then manages your account with a team of traders using disciplined fundamental and technical analysis skills.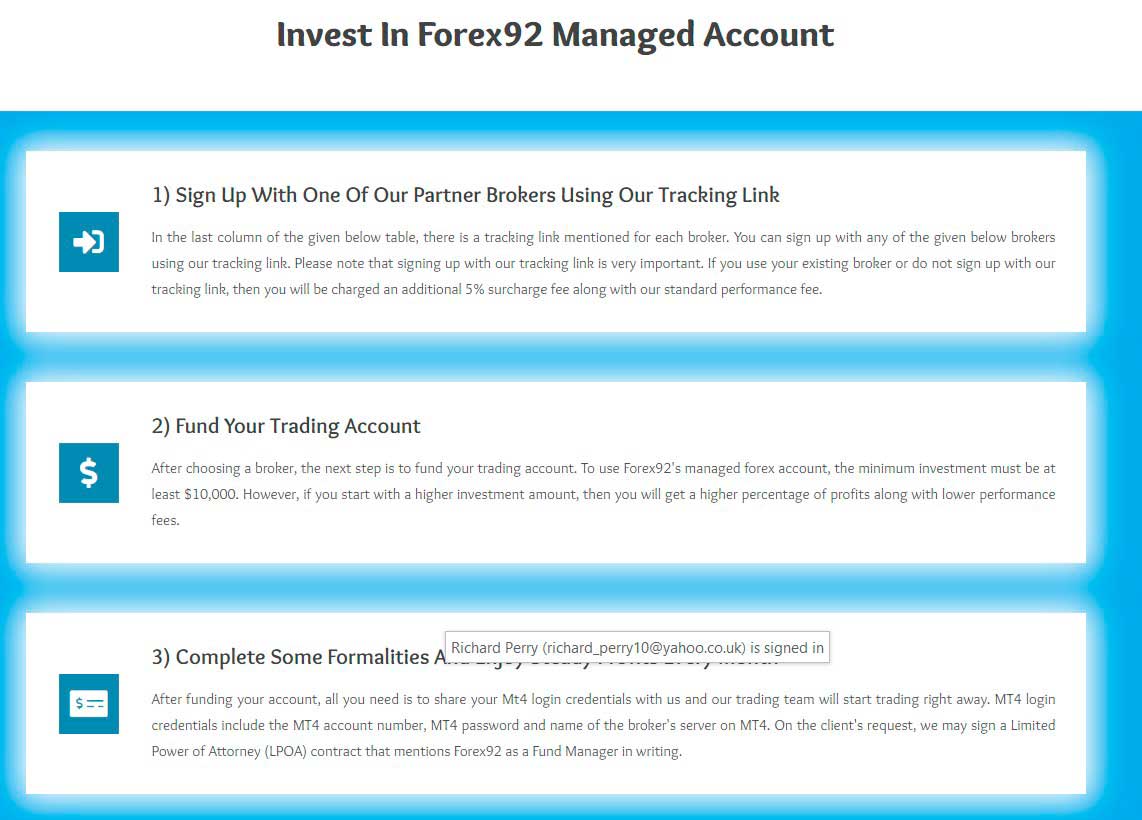 Pros:
A forex fund management company with dedicated professionals managing your account.
No automation to the trading, with accounts managed separately
A target of 1:2 Risk/Reward Ratio helps to increase profit potential.
Cons:
Minimum investment needs to be at least $10,000
An additional surcharge of 5% is added to fees if your chosen broker is not an affiliate.
Your capital is at risk.
7. INFINOX – Zero Cost to Investors and Rewards for Managers on IX Social

If you are looking to trade forex through a managed account with a social trading feel, then the IX Social account through INFINOX is a good option.
INFINOX looks at managed accounts differently from other brokers. The fees of using the PAMM account are zero for investors. This is because INFINOX instead pays the account manager directly.
There is a strong social fee to the account too as managers become influencers and earn rewards for each account that follows them. Financial instruments you can gain exposure to also include forex, CFDs, commodities, and crypto markets.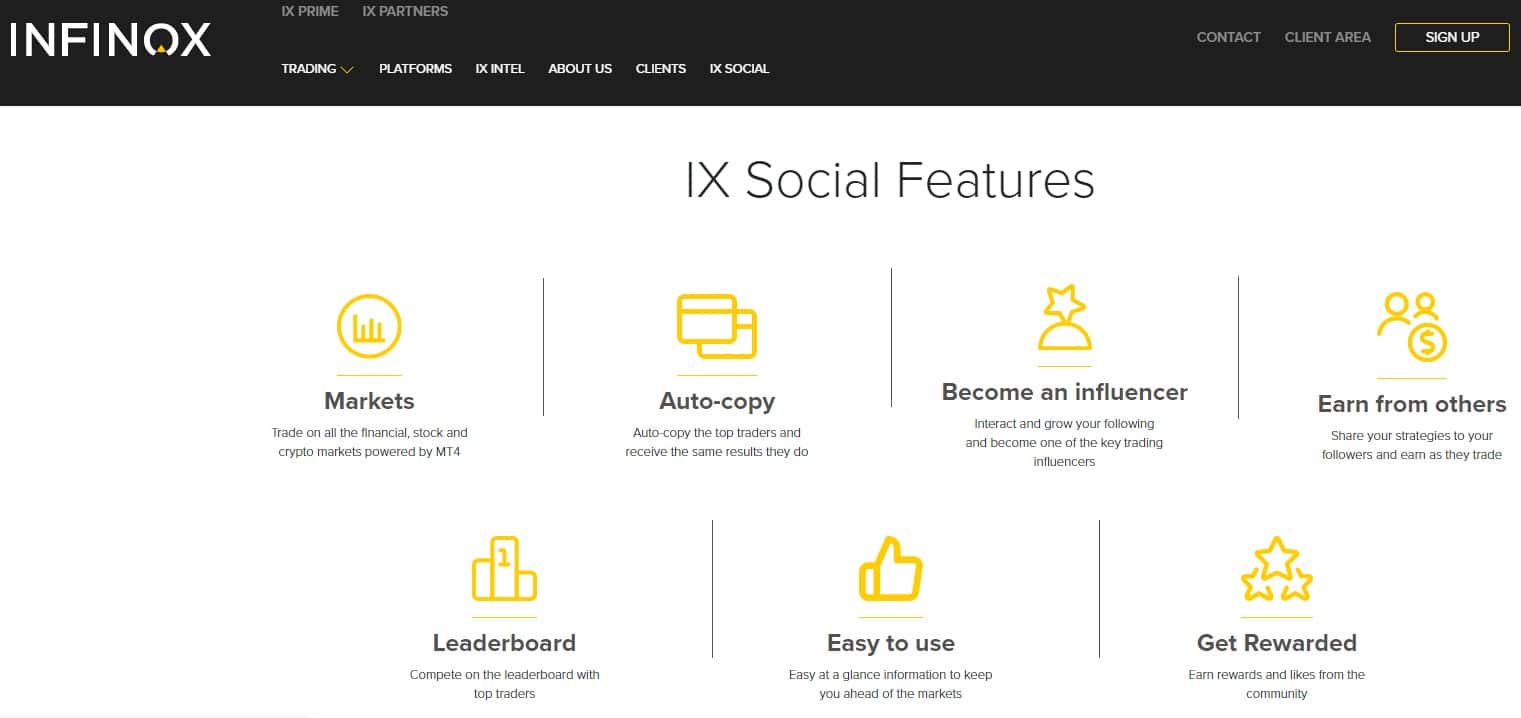 Pros:
Zero fees to traders on IX Social
MAM and PAMM accounts available
Rewards available for IX Social achievements help manager earn more auto-copy commissions
Cons:
IX Social is not available to UK investors
Your capital is at risk.
8. Key To Markets – Big Range of Accounts for Investors & Money Managers

If you are looking for a broker which is loud and proud of its forex managed accounts, then Key To Markets should be considered. The PAMM trading account for MT4 is prominent on their website and they have hundreds of trading accounts that can be followed.
For money managers, the fee structure is customizable with no additional costs. Also, the Social PAMM page is a good way to attract new followers.
For investors, the software calculates the Net Asset Value on an hourly basis, so joining accounts would not be allocated pre-existing losses. Also, access to funds can be important, so leaving the PAMM account is a quick process that can be handled in 1 business day and perhaps as quickly as a few hours.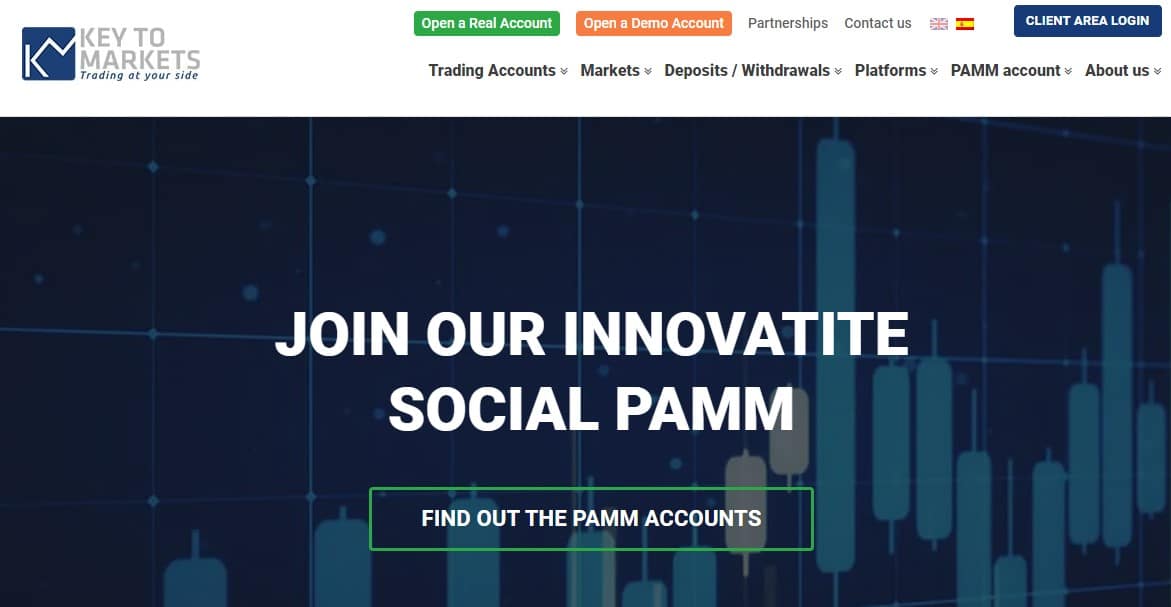 Pros:
Hundreds of managed accounts to follow
Good for account managers with a flexible fee structure.
The software calculates the "rollover" on an hourly basis and ensures all profits and losses are distributed fairly.
Investors have real-time reporting and a daily email statement of profits and losses
Cons:
A minimum account balance of $1000 is needed for investors to trade.
Your capital is at risk.
9. FXPRIMUS – Great Choice of PAMM Accounts for Both Master and Follower

When it comes to the ease of understanding what is need to become a Master (account manager) or a Follower (investor) then FXPRIMUS has a strong offering.
The website has a whole raft of information on the process of how to start trading with managed forex. They are strong and upfront on the information of the performance of their PAMM accounts and of all the accounts to follow.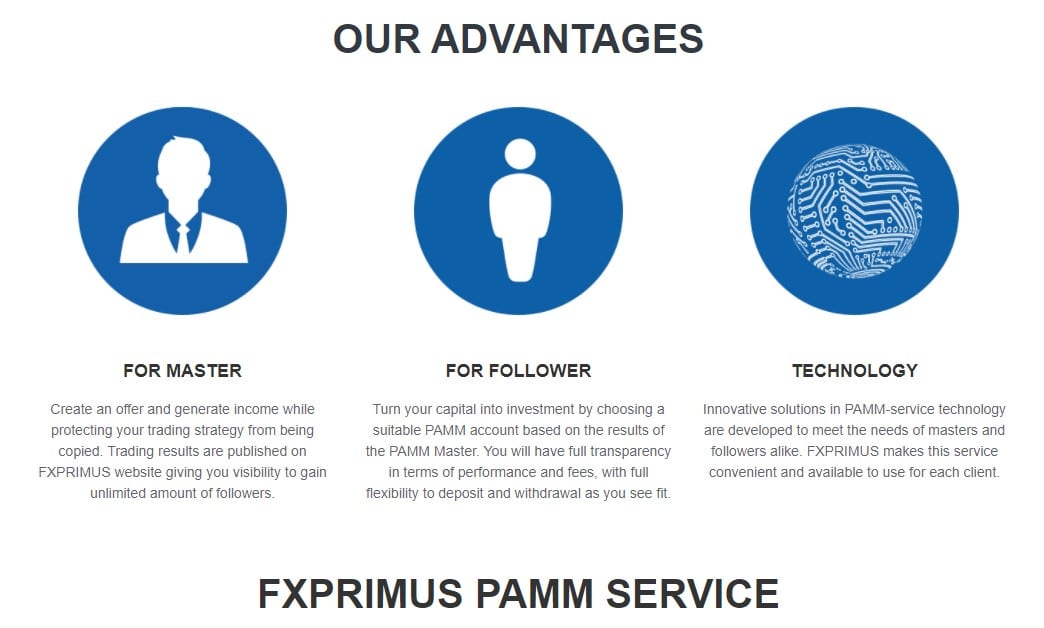 With FX Primus, the process works by managers setting up an "offer". The manager sets fees for the service, with a master commission in addition to a performance fee. Along with setting a "trading interval" (often one month) and minimum balance that investors need to have in the account, the manager can also stipulate whether an "early revocation" penalty is applied and how much this would be. If accepted, then trading can begin. Furthermore, though, the followers can also set out an offer of what they would like the master to charge. WIth FX Primus, trading through managed accounts is very much a two-way process.

Pros:
A very user-friendly PAMM account system for both master and followers
Strong on information for account set-up
Account managers and follower can negotiate on the fees
Cons:
Fee negotiation could be a negative for inexperienced investors with limited knowledge
Your capital is at risk.
10. FP Markets – ECN Execution and Low Commission for Money Managers

Last and by no means least on our Top 10 forex managed accounts is FP Markets. If pricing is an important factor for money managers then the MAM and PAMM accounts at FP Markets should be considered.
The trades on managed accounts at FP Markets are executed on an Electronic Communications Network (ECN) basis, meaning that large volume orders are met with deep liquidity and tight spreads. This also allows for strong execution whilst minimal slippage due to dedicated servers is also helpful for costs.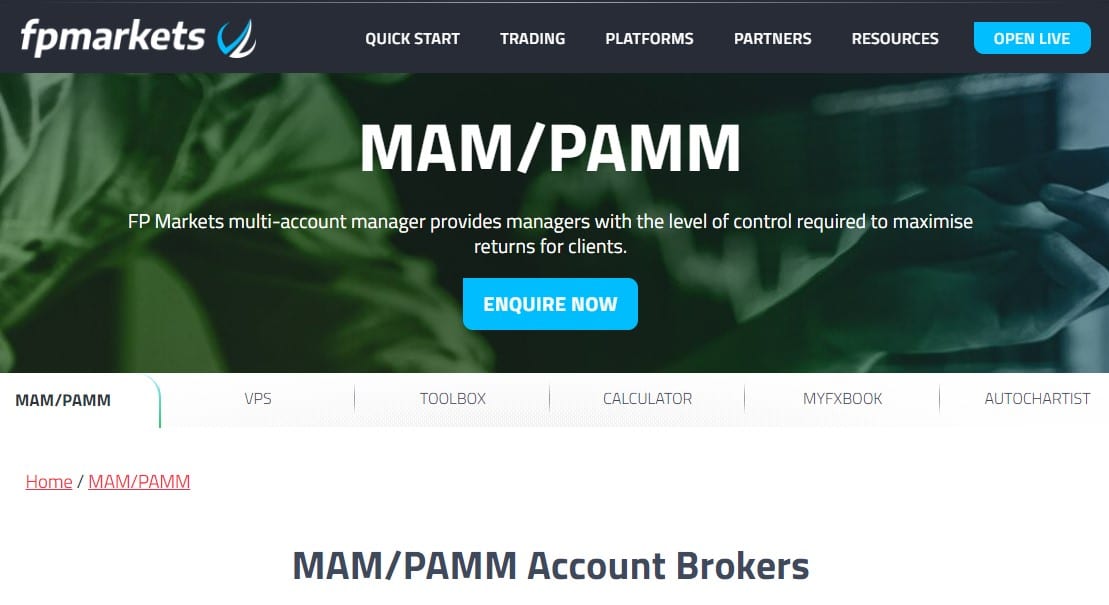 Pros:
ECN trading with deep liquidity and tight spreads
Low costs of trading through ECN on large volume orders
Minimal slippage due to dedicated servers
Over 10,000 financial instruments to trade
Cons:
Quite simply, it is hard to see any
Your capital is at risk.
Forex Managed Accounts Fees Comparison
As with much of what we have covered with the best managed forex accounts, there are two aspects to the structure of fees. The important question to answer, is how does an account manager get paid?
In attracting followers, the account manager can generate income in one of two ways:
The broker pays the money manager (usually monthly) depending upon how much volume is traded. They may also get additional payment depending on the number of followers they have.
The followers pay the money manager. Commissions and/or performance fees can be earned by the account manager, paid by their followers.
It means that how the broker sets up the structure of the system will have a direct impact on the trading fees for the followers. Subsequently, with some brokers, trading through a managed forex account can be free.
Some brokers have no fees for Brokers can pay the manager directly:
On eToro's CopyTrader platform the account manager is paid directly through eToro's "Popular Investor Program". The big benefit of this to the follower is that it means that there are "no management fees, no extra fees or hidden costs".
INFINOX's IX Social platform of MAM and PAMM managed forex accounts also structures its fees in this way. With no fees for the follower, the account manager gets paid an amount per month depending upon whether a trading volume threshold has been hit. On IX Social, account managers also earn a fee for every follower they can attract.
It is more common for the brokers to not pay the account manager. Some brokers leave it to the follower to pay the manager. Instead, the cost of the managed account falls on the follower. With the PAMM accounts through FXPRIMUS and Key To Markets, the follower will need to agree to commissions and fees based upon the trading results that are set by the money manager.
However, in most instances, there is a performance fee paid on profits. So, at least the investor only pays on winning performance. Dedicated forex fund management firms such as Forex92 also charge performance fees. Depending upon the account and how much the investment is, performance fees can be between 20% to 30% of total monthly profits.
What is a Managed Forex Account?
Trading the forex market successfully can be difficult, especially for novices or traders who lack the time to make a serious commitment. MT4 brokers, MT5 brokers, and also brokers with proprietary platforms offer managed forex accounts. The difference is that with managed forex trading, the account management of the investor's money can be passed over to an experienced trader. The investor can then take advantage of the trading strategy of the more experienced trader.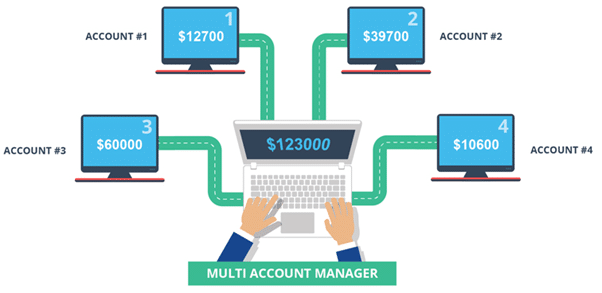 Investors can decide on who the money manager is, how much of their account they manage, and the level of risk being deployed. Although the investor gives up the power of attorney to run their money, this can be withdrawn at any time.
So there are two different sides to managed forex accounts:
Firstly, the account manager (sometimes referred to as the master). These will usually be experienced traders who are looking to make a commission from trading financial instruments for other people.
Secondly, the account follower. These are investors looking for a more passive form of trading forex. Investors choose a manager to trade their money, signing over the power of attorney of some (or all) of their trading account for someone else to manage.
The three different models of managed accounts:
LAMM (Lot Allocation Management Module) – This is where the investor decides upon the leverage (through choosing the number of lots that can be traded). The manager can then allocate different leverage across the accounts that are following them. This is effectively a form of copy trading.
PAMM (Percentage Allocation Management Module) – this is where the distribution of the fund's performance (gains and losses) and fees are done on an equal percentage basis. PAMM accounts are the most popular choice of managed accounts.
MAM (Multi-Account Manager) – is a combination of the LAMM and PAMM models. This allows the investor improved flexibility and control over their account in the fund.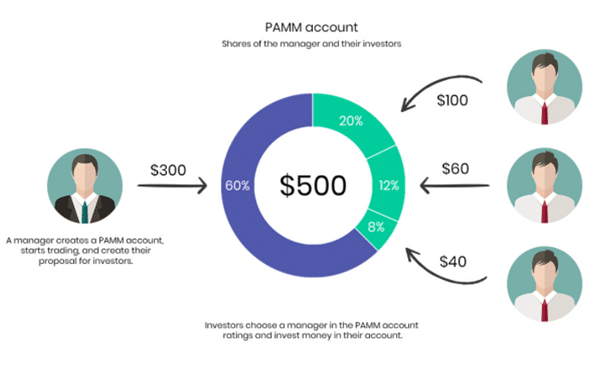 How to Choose a Managed Account?
Masters will create their accounts and "offers" to encourage other traders to follow them. The broker will showcase the selection of accounts on offer for investors to follow. Investors can then choose the account that best suits their specifications.
So what are the factors to consider? How do you decide which managed account or money manager should manage your trading account?
Fund performance – check out the stats on the track record of the fund. Ideally, you would be looking for consistent overall profitability
Fees – performance fees are often charged and tend to vary between 20 to 30% of the net profits generated. Fund fees may also vary depending upon the minimum account balance.
Maximum drawdown – all traders get it wrong occasionally, but it would be good to choose a forex account manager that has a relatively low level of maximum drawdown (the worst the fund has performed before a recovery).
The trading activity of the manager. How often do they trade? Perhaps they are a scalper or intraday trader or maybe trade far less frequently.
The level of volatility on returns could be a deciding factor.
Even the level of minimum deposit may also play a role in your decision, the level of activity in which the trades are undertaken
The best combination for your choice of an account manager would probably be one with good, consistent performance, low fees and a record of minimal maximum drawdown.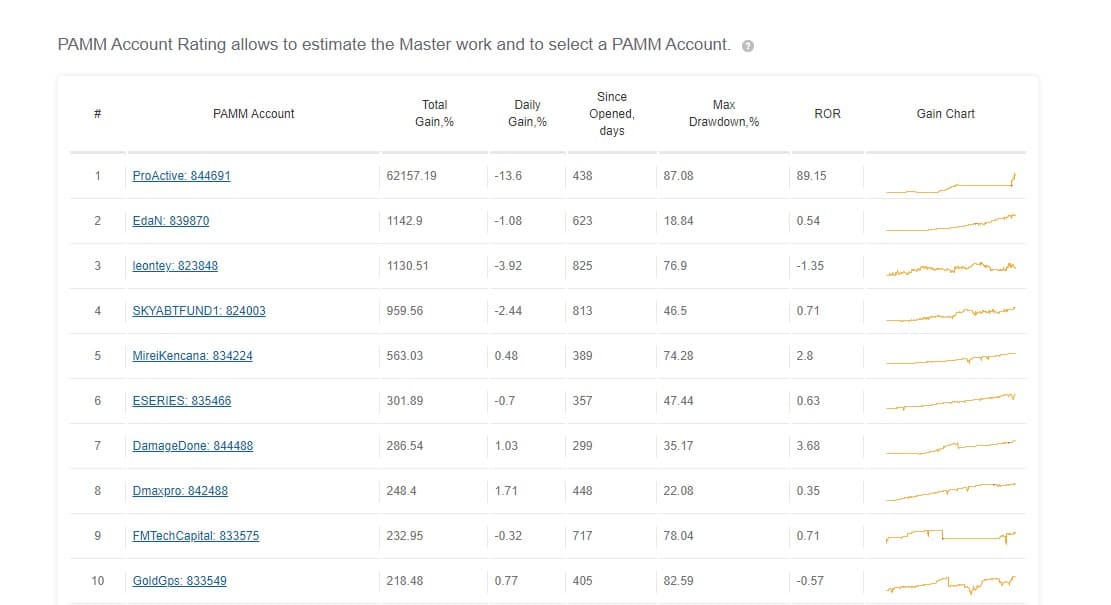 Benefits of Forex Managed Accounts
There can be considerable benefits of trading via a managed forex account. Again it depends upon whether you are an account manager or an investor looking to follow.
For the money manager, the benefits are that they can earn commission on their trading. The system can also help to develop a track record if they are looking to become a professional trader.
However, for the investors who use the system to follow other traders, it seems as though the benefits can be more wide-reaching.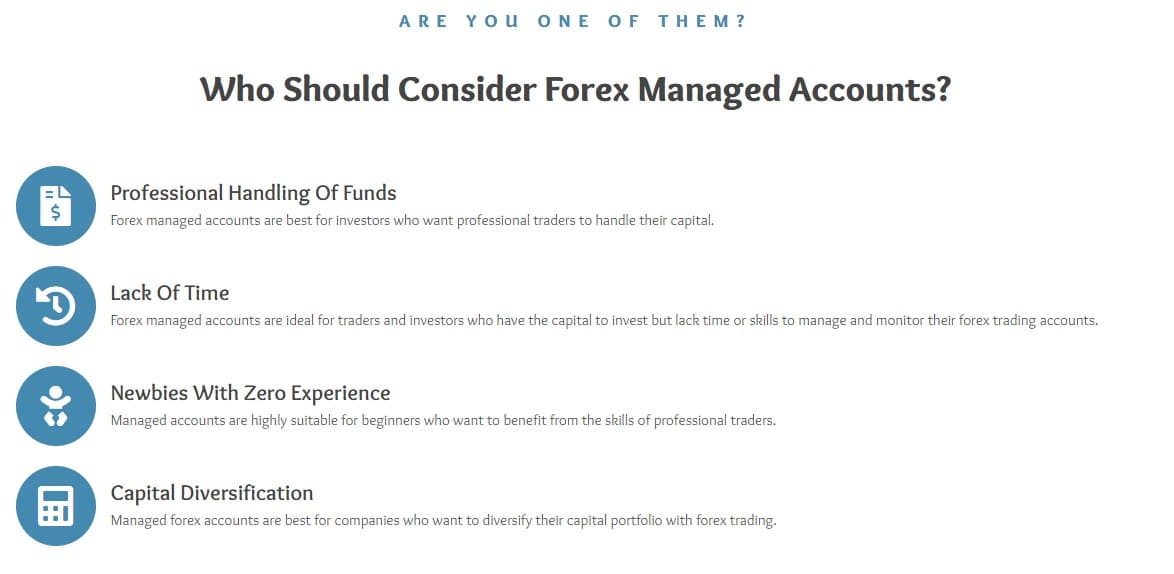 Followers can take advantage of the trading strategy and knowledge of an experienced or professional trader. This is especially helpful for beginner traders who are new to the game and are nervous about making mistakes. The knowledge of what to trade and when to trade it can take years to master. In following someone else, beginner traders can tap into this quickly.
By using the best forex managed accounts, followers can also gain exposure to more financial instruments and greater leverage than they might not be able to trade with as a beginner. This can also help to improve diversification to a trading account.
Although followers give the power of attorney of their trading over to another person, the best managed forex accounts will also enable quick access to withdraw money. The power of attorney can be withdrawn at any time, giving them added control over their funds.

Pros:
Trading via managed account helps to ease beginner traders into the world of forex trading.
It frees up the investor so that they do not have to look at their account all the time.
You can monitor your positions and change exposure levels.
You are in control of your account and can withdraw whenever you like.
It is a good way to improve the diversification of your account.
The manager can have access to higher leverage than perhaps retail clients could gain exposure to, so there is potential for higher returns (but also higher risk too).
Cons:
Choosing the right manager can be a difficult task
Can you guarantee that a manager will take as good care of your money that you will?
Traders do not learn how to trade forex
How to Create a Managed Forex Account on eToro
To start trading with CopyTrader, firstly you will need to sign up for an account with eToro. This begins by you providing personal detail such as your name, address, National Insurance details.
You will then need to answer several questions about your level of experience:
What have you traded in the past?
What is your level of professional experience?
You will also be asked about your experience of trading leveraged products.
As an extension to your experience, you will be asked to prove your understanding of leverage as you will also be required to take a test of your understanding of derivatives.
Then you will be asked about the financial instruments that you intend to invest in and what your trading strategy is and then your purpose for trading.
67% of retail investor accounts lose money when trading CFDs with this provider. You should consider whether you can afford to take the high risk of losing your money.
Next, you will be asked about your trading intentions. How much do you intend to deposit into the eToro trading account over the course of a year? You will also be asked about your intended attitude towards risk and reward.
Then, it is on to a few more personal questions involving whether any of your family members are connected with the industry. Finally, eToro wants to know about your sources of income for the account, your net annual salary, and what your level of savings is.
At that point, you then need to await verification by the team at eToro and then provide proof of your identification.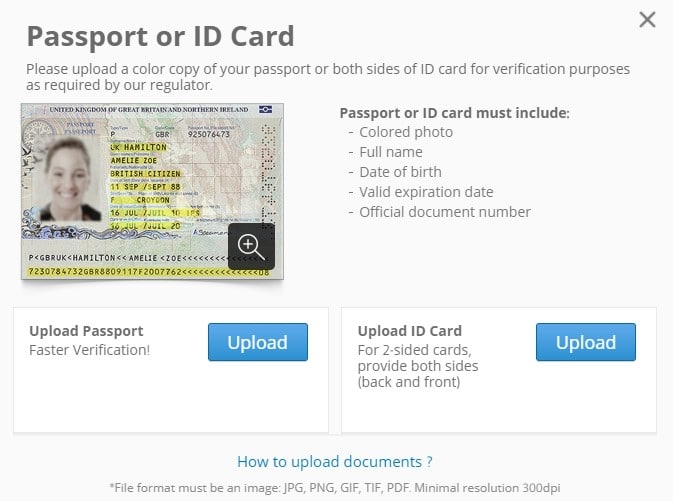 Hopefully, you'll now be cleared to start trading.
Conclusion
When it comes to looking for the best forex managed accounts, then there are a few different ways of doing it. The Trading Platforms list of the Best Managed Forex Accounts provides comprehensive options for Money managers looking for MAM and PAMM trading accounts and Investors looking for a way to passively trade the forex market.
For money managers looking for accounts, there is a strong selection, with FP Markets, AvaTrade, IC Markets, Vantage FX, and FXPro all with strong offerings.
For investors looking for managed accounts at zero cost, INFINOX does well for trading managed forex across their MAM and PAMM accounts.
However, for investors looking for strong copy trading with zero costs, it is hard to ignore eToro with its market-leading CopyTrader and CopyPortfolios.
At Trading Platforms, our view is that eToro is the best way to trade managed accounts. With a huge range of traders to follow on CopyTrader and CopyPortfolio, there is a great choice of platform for investors at zero cost.
We hope that we have helped you with your choice. Good luck with your trading!
eToro – Best Managed Forex Accounts Platform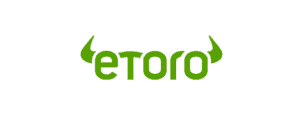 67% of retail investor accounts lose money when trading CFDs with this provider. You should consider whether you can afford to take the high risk of losing your money.
FAQs
Do you have to pay to trade through a managed forex account?
How quickly can I withdraw my money from a managed account?
Will I know what the manager is trading?
Are managed trading accounts good for beginners?
What happens to my money if the broker goes bust?
Can I trust someone else managing my money for me?