How To Buy Bitcoin BSC (BTCBSC) in 2023 – Beginner's Guide
Fact Checked
Everything you read on our site is provided by expert writers who have many years of experience in the financial markets and have written for other top financial publications. Every piece of information here is fact-checked. We sometimes use affiliate links in our content, when clicking on those we might receive a commission - at no extra cost to you. By using this website you agree to our terms and conditions and privacy policy.
The best way to maximize profits from a new crypto project is to invest during the presale. In this article, we will discuss how to buy Bitcoin BSC (BTCBSC) in the ongoing presale event. Bitcoin BSC is the latest bitcoin-inspired crypto to make waves in the crypto space and investors should be quick to buy before the presale runs out.
Like all crypto presales, it is important to exercise caution when investing in Bitcoin BSC. Our in-depth buying guide will cover each step of the process so that you can invest with confidence.
Your Money is at Risk. 
How To Buy Bitcoin BSC on Presale – Simple Steps
The following is a brief overview of how to buy BTCBSC during the presale. Read our full Bitcoin BSC buying guide below for more detailed instructions.
Step 1 – Download crypto wallet: The Bitcoin BSC Presale website requires a crypto wallet like MetaMask or Trust Wallet.
Step 2 – Fund Wallet: To buy BTCBSC, you will need BNB, ETH, or USDT in your wallet. We recommend using BNB because it offers low network fees and fast transactions.
Step 3 – Connect wallet to presale: Navigate to the official BTCSC presale website and click the 'Connect Wallet' button.
Step 4 – Invest in BTCBSC: Enter the amount of BTCBSC that you would like to buy and confirm that transaction.
Step 5 – Stake BTCBSC: If you prefer, you can choose to 'Buy and Stake' and lock your tokens into a staking pool to generate rewards before locking the tokens into the pool.
Your Money is at Risk. 
What Is Bitcoin BSC?
Bitcoin BSC is a BEP-20 version of Bitcoin that is based on the Binance Smart Chain. The project allows crypto investors to purchase a bitcoin-based token at the price of $0.99 – the same price that the original BTC was launched at in 2011. In this sense, it is a new cryptocurrency that offers you the opportunity to invest in a crypto asset that has the potential to be as successful as Bitcoin. In spite of the similarities between Bitcoin and Bitcoin BSC, the two are unrelated. The original Bitcoin crypto is a Proof-of-Work cryptocurrency, whereas the new Bitcoin BSC is a Proof-of-Stake cryptocurrency.
When Bitcoin's price reached $0.99 in 2011, it was still considered a niche investment, drawing only a small number of enthusiasts. Bitcoin reigns supreme among cryptocurrencies, with a price that has skyrocketed. The price of 1 BTC at the time of writing is $25,735. Early Bitcoin investors have made millions since 2011, when the price was $0.99. Bitcoin BSC holders have the same chance now: the price is forecast to soar before long.
BTCBSC tokenomics
Tokenomics plays a pivotal role in any reputable presale. Here's an overview of the BTCBSC tokenomics that set it apart from other investment opportunities.
The Bitcoin BSC presale consists of two phases, with the first being the soft cap. The soft cap represents the minimum amount the team must raise to successfully complete the project under favorable conditions. With a token price of $0.99, this soft cap has a total fundraising target of $3.96 million.
Once the soft cap is reached, the public will have the opportunity to acquire an additional 2.125 million tokens during the hard cap phase. Any unsold tokens from this phase will be incorporated into the Bitcoin BSC staking contract. In total, there will be 21 million tokens available.
The remaining 14.875 million tokens will be added to the staking contract either upon reaching or closing the hard cap. To establish a sufficient liquidity reserve, 2% of the presale token supply will be pre-mined.
| | | |
| --- | --- | --- |
| | % Allocation | Number of Tokens |
| Presale | 29% | 6 125 000 |
| Bitcoin BSC | 69% | 14 455 000 |
| DEX Liquidity (Pre-mined) | 2% | 420 000 |
Bitcoin BSC Staking
To outperform other Bitcoin clones, Bitcoin BSC relies on staking as a key feature.
BTC2.0's recent performance, which should not be confused with BTC20's, hasn't been encouraging, while BTC20 shows consistent stability. One of the biggest reasons that BTC20 has remained stable is the project's staking mechanism, which ensures that investors hold tokens long term instead of selling them after the presale. 
To ensure stable price growth, Bitcoin BSC follows a similar strategy as BTC20. The project will support token staking and will offer a high APY to the earliest adopters. The APY % will decrease as more people stake their BTCBSC tokens for passive rewards.
Bitcoin BSC and BTC20 have many similarities but also several differences. BTCBSC is a BEP-20 token on the BNB Smart Chain, while BTC20 adheres to the Ethereum ERC-20 standard.
Crypto staking has grown in popularity in the DeFi space, but setbacks in certain ecosystems, such as Terra Luna, have dampened enthusiasm. Despite this, transparent stakes with clearly defined yields continue to be popular.
The $BTCBSC token provides a 120-year yield spread in alignment with Bitcoin's block schedule, using the BNB Smart Chain. In addition, 69% of BTCBSC tokens are reserved for rewards.
Holders earn profits according to how many tokens they stake and how long they commit to holding them. This feature stabilizes the token's price and generates returns for users.
It is already possible to stake Bitcoin BSC before it was listed on PancakeSwap. A dedicated dashboard on the Bitcoin BSC website provides information regarding stakers.
BNB smart chain technology
By its name, Bitcoin BSC is a cryptocurrency based on the Binance Smart Chain (BSC) Blockchain. Bitcoin BSC is the first bitcoin clone to be built on this network. Keep in mind that Bitcoin derivatives are cryptocurrencies that mimic the behavior of Bitcoin in some way. $BTCBSC's developers wanted to give the same tokenomics as BTC with the advantages of PoS.
The Binance Smart Chain technology adds another advantage to this project because the Binance Chain offers low fees and fast transaction speeds. It is also compatible with ERC-20 standard applications such as MetaMask.
The Bitcoin BSC Presale
Many investors consider Bitcoin BSC among the best cryptocurrency presales to invest in today. Participating in the $BTCBSC presale is the only way to invest in Bitcoin BSC at a price of $0.99. After the presale, the price of the token is expected to rise considerably.
How many stages does the Bitcoin BSC presale have?
Through only one round, BTCBSC tokens will be available for $0.99 in the presale, making 4 million tokens available with a hard cap of $3,960,000.
An additional $2,103,750 will be raised if the presale performs exceptionally well and demand remains high. It represents 29% of the total supply, with any unsold tokens being added to the staking pool.
As part of the pre-sale, an additional 420,000 tokens were reserved for liquidity on decentralized exchanges after the token is listed.
In imitation of Bitcoin's life cycle, the remaining tokens – 14.455 million or 69% of supply – will be staking pooled over 120 years.
Where will BTCBSC be listed after the presale?
It is proposed that Bitcoin BSC will be available on BNB Smartchain DEX in the fourth quarter of 2023. Users can conduct smooth transactions by using 2% of the total coin supply as liquidity on the exchange.
Token holders can lock up their tokens for daily rewards after the project launches its full staking feature.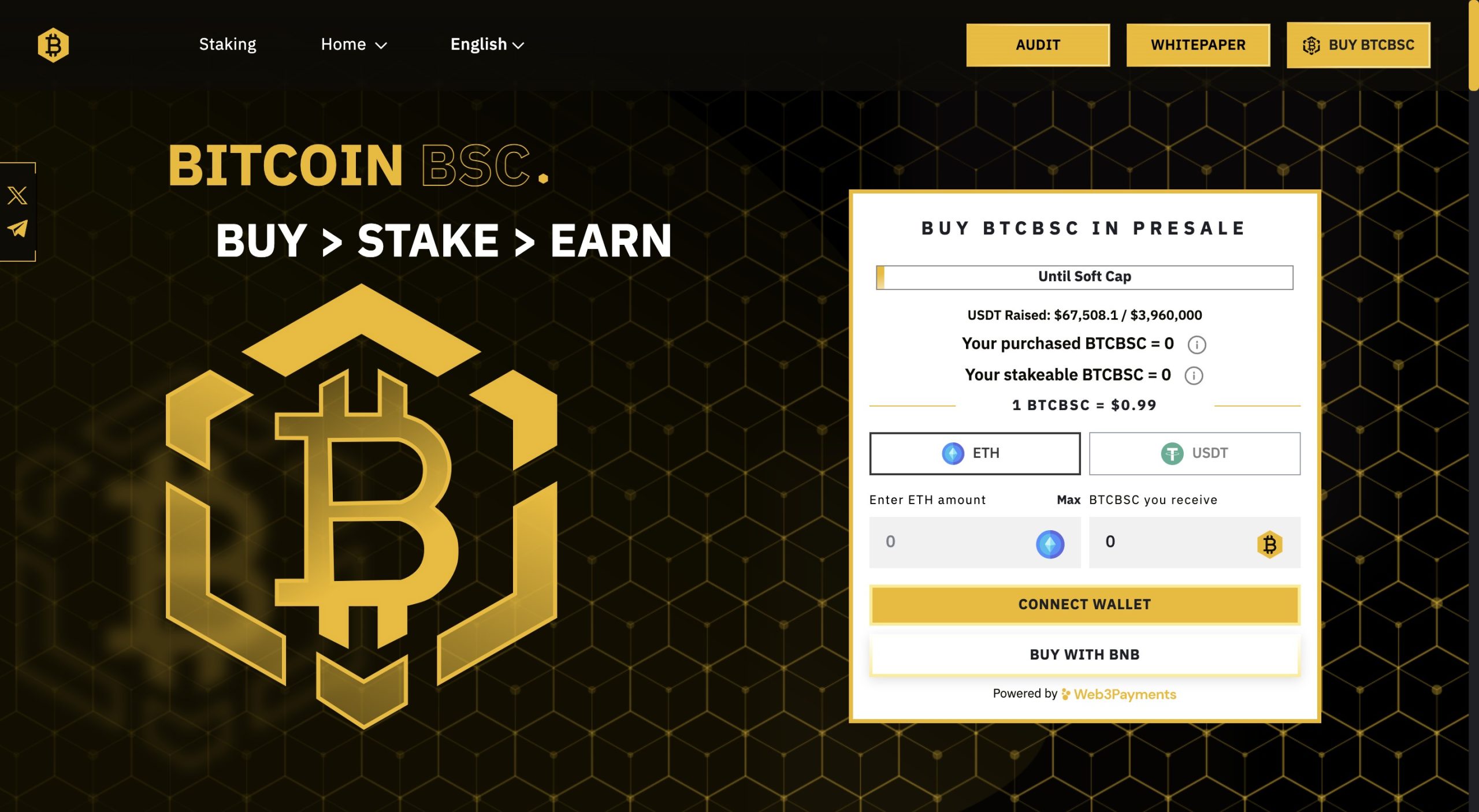 What will the price of BTCBSC be by the end of the presale?
Even though Bitcoin BSC has just been launched, the crypto community has already shown considerable interest. Due to their staking rewards, scalability, and efficiency, BEP-20 tokens are gaining popularity among investors and analysts.
Prospects for the future appear promising based on the pre-sale activity.
The project is expected to perform similarly to BTC20, another Bitcoin clone which sold out its presale within two weeks before surging from $1 to almost $6 after being listed on exchanges. As a result of the attractive stake rewards offered by the project, many investors held on to the project for an extended period. As a result, BTC20's price stabilized around $2.
Due to its substantial staking rewards and overall potential, Bitcoin BSC could follow a similar trajectory as a Bitcoin clone. After the initial wave of purchases, we expect the price of Bitcoin BSC to rise even higher, reaching $4 by the end of the year.
What tokens can be swapped for Bitcoin BSC?
It is possible to buy BTCBSC with BNB, ETH and USDT. Choose crypto that provides the lowest fees to maximize your returns. To cover the gas fees, you should ensure that you have sufficient cryptocurrency in your wallet. It is impossible to purchase Bitcoin BSC for 0.7 ETH, for example, if your wallet contains only 0.7 ETH.
It is recommended that you budget an additional 0.015 ETH for transaction fees. To complete the transaction, click 'Buy Now' if the purchase information meets your requirements. Whether you use USDT or BNB, the process is essentially the same.
Your Money is at Risk. 
Pros and Cons of Buying Bitcoin BSC in 2023
During the initial research phase, it is good to understand the advantages and disadvantages of an upcoming ICO. Before investing in Bitcoin BSC this year, here are some pros and cons.
What we like
Upon listing, its price may surge over five times your investment, as with Bitcoin BSC.
With this Bitcoin derivative, transactions are cheaper, faster, and greener.
The $BTCBSC presale is still on, with the lowest price yet for the tokens.
As a result of generous staking rewards, it provides passive income.
What we don't like
There is always a risk associated with buying a cryptocurrency during its presale since the price may not skyrocket.
There is no known utility for Bitcoin BSC at the moment.
How To Buy Bitcoin BSC in August 2023 – Complete Guide
Although Bitcoin is no longer available at a price of less than $1, BTCBSC offers investors an alternative similar to Bitcoin but offers several distinct advantages.
Following these six steps makes buying and staking Bitcoin BSC easy during the presale:
Step 1: Buy ETH or USDT from eToro
You can buy Ethereum or BNB on eToro. Trading on the crypto trading platform is seamless, and fees are low.  You can register for eToro via the website or mobile app if you haven't already. eToro's registration process is remarkably simple.
You can use the eToro app or your eToro account to purchase ETH. Search for Ethereum on the website using the search box.
ETH can be purchased by choosing a payment method and entering the amount. There is also an option to accept other altcoins, bank transfers, and credit and debit cards. ETH will appear in your eToro account within a few minutes.
Cryptoasset investing is highly volatile and unregulated in some EU countries. No consumer protection. Tax on profits may apply.
Step 2: Move crypto tokens from eToro to MetaMask
The next step is to transfer the etheruem from your trading account to the eToro Money Wallet. The eToro money crypto wallet can send coins to external wallets, including etheruem wallets such as MetaMask.
The portfolio page on eToro allows you to transfer ETH to your money wallet. The transfer to eToro Money Wallet will be approved within minutes after you click "Transfer to eToro Money Wallet."
Step 3: Connect MetaMask wallet to Bitcoin BSC presale
Transfer Ethereum from eToro Money to MetaMask. You can do this by sending the tokens to your wallet address. Investors can also scan a QR code to enter an address in the MetaMask wallet app automatically. When you have entered the address and entered the SMS verification code, click the "Send" button.
The cryptocurrency will be sent to you within minutes or hours once eToro confirms the transaction.
The next step is to connect your MetaMask wallet to the BTCBSC presale so that you can buy tokens.
Step 4: Swap ERC20 tokens for $BTCBSC
Enter the amount of BTCBSC you wish to purchase. There is a minimum purchase amount of $10 or 10 BTCBSC. Upon entering the amount and gas allowance (which should not exceed $3), you can select 'Buy Now' or 'Buy and Stake.'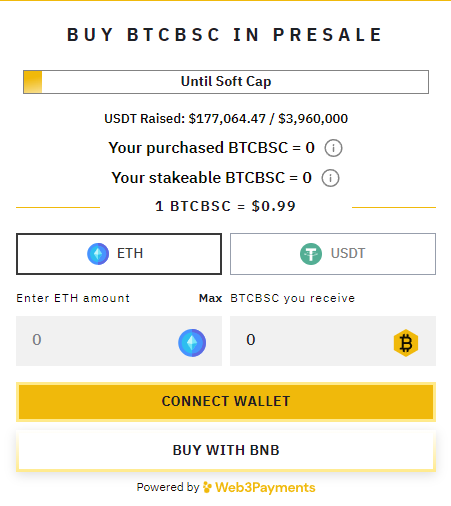 Tokens won't be added to the staking pool immediately if you choose the first option; instead, they will be held until the presale ends, when they can be staked, claimed, and sold.
Step 5: Claim Bitcoin BSC after presale
Currently, $BTCBSC tokens cannot be withdrawn during this crypto presale. However, you may be able to earn interest by placing them in a staking pool. Your tokens will be available for claim after the presale concludes. The process is as simple as returning to the website and clicking the claim button.
Your Money is at Risk. 
Bitcoin BSC vs other Bitcoin-inspired tokens
There is a growing interest in Bitcoin derivatives that provide investors with the opportunity to invest in bitcoin at a low price. You can see this by looking at the success of Bitcoin Cash, Bitcoin SV, and especially BTC20, which provided investors with five times their investment. Bitcoin BSC is the newest member of this family. BTC20 investors will surely flock to Bitcoin BSC if they missed the opportunity to buy BTC20. The next Bitcoin clone could skyrocket to the moon, so there's a good chance it will succeed.
Bitcoin BSC's offering is very similar to BTC20. Therefore, the chances are good that it will achieve similar success, if not even greater. However, their most significant difference is the chain on which they are allocated. As $BTCBSC is established on the BNB Smart Chain, Bitcoin BSC is faster on BTC20, which uses Ethereum.

Bitcoin Cash and Bitcoin SV are two other Bitcoin-inspired tokens that have gained popularity in the crypto market. Among the Bitcoin clones, Bitcoin Cash is by far the most popular, and many websites now accept it as a payment method. The Bitcoin BSC, however, stands out because it offers a greater opportunity for staking and earning rewards than Bitcoin Cash or even Bitcoin SV.
Many tokens have followed the path set by Bitcoin, and investors now realize that Bitcoin clones are in high demand. The success of Bitcoin BSC may occur even more rapidly as the word spreads than the success of other Bitcoin derivatives.
Is Bitcoin BSC a Good Investment Right Now?
Numerous imitations of Bitcoin have already been created. What makes this one special? Here are some compelling reasons to invest in Bitcoin BSC in September 2023.
✔️ BTCBSC presale stages and guaranteed price increase
Presales are always an important factor to consider when identifying cryptocurrencies that could explode. Prices will likely soar as soon as it is listed if it progresses quickly and attracts many investors. Pre-sales for $BTCBSC have just begun, and nearly $15,000 has already been raised. Although this isn't the largest presale ever, it reflects the enthusiasm of early investors, which indicates future success.
Furthermore, the token's low price makes it possible for its value to increase significantly in the future. A low price has been set for the token instead of $3. Consequently, if the price reaches $5, as with BTC20, you will profit almost twice as much
✔️ Bitcoin BSC passive income opportunity
Bitcoin BSC is based on staking. You can stake your $BTCBSC tokens immediately after purchasing them. You must lock your tokens for at least 7 days to earn rewards. Staking pools comprise the vast majority of tokens. Investors who stake their tokens will receive rewards every ten minutes. Basically, you can earn a substantial income while staying at home if you lock enough tokens in the pool.
✔️ Interest in Bitcoin tokens could rise due to upcoming halving event
It costs $ 0.99 to purchase Bitcoin BSC today, the same price it cost back in 2011. Purchasing Bitcoin at today's prices will cost you $25,7000.
Considering Bitcoin BSC's relatively low price, contributors may be sitting on considerable upside potential during the Bitcoin halving bull run.
Historically, this event has resulted in mind-melting bull runs on the original Bitcoin network every four years.
In particular, the price of quality Bitcoin derivatives such as $BTCBSC will benefit from this halving. Bitcoin BSC has a total token supply of 21 million, the same as Bitcoin. A total of 6125,000 tokens will be sold through the presale, giving BTCBSC a market capitalization of $6,063,750.
Conclusion
Buying Bitcoin BSC in September 2023 could yield a return of five to ten times your investment. Cryptocurrencies like this one are currently the best derivatives of Bitcoin because of their characteristics. It offers faster, cheaper, and more environmentally friendly transactions than its competitors.
In this guide, we have covered exactly how to buy Bitcoin BSC and how to stake the tokens for passive income. It will be possible to buy BTCBSC on the Binance DEX after the presale however, investors who wait until after the presale to purchase will miss out on the low price. Therefore, the best time to invest in Bitcoin BSC is now.
Your Money is at Risk. 
FAQs
Will Bitcoin BSC explode in 2023?
When will the Bitcoin BSC presale end?
Where to buy Bitcoin BSC after the presale?