Due to globalization, businesses seek to expand their reach beyond domestic markets. Most businesses in China and the Far East can navigate the regulatory landscape for cross-border businesses. And according to TradingPlatforms.com, China and the Far East will be responsible for 42% of global B2B cross-border transactions worth a total of $1.7 billion in the next two years. 
Edith Reads from TradingPlatformscommented on the matter. "China's digital economy is growing at an unprecedented rate. The government's push towards innovation and technology and good policies encourage investors. Businesses are turning to cross-border B2B to gain business prospects after COVID-19. Besides, most entities embrace E-Commerce, which drives the trend."
The Rapid Expansion of China's Digital economy
China's digital economy has grown rapidly in recent years. According to the reports, the total value of China's digital economy is estimated to reach $6.1 trillion, accounting for 39.8% of its GDP.
E-commerce platforms are significant in driving cross-border B2B transactions. With the growth of online marketplaces, SMEs are looking to expand their businesses beyond domestic markets. The cross-border transactions on e-commerce platforms might grow by 13.9%% in 2023.
Furthermore, the increasing digitalization of B2B is significant in the region's growth. Using online marketplaces and e-commerce makes it easier for businesses to do cross-border transactions.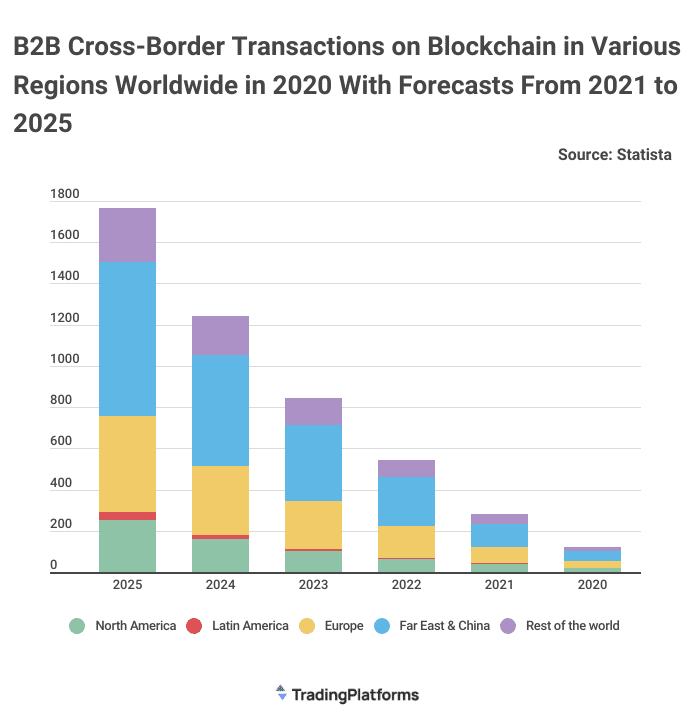 Challenges and Opportunities
While China and the Far East are set to dominate B2B cross-border transactions, there are challenges that businesses may face. One of the main challenges is the lack of infrastructure, particularly in less developed countries in the region. This could limit the ability of businesses to conduct cross-border transactions effectively.
Besides, there are challenges in navigating the complex regulatory landscape in China. Companies looking to enter the China market must know the country's compliance requirements.
In addition, data privacy and security could also pose a challenge to the growth of cross-border transactions in the region. The governments in the region must work together to develop policies that address these issues. They should create an enabling environment for cross-border transactions.
However, several opportunities exist for businesses looking to expand into the region. Consumer electronics and fashion products are China's most popular cross-border B2B transactions industries.
The expected growth of cross-border transactions in Asia suits businesses looking beyond borders. However, they must carefully navigate the challenges outlined to capitalize on these opportunities.