Since its inception over a decade ago, the blockchain sector has expanded rapidly. With the rise in the popularity of digital currencies, the demand for blockchain talent has increased significantly. According to TradingPlatforms.com, the worldwide blockchain talent pool increased by 76% year over year, with US and India leading the way.
Edith Reads, an analyst from Trading platforms, spoke on the data. "It's no surprise that the US and India lead the way in blockchain talent growth. Both countries have a strong presence in the tech sector and are home to some of the world's leading universities. Furthermore, the US has a well-established financial sector, which is increasingly turning to blockchain technology to streamline processes and reduce costs."
Blockchain, the Platform With Unending Opportunities
The demand for blockchain talent is far outstripping the supply. Reads commented on this trend, saying, "The rapid growth in job postings is a direct result of the increasing adoption of blockchain technology by businesses across a wide range of industries. As more and more companies begin to explore the potential of blockchain, they are facing a severe shortage of qualified personnel. This is likely to lead to significant salary increases for those with the necessary skills."
Blockchain is keen on hiring quality assurance analysts, compliance specialists, and cryptologic technicians. The growing occupations show that the blockchain is shifting from Finance to technical sectors. There is a lot of research to ensure that the technology continues to grow so that several sectors can adopt it.
Decentralized Finance is a critical area that made blockchain famous. However, several sub-sectors are driving it up. Medical departments are using blockchains to exchange information with patients without hospital visits.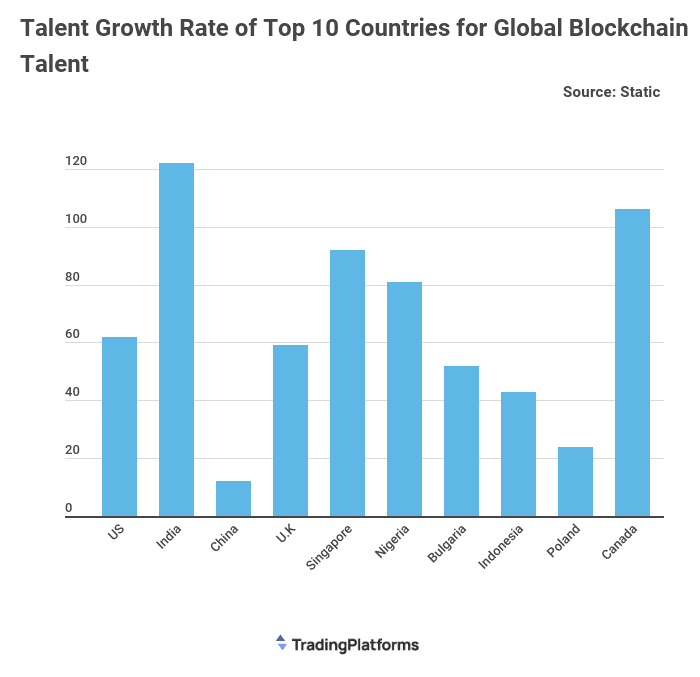 Blockchains Create Job Opportunities for the Unemployed Population
Unemployment is one of the persistent issues that emerging nations face. Nigeria's jobless rate increased by 35% in 2021, according to statistics from credit rating firm Agusto & Co.
Since then, things have worsened, with rising inflation, an economic slowdown, and high insecurity rates. The nation's young people have no choice but to rush into the IT industry to pick up skills that will enable them to support themselves.
The blockchain industry is one of the booming areas that has created jobs for young people in Africa and Nigeria.
Young individuals, including some teenagers, also work in blockchain organizations. They assume various positions, including content writers who keep the community informed.
Other people are taking key roles in crypto trading, solely relying on blockchains. Moreover, many innovation opportunities are coming up in the blockchain industry.
The global blockchain talent growth is critical in saving the world from disorder, including crimes by unemployed populations.