2022 has certainly been a rollercoaster ride for crypto enthusiasts. After sustained growth throughout 2020, the crypto market took a sharp turn in late 2021, with prices plunging across the board. Not even the popular decentralized Finance (Defi) sector could weather the market's onslaught.
Thankfully, the DeFi sector seems to be looking up again.  According to a TradingPlatforms analysis, the DeFi market dominance has grown from 0.97% on June 22nd to 1.2% as of 6th August 2022. That's an increase of 123% in the last 45 days.
TradingPlatforms' Edith Reads has been explaining the recent improvement of the sector's fortunes. According to her, "There's been a recent influx of capital into the DeFi sector, with over $17.89B billion being invested in it in the last two months. This investment shows that there's growing confidence in the sector regardless of the bearish tendencies exhibited by the crypto market."
Ethereum Maintained Its Dominance in the DeFi Market
DeFi Total Value Locked (TVL) by blockchain has seen a resurgence, increasing from $68.34 billion to $86.23 billion during the same period. While it's still early days, these signs of recovery are encouraging for the long-term prospects of the DeFi sector.
TradingPlatforms' data indicates that Ethereum remains the leader in the DeFi sector with a TVL of $59.68B. Binance follows with a measure of $7.33B while Tron recorded a  market share of $5.85B. Solana and Avalance completed the top five projects with TVLs of $2.59B and $2.53B, respectively.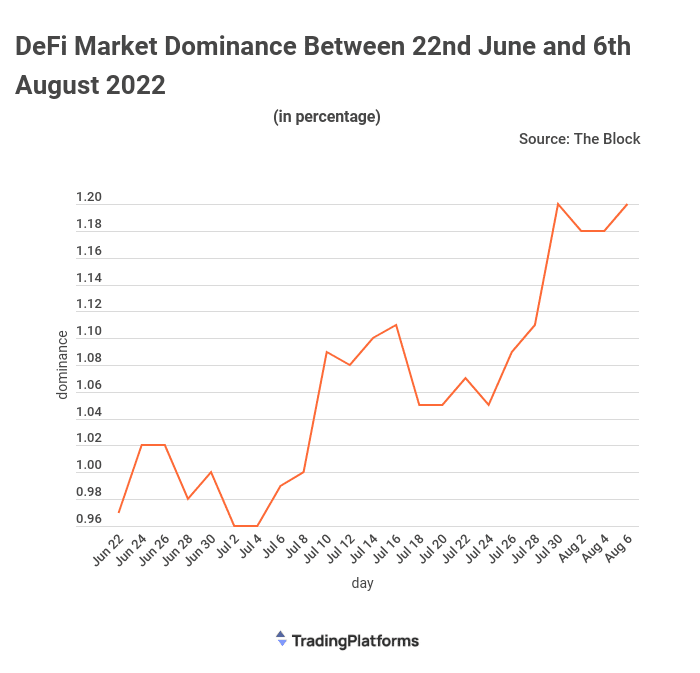 Ethereum's dominance in the DeFi sector is driven by the maturity of the Ethereum network and the growing number of Ethereum-based decentralized applications (DApps). The network provides developers with a robust platform for building DApps. 
Moreover, Its robust developer tools and documentation make it an attractive platform for new DApps.
Ethereum's Most Prominent Projects
Marker Dao, Lido, and Uniswap were the most notable projects on Ethereum in terms of TVL. Marker was the most dominant, with a TVL of $8.65B. Meanwhile, Lido ($7.46B) and Uniswap ($6.29B) were the second and third most prominent projects, respectively.
Marker Dao is a decentralized autonomous organization that provides collateralized loans to borrowers in exchange for crypto assets. Uniswap is a protocol for decentralized exchanging of Ethereum tokens. Lido is a Staking-as-a-Service platform that allows users to stake their crypto assets and earn rewards.
The ETH2 Deposit Contract has Been Swelling
ETH2 is the long-awaited upgrade to the Ethereum network that is designed to improve its scalability and efficiency. One of the critical features of ETH2 is a new deposit contract that allows users to stake their ETH in exchange for rewards. 
Recently, the amount of ETH deposited into the ETH2 deposit contract grew to $13.21M from $12.94M. This is a positive sign that ETH holders are still interested in staking their ETH and earning rewards.
The increase in ETH deposits also shows that ETH2 is on track to launch successfully. With the ETH2 deposit contract growing, it is only a matter of time before ETH2 becomes a reality.