Amazon largely owes its exponential growth to its ability to keep its logistics costs down over the years. It has established an efficient distribution network that has helped it grow quickly with minimal shipping costs. However, that is changing now; it is struggling to tame its logistics costs while maintaining shareholders' expectations.
Amazon's logistic costs have skyrocketed in the past decade. In fact, according to a data presentation by tradinplatforms.com, Amazon's logistics bill has shot up by over 1,300% in the last 10 years. In 2012 the firm's logistic bill stood at $11.607B, which was 19% of the net sales that year. That would balloon to $151.8B in 2021, about 32% of the firm's net sales that year.
"The rise in logistics costs is driven by a dramatic increase in Amazon's direct shipments," says Edith Reads, a financial expert at tradingplatforms.com. "In 2012, Amazon had a customer base of about 180 million; today, that stands at over 300 million. Its shipments have grown in tow with that expanded customer base." 
Understanding Amazon's growing logistics bill
That 1,300% increase is pretty huge, but it makes sense when you consider that Amazon's business model has changed a lot during that time. The company used to be primarily an online bookstore, but now it sells everything from groceries and clothing to electronics and home goods.
All of these need to be delivered to customers' doorsteps. And as consumers continue their move toward online purchases, it's only natural that Amazon's shipping costs would increase. That's especially true since delivery options are getting faster.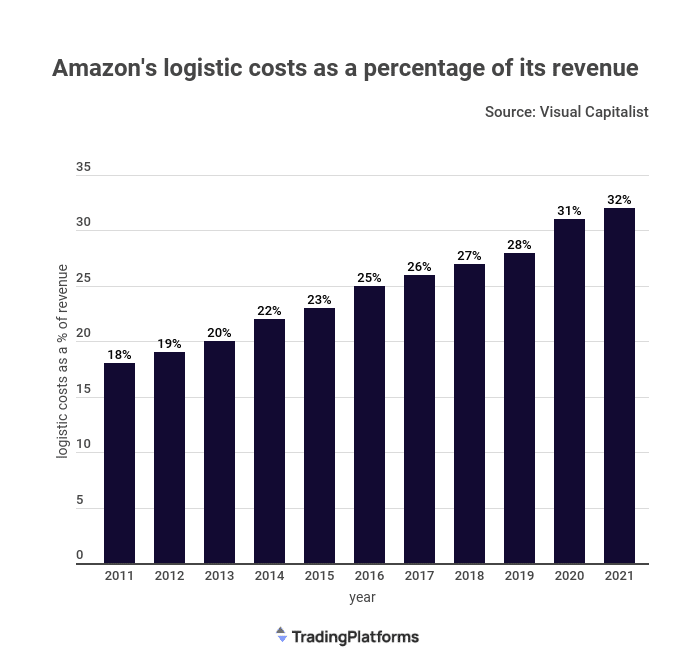 Another factor behind Amazon's spiraling logistics costs is the growing pressure on retailers to deliver faster and better customer service. That happens especially during peak sales seasons such as Black Friday and Cyber Monday. It seems that Amazon is willing to invest heavily in its logistics infrastructure if it means satisfying customers' demands for speedier deliveries. 
Effects on Amazon, its customers, and Shareholders
The development is great for Amazon. It enables them to run more efficiently and cut down on their delivery times. But what does this mean for consumers? While Amazon may be able to profit from this increase in spending, customers are paying the price. For instance, Amazon has hiked its monthly and annual Prime membership by $2 and $20.
It's not necessarily a bad thing for Amazon investors either. By Amazon investing in its logistic operations, it will be able to keep up with its massive growth in sales. That, in turn, promises more profit on their investments.
The increase in costs comes as Amazon is trying to navigate a challenging environment. The company has had to contend with trade wars, tariffs, and other cost-increasing measures. These are making it harder for them to do business as usual. Again it's facing pressure from an increasingly crowded market with e-commerce giants like Alibaba.
A ray of light?
The good news is that while its logistics costs are spiraling, Amazon's other ventures could offset them. In Amazon Web Services (AWS), the company's cloud computing business is a proven money maker. AWS accounted for more than 50 percent of Amazon's $33B profit last year.
AWS promises higher margins despite accounting for only 13% of Amazon's sales. It has been such a success that it has respected investors calling for its spinning off as an independent entity. They hold that doing so will increase shareholders' value.