Artists and investors in the leading non-fungible token (NFT) marketplace SuperRare are staring at an uncertain future. That's because its average artwork prices have consistently plunged in the last 50 days.
Tradingplatforms.com has been tracking SuperRare's performance over time, and has presented data showing its average prices have declined by 49.64%. From a high of about 9.55 ETH on 1st February 2022, the price has tumbled to 4.74 ETH. At current ETH/USD rates (22nd March 2022), that translates to a drop from some $27.7K to about $14.2K.
"The hype surrounding the breakout of NFTs is petering out," explains TradingPlatforms' Edith Reads. She adds, "The NFT market is correcting itself which comes with users exercising prudence in their purchases."
Is SuperRare's NFT bubble popping?
The declining prices have coincided with declines in the marketplace's other critical metrics. For instance, SuperRare's monthly artwork sales in that period dropped from 487 to 355. Likewise, its active collectors reduced by 40 from 277, and crypto art volume plunged from roughly 7.4M to 3.7M.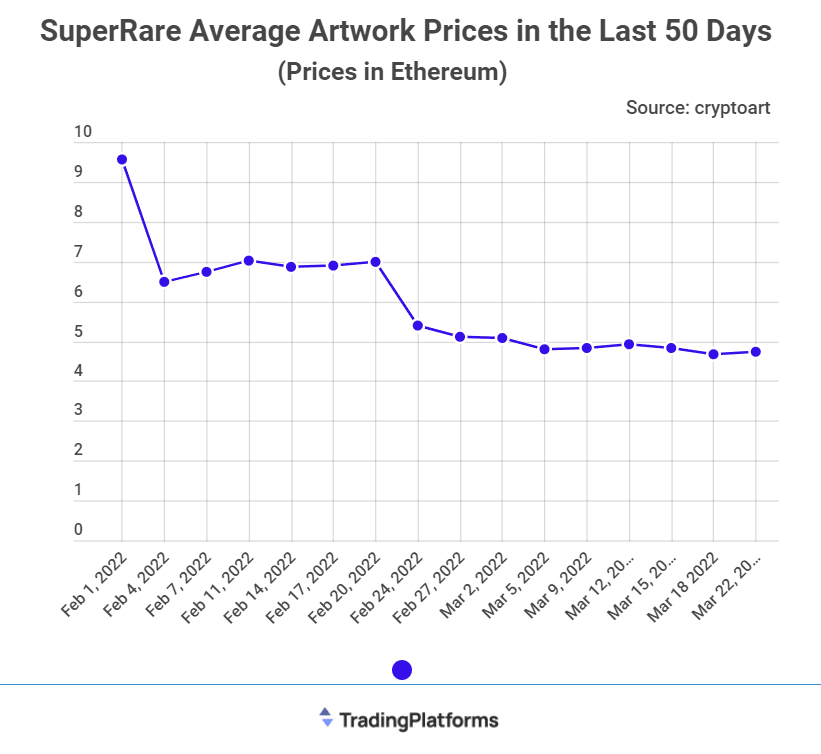 That has led some commentators to suggest that we could be amidst an NFT bubble. Edith, however, disagrees with that assertion. She concedes that certain artists could be cutting their losses which explains the price drops. However, she insists that what's happening on SuperRare doesn't necessarily reflect happenings in the overall NFT market space.
This turn of events has seen SuperRare's DAO's revenue dwindle. At press time, the DAO's primary revenues had shrunk from $1,047,599 to $517,305. Similarly, its secondary earnings sank some $21K from $47,177. Artist loyalties have also been on a downward trend casting a dark shadow on SuperRare's long-term prospects.
Mixed reception of NFTs
Since they broke out in 2021, NFTs have equally attracted acclaim and criticism. To their proponents, they are the future of ownership. That's because they allow for the tokenization of virtually anything, easing portability and enhancing provenance.
On the flipside, NFT-skeptics have seen them as nothing more than an overhyped fad. To them, they are a hollow construct to which one would be at pains to ascribe a real use case. They hold that their overinflated prices don't match whatever value they may promise.
That said, many continue boarding the NFT bandwagon. Even industry leaders in business and finance haven't lagged in adopting them. A recent case is JP Morgan, which has acquired land on the Decentraland's Metaverse. Other prominent players that have invested in them are Nike and Coca-Cola.