Three sites monopolize trading on non-fungible tokens (NFT) marketplaces. At the time of writing, the three OpenSea, LooksRare, and Axie Infinity accounted for $44.43 billion of the sector's total sales. According to tradingplatforms.com's analysis, that amounted to 86% of all NFT markets' sales.
"Many people are familiar with some of the most famous NFTs like CryptoKitties," says tradingplatforms.com's Edith Reads. "What few know, however, is that almost all trading in NFTs is taking place on three sites: OpenSea, LooksRare, and Axie Infinity. These three owe their dominance to a combination of first-mover advantage, superior product offering, and easier listing."
Ten sites control 92% of NFT trading
Tradingplatforms.com's data presentation shows a dominant position in the top 10 marketplaces. Of the 47 sites considered, these accounted for $47.73 billion, or 92 percent of all trading volume. The remaining 37 projects share revenues worth $4.19B.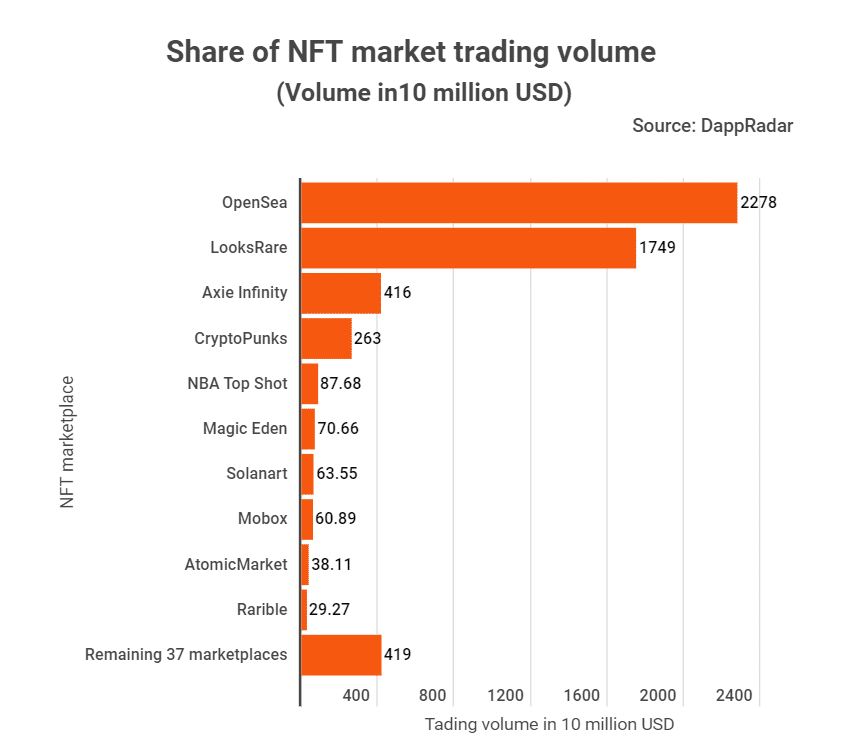 Despite rising competition, OpenSea retained its position at the top of the pile. The premier NFT marketplace recorded sales of nearly $22.78 billion, around 44% of all NFT trading. Again the figure was $5.29B more than the second-placed platform LooksRare.
Challenging OpenSea's dominance
LooksRare recorded over $17 billion in sales, earning the second berth behind market leader OpenSea. That performance put it ahead of third-placed Axie Infinity, which recorded deals worth $4.16B, $13B less than the former. 
The site has only been operating for two months. But in that short period, it has managed to ramp up pressure on OpenSea, which has been running since 2017. Analysts attribute the site's impressive showing to its freshness amidst OpenSea's declining appeal. 
In the recent past, the premier NFT trading site has faced criticism for its operations. That has led to some users shifting to other platforms like LooksRare. Cryptopunks is the other NFT marketplace to make it to the billion-dollar club.
The thriving NFT sector
NFT marketplaces have taken the trading world by storm. One year ago, we were beginning to understand what NFTs were and what their future would hold. Now, NFT marketplaces are a hotbed for trading, and it's hard to go on Twitter without seeing high-level accounts from the community bragging about their newest additions or latest sales.
Behind this growth is the CryptoKitties craze. Their emergence in 2017 catalyzed the entire NFT ecosystem to grow and flourish. Today there are over 40 NFT marketplaces, and they keep increasing rapidly. User acquisition is vital for the NFT marketplaces to develop and maintain a healthy ecosystem with liquidity within the market.
NFTs are attracting investors and collectors alike
Although the NFT market has only been around for a few years now, it has achieved remarkable success. Investors and collectors are eager to get their hands on these digital assets and have invested millions of dollars in purchasing them. 
The concept of NFTs is simple: they're a way of linking ownership of digital assets to their physical counterparts. This allows people to prove they own what they own and—in theory—to sell those things. NFTs power all kinds of things, from video games to art displays to collectibles and more.