Decentralized exchanges (DEXs), the gateways to Decentralized Finance (DeFi), are surging in popularity. Today over 183 million users visit over 500 DEXs for different services. That's per a data presentation by tradingplatforms.com, the leading online education and comparison platform.
That data presentation captured the activity of 540 DEXs. It reveals that the platforms traded crypto assets worth about $3.9B in the last 24hrs. Additionally, it puts the Defi dominance at 4.6% of the $2.0T capped crypto market.
So what's fuelling this growing interest in DEXs? 
Tradingplatforms.com's Edith Reads' says two factors are driving the growth of DEXs activity. When questioned on the findings, here's what she had to say: "Two key reasons are behind the growth in DEXs usage. For starters, investors are increasing their adoption of DeFi. For them DeFi is the tool for diversifying their portfolios and regaining control over their financial lives. Second, institutional investors are boarding the crypto bandwagon and DEXs are their gateways into the scene."
Again, Edith paints a rosy future for DEXs. She believes that they'll grow from strength to strength buoyed by the warming up to crypto. She adds, " People are changing their perceptions about cryptos. As these become mainstream, so will the activity of DEXs increase. One thing that's certain is that DEXs will continue to grow."
Top DEXs by market share
Uniswap (V3) has the biggest market share despite it having the second most monthly visits. The exchange held a 27.9% share of the market volume at the time of writing, and recorded over 6.9M visits. Additionally, its most traded pair, USDC/ETH, accounted for nearly $593M of its trades.
PancakeSwap(V2) was in the second spot with a market share of 10.2%. That's notwithstanding that it had the most visits at over 27M, four times Uniswap's. The DEX handled transactions worth $395.6M.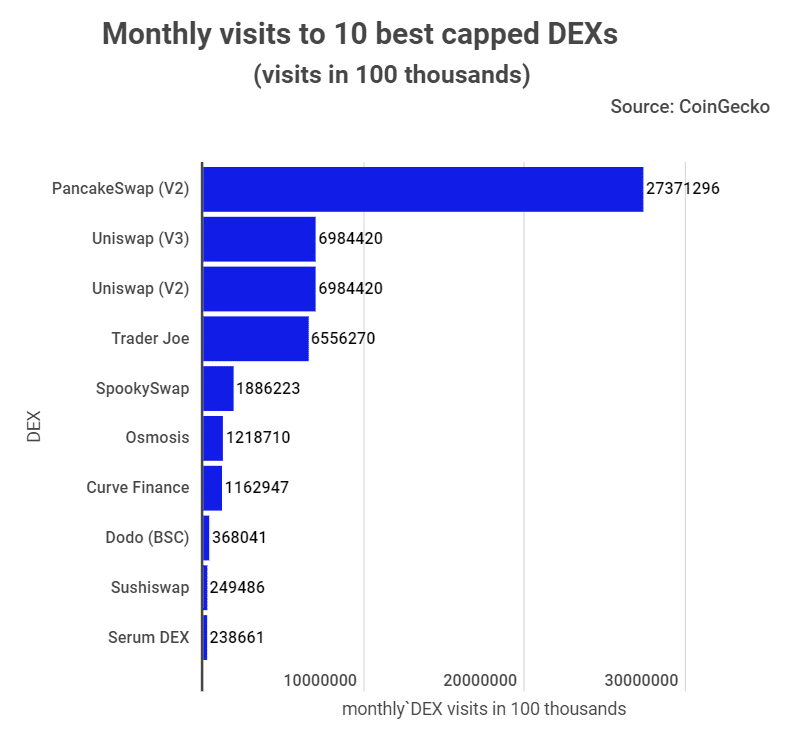 It also had the most traded coins at 3695 and most traded pairs at 5838. PancakeSwap's most traded pair was WBNB/BUSD, contributing $62.6M of its total volume.
Other DEXS with impressive market movements were Uniswap (V2) and Trader Joe. Whereas the former traded over $211M from 6.9M visits, the former did $167.7M from nearly 6.6M visits. Their traded volumes placed them fourth and sixth respectively in market cap terms.
An $800B DeFi market?
The Defi sector has experienced massive growth in the last few years. That has led analysts to believe that it'll maintain the same trajectory in 2022.
Mathew Roszack is one such analyst. Roszack, who co-founded Vesper, a DeFi investment platform, opines that the sector will grow tenfold this year. That'll see it attain a market cap of $800B from its 2021 figures of $80B.
He attributes that growth to three factors. These are the mainstreaming of cryptos, a rising interest in the Defi yield market, and the runaway global inflation.
Market data seems to corroborate Roszack's predictions. Defi Pulse reckons that Defi firms grew their assets by over 380%. Such growth levels put the sector on the path to breaking the $800B mark, as Roszack suggests.
At the time of writing, the sector had a market cap of $119B. It also had a dominance of 5.8% of the total crypto market.