Decentralized exchanges have been rising, and recent data shows that Uniswap is leading in its market share by volume. According to data compiled by Trading Platforms, the DEX currently accounts for 32.1% of the trading volume in decentralized exchanges. 
The exchange's most recent version of the protocol, Uniswap V3, holds the first position with control over 27.6% of the DEXs' markets trading volume. Uniswarp V2 came in 5th, accounting for 4.5% of the volume. The exchange's most-traded pair was the USDC/ETH.
At the time of data compilation, the total 24h trading volume on decentralized exchanges was $5.86 bn. Uniswap V3 had a $1.619 bn, while the Uniswap V2 protocol had a $262.87 million 24h trading volume. 
PancakeSwap records the highest number of visits
The data by Trading Platforms further shows that PancakeSwap (V2) had the most visits at 27,371,296. The exchange, which is also quite popular among DEX users, held an 8.1% market share of the trading volume. This placed it third, behind SpookySwap's 11.0%
Other decentralized exchanges that made it to the top ten list by trading volume included Serum DEX, TraderJoe, Sushiswap, and CurveFinance. These DEXs account for 6.7%, 4.1%, 6.1%, and 3.3%, respectively.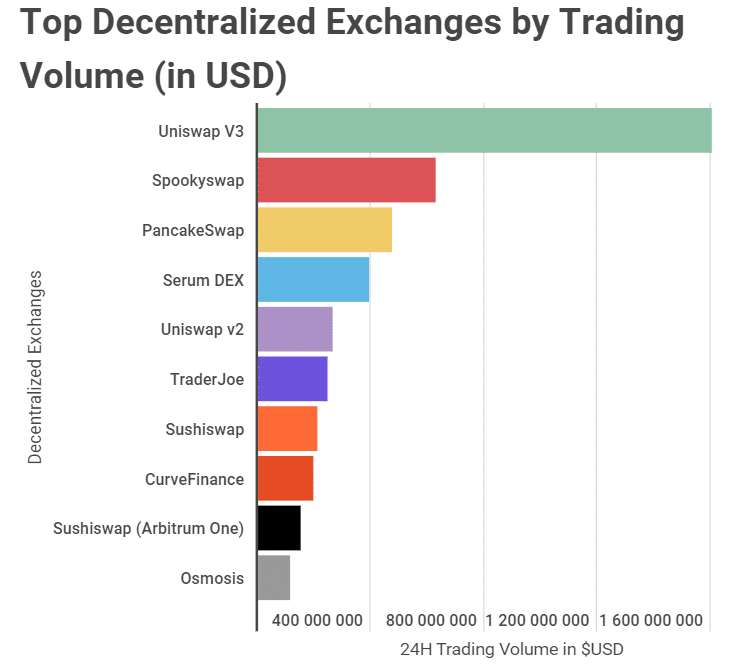 USDC coin pairs seem to be doing well across all exchanges, as evidenced by different USDC trading pair combinations dominating in five of these exchanges. 
DEXs closing in on CEXs
Although centralized exchanges still dominate the crypto trading markets, decentralized exchanges are quickly catching up. DEXs are increasingly gaining popularity among crypto enthusiasts. Data shows that these exchanges have had 183,840,135 visits in the last month. 
While speaking on the findings, Edith Reads from Tradingplatforms.com had this to say, "It's quite clear that more crypto enthusiasts are opting to transact on decentralized exchanges, and centralized platforms may continue to lose market share with time. The non-custodial framework on DEXs gives users more control over their assets, making them more lucrative. As more Defi projects come up, we can expect the surge in trading volume on DEXs to increase, as well."
In 2021, decentralized exchanges across the globe recorded trading volumes of more than $1 trillion. This figure was a massive 858% increase from $115 billion in 2020. 
It seems that the future is indeed decentralized, as the DeFi space continues growing. A key metric to use to determine the growth of DeFi is TVL (Total Value Locked) across all blockchain protocols. At the time of writing, the TVL is $201.55 billion. Although this figure has plummeted since the year's start, it is still ten times higher than it was this time last year.