Best European Trading Platform – Cheapest Online Brokers Revealed
Fact Checked
Everything you read on our site is provided by expert writers who have many years of experience in the financial markets and have written for other top financial publications. Every piece of information here is fact-checked. We sometimes use affiliate links in our content, when clicking on those we might receive a commission - at no extra cost to you. By using this website you agree to our terms and conditions and privacy policy.
The best European trading platform is one that meets all your needs if you're a European who wants to trade online. Low fees, user-friendly features, and great customer support are the key features of the best online trading platforms in Europe.
Furthermore, make sure that the FCA is regulating your chosen trading app. Below is our list of the top European trading platforms for 2023.
Best European Trading Platforms 2023 List
eToro – Overall Best European Trading Platform
Libertex – Low-Cost Site with ZERO Spreads
Skilling – Online Broker With Spreads Starting at 0.1 Pip
1 Provider that match your filters Providers that match your filters
Fixed commissions per operation
Total Fees (for 12 months)
$ 0
What we like
Buy shares and ETFs with 0% commission

Social and copy trading network

Invest and trade crypto with low fees
Fixed commissions per operation
Mobile App
Features
Payment methods
Total Fees (for 12 months)
$ 0
74% of retail investor accounts lose money when trading CFDs with this provider.
Account Info
$10/month after 12 months
Maximum 1:30, minimum 1:2
Fees per operation
Spread – Currency from 1 PIP, commodities from 2 PIPS, indices from 0,75 points, stocks and ETFs from 0,15 %
Yes, depending on the market that you trade
Best European Trading Platforms Reviewed
1. eToro – Overall Best European Trading Platform

The online trading platform eToro was launched in 2007 and now has over 17 million clients. Trading a range of asset classes can be done with this top-rated platform at the push of a button.
First, let's talk about how European clients can benefit from this reputable online broker. First, European residents need to take advantage of eToro's 0% stamp duty program. In addition, eToro's commission-free business model has made it a leader within the industry since it doesn't charge customers to trade stocks, shares, and ETFs.
Two thousand four hundred stocks from 17 European and international stock markets, 250+ ETFs (exchange-traded funds), 16 cryptocurrencies, and thousands of CFDs are available. Besides gold and silver, oil and forex are also included in the latter category.
Commission-free trading is available on every eToro marketplace, including the ones listed above. Therefore, the only cost you have to take into account is the spread. You also don't need to worry about annual maintenance fees, and you only pay 0.5% in deposits. In addition, you don't have to worry about currency conversion fees when trading foreign assets and the euro. That said, it is the best European broker in the ranking.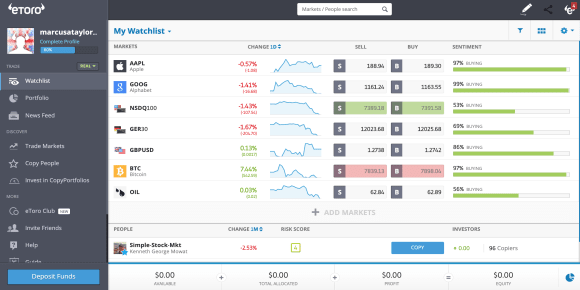 Newbies can easily use eToro because it is user-friendly. Since the platform is free of complicated financial terms, users can easily find an asset and place their buy and sell orders. Furthermore, eToro offers CopyFunds portfolios, a practical and accessible way to get into online trading easily. Additionally, there is a Copy Trading option so that you can invest passively.
In this type of trade, you will choose a verified trader and invest a minimum of $200, and all of the trades will be mirrored into your eToro portfolio. EToro's minimum stake on cryptocurrencies is $25, $50 on stocks, and $200 on ETFs. Check out our review to see why eToro is considered one of the best-automated trading platforms in Europe!
eToro's regulatory environment is state-of-the-art for European investors since it is licensed and regulated by the UK's Financial Conduct Authority (FCA), a financial watchdog among the most stringent globally. In Australia and Cyprus, it is also licensed. As a result, the FSCS provides you with financial protection if you open an account with eToro. In addition, this cheap trading platform offers a variety of payment options, including bank transfers, debit cards, and electronic wallets.
eToro fees:
| | |
| --- | --- |
| Fee | Amount |
| Stock trading fee | Free |
| Forex trading fee | Spread, 2.1 pips for GBP/USD |
| Crypto trading fee | Spread, 0.75% for Bitcoin |
| Inactivity fee | $10 a month after one year |
| Withdrawal fee | $5 |
Pros:
Online broker with a super-user-friendly platform
Offers a wide range of assets at tight spreads
100% commission-free
The platform also allows you to trade stocks, indices, and ETFs
You can use a debit/credit card, an e-wallet, or an e-wallet for social trading
ASIC, CySEC, and FCA regulate these firms
Cons:
Traders who want to perform well should not attempt this
67% of retail investor accounts lose money when trading CFDs with this provider. You should consider whether you can afford to take the high risk of losing your money.
3. Libertex – Low-Cost Site with ZERO Spreads

Euro traders who are looking for low fees and commissions prefer the CFD trading platform Libertex. Its zero spread feature is at the forefront of this. As a result, you will not have a gap between the buy and sell price regardless of which asset you decide to trade.
As a result, you receive quotes that are industry-leading. Further, Libertex charges commissions on both sides of every trade, but these are typically very low. For example, the UK's virtual trading platform charges commissions of as little as 0.1% per transaction.
Typical commission rates for popular forex pairs are as low as 0.12% in NZD/USD. CFDs are offered on stocks, commodities, and currencies by Libertex. Leveraging your CFD expertise allows you to take advantage of any trading opportunity.
You will be limited to 1:30 for major forex pairings and less on other instruments based on FCA restrictions. At Libertex, you can also go long or short on any CFD market. Therefore, you can profit if markets rise or fall. The company offers two trading platforms.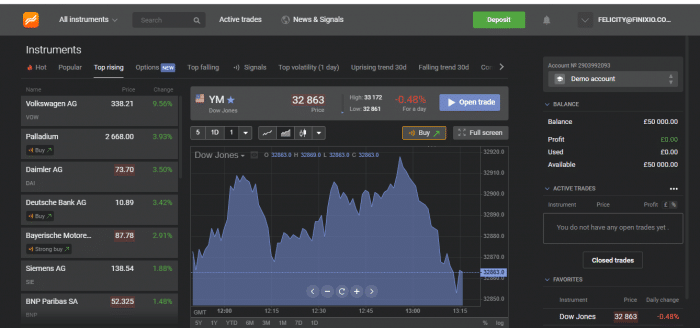 MetaTrader 4 and its platform, which was built in-house, are included. Both platforms can be accessed via an app or online. It is also possible to download MT4 to your desktop device, which is the suggested route to take if you wish to install an automated robot.
You can open an account with Libertex in minutes if you like the sound of it. You can deposit as little as £100 using a credit/debit card, bank account transfer, or an e-wallet. The first deposit into your account comes with a minimum deposit of just £10.
The FCA does not regulate Libertex's safety. Nevertheless, it is regulated by CySEC, a leading issuer of EU licenses. Libertex has provided online trading and financial services since 1997 as well. Consequently, the provider has a track record of over 20 years.
Libertex fees:
| | |
| --- | --- |
| Fee | Amount |
| Stock trading fee | Commission. 0.034% for Amazon. |
| Forex trading fee | Commission. 0.008% for GBP/USD. |
| Crypto trading fee | Commission. 1.23% for Bitcoin. |
| Inactivity fee | $5 a month after 180 days |
| Withdrawal fee | Free |
Pros:
CFD trading with no spread
Their commissions are very competitive and start from
A good selection of educational
The broker has extensive experience
Supports MT4
Markets of great variety
Cons:
CFDs are complex instruments and come with a high risk of losing money rapidly due to leverage. 74% of retail investor accounts lose money when trading CFDs with this provider. You should consider whether you understand how CFDs work and whether you can afford to take the high risk of losing your money.
4. Skilling – Online Broker With Spreads Starting at 0.1 Pip

Brokers like Skilling are popular among newbies. The platform makes it easy to place buy and sell orders. Moreover, Skilling's education platform offers a range of easy-to-understand guides, so you can learn how to trade on the platform.
You can't buy traditional assets from this UK broker because it only deals in CFDs. However, you can trade more than 800 different financial instruments, including stocks, indices, commodities, and forex. Moreover, all these markets can be leveraged by Skilling – as per FCA regulations.
Skilling does not charge commissions to its customers regardless of which CFD asset class they trade. Additionally, the low-cost CFD trading platform offers some of the lowest spreads available in the industry. For example, when trading major currency pairs during standard market hours, you can make money from 0.1 pips.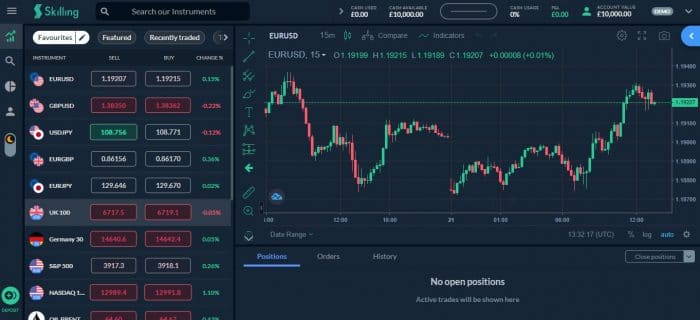 Skilling is a great platform for beginners, but seasoned professionals can also trade via MT4 or CTrader. In addition, Skilling will give you access to a range of advanced order and charting analysis tools once you connect your third-party platform. As well as the desktop application, Skills offers a mobile app that lets you place orders on the go.
Despite its launch in 2019, this trading app is heavily regulated. In addition, the FCA will be authorized to accept traders from Europe, and CySEC and the FSA will be regulated. Skilling allows you to deposit funds instantly with a debit/credit card or e-wallet after you set up an account, which typically takes less than a minute. So, for example, you can start trading with small amounts by depositing just €100.
Skilling fees:
| | |
| --- | --- |
| Fee | Amount |
| Stock trading fee | o% Commission on Skilling's Trader Account |
| Forex trading fee | Variable spreads starting from 0.7% |
| Crypto trading fee | Spread. 0.20% for Bitcoin. |
| Inactivity fee | €10 per month after one year |
| Withdrawal fee | Free |
Pros:
More than 800 financial instruments
Commission-free share trading with tight spreads
Great for newbies
Supports algorithmic trading
Compatible with MT4 and cTrader
User-friendly mobile app for iOS and Android
Cons:
75% of retail investor accounts lose money when trading CFDs with this provider.
European Trading Platforms – Fee Comparison
In our review of the best trading sites in Europe, we also compared the fees they charge to each other. As a result, you will find Europe's cheapest trading platforms with no overnight fees and the lowest fees in the table below.
| | | | |
| --- | --- | --- | --- |
| Trading Platform | Stock trading fees | Forex trading fees | Overnight fees |
| eToro | Free. | Fixed spread. 2 pips for GBP/USD. | CFD fees overnight. For stocks, ETFs, and crypto, there are no overnight fees. |
| Libertex | 0%-0.46% commission. 0.034% for Amazon. | Commission. 0.008% for GBP/USD. | Interest was taken as of 9 pm GMT each day as positive or negative interest, depending on the day's close. Overnight fees on CFDs are tripled when held between Friday and Monday. |
| Skilling | Variable spread. 22.81 pips for Amazon. | Variable spread. 1.3 pips for GBP/USD. | Stocks are not subject to overnight fees. Whether the overnight fee is positive or negative, it will be taken as interest on other assets at the end of each trading day. |
| | | | |
European Trading Apps Assets & Software Comparison
| | | | |
| --- | --- | --- | --- |
| Trading Platform | Assets | Software | Features |
| eToro | Shares, ETFs, forex, commodities, indices, cryptocurrencies | Proprietary | Social trading, copy trading, CopyPortfolios |
| Libertex | Shares, ETFs, forex, commodities, indices, options | Proprietary, MT4 | Webinars, economic news |
| Skilling | Shares, forex, commodities, indices | Proprietary, cTrader, MT4 | An algorithmic trading package and a complete charting package |
| | | | |
Best European Stock Trading App

Online trading and investment services are provided by Saxo Bank, a Danish investment bank founded in 1992. International Financial Services Agencies (FSA) and UK Financial Conduct Authorities (FCA) regulate the company.
Saxo Bank is a global service provider with subsidiary companies in various regions across the globe. Different entities offer slightly different services, especially in terms of fees and product offerings. The review is based on data from Saxo Bank UK.
Despite its long track record, banking background, and regulation by top-tier financial agencies, Saxo is viewed as a safe bank.
How to Choose the Best European Trading Platform for You
There are hundreds of online trading platforms now allowing Europeans to open accounts, so it's a good idea to decide what's most important to you.
Specifically, do you want access to a certain marketplace like a forex or stocks market in Europe, or are you more concerned with the lowest commissions and fees? Is there a feature you need – like automated trading?
Regulation and Safety
One or more reputable financial bodies must license the best trading platforms in Europe. Ideally, the FCA should be done, which is charged with keeping the investment and trading sectors transparent and safe. A host of safety nets are available to you if you stick with an FCA broker.
Segregated Funds: Client funds must be held in separate accounts by the FCA-regulated best European trading platforms. The platform cannot use the money you provide to service its debt.
Risk Warnings: Risks associated with trading must be made clear on all FCA-regulated platforms. The number of retail clients who lose money is usually displayed on the homepage.
Regular Audits: All FCA-regulated brokers must have their books reviewed regularly. It provides a safe and secure trading environment for you and your fellow investors.
Also included are the best trading platforms in Europe that the FSCS covers. In case of platform failure, your funds are protected up to the first £85,000 in the bank account.
Our top-rated trading app has all of these credentials and is being regulated by CySEC and ASIC. That means you have regulatory oversight on several fronts. Additionally, it is registered with FINRA in the US.
Assets
The number of financial instruments available for online trading is enormous, spanning dozens of asset classes. However, not every European trading broker offers the specific market you want.
These are some of the best assets offered by the best European trading platforms:
Stocks
Bonds
ETFs
Indices
Funds
Commodities
Forex
The most important thing about CFDs is to figure out if you are trading them or buying them outright. You will not own the underlying asset if you trade a CFD instrument. In turn, you can engage in short-selling with ease and apply the leverage of up to 1:30 as a result.
CFDs are not suitable for investors who wish to invest in the traditional sense. CFDs attract overnight financing, which is especially important if you plan on building a long-term investment strategy. To make sure you can trade both traditional and CFD assets, you should select a broker.
You can, for example, buy over 2,400 stocks, 250 ETFs, and 16 cryptocurrencies on eToro. In addition, you have access to thousands of CFD markets, including forex, commodities, and indices.
Fees
Fees are often the deciding factor for investors in Europe when selecting a platform for online trading. After all, you should be aware that the amount you pay to trade online varies quite.
Share Dealing Fees
In addition to stock dealing fees, ETF, mutual fund, and investment trust dealing fees are also associated with buying traditional assets such as mutual funds. Almost all trading apps charge a flat fee, except in rare cases.
Therefore, regardless of your investment amount, the fee will remain unchanged. Of course, investors looking to trade larger amounts benefit from this; it goes without saying.
Imagine you signed up with Hargreaves Lansdown, one of Europe's leading stockbrokers.
You would be charged a flat dealing fee of £11.95. So, for example, if you purchased £150 worth of BT shares, you would be charged a flat fee.
That means that in percentage terms, you're paying a commission of almost 8%.
BT shareholders are then required to pay £11.95%.
As an alternative, we recommend using a world-class Europe trading platform, eToro, which would have come at no additional cost to you. Platforms on all of its markets are commission-free. So even the 0.5% stamp duty tax that you would normally have to pay on shares!
Trading Commission
You will be charged a variable fee if you choose to trade assets through a CFD instrument. However, small orders won't be penalized, so this is more advantageous for entry-level traders.
You will always pay commissions based on which European trading platform you choose to join.
Take the example of a CFD commission of 0.2% per slide charged by your chosen European trading platform
A commission of €1 will be charged if you stake €500
In the example above, if your commission for the trade is 0.2% worth €750, it will be €1.50.
It sounds like not much to pay, sure. However, it is important to keep in mind that these costs can quickly add up, making profitable trades almost unprofitable. In particular, this is true if you are using a trading platform with a minimum commission policy.
CFD trading is commission-free for the best brokers from Europe that we discussed on this page. Some of those include eToro, Skilling, and Plus500.
Spreads
If you're wondering how the best brokers in Europe make money, it's by charging a spread rather than a commission. It consists of the difference between the buy and sale prices of the financial instrument.
Take the case of eToro, a platform that trades Apple stocks
A 'buy price' of $135.10 is listed on the trading platform at this moment
There is a 'sell price' of $134.85 quoted in this quote
The spread between the two prices is 0.18 percent
What is the significance of this? Thus, when you open a trading position on eToro with Apple, your position is instantly 0.18% in the red. So to get back to the break-even point, you need your trade to increase in value by 0.18%. With a spread of 0.18%, the product is very competitive – especially when looking at the commission-free nature of eToro.
Other Trading Platform Fees
Share dealing fees, commissions, and spreads are the main costs to explore at length. The European trading platform you choose may, however, have additional charges. These may include:
Overnight Financing: In the case of CFDs, if your position is open for more than a certain amount of time, you must pay an overnight financing fee. In the case of eToro, this begins after 10 pm time. Because All European trading platforms charge CFDs, they are only useful for short-term strategies.
Transaction Fees: Deposits and withdrawals are fee-free with some online brokers, while others impose fees. Depending on the payment method you choose or the platform you use, you may be required to pay in a foreign currency.
Inactivity Fees: If an account remains inactive for an extended period, certain brokers charge inactive account fees.
FX Trading Fees: When you wish to trade non-listed assets, brokers typically charge a foreign exchange commission. Hargreaves Lansdown, for instance, charges a share dealing fee of €11.95, plus a 1% FX markup, when you purchase US stocks.
The fees and commissions you pay can and will significantly affect your ability to make gains, so you must know what you are paying before opening an account.
67% of retail investor accounts lose money when trading CFDs with this provider. You should consider whether you can afford to take the high risk of losing your money.
Trading Tools & Features
Some brokers offer nothing more than the possibility of buying and selling assets. However, you may also choose a service that offers a variety of tools and features that can enhance your investment endeavors.
Fractional Ownership and Low Minimums
It is not common for traders to invest thousands of pounds in a single transaction. Alternatively, some of you might just be getting started and would like to trade with small stakes. Therefore, the best brokers must be those that offer 'fractional ownership.'
Those unfamiliar with fractional ownership can buy or trade a 'fraction' of an asset rather than having to buy the entire asset outright. Our best trader recommendation, eToro, offers traders the possibility of trading cryptocurrencies from just $25 upwards.
The minimum investment amount for stocks is just $50. Therefore, you shouldn't need to spend more than $800 to acquire a single Tesla share or $100,000 to purchase a USD/AUD lot!
You could start trading with a small amount with the best trading apps if you had fractional ownership. In addition, traders of all budget levels can benefit from a low minimum deposit.
Automated Trading
Online trading is becoming increasingly popular. Trading without doing any research is the main idea. Some tools even go the extra mile by placing your orders on your behalf. It is also a good choice for traders who have little time to analyze the markets.
Automating your trades can be achieved in several ways. First, they then install the trading robot into MT4 once they've purchased it. To achieve this, your provider must be able to support this third-party platform.
In this regard, it is safest to use an FCA-regulated broker direct to use an automated trading platform. Copy Trading, for example, is available at no additional charge on eToro. You simply need to choose which verified eToro trader you need to copy, and the platform will automatically mirror all of their trades into your own.
Orders
Any trading platform or asset you choose to trade will require you to place orders.
By doing this, you are telling the trading platform what you hope to accomplish. To enter and exit your trade, all brokers offer to buy and sell orders.
In addition to risk-management orders, the best providers in this space will also offer them. It is recommended to have stop-loss and take-profit orders at a minimum, but trialing stop-loss and guaranteed stop-loss orders is also important.
Research and Analysis
It's recommended not to execute a position unless some research supports it unless you plan to trade recklessly. That would be the equivalent of gambling. An assortment of analysis tools will be available on the best European trading platforms so that you can conduct your research faster.
eToro, for instance, offers pricing charts on all assets supported by the platform. Also offered are fundamentals about major stocks, as well as commentary on the current market environment. Direct access to financial news is very important for long-term investors, so some of the best brokers offer this service.
Demo Account
You cannot afford to overlook demo accounts, regardless of how experienced you are or whether you are a first-time trader. The best European trading platforms offer these and allow you to gain real-time market knowledge without risking a dime. The trades are executed with paper money.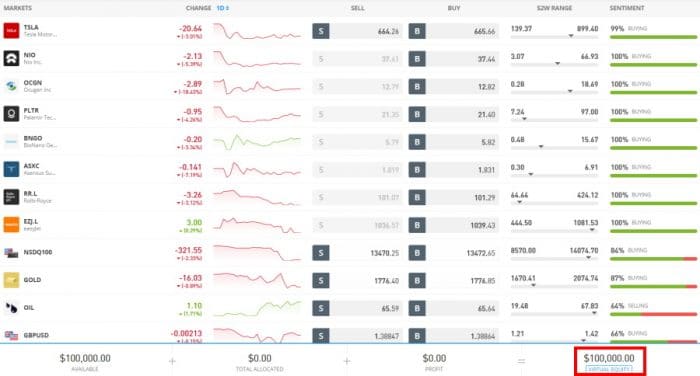 67% of retail investor accounts lose money when trading CFDs with this provider. You should consider whether you can afford to take the high risk of losing your money.
A demo account at eToro, for example, comes preloaded with $100,000. It is great to test the waters before making a real deposit since you can still access the same markets, prices, and trading volume. It is also good to use a demo account if you have some experience with online trading.
Mobile App
Android and iOS devices are usually compatible with mobile investment apps offered by the best trading platforms. However, I understand you may prefer to use your desktop or laptop computer to trade.
Nevertheless, there may be times when placing a trade is necessary when you are on the move. For example, Gamestop saw its share price drop by 60% a day before writing this guide.
You would have suffered significant losses if you had been unable to close a position in this stock until you got home.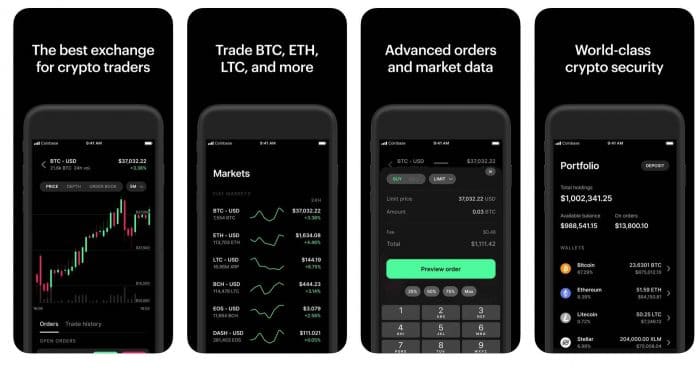 You could have reduced your losses significantly by exiting the trade immediately if you had used a top-rated mobile trading app.
Other key account features are also available in the best mobile trading apps. In addition, you can also check the value of your portfolio in real-time, make deposits and withdrawals, and even speak to customer support through live chat in the eToro mobile app.
Payment Methods
You will be required to deposit some funds into a trading account when you open one with a platform. These apps allow you to use a credit or debit card to trade instantly. E-wallet support is also available on platforms like eToro, Libertex, and Skilling.
Customer Service
European trading platforms offer a variety of customer support channels that are worth checking out. Of course, live chat is the ideal feature. Additionally, real-time phone support is available so that you can speak with an agent immediately. However, you might have to wait several hours to respond if the trading platform only offers support via email.
How to Get Started with The European Trading Platform – eToro
Step 1: Open a Trading Account
You can open an eToro account in only a few minutes, and you can start trading right away. eToro can be accessed via desktop or mobile web browsers. Next, click 'Join Now'.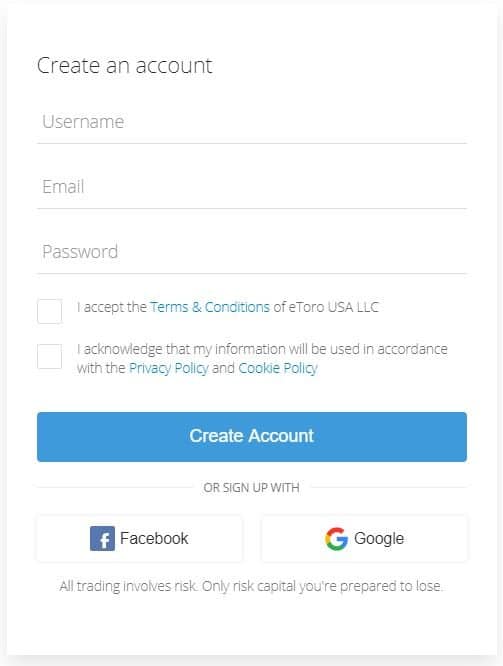 67% of retail investor accounts lose money when trading CFDs with this provider. You should consider whether you can afford to take the high risk of losing your money.
Step 2: Confirm Identity
The FCA regulations require eToro to verify your identity since it is an FCA-regulated platform.
You will need to upload a copy of:
A valid passport or license is required
Bills from utilities or bank statements (updated within the last three months)
If you deposit less than $2,250, you can upload these documents later.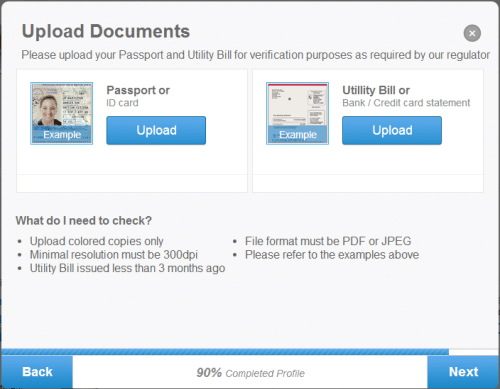 Step 3: Deposit Funds
The time has come to deposit some money. When you feel comfortable with how the trading platform works, you can use the eToro demo account.
Listed below are the payment methods you can choose from when you are ready to trade for real money:
Visa
MasterCard
Maestro
Paypal
Skrill
Neteller
Bank Transfer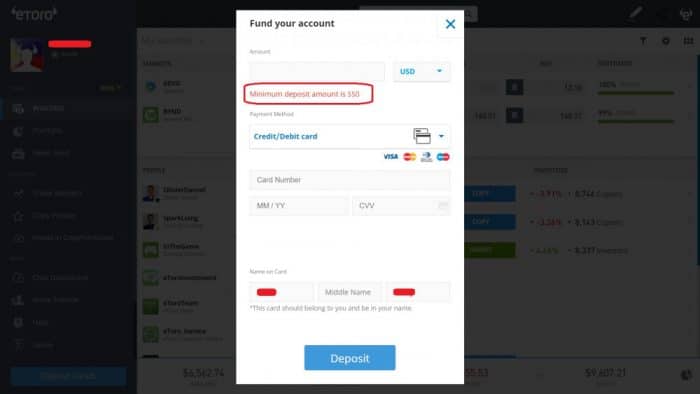 Step 4: Search For a Trading Market
You can begin trading with eToro, the best broker, once your deposit is processed. To see which assets are supported, click on the 'Trade Markets' button on the left side of the dashboard. You can also search for the asset you want to trade if you already know it.
Step 5: Place a CFD Trade
An order box will appear when you click on the 'Trade' button next to your chosen asset.
After that, you need to fill out the following fields:
Buy/Sell: Placing a buy order on the asset is a good strategy if you expect its value to rise. In case the asset is likely to fall in value, place a sell order.
Amount: Indicate the amount you want to stake. US dollars are always used on eToro.
Leverage: Residents are permitted to use leverage on all of eToro's supported markets (as per FCA regulations), except cryptocurrencies. You can select how much leverage you need.
You can also position take-profit, stop-loss, and trailing stop-loss orders when trading on eToro.
You must click the 'Open Markets' button to complete your trade.
Conclusion
There have never been so many European trading platforms entering the online marketplace, making investing online easier than ever before. A good broker will often offer you access to many markets, regardless of your interest in stocks, forex, cryptocurrencies, or CFDs.
According to our analysis, eToro is the easiest and best trading platform available to Europeans. Several FCA-regulated markets can be traded with this broker, all of which can be accessed without paying a commission. Furthermore, you can immediately deposit funds with a debit/credit card or e-wallet after opening your account in a matter of minutes!
eToro – Best European Trading Platform With 0% Commissions on ETFs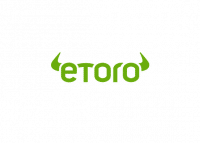 67% of retail investor accounts lose money when trading CFDs with this provider. You should consider whether you can afford to take the high risk of losing your money.
FAQs
What is the best European trading platform?
Which European trading platform offers US shares?
Are the European trading platforms safe?
What is the best European trading platform to buy Bitcoin?
How do commission-free European trading platforms make money?
How much leverage do the best European trading platforms offer?