Best Dogecoin Wallet 2023 – Beginner's Guide
Fact Checked
Everything you read on our site is provided by expert writers who have many years of experience in the financial markets and have written for other top financial publications. Every piece of information here is fact-checked. We sometimes use affiliate links in our content, when clicking on those we might receive a commission - at no extra cost to you. By using this website you agree to our terms and conditions and privacy policy.
Disclosure
The investing information provided is for educational purposes only. Trading platforms does not offer advisory services, nor does it recommend or advise investors to buy or sell stocks, securities or other investment vehicles. Some or all of the products displayed on this page are from partners that compensate us. It may influence the products we cover and the location of the product on the page. Nevertheless, our research and analysis is unaffected by our partners.
Would you like to find a suitable alternative to store your DOGE tokens? Then you will be pleased to know that there are a lot of exceptional Dogecoin wallets available for you to pick from.
Depending on your needs and preferences, it's important to make an informed decision. Therefore, in this article, we have reviewed the best Dogecoin wallets so you will be able to learn more about these outstanding crypto options. Don't miss our comprehensive analysis considering their security, fees, range of functions, and compatibility.
Best Dogecoin Wallets – List
eToro – Overall The Best Wallet To Buy Dogecoin For 2022
Coinbase – The Securest Wallet For Dogecoin
Binance – Best Wallet When It Comes To Crypto Support
Metamask – Exceptional Choice For ERC-20 Tokens
Exodus – The Best Option For Anonymous Use
Best Dogecoin Wallets Reviewed
The following section will review the best Dogecoin wallets that we have tested from several top brokers, exchanges, and third-party services.
1. eToro – Overall The Best Wallet To Buy Dogecoin For 2023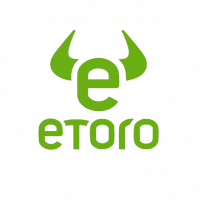 With 20 million customers, it should come as no surprise that eToro is on the top of our list. This is a good place when it comes to digital assets since you can both use it as a top-of-the-line wallet and as a place to buy and sell cryptocurrencies. Its platform is a safe and convenient way of storing the investments you make with your digital tokens in your account portfolio, never having to worry about losing them.
There are many security features in the eToro Money Crypto Wallet, including DDoS protection, standardization protocols, and multi-signature functionality. Security-wise, you get an unlosable private key, preventing you from losing your wallet.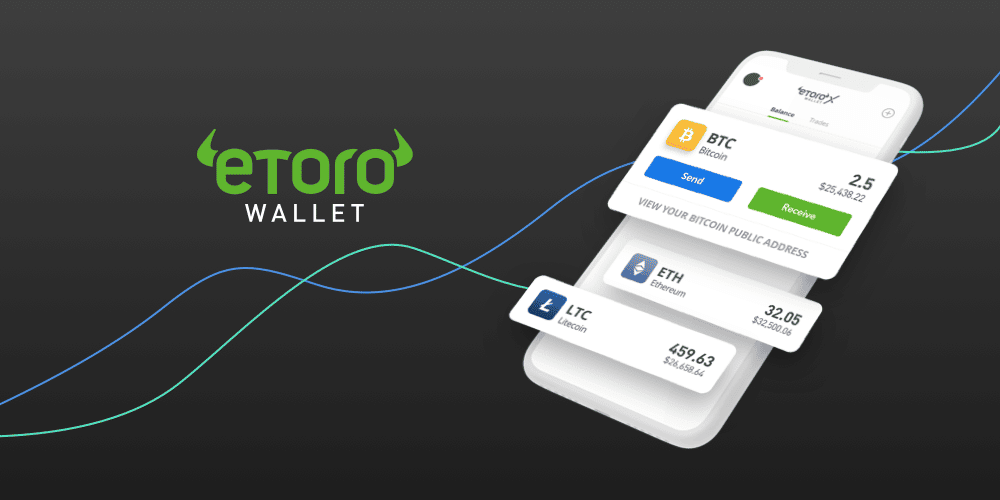 eToro's wallet places a priority on versatility. eToro's trading platform allows you to buy a cryptocurrency and send it to your wallet and withdraw it. The wallet supports all major crypto blockchains and many altcoins such as Dogecoin. The wallet currently supports a total of 120+ coins. Furthermore, cryptocurrencies in your wallet can be traded for other coins and tokens among 500 different crypto pairs. eToro wallets support staking cryptos as well. You can spend certain crypto (ADA, TRX, ETH) from your wallet in exchange for rewards.
Additionally, you do not have to pay eToro fees to send or receive crypto via your eToro wallet, but blockchain fees are associated. In order to buy crypto through the eToro trading platform and import it, there is a 0.5% fee, capped at $50. On the other hand, eToroX, eToro's crypto exchange, charges a 0.1% conversion fee for converting crypto into different cryptocurrencies. The minimum threshold to convert crypto is $20, with a maximum of $10,000.  When you need to handle some heavyweight business, eToro Money Crypto Wallet will take care of you, with a generous daily transaction limit of $200,000.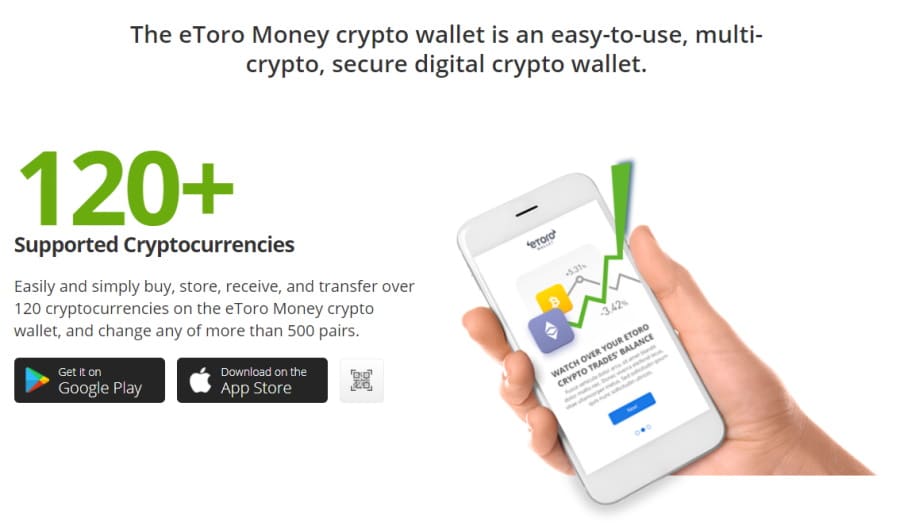 If you are already an eToro customer, you can access the eToro Money Crypto Wallet for free. You can access it from a Windows or Mac computer. In addition, you can download your Dogecoin wallet from Google Play or the App Store.
Pros:
Support for main blockchains and ERC-20 tokens.
Over 500 crypto pairs are available for exchange.
eToro doesn't charge fees to send and receive crypto.
Use your wallet on eToro to stake your crypto.
A unique key is provided.
Cons:
Not available in all locations.
67% of retail investor accounts lose money when trading CFDs with this provider. You should consider whether you can afford to take the high risk of losing your money.
2. Coinbase - The Most Secure Wallet For Dogecoin

Primarily designed to store users' crypto wealth securely, Coinbase Wallet supports more than 4,000 crypto assets. Among them are Bitcoin, Bitcoin Cash, Litecoin, XRP, XLM, and Dogecoin. Besides, NFTs that you have purchased can also be placed in the wallet.
Investing, selling, transferring, and storing Dogecoin is easy with Coinbase. This offline storage can store a variety of digital assets securely. More than 100 countries support it, making it one of the best crypto wallets.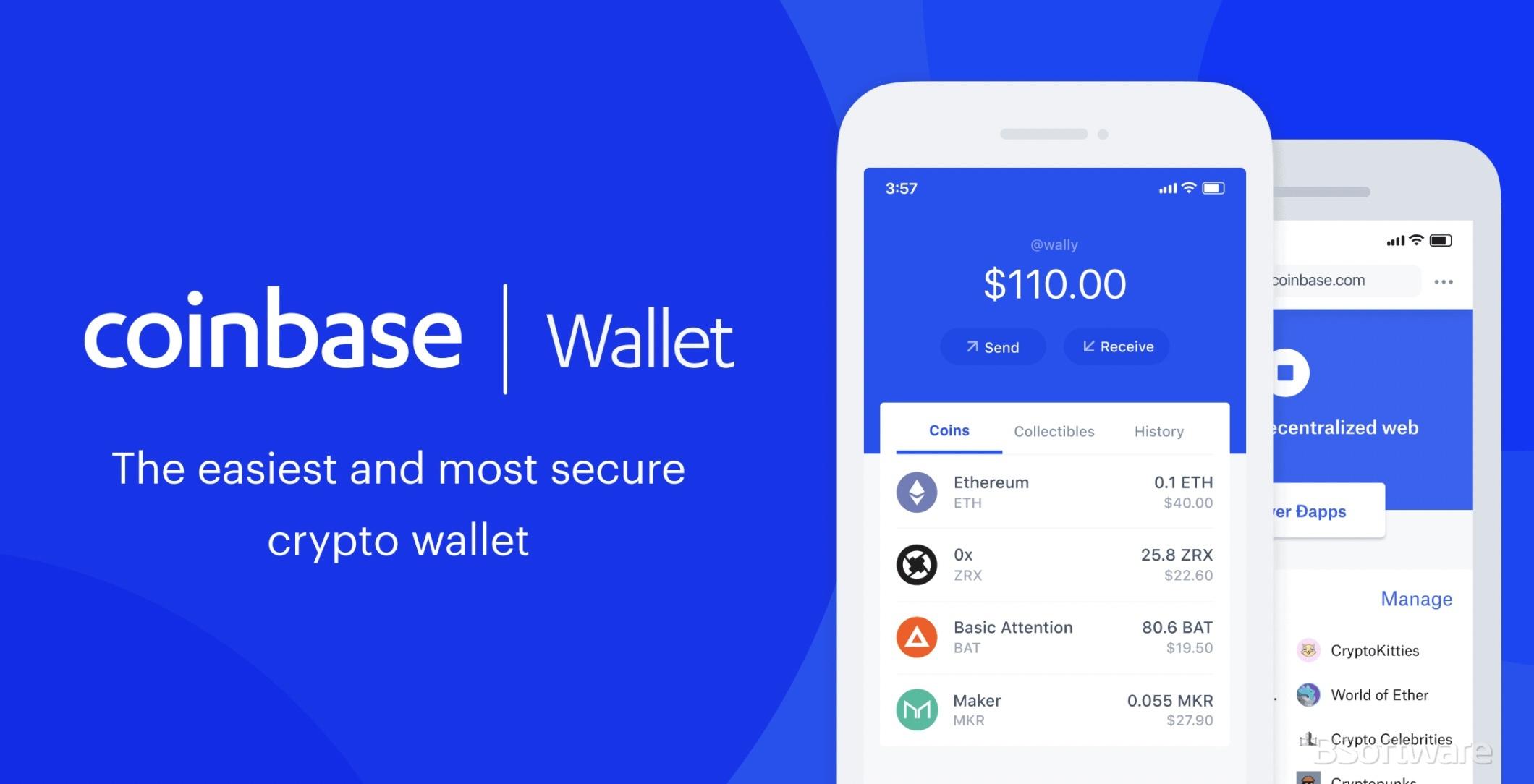 It's not stunning that Coinbase, one of the biggest exchanges in the United States, has many security features built into its wallet. For example, when you use your wallet, you must use a one-time password to access your funds. In addition, it will be necessary for you to sign up with a third-party provider, such as Google Authenticator. In the event that you log in unexpectedly, you will receive a confirmation email confirming your registration. Your fingerprint can also be used to log in.
Coinbase lets you send up to 1,250,000 DOGE in a single transaction from your wallet. In addition, Coinbase allows you to purchase DOGE directly from your wallet or import it from another account. Coinbase uses a QR code branded with your unique Dogecoin wallet address to make receiving crypto easy. You can then share the address with the sender with the click of a button. In the same way that you can access staking opportunities on eToro with your Coinbase wallet, you can swap certain crypto pairs with the Coinbase wallet.
The Coinbase wallet is available for free download and works on Windows and macOS.
Pros:
+4000 cryptos are supported.
NFTs (ERC21 tokens) are also supported.
Staking is allowed on the DeFi liquidity pools.
Credit card purchases are available.
Its Dogecoin wallet app download is totally free.
Cons:
Transaction fees for crypto transactions are relatively high.
Your money is at risk.
3. Binance - Best Dogecoin Wallet When It Comes To Crypto Support

In terms of trading features available for traders, Binance is our top choice. In addition to being the largest cryptocurrency exchange globally, it also stands out for the option of easily creating a digital wallet while offering a trading platform for more than 150 cryptocurrencies. In parallel, it also provides an API so that you can integrate your trading application.
In addition to supporting 35+ different blockchains, the Binance Trust Wallet also supports ETH, BTC, LUNA, BNB, and DOGE. You can store a full range of the best ERC-20 tokens and NFTs here. While the eToro Money Crypto Wallet and the Coinbase wallet support the main blockchains, neither can match the Binance Trust Wallet in terms of its scope. You can purchase crypto directly from the Binance exchange from your Trust Wallet, as well as swap and stake crypto. Using a seed phrase, you obtain your private security keys. The wallet even has its governance token called TWT, which allows you to receive discounts on cryptocurrency purchases.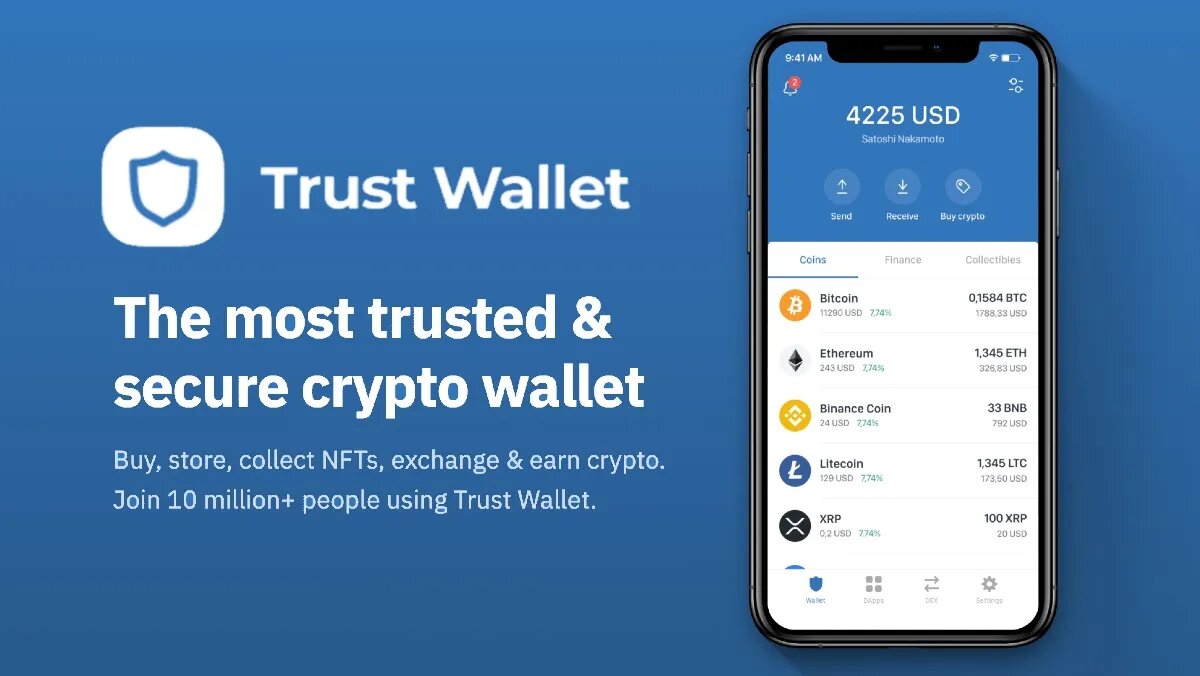 Occasionally, crypto investors confuse Binance's Trust Wallet - the official exchange wallet - with the Binance Chain Wallet. This is because two Binance blockchains are running parallel: the Binance Chain and the Binance Smart Chain. Both wallets are compatible with one another, but there is a separate one for each. The Binance Chain Wallet is related to the Binance Smart Chain blockchain, whereas the Binance Trust Wallet is related to the Binance blockchain. The Binance Coin (BNB) is compatible with both wallets, and you can use Binance's Direct Wallet function to move crypto from the exchange to the Binance Chain Wallet.
Pros:
The best choice of supported blockchains, including DOGE
Purchase crypto using many payment services
There are no fees for sending, receiving, or exchanging crypto
Simple to use
Backed by the world's largest crypto exchange.
Cons:
Direct Wallet, Trust Wallet, and Binance Chain Wallet can be confusing.
Your money is at risk.
4. MetaMask - Exceptional Choice For ERC-20 Tokens

In the fourth place on our best Dogecoin wallets list, there is a wallet with more than 21 million users and available as a mobile app and as a browser extension: MetaMask. What makes the wallet different from its competitors? It is open source and developed by members of a global community. As well as eToro Money Crypto and the Coinbase wallet, its wallet, like is a totally free Dogecoin wallet.
It is not supported by a broker or exchange. Instead, an independent digital asset management facility is marketed as the most reliable method to access, store and exchange Dogecoin tokens. Polygon and Binance blockchains are supported, in addition to Ethereum.
With Metamask's swap facilities, you can exchange Dogecoin tokens. Alternatively, you can also swap using the various supported decentralized exchanges such as Uniswap, Matcha, and 1inch.
Similarly, you can buy Dogecoin from your Metamask wallet using Coinbase.
Despite Metamask being vulnerable to unexpected browser behavior that ruins your session because of having a browser extension, the wallet compensates for this by providing a recovery phase that can be used to recover your wallet.
It has played an important role in raising usability standards in blockchain and crypto technology, laying the groundwork for the growth of sectors such as decentralized finance (DeFi) and non-fungible tokens (NFT) by simplifying and optimizing the user experience in a simple wallet interface.
Pros:
ERC-20 tokens are supported
There are 21 million users worldwide
ETH 'gas' fees can be adjusted as with Coinbase
Metamask institutional add-on for DeFi activity
Easy-to-use website.
Cons:
The wallet is not regulated
Your money is at risk.
5. Exodus - The Best Dogecoin Wallet Option For Anonymous Use

Exodus Wallet was founded by JP Richardson and Daniel Castagnoli in 2015 and is based in Nebraska, the United States. When choosing a wallet, we have to take into account the fact that it should be compatible with a wide range of digital assets. So you'll be glad to know that many altcoins are supported by the wallet, including Dogecoin.
Since no registration is needed to use the wallet, those who consider anonymity an important factor might find it appealing. The major difference between Exodus and other light wallets is that Simplified Payment Verification is employed.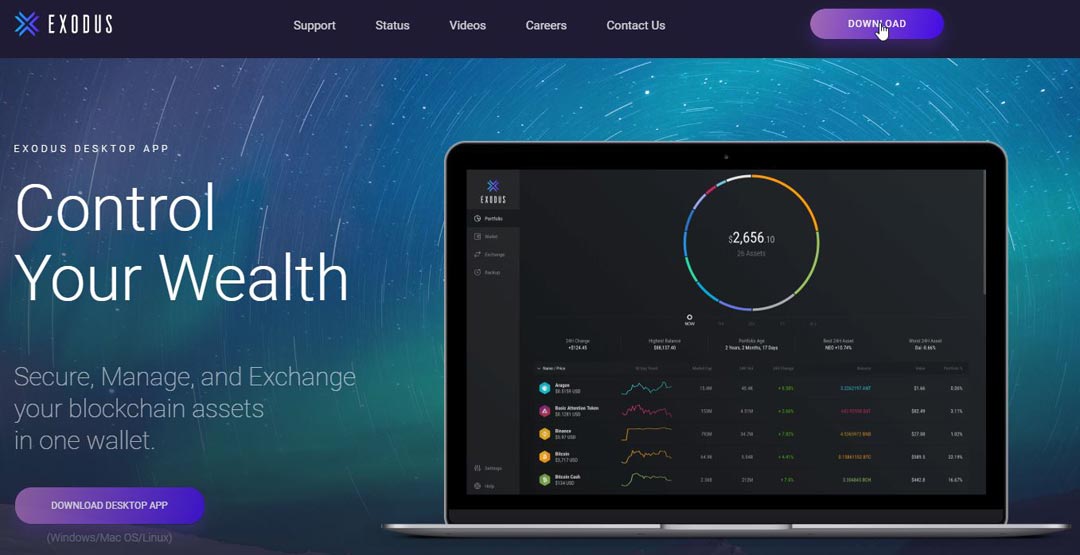 Unlike traditional wallets, Exodus is a lite wallet, which means it does not have to download the entire blockchain to the device, making it significantly faster to set up. Additionally, this substantially increases its responsiveness and convenience. As a mobile wallet and desktop wallet, the platform can be accessed from various devices, including Windows, Mac OS, Linux, Android, and iOS.
The crypto exchanging assets feature works extremely well in the Exodus wallet and is easy to use for both advanced and beginner users. Precisely for the latter, this wallet is ideal since it offers great support. This is an essential resource for those starting out in what many would consider a confusing market. In addition, you can set custom rates with Exodus to keep the costs low, plus you can set a rate that automatically ensures the transaction is completed quickly.
Pros:
Excellent user interface.
Accepts over 130 cryptocurrencies.
Desktop wallet, mobile wallet app (iOS and Android devices), and Trezor hardware wallet.
Simple to use.
You can exchange over 70 cryptocurrencies directly from your wallet.
Installation is free.
Crypto funds can be sent and received without incurring fees.
Crypto staking is supported.
There is 24/7 customer support.
Cons:
Only supports crypto purchases using a fiat currency on mobile devices.
Users of Exodus cannot withdraw funds directly to a bank account or exchange crypto for cash.
Transaction fees can be high during busy times, and the pricing structure is complex.
It does not support fiat currency storage.
Your money is at risk.
How to Create a Dogecoin Wallet
Getting a Dogecoin wallet is very easy. It all comes down to your own judgment in which wallet you choose.
Based on our research, this section will show you how to use eToro Money Crypto Wallet - the best wallet for Dogecoin and crypto investments.
1. Register With eToro
Visit eToro's official website. Once you've entered some personal information, click the blue 'Create Account' button. Alternatively, you can use your Google or Facebook account to register.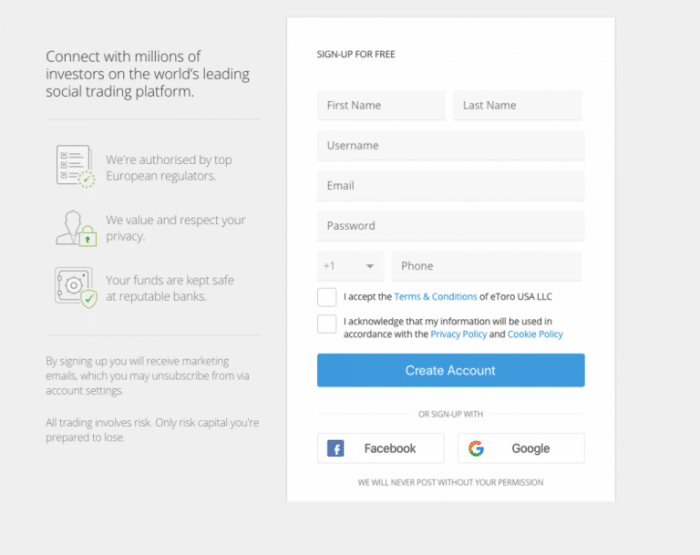 Your money is at risk.
2. Complete The Verification Process
There must be two scans provided. A passport, identification card, and driving license are some of the most common forms of identification. The second scan is a document that provides proof of the address, such as a credit or debit card, rent statement, utility bill, or council tax statement. eToro accepts screenshots as your digital ID if you only have a digital one.
3. Deposit Funds
eToro accepts PayPal, bank transfers, and credit/debit cards for fund deposits. The other options are Trustly, Rapid Transfer, Neteller, and Skrill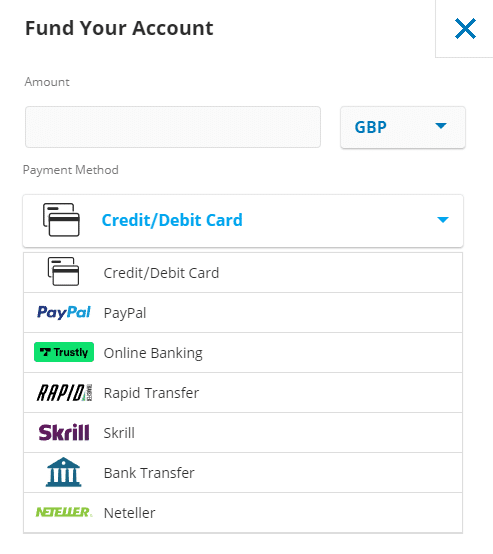 4. Get the eToro Money Cryptocurrency Wallet
Once your eToro account has been created, it is time to download eToro Money's crypto wallet. Those with Android phones can head over to Google Play, and those with Apple phones can head over to the App Store. Install the eToro Money Crypto Wallet app by searching for it and following the instructions.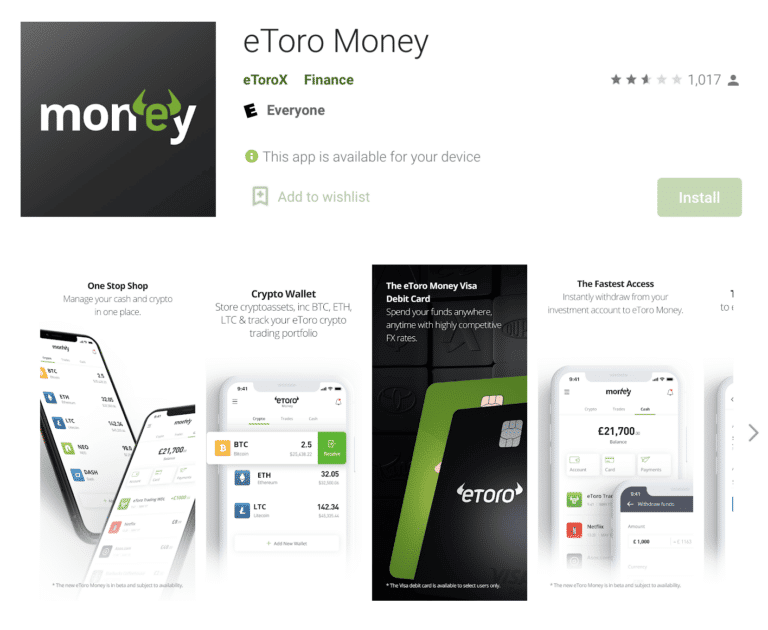 The eToro platform allows you to purchase crypto and transfer it into your wallet. You can do this by going to the portfolio screen on the eToro platform. First, you need to click on the crypto you want to transfer and click the 'Edit Screen' button. When you're going to execute the transfer, please click on the 'Transfer to Wallet' option.
5. Purchase Dogecoin
Dogecoin can be bought on eToro by searching 'Dogecoin' in your dashboard. After clicking 'Trade,' you will be prompted to fill out a new order form. Next, enter the amount of Dogecoin you wish to purchase and click 'Open Trade' to complete your transaction. Once you have your DOGE tokens, you can safely store and send them using the eToro wallet.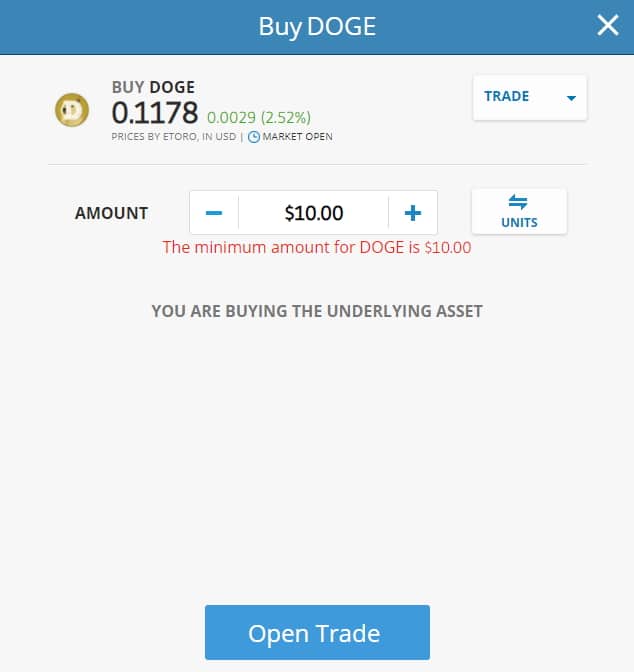 What Is A Dogecoin Wallet
The wallets for Dogecoin work the same way as other crypto wallets. A Dogecoin wallet is a virtual application that allows you to keep your DOGE and another crypto safe. In other words, they basically offer a secure location to store your digital currency so you can use it like cash.
They are provided by brokers, crypto exchanges, and third-party service providers. From a utility perspective, they are a way for users to send and receive DOGE coins and other cryptocurrencies by using a unique wallet address.
In addition to its usefulness as a way to preserve your digital assets, Dogecoin wallets offer powerful features for staking crypto. With its help, you can earn rewards by staking DOGE as well as other cryptocurrencies.  For example, using eToro Money Crypto Wallet is a good place to do it as customers of eToro can download it for free. For instance, you can stake ETH, ADA, and TRN on eToro to earn rewards.
Dogecoin wallets come in three forms: software-only, hardware-based, and paper-based. Let's take a look at them at the next stop in our guide.
Types of Dogecoin Wallets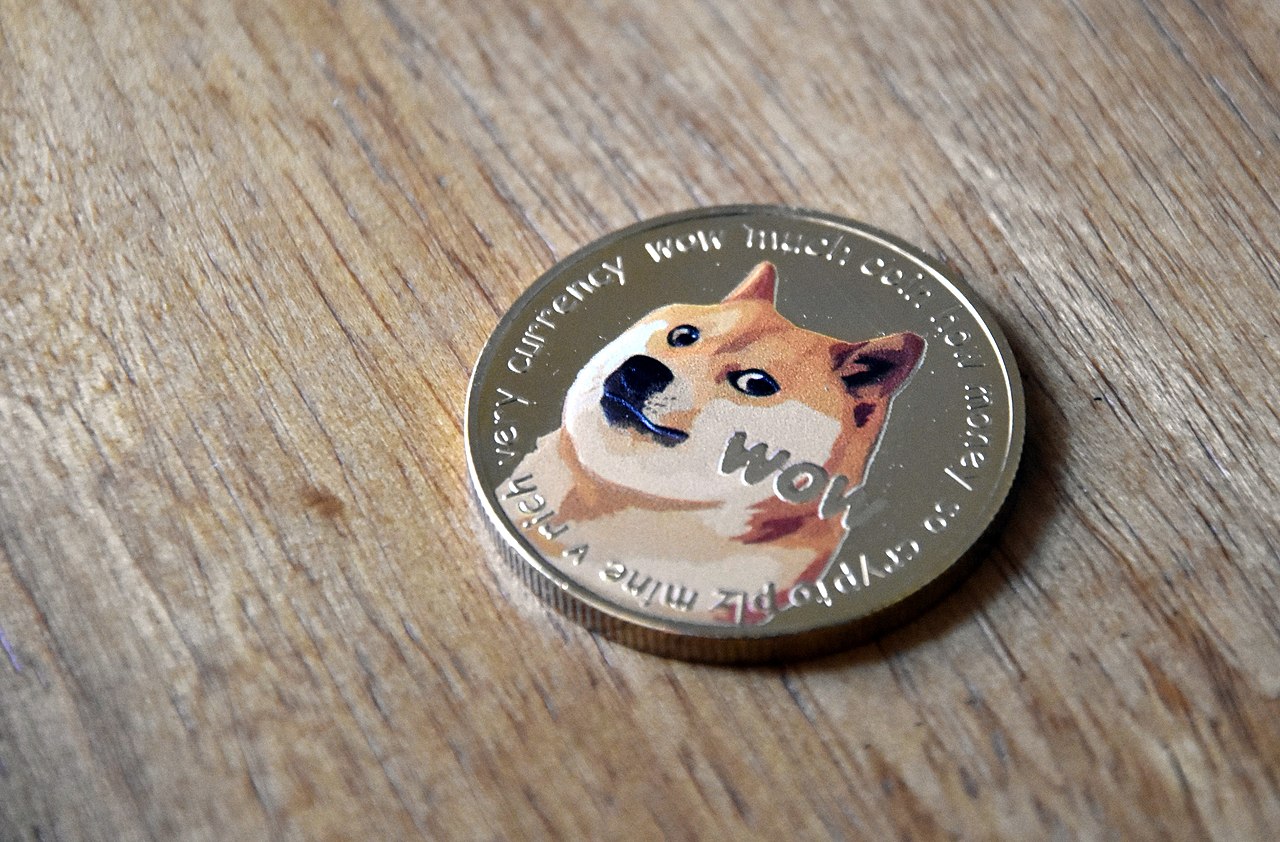 Paper Wallets for Dogecoin
Crypto paper wallets have QR Codes and key codes on them to make crypto transactions possible. They are one of the only ways to store key data that is absolutely resistant to malicious hacking as they are completely removed from the internet. In other words, you can store your private key in your paper wallet, and unless you actually find your paper wallet and read it, your private key is unhackable. Several online apps let you create a Dogecoin paper wallet.
Hardware DOGE Wallets
Hardware DOGE wallets are USB dongles that can be plugged into desktop computers. DOGE wallets are considered 'cold' because they are not permanently connected to the internet. The major advantage of hardware DOGE wallets is that they are shielded from hackers for the most part. However, the drawback is that they could simply be lost, just like a set of keys. However, hardware wallets are also as susceptible to hacking as other wallets when they are online and executing transactions.
Dogecoin Software Wallets
Crypto wallets are all software-based, but many don't contain a hardware element, they are considered software wallets. For instance, Dogecoin and other cryptos are stored in virtual wallets, often brimming with security. Many of them can be downloaded, but some, like Metamask, also function as browser extensions (which comes with certain risks). As an example of an out-and-out Dogecoin software wallet, consider eToro Money Crypto Wallet.
As a result of their constant internet connection, software wallets are known as 'hot' wallets.
Best Dogecoin Wallet - Conclusion
Earlier, we explored the best Dogecoin wallets and uncovered what options investors have at their disposal for holding Dogecoin and other cryptocurrencies.
Based on a global broker with 20 million customers, eToro Money's crypto wallet is likely to benefit from ongoing upgrades. That's why we recommend the eToro Money crypto wallet. It doesn't only offer outstanding functions such as buying and selling or trading cryptocurrencies. Staking is also an exceptional feature that makes it stand out from other alternatives out there.
With eToro, you can opt to register from the comfort of your home and have one of the best Dogecoin wallets available. The registration process will not take you longer than five minutes.
eToro - Overall Best Dogecoin Wallet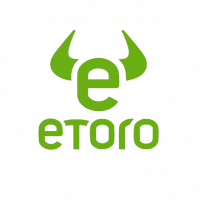 67% of retail investor accounts lose money when trading CFDs with this provider. You should consider whether you can afford to take the high risk of losing your money.
FAQs
What is the safest Dogecoin wallet?
What is the official wallet for Dogecoin?
Where will Dogecoin be in 5 years?
Can you transfer Dogecoin from eToro to wallet?