Crypto Emporium Review 2023– Best Crypto Store
Fact Checked
Everything you read on our site is provided by expert writers who have many years of experience in the financial markets and have written for other top financial publications. Every piece of information here is fact-checked. We sometimes use affiliate links in our content, when clicking on those we might receive a commission - at no extra cost to you. By using this website you agree to our terms and conditions and privacy policy.
Disclosure
The investing information provided is for educational purposes only. Trading platforms does not offer advisory services, nor does it recommend or advise investors to buy or sell stocks, securities or other investment vehicles. Some or all of the products displayed on this page are from partners that compensate us. It may influence the products we cover and the location of the product on the page. Nevertheless, our research and analysis is unaffected by our partners.
Over the last few years, the number of crypto investors has significantly increased. As a result, a growing number of people are looking for ways to use their crypto investments, rather than simply holding them in a wallet. The use of crypto for for everyday activities is a large part of mass adoption. Crypto Emporium is a decentralized cryptocurrency store that aims to fulfil this demand. In our Crypto Emporium review, we take a closer look at the platform to decide whether or not its worth the using in 2023.
Crypto Emporium Overview
Crypto Emporium is a digital marketplace that focuses on high-end products and uses cryptocurrencies as its primary method of payment. Its user interface is easy to navigate with a sophisticated and contemporary design. The item pages are well-crafted with high-resolution photographs. The site places substantial importance on the security and confidentiality of transactions, employing techniques like SSL encryption and dual-factor authentication. However, the website's exclusive reliance on cryptocurrencies might make it difficult to use for some users who lack crypto experience.
Crypto Emporium is a unique eCommerce store with a strong reputation, good security measures and a wide range of products available.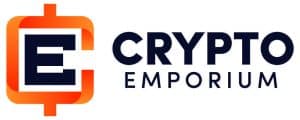 Cryptocurrencies are volatile assets.
Crypto Emporium Full Review 2023
If the above summary still leaves you with questions about the Crypto Emporium website, the following section of our review provides everything you need to know about the ecommerce platform before using it.
What is Crypto Emporium?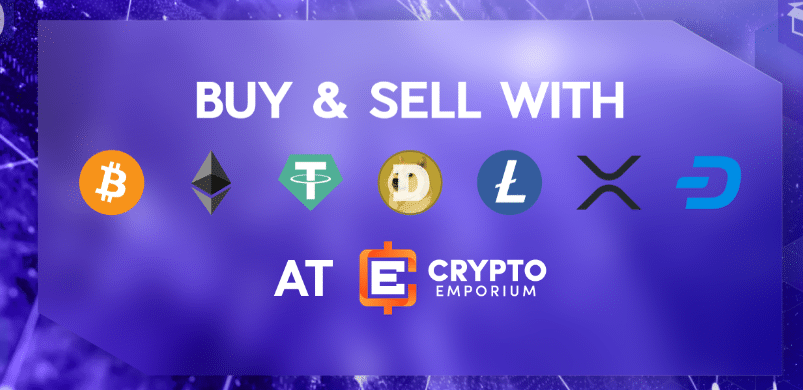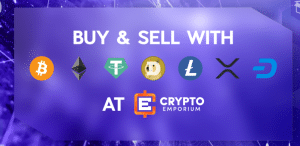 Crypto Emporium is a new ecommerce store that accepts cryptocurrency payments. The store lists hundreds of items for sale including real estate, clothing, accessories, technology and cars. Crypto Emporium is amongst the best new crypto offerings to watch this year.
The website was established to cater to the growing demand for luxury items that can be purchased with digital assets, and it offers a wide range of high-end products from various brands. The website places a significant emphasis on security and privacy, with measures such as SSL encryption and two-factor authentication to protect user information. The company is based in the United Kingdom but has a global customer base.
Like any ecommerce store, Crypto Emporium can be accessed from both desktop and mobile devices. Users can easily purchase products with just one click and can receive incentive rewards every time that they use the site to make a purchase.
Why is Crypto Emporium needed?
Crypto Emporium addresses a growing demand for luxury goods that can be purchased with cryptocurrency. As the popularity of digital assets continues to rise, there is an increasing desire among cryptocurrency enthusiasts to use their digital assets to make purchases. However, many traditional e-commerce platforms do not accept cryptocurrency as a payment method, which creates a barrier for those who want to use their digital assets for luxury purchases.
Crypto Emporium fills this gap by offering a wide range of luxury goods that can be purchased with cryptocurrency. This provides an opportunity for those who have invested in digital assets to use them in a practical way, rather than simply holding them as investments. For example, users can invest in real estate through the platform by purchasing property with crypto- this concept has seen a recent surge in popularity through projects such as Metropoly. It is possible to buy an apartment, for example, with just one click. This process is considerably quicker than the traditional real estate buying process which can take months to complete.
Additionally, the website's emphasis on security and privacy makes it a more attractive option for those who value the anonymity and security of cryptocurrency transactions. All transactions are processed across the blockchain network which provides customers with true ownership over any items that they buy.
Cryptocurrencies are volatile assets.
Pros and Cons of Crypto Emporium
The best way to get an understanding of whether a platform is worth using is to look at the pros and cons.
Pros:
Wide selection of luxury goods available to purchase.
Strong security and privacy, with measures such as SSL encryption and two-factor authentication to protect user information.
Provides a unique shopping experience for those looking to use their cryptocurrency for luxury purchases.
Global shipping available, making it accessible to customers worldwide.
Provides an opportunity for cryptocurrency enthusiasts to use their digital assets in a practical way.
Cons:
Cryptocurrency payments may be a barrier for those who are not familiar with or do not own cryptocurrency.
Limited payment options may discourage some customers from making a purchase.
The majority of products available are high-ticket items.
No physical retail stores, making it impossible for customers to see products in person before making a purchase.
Limited customer support options, with no phone support available.
Cryptocurrencies are volatile assets.
Crypto Emporium Key Features
Let's take a closer look at the key features of the Crypto Emporium eCommerce platform.
✔️ Cryptocurrency payments
The main USP of Crypto Emporium is that it accepts cryptocurrency as payment. Crypto Emporium accepts several cryptocurrencies as payment for the purchase of luxury goods. These include:
By accepting a variety of cryptocurrencies, Crypto Emporium provides customers with flexibility and convenience when making purchases with their digital assets.
Crypto Emporium charges a flat 2% fee on all cryptocurrency transactions made on its platform. This fee is calculated based on the total cost of the purchase, including taxes and shipping fees.
It's worth noting that the fee is charged in addition to any network transaction fees that may be charged during the purchase process. The amount of the network fee depends on the specific cryptocurrency used and the current network congestion.
✔️ Variety of products
Crypto Emporium is a one-stop shop through which users can purchase a variety of different products from clothing to real estate. Many of the products that are available through the platform are backed by recognizable brands such as Rolex and Fuji Film. Amongst the products that are available include: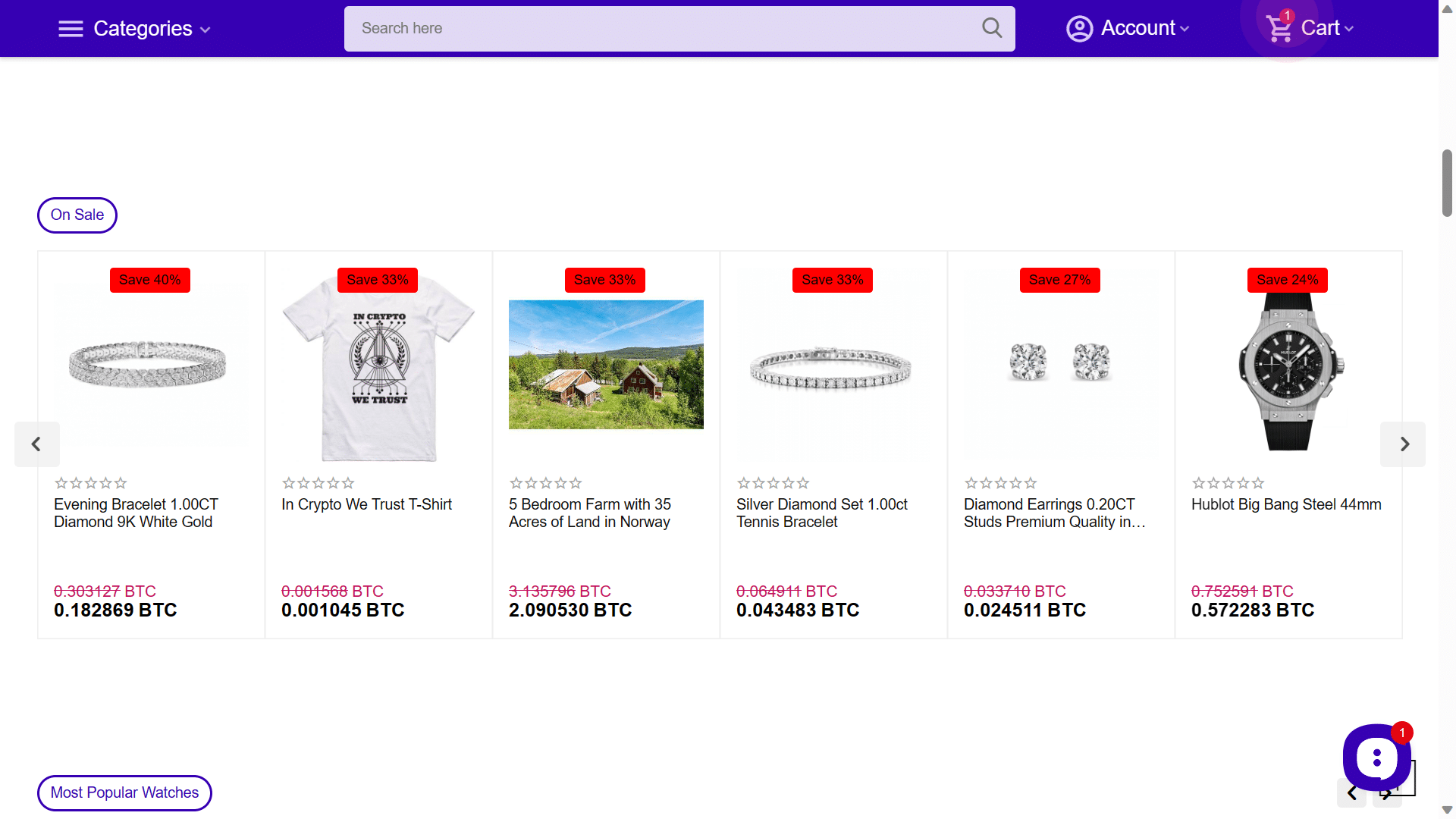 High-end watches: Crypto Emporium offers a range of luxury watches from brands such as Rolex, Audemars Piguet, and Omega.
Jewelry: The website offers a selection of jewelry, including diamond earrings, necklaces, and bracelets.
Electronics: Crypto Emporium sells a variety of high-end electronics, including smartphones, laptops, and headphones from brands like Apple, Samsung, and Bose.
Artwork: The platform offers a range of unique artwork, including paintings and sculptures from artists around the world.
Vehicles: Crypto Emporium occasionally offers luxury vehicles for sale, including sports cars and supercars. Users can buy cars from top manufacturers including Lamborgini.
✔️ Security and privacy
Another key feature of the Crypto Emporium eCommerce platform is advanced security and privacy. Crypto Emporium takes security and privacy very seriously. This means that the site implements measures to protect its customers' information and transactions.
One of the key security features on the platform is SSL encryption, which ensures that all data transmitted between the website and the customer's device is encrypted. This prevents hackers or malicious software from getting a hold of information such as credit card details or personal information.
In addition, Crypto Emporium offers two-factor authentication to add an extra layer of security to customer accounts. This ensures that only authorized users can access their accounts, even if their login credentials are compromised.
The platform also takes steps to protect customer privacy, including using pseudonyms and encrypting communication channels. Furthermore, the website does not store customer payment details or sensitive information on its servers, reducing the risk of data breaches or theft.
Cryptocurrencies are volatile assets.
✔️ Crypto Emporium customer support
Crypto Emporium provides good customer support, with several options available for customers to get in touch with the team. The website has a dedicated support section, which includes a frequently asked questions (FAQ) page, as well as a contact form for customers to submit queries or issues. Additionally, the platform has a live chat feature that can be used to answer queries 24/7. The customer support team is responsive and helpful, and they generally respond to inquiries in a timely manner.
✔️ Global shipping
Crypto Emporium can be used by cryptocurrency holders from around the globe thanks to the platform's global shipping services. The platform works with trusted and reliable shipping partners to ensure that items are delivered safely and efficiently. The estimated shipping times and costs vary depending on the destination country and the item's weight and value.
Customers can track their shipments using the tracking number provided, and Crypto Emporium's customer support team is available to assist with any shipping-related issues that may arise. It's worth noting that some countries may have import duties or taxes that customers are responsible for paying. So, it's important to check local regulations before making a purchase.
✔️ Crypto Emporium affiliate programme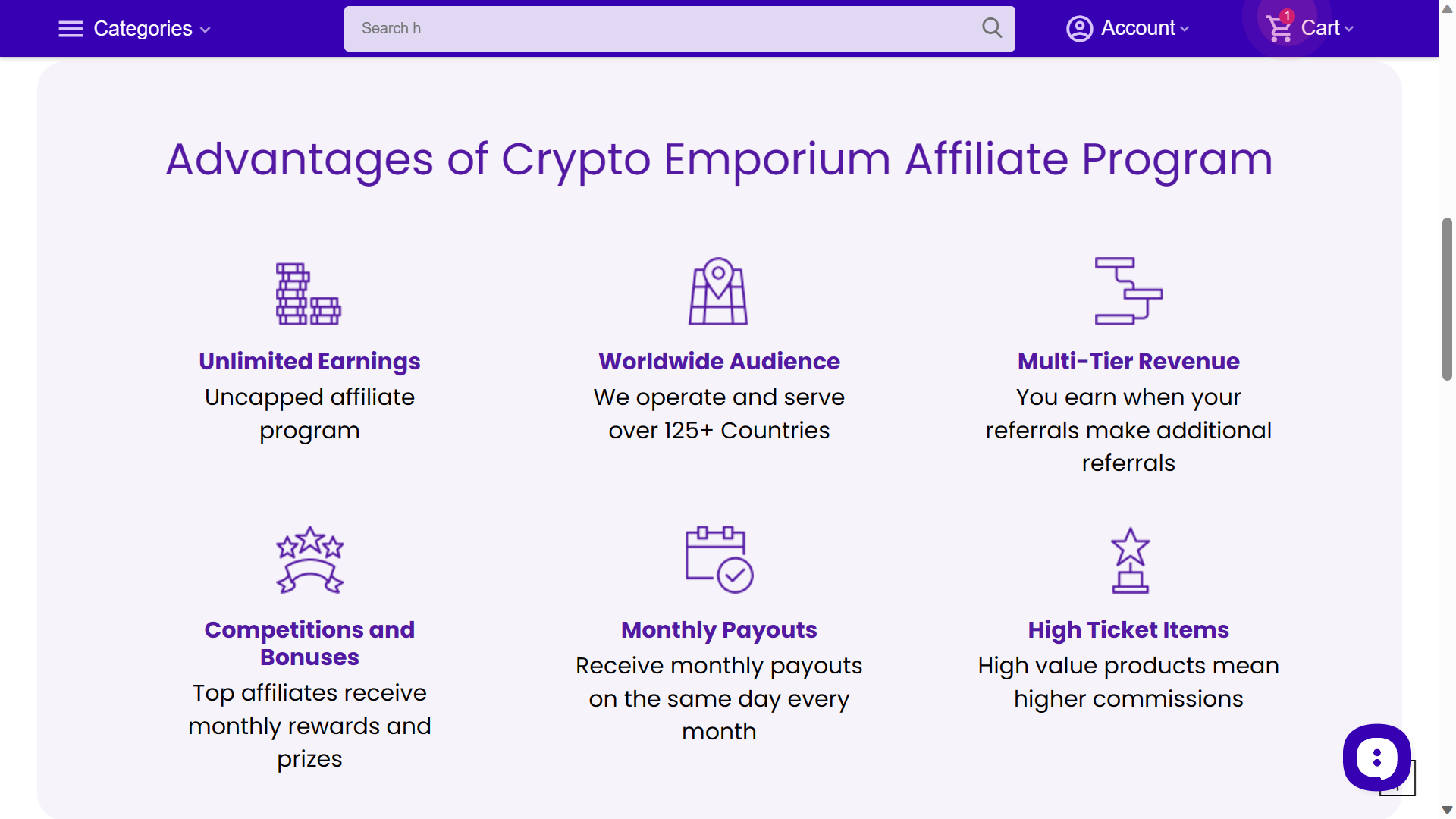 Crypto Emporium has an affiliate program that allows users to earn commissions by promoting the platform to others. The program offers a generous commission rate of up to 10% on all sales generated through an affiliate's unique referral link. Affiliates can promote Crypto Emporium through various channels, including social media, blogs, and websites.
The platform provides affiliates with access to marketing materials such as banners and logos to help them promote the platform effectively. Payments are made monthly via cryptocurrency, and affiliates can track their performance and earnings in real-time through the platform's affiliate dashboard. Overall, Crypto Emporium's affiliate program is a great way for crypto enthusiasts to earn passive income while promoting a platform they believe in.
✔️ Emporium Cash
Emporium Cash is Crypto Emporium's native rewards scheme. Emporium Cash is a cashback scheme through which users can earn money back every time that they make a purchase. Users are eligible for 4% cash back on all purchases made through Crypto Emporium. Cash back is paid in Emporium Cash- the platform's native token. Emporium Cash can be used to purchase goods, cashed out or staked for further passive rewards.
Cryptocurrencies are volatile assets.
How To use Crypto Emporium
Crypto Emporium works very similarly to any other eCommerce store. The main difference is that users must have a  crypto wallet to be able to make purchases. Here, we will show you how to fund a wallet with crypto and make your first purchase!
Step 1: Purchase crypto from eToro
Before you can use Crypto Emporium, you will need to buy crypto. The website accepts a variety of tokens as payment however for the purpose of this guide we will be showing you how to purchase Bitcoin (BTC) using eToro– a recommended broker.
Open an account with eToro: If you haven't already, create an account with eToro by visiting their website and filling out the registration form. You will need to provide some personal information, such as your name, email address, and a password.
Verify your account: Once you have created an account, eToro will ask you to verify your identity by providing a valid government-issued ID and a proof of address.
Deposit funds: You can deposit funds into your eToro account using various payment methods, such as credit/debit cards, bank transfer, or e-wallets. Choose the payment method that works best for you and follow the instructions to deposit the desired amount of funds.
Search for BTC: On the eToro platform, search for BTC by typing "BTC" or "Bitcoin" in the search bar. This will bring up the Bitcoin trading page, where you can see the current BTC price and other relevant information.
Buy BTC: To buy BTC, click on the "Trade" button next to the BTC chart. This will open a trading window where you can specify the amount of BTC you want to buy, as well as the type of order you want to place (market order or limit order). Once you are satisfied with your order details, click on the "Open Trade" button to execute the order.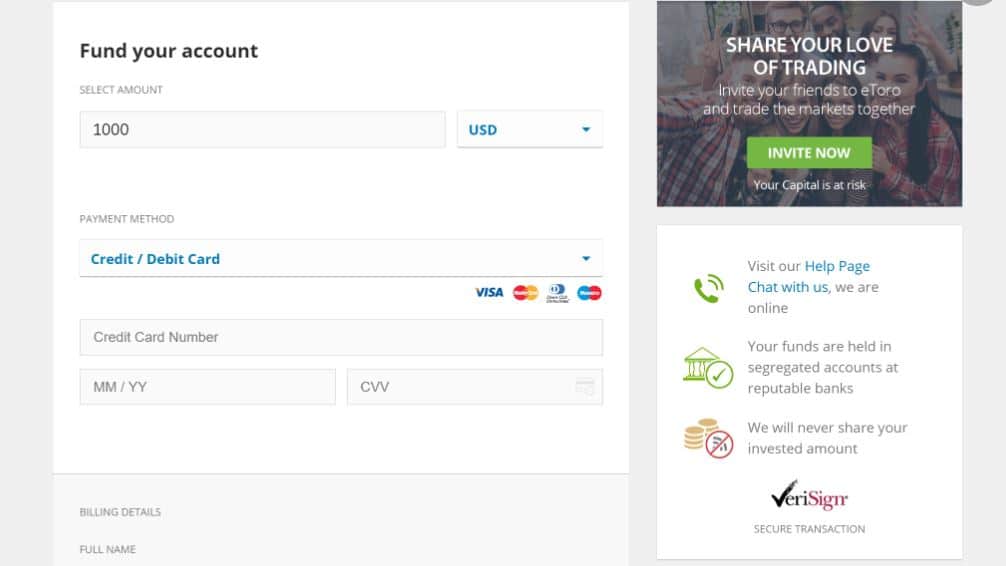 Step 2: Move BTC in eToro Money Wallet
You cannot connect your eToro trading account to the Crypto Emporium store. Instead, you will need to move your BTC into the eToro Money Wallet so that you can then transfer it to Meta Mask or Wallet Connect.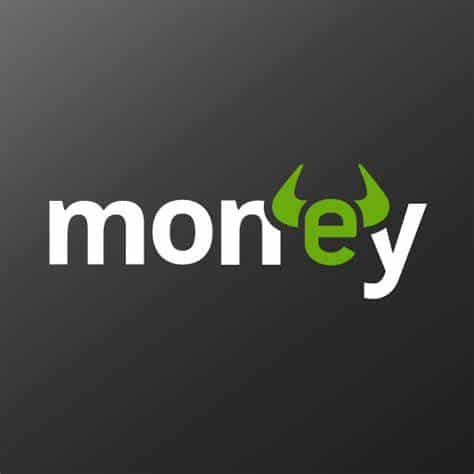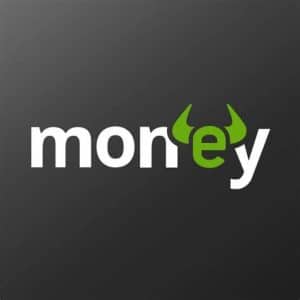 Here is how to move your BTC to the eToro Money Wallet:
Select "Bitcoin": Find the Bitcoin position you want to move from your trading account to your Money Wallet. You can use the search bar or filter options to locate it easily.
Click "Sell": Click on the "Sell" button next to the Bitcoin position you want to move.
Choose "Sell to Wallet": In the pop-up window, select "Sell to Wallet" from the drop-down menu.
Enter the amount: Enter the amount of Bitcoin you want to transfer to your Money Wallet.
Confirm the transfer: Verify the transaction details and click on the "Sell" button to confirm the transfer.
Check your eToro Money Wallet: Once the transfer is complete, your Bitcoin funds will appear in your eToro Money Wallet. You can access your Money Wallet from the "Money" menu on the eToro platform
Step 3: Move BTC to Meta Mask
The next step is to move your BTC to the MetaMask crypto wallet. You can also use Wallet Connect however, MetaMask is better for desktop users.
To move crypto from eToro wallet to MetaMask, log in to your eToro account and select "Money" from the main menu, then click on "Withdraw" to access your eToro Money Wallet. Choose the cryptocurrency you want to transfer and click on "Send."
Enter the recipient MetaMask wallet address and the amount you want to transfer, and verify all transaction details before clicking "Submit" to confirm the transfer. After the transaction is processed, you should see the transferred cryptocurrency in your MetaMask wallet.
Step 4: Purchase items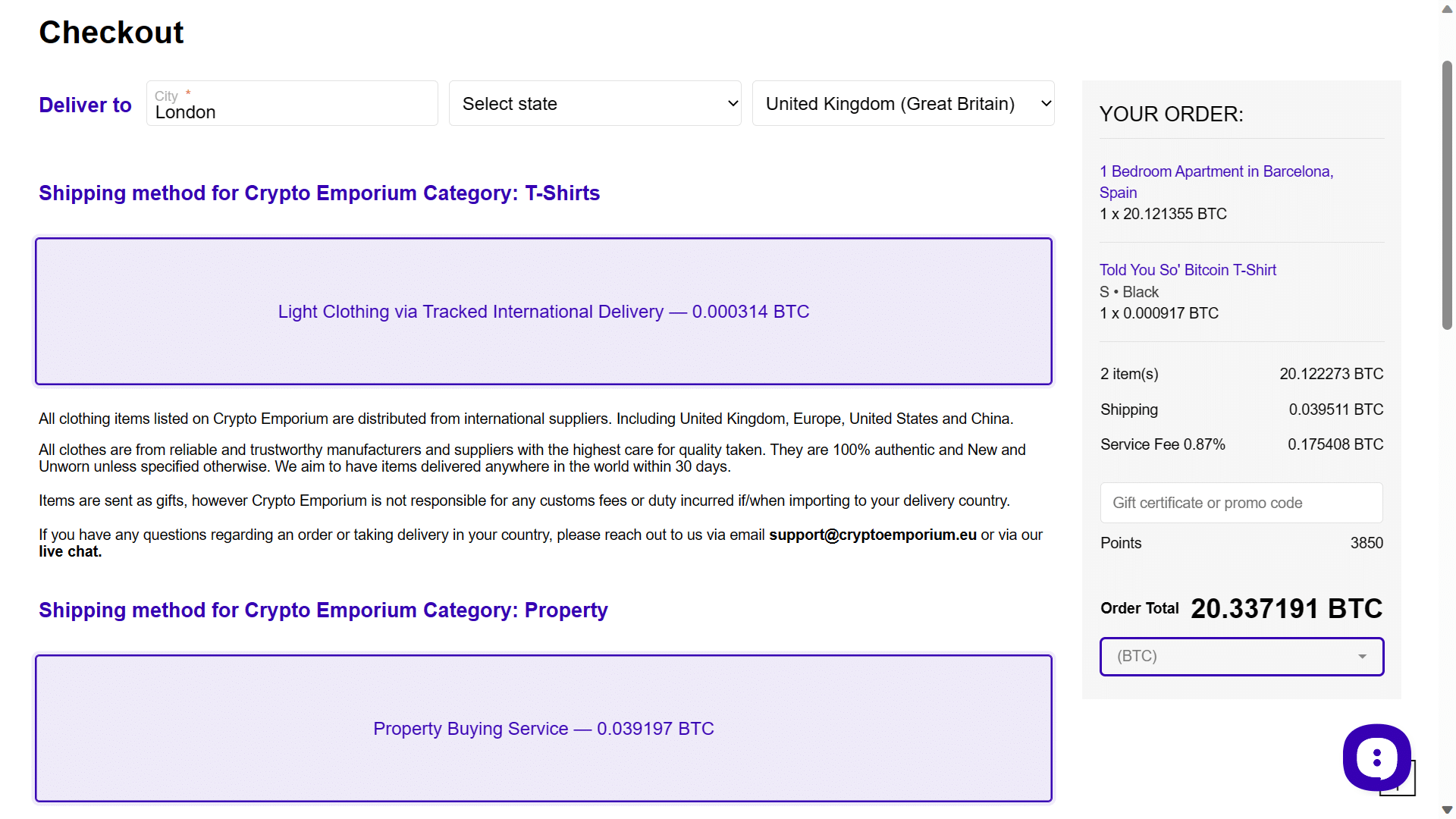 Once your crypto is safely in a crypto wallet, you will be able to use Crypto Emporium to buy items. At the checkout, you will be asked to provide your wallet address. This is the address that you will be charged from.
It is important to enter the correct address and to make sure that you have enough funds in your wallet to cover the transaction. You may be asked to verify the payment with your wallet provider.
Cryptocurrencies are volatile assets.
Is Crypto Emporium safe?
Yes, Crypto Emporium is a safe online crypto store that protects its users with several advanced security measures. Additionally, Crypto Emporium claims to be fully compliant with all relevant regulations and laws, which may provide some additional reassurance for users. However, it is important to note that this information is provided by the company itself, and it is always advisable to conduct independent research and due diligence before using any cryptocurrency platform or service.
Crypto Emporium user reviews
Crypto Emporium has received a 3.6 star rating on TrustPilot. However, the majority of reviews are positive with many customers praising the site for fast shipping times, a simple shopping process and transparency. After looking at user reviews, it seems that the customer service offered by Crypto Emporium is particularly strong with any issues or queries being solved quickly by the team.
Our Verdict on Crypto Emporium
Crypto Emporium is an innovative eCommerse website that can be used to buy luxury items with cryptocurrency. From our Crypto Emporium review, we can conclude that the store is reliable and easy to use. Crypto Emporium offers a good range of products, a first checkout process and excellent customer support. The platform makes it easy to spend crypto in a way that feels similar to any regular eCommerce experience.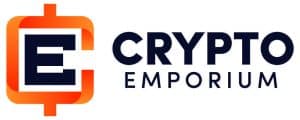 Cryptocurrencies are volatile assets.
What can you buy on Crypto Emporium?
Where is the best place to buy cryptocurrency?
Is it safe to buy property on Crypto Emporium?
Is Crypto Emporium the best cryptocurrency store?