How To Buy $SPONGE – Next 100x Meme Coin
Fact Checked
Everything you read on our site is provided by expert writers who have many years of experience in the financial markets and have written for other top financial publications. Every piece of information here is fact-checked. We sometimes use affiliate links in our content, when clicking on those we might receive a commission - at no extra cost to you. By using this website you agree to our terms and conditions and privacy policy.
Disclosure
The investing information provided is for educational purposes only. Trading platforms does not offer advisory services, nor does it recommend or advise investors to buy or sell stocks, securities or other investment vehicles. Some or all of the products displayed on this page are from partners that compensate us. It may influence the products we cover and the location of the product on the page. Nevertheless, our research and analysis is unaffected by our partners.
Ever since the launch of Dogecoin in 2013, meme coins have been known to bring excellent returns to early investors. Some of the best projects to see huge gains include Tamadoge, Shiba Inu and most recently, Pepe coin.
However, investors who don't invest early in these projects typically miss out on these big returns. If you missed the chance to make money from Pepe coin, there is still a chance to make excellent returns by investing in $SPONGE- the latest meme token to hit the market. Here, we will take a look at how to buy $SPONGE so that you can profit from the project in 2023.
How to buy $SPONGE 2023
$SPONGE is the latest meme coin to hit exchanges and has already generated hype amongst meme enthusiasts. The project stands out from other crypto offerings because the token went straight to DEX listing and did not go through any presale.
To invest in $SPONGE and make the most of future gains, you will need to buy the token from the exchange which can be accessed by the official $SPONGE website. Below is a quick guide to buying $SPONGE in 2023.
Step 1: Go to spongebobtoken.io
The official website to buy SPONGE is spongebobtoken.io. Here, you can purchase the meme coin easily.
It is a good idea to double-check the legitimacy of the website before connecting your crypto wallet. The official website is protected with an SSL certificate and should have an 's' in the URL after 'http'. If the website does not have this, it is a sign that you are using the wrong website. In general, never connect your crypto wallet to a website that isn't secured by SSL.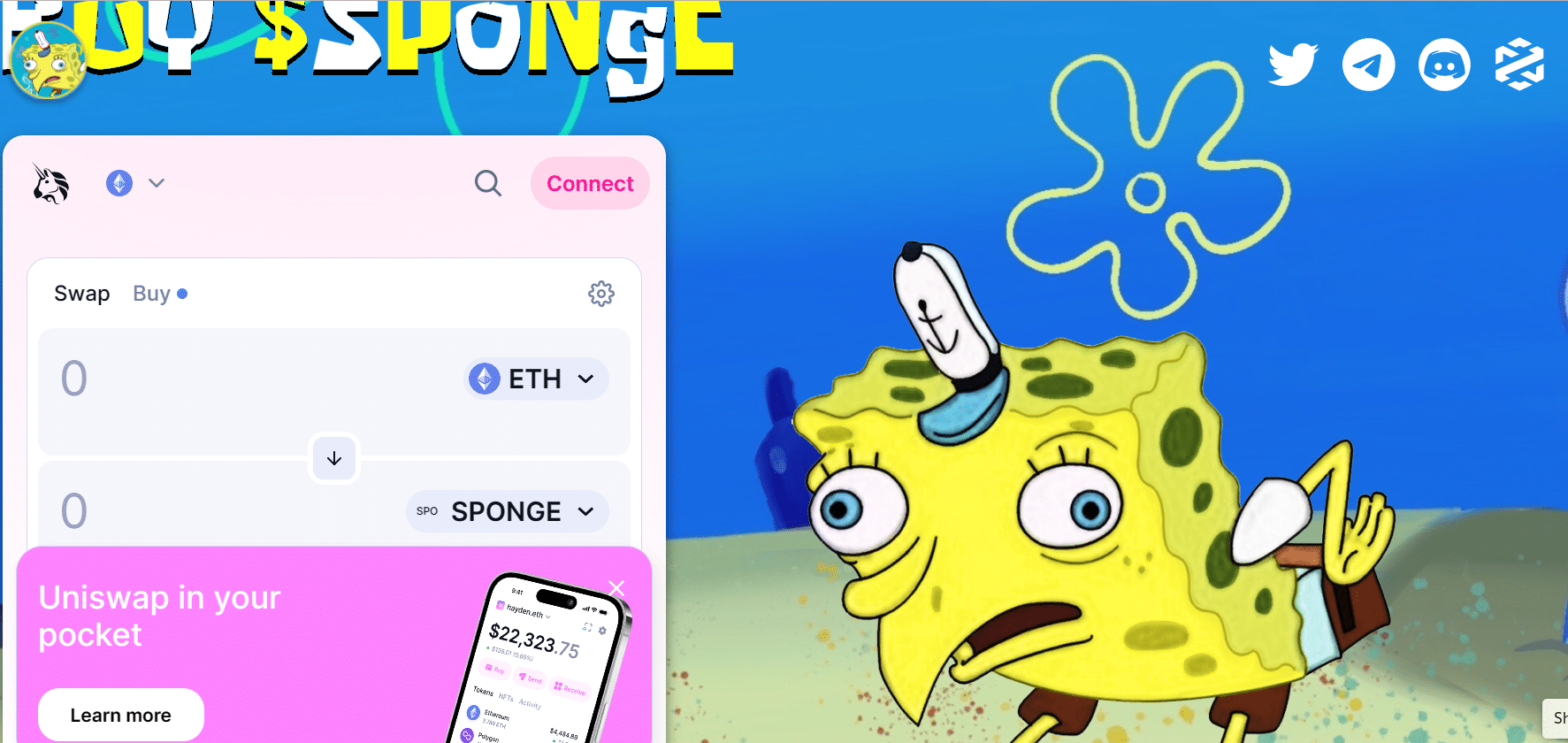 Step 2: Connect crypto wallet
Once you have found the official website, you will need to connect your crypto wallet. You can use Meta Mask, Wallet Connect, UniSwap Wallet and Coinbase Wallet to buy $SPONGE. For desktop users, MetaMask is the best option. However, mobile users may want to consider Wallet Connect or Coinbase Wallet.
Before you can buy $SPONGE tokens, you will need to fund your crypto wallet with crypto tokens. $SPONGE is an ERC20 asset which means that you can swap a number of Ethereum-based tokens for the meme coin. For the purpose of this guide, we will be using ETH.
You can buy ETH from the majority of crypto exchanges. If you do not already own ETH, the fastest way to do so is buying ETH from Coinbase and then connecting your Coinbase wallet to spongebobtoken.io and make the exchange. However, if you have more time, we recommend using eToro to purchase ETH tokens because the broker is fully regulated, easy to use and offers low fees. If you use eToro to buy ETH, you will need to transfer the tokens to a wallet that can be connected to the spongebobtoken.io website.
Step 3: Swap ETH for $SPONGE
The next step is to swap ETH for $SPONGE via the official website. This process is relatively simple. You will need to select the token that you wish to buy $SPONGE with, enter the amount that you would like to swap and then confirm the transaction.
The tokens should appear in your crypto wallet after a few minutes. You can view the transaction on etherscan.
your money is at risk. 
What is $SPONGE?
$SPONGE is the latest meme coin to dominate the market. The token was launched in May 2023 and has already generated hype amongst meme enthusiasts and crypto investors. The Spongebob meme token was created to recreate the success of Pepe coin and Tamadoge – two meme coins that have exploded upon exchange listings. The aim of the project is to generate excellent returns for investors and to build a community of investors who believe in the token's ability to increase in value.
As a community-focused project, $SPONGE has no roadmap. Instead, the team is relying solely on the power of marketing and buzz to encourage investors and reach a market cap of 1bn. The token has a strong discord and telegram community and is also beginning to make headlines in the crypto space as the next meme coin to 100x.
$SPONGE tokenomics
$SPONGE is easily one of the best meme coins to invest in right now. The token is a shitcoin that aims to gain value through hype and community spirit. The maximum supply of $SPONGE is 4,400,000,000 and the token is listed on dextools.io. $SPONGE is an ERC20 token built on the Ethereum network. The main use case of the token is to bring returns to early investors and to support the creation of high quality meme content.
your money is at risk. 
Is $SPONGE legit?
Meme coins are also known as shitcoins due to their lack of utility. However, despite the skepticism that surrounds these tokens, some of the best shitcoins have seen huge returns for early investors. Most recently, Pepe coin surged by over 3000%, sending the token to the moon. Early investors saw huge returns on their investment; however, those who missed out on the chance to profit from the gains were left seeking an alternative option.
Spongbob token has been created to repeat the success of Pepe coin. The new meme coin is considered to be the best opportunity for anyone who missed out on the Pepe coin hype. $SPONGE is a legit project that can be found on etherscan. Early investors are promised excellent returns. However, the price of meme tokens moves quickly and there is no guarantee that you will make returns if you invest too late! It is also important to consider the fact that the crypto market is highly volatile and future price cannot be predicted.
Nevertheless, Spongebob token has attracted interested from meme coin investors and is already making headlines in the news. At this stage, it is not crazy to think that $SPONGE could be the next meme token to explode.
How to buy $SPONGE 2023 – conclusion
If you want to invest in a meme token that will bring excellent returns in 2023, $SPONGE is a good option to consider. Here, we have taken a look at how to buy $SPONGE buy connecting your wallet to the website and swapping ETH tokens for the meme coin. It is important to conduct research into new projects before investing.
You should also be careful when sharing your crypto wallet details online, use a secure internet connection and never connect your wallet to a website that isn't secure.
your money is at risk.