How To Buy Pepe Coin 2.0 – Complete Guide 2023
Fact Checked
Everything you read on our site is provided by expert writers who have many years of experience in the financial markets and have written for other top financial publications. Every piece of information here is fact-checked. We sometimes use affiliate links in our content, when clicking on those we might receive a commission - at no extra cost to you. By using this website you agree to our terms and conditions and privacy policy.
Pepe2.0 is a meme-based token based on its predecessor, Pepe coin. Pepe2.0 was created for two reasons. The first was to give investors who missed out on the Pepe coin rush a second chance at an amazing ROI. The second reason was to build a community-based meme coin that offers more utility than the original Pepe coin. In this article, we will take a look at how to buy PePe 2.0 in 2023 so that you can take advantage of this exciting meme project.
How To Buy Pepe Coin 2.0 – Quick Guide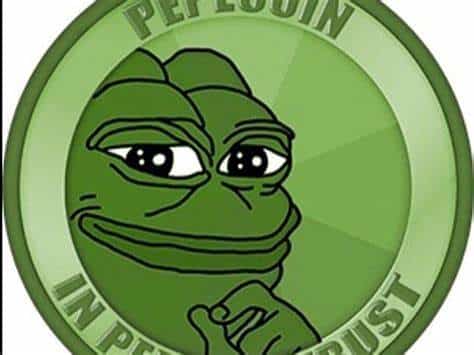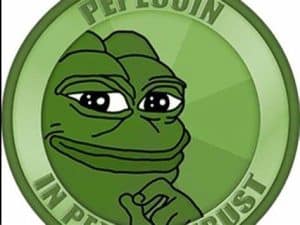 Here is an overview of how to buy PePe coin 2.0 from a decentralized exchange. Scroll down to read our more detailed buying guide.
Step 1: Connect crypto wallet to DEX
Once you deposit ETH in your crypto wallet, connect the wallet to the DEX of your choice. PePe 2.0 is available on Gate.io, KuoCin, OKX, LBANK and MEXC.
Step 2: Swap cryptos for $PEPE 2.0
After connecting your crypto wallet to an exchange, swap ETH for PePe 2.0 tokens. The process will take a few minutes and it is a good idea to use a secure internet connection when sending cryptos across a blockchain.
Step 3: Move tokens to wallet
Move your PePe 2.0 tokens to a secure hardware wallet. This will keep your investments safe from hackers.
Your capital is at risk.
What Is Pepe Coin 2.0?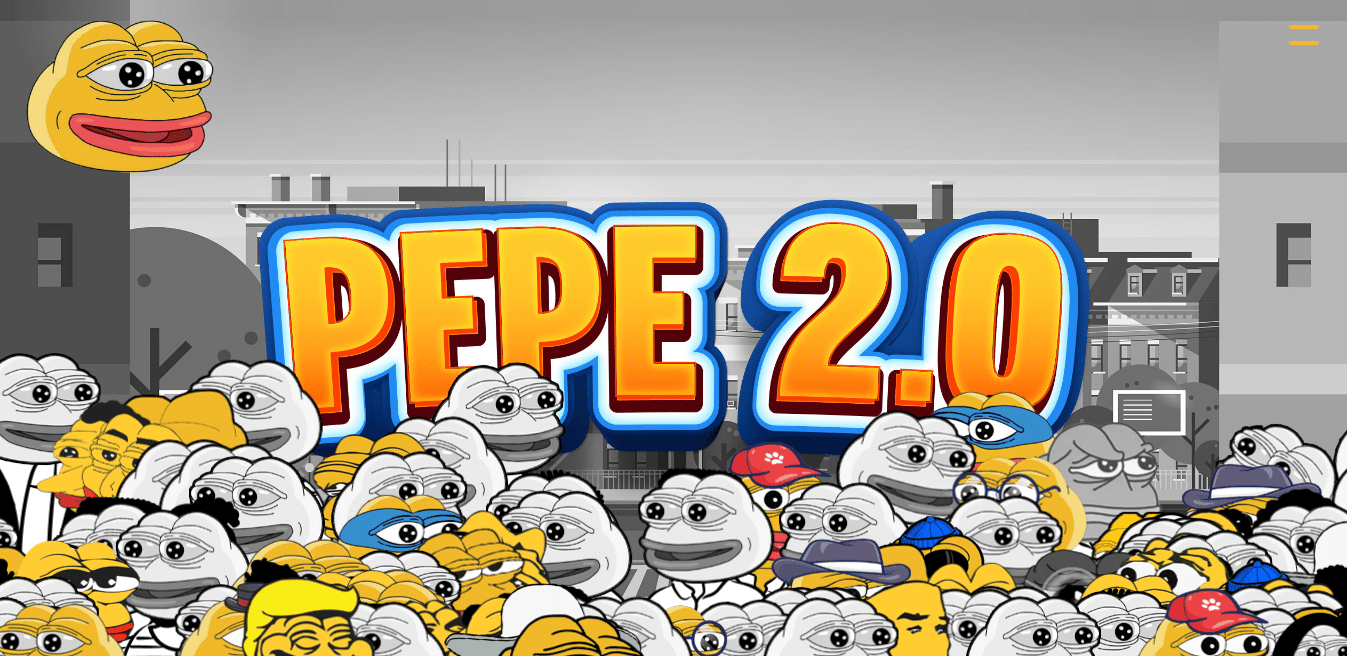 Pepe 2.0 is the second instalment of the Pepe coin ecosystem. The Pepe Coin is a reference to the internet meme "Pepe the Frog." Pepe the Frog is an anthropomorphic frog that gained significant popularity on social media. The Pepe 2.0 creators used the Pepe Frog meme as a catalyst for growth. Although unprecedented (and the creators will go on to deny any association with Pepe Frog, perhaps for copyright issues), Pepe also became an overnight sensation in the cryptocurrency space and enjoyed traction for a while.
The success of the Pepe coin project led to the creation of Pepe 2.0. Pepe 2.0 is an update and enhancement to Pepe coin. As a new and advanced version, Pepe 2.0's ecosystem promises to be a lot better, making it one of the best meme coins to buy in 2023. Alongside the $Pepe 2.0 token, the project releases Pepe 2.0 NFT collections that are popular amongst meme enthusiasts. Pepe 2.0 retains the essence of its predecessor, such as the meme-inspired branding, while also integrating improvements in its underlying technology, tokenomics, governance, and community engagement. The goal is to create a more robust and user-friendly ecosystem that can cater to a broader audience and facilitate various use cases beyond simple transactions.
Your capital is at risk.
Pepe Coin 2.0 tokenomics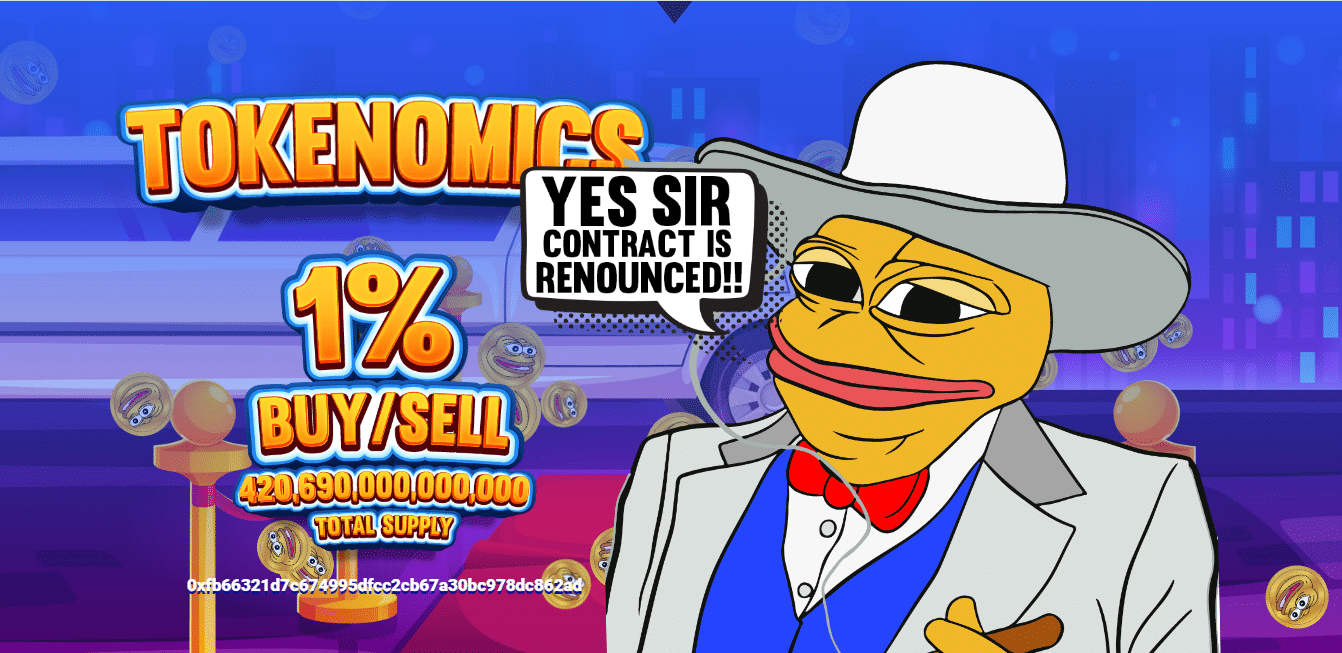 The total supply of PePe 2.0 is 420,090,000,000,000 and 100% of the tokens are available to be mined. The token has no real utility other than to reward early investors and grow the PePe community.
All PePe 2.0 transactions are met with a $1 charge which is used for marketing and project development. It is not possible to stake PePe 2.0 tokens and the project has not launched any airdrops so other token reward schemes so far.
Tokenomics are a key indicator that can be used to judge whether or not a token is a strong investment. It is clear that PePe 2.0 is lacking in this area which is why investors should consider investing in Evil PePe, the best PePe coin alternative. Evil PePe is another meme token with no real use cases however, the project has a strong tokenomic design that positions the coin to do well.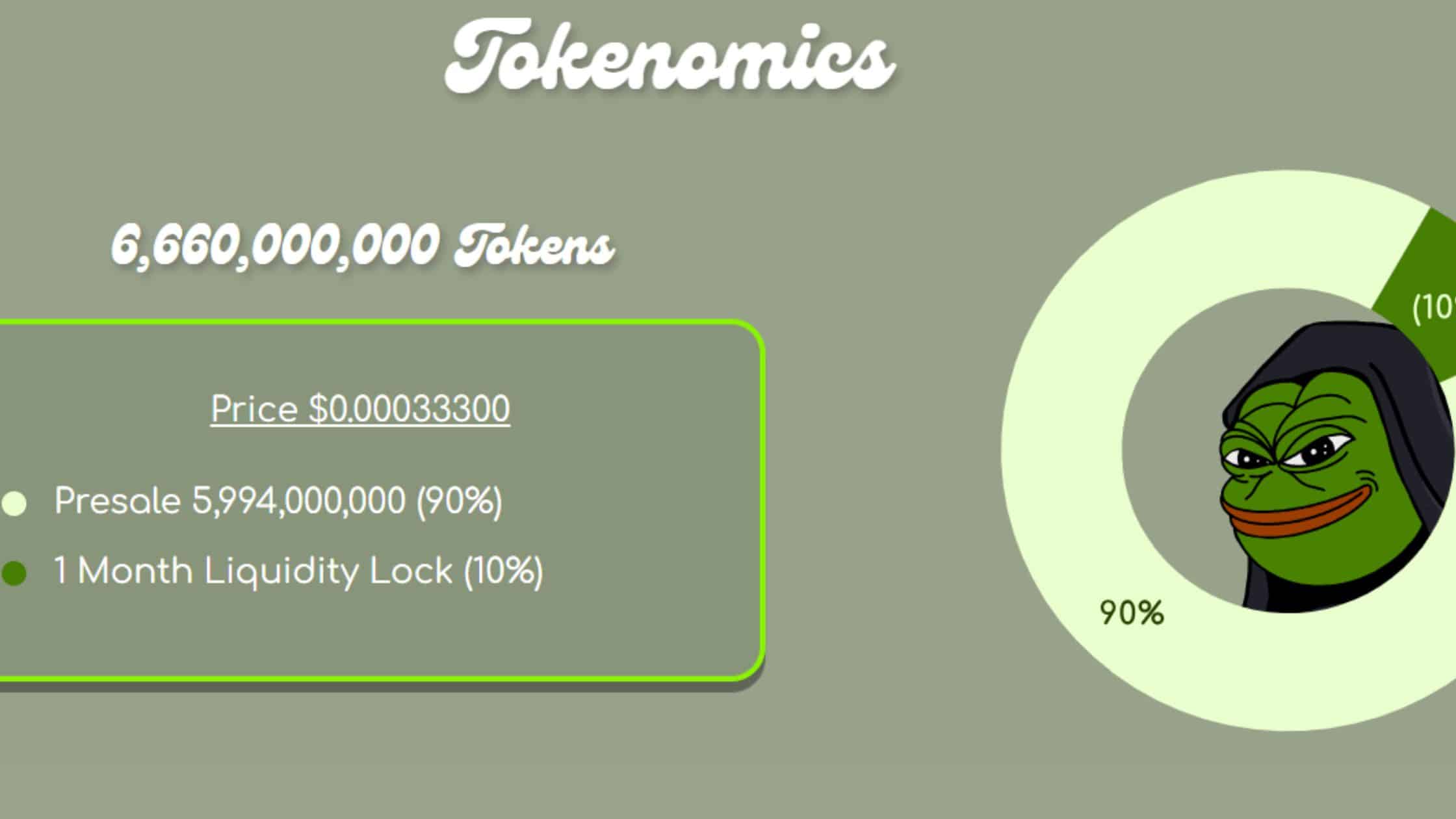 Evil PePe is currently going through a fast-selling crypto presale event through which 90% of tokens are available. The remaining 10% of tokens will be kept in a 1 month liquidity lock after the presale to maintain the tokens value.
Your capital is at risk.
Why was Pepe 2.0 created?
Pepe 2.0 offers advancements such as scalability and transaction speeds surpassing the original Pepe coin. The creators intend the coin to be used for everyday needs and perhaps gain mass adoption. It could also introduce smart contract capabilities, enabling the development of decentralized applications (dApps) on its blockchain, expanding its utility and use cases.
It is important to know that the advancements and success of the Pepe 2.0 coin are closely related to its predecessor, Pepe. Whatever monetary gains that community members will have from buying and holding the coin comes from the initial success of Pepe. It is also important to note that the creators charge a 1% transaction fee on all Pepe 2.0 transactions. The creators claim the fee levied will be used to build the ecosystem.
Your capital is at risk.
Pros and Cons of Buying Pepe Coin 2.0 in 2023
Pros:
Low entry point. Pepe 2.0 is a penny cryptocurrency; hence investors can easily enter and make a profit.
Speculative trading. With Pepe 2.0, investors can make money on short-term price movements
Portfolio diversification. You can invest small amounts in Pepe 2.0 and other penny cryptos with hopes of high returns in the short-term
Cons:
High risks. There is the possibility of losing all your investment. Meme coins are very volatile.
No regulation or oversight. The PePe 2.0 project is not regulated and there is a lack of transparency surrounding the creators of the project.
 Susceptible to rug pulls and pumps and dumps. New meme token projects attract investors who seek short term gains from pumps. These can be rewarding if you sell at the right time but can also be devastating for investors who hold tokens for too long and experience a dump.
Pepe 2.0 has no utility. This means that it may be difficult for the project to hold value long term.
Your capital is at risk.
Pepe Coin2.0 vs Evil Pepe Coin
Pepe 2.0 and the Evil Pepe coin are both meme tokens in the PePe ecosystem. Let's explore their differences and similarities to decide which coin is the best investment right now.
Evil Pepe Coin
Evil PePe coin is a newly launched meme token that aims to help investors to recover their losses by investing in the next meme token that will explode. Like most meme coins, Evil PePe will harness the power of fomo and community to gain value and provide returns to early investors.
Evil Pepe coin is a meme dedicated to your relentless voice telling you to buy shitcoins (penny cryptos) even though you are likely to lose. The coin and the project are dedicated to people who continue to invest in speculative trading, hoping to make unholy money but with the risk of losing their investments.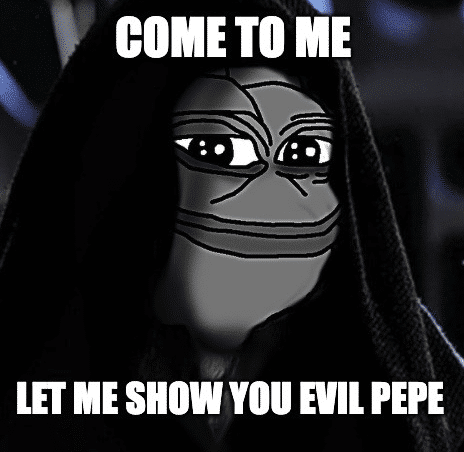 Presale
Evil Pepe is in its presale phase. Currently, 5,994,000,000 tokens, 90% of the total token supply, are in circulation and available for purchase on the Evil Pepe website. The current price of the coin is $0.000033300 per Evil Pepe coin. The team has raised $838,593.56 from the $1,996,002 mark.
On the other hand, Pepe 2.0 did not have a presale phase or an ICO. The token went straight to the market from the get-go. In terms of investment opportunities, Evil Pepe might have a greater chance at a massive ROI. Pepe 2.0 has already seen its best jump in price (1,650,000%), which happened just days after the project's launch. It may take a while before investors see such gains again from PePe 2.0.
On the other hand, the upcoming IDO for Evil PePe is predicted to send the price of the token skyward. Some even predict that the token will 1000x after the presale ends. There is still time to buy Evil PePe before the price goes up.
Team
Both Evil Pepe and Pepe 2.0 have documented team members. They are shitcoins created and backed by pseudonyms. In this regard, both tokens are susceptible to rug pulls and pumps and dumps.
Both projects lack creator transparency. However, Evil PePe provides more information about the distribution of tokens and also provides a contact email address on the website so that investors can get in touch with the team.
Road Map
Pepe 2.0 has no roadmap. Currently, the token trades on DEXs, and that's all. Evil Pepe is in its initial phase, which is marketing and hyping. Phase 2 for Evil Pepe is marketing activities with partners, and phase 3 is reaching a market capitalization of $100,000,000.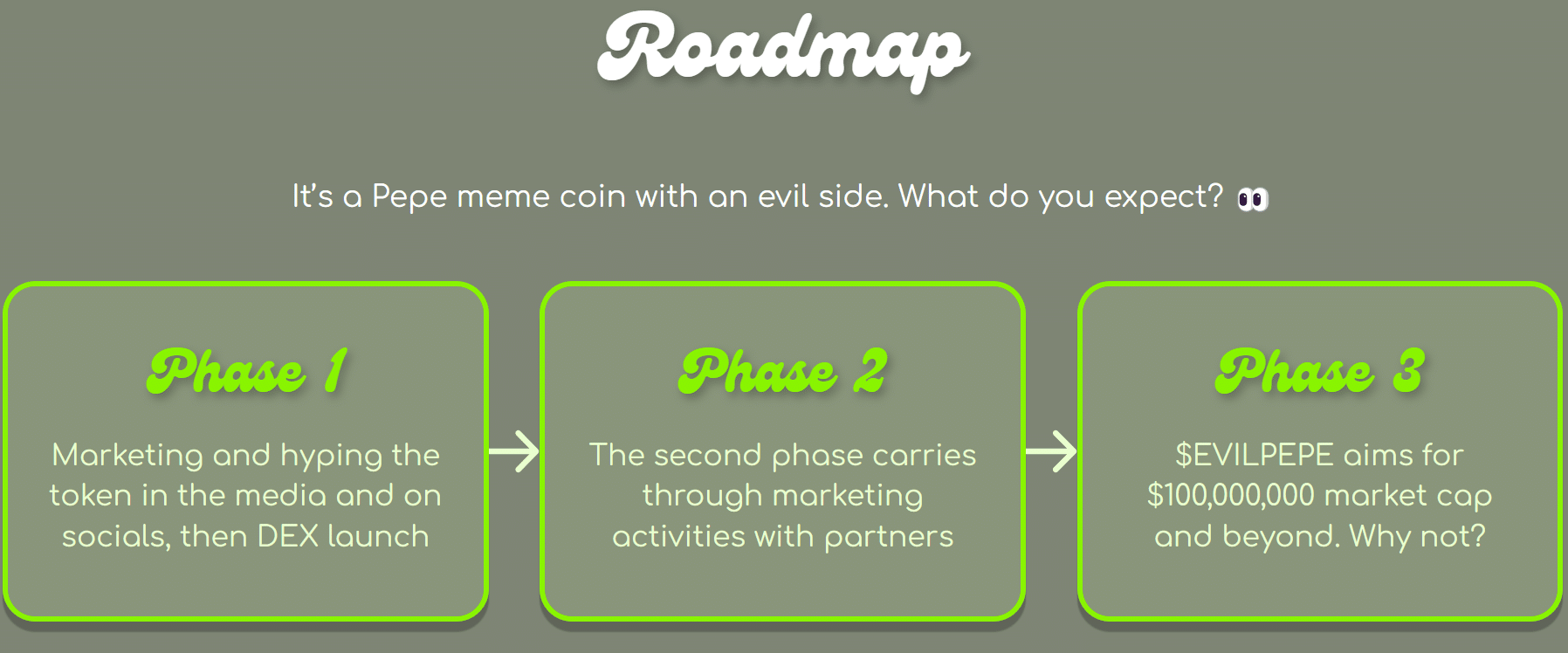 While Evil Pepe has a road map, the road map ends where Pepe 2.0 currently is. The team's bold vision of driving Evil Pepe to $100,000,000 market capitalization is wishful thinking and a hype tactic. If we go by the historical data of most meme coins, Evil Pepe will be lucky to reach a valuation of $10,000,000 and sustain the valuation.
Tokenomics
Evil Pepe's tokenomics include a liquidity lock of 10% and a presale distribution of 90%. Pepe 2.0, on the other hand, has made all its total token supply available. The difference in tokenomics could mean better security for Evil Pepe. A sizable portion of tokens needs to be locked up for liquidity.
However, both projects fail to activate conditions for burning. Token burning is a strategic move where token creators, through smart contracts, activate conditions where several tokens would be burnt. For example, P2E gameplay ecosystems create difficult missions where assets are burnt (killed) and never recovered if they fail. With a burn strategy, token creators can make their coins much more valuable.
Community and Social Impact
Evil Pepe has no community at the moment whereas Pepe 2.0 has an active Twitter and Telegram community. Pepe 2.0 also has the backing of a very successful shitcoin (Pepe). Int terms of social impact, both projects aim to build communities of investors who can share memes and humor with each other.
Your capital is at risk.
How To Buy Pepe Coin 2.0 on An Exchange
Below is a more detailed overview of how to buy PePe 2.0 in 2023. If you would prefer to invest in PePe's evil cousin, head over to the official Evil PePe website to take part in the token presale.
Step 1: Buy ETH from eToro
eToro is one of the best crypto apps for trading cryptocurrencies including ETH, which can be used to buy PePe 2.0. Thanks to a seamless and efficient process, you can create your account, submit your identification for verification, and buy ETH in half and hour.
Let's explore the steps you should take to buy ETH from eToro.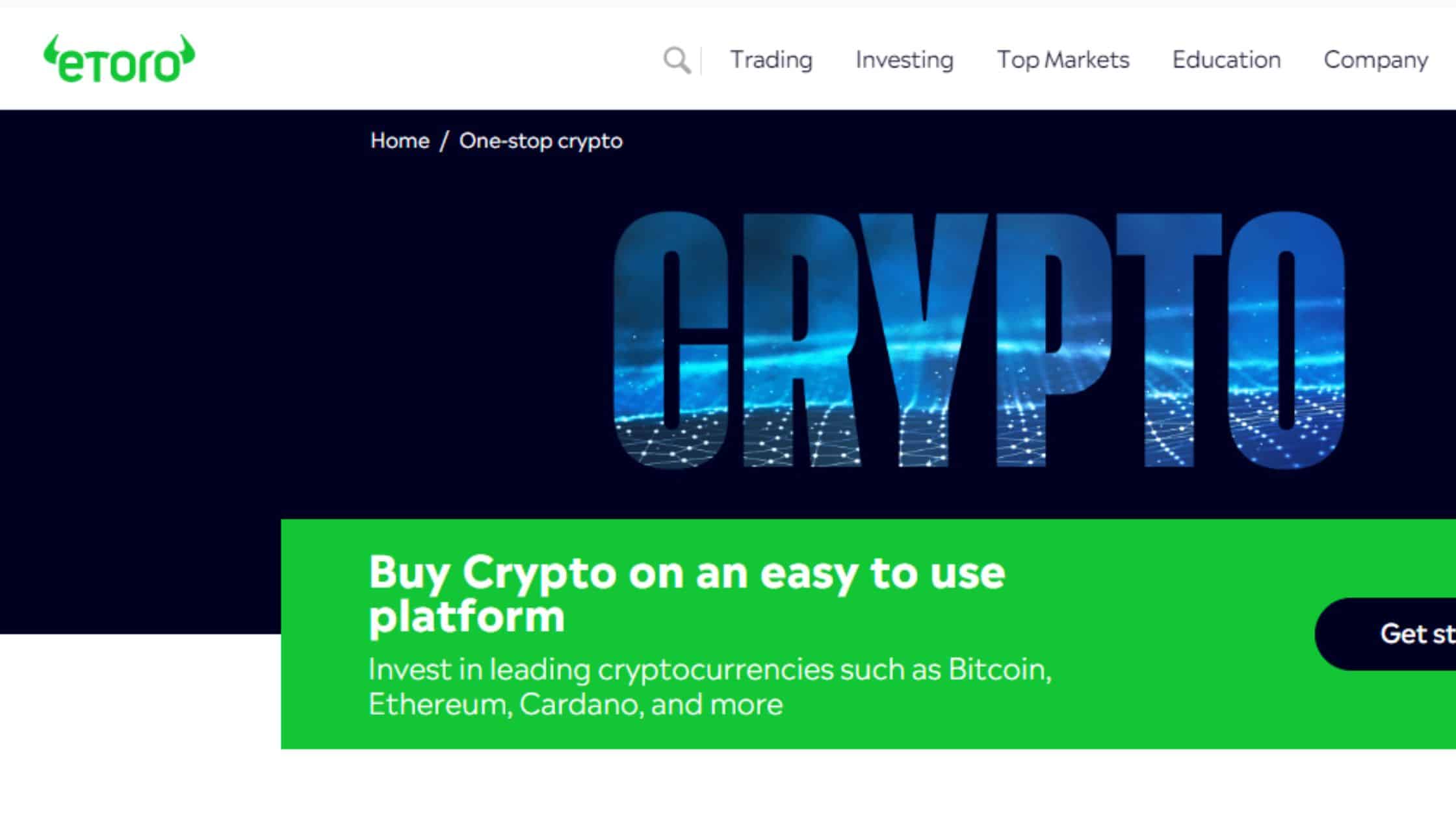 Create an Account: Create your eToro account on their sign-up page. Supply your email address, username, and password. You can also sign up directly from your Google or Facebook accounts.
Verify ID: eToro mandates proof of address and proof of identity for every eToro account. Your identification document must be issued by the government of your residence and may include a driving license, passport, or government-issued identification. The document must be double sided, and when capturing, use a phone.
You can also use eToro's ID-capturing software. The process is seamless and should only take a minute.
Deposit Funds: To deposit funds into your eToro account, simply sign into your eToro account, click deposit funds, and enter the currency and amount you want to deposit. eToro cryptocurrency trading app accepts credit/debit card, PayPal, Skrill, POLi, Payoneer, Online Banking, bank transfer, rapid transfer, Ideal, Neteller, or eToro Money.
Buy ETH: After funding your trading account, head to the discover section of the eToro dashboard and search for Ethereum. You should then be able to place an order for the token.
Your capital is at risk.
Step 2: Move ETH to eToro Money wallet
The next step of the process is to move your Ethereum tokens over to the eToro Money wallet. This enables you to then send the tokens to an external crypto wallet which can be connected to an exchange.
To move cryptos to the eToro Money wallet: 
Go to Portfolio. You can do this by clicking "Portfolio" in the sidebar.
Click on ETH.
In the open trades list for ETH, click on EDIT, and you will land on the EDIT Trade screen. Select "Transfer to Wallet".
Review the transfer details. Make sure that you are moving the correct amount.
Click "Transfer ETH to eToro Money Wallet."
Step 3: Transfer ETH to MetaMask
You will now need to transfer your ETH to a wallet that can be connected to a decentralized exchange. You can seamlessly transfer ETH from your eToro wallet to a Metamask wallet by following these steps.
Install MetaMask: If you haven't already, install the MetaMask extension for your web browser (available for Chrome, Firefox, Brave, and Edge) or the MetaMask mobile app for Android or iOS. Once installation is complete, create a Metamask account or import one if you already have one.
Make a note of your MetaMask address: Once you are done with the Metamask setup, you will be given a unique ETH address. You will be sending your ETH from eToro to this address.
Access your eToro wallet: Log in to eToro. Navigate to the "Send" or "Withdraw" section of the platform. Input your MetaMask address.
Enter the Amount: Specify the amount of ETH you want to transfer from eToro to MetaMask.
Pay Transaction Fee: The transaction incurs a fee. The fee goes to the miners who made the transaction possible. The transaction fee is also called a gas fee. Ensure that the ETH in your eToro wallet covers the gas fee and the ETH you want to transfer.
Review and Confirm: Carefully review the transaction details, including the destination address and the amount. Once you're certain everything is correct, confirm the transaction.
Wait for Confirmation: Once you submit the transaction, it typically takes a few minutes to complete. You can check the progress of your transaction on a block explorer like Etherscan. Once the transaction is complete, you can check your MetaMask balance.
Make sure that you keep your MetaMask seed phrase secure. If you lose your seed phrase, you will lose access to your MetaMask account forever.
Step 4: Connect MetaMask to DEX
Visit the decentralized exchange of your choice on a web browser or through a mobile app (if the DEX has an app). Click the "Connect Wallet" button and select the wallet you want to use to buy PePe 2.0. Since you have MetaMask installed as an extension, MetaMask will automatically pop up, and you can connect it to the DEX.
Step 5: Swap ETH for $PEPE 2.0
Once you connect your MetaMask, the DEX will detect ETH. Search for the token you want to swap for ETH and set slippage tolerance (slippage is the acceptable price difference of a token that you incur between when you initiate a transaction and when the transaction is completed).
Your capital is at risk.
Is Pepe Coin 2.0 Legit?
PePe 2.0 is a legit cryptocurrency that can be purchased through reputable exchanges. However, there is no guarantee that you will make money by investing in PePe 2.0. Here are some important things to consider before making any investment decisions.
Real World Use of Pepe 2.0
Pepe 2.0 has no utility except being the native token of the Pepe 2.0 ecosystem and a cross-platform payment token for NFTs and other utilities. Let's explore its use case further.
The Pepe 2.0 token exists on the Binance smart chain, making it compatible with Ethereum Virtual Machine. Hence, it is compatible with most Defi apps. The popularity of PePe 2.0 has soared because they are listed on most major exchanges like Uniswap, Etherscan, and Pancake Swap.
The token's compatibility also means that the coin has some potential use cases that could eventually be available to investors.
☑️ Trading: With Pepe 2.0's obvious intention to grow beyond the limitations of Pepe, we can expect the lending and borrowing capacities of the Pepe 2.0 coin. You can lend your coin for interest and also borrow Pepe coins from other users.
☑️ Gaming and NFT: Gaming facilitation is one of the most important values of tokens. With a token like Pepe 2.0, you will be able to exchange the coin with other native tokens in the P2P blockchain ecosystem and buy assets. You can also purchase Pepe 2.0 NFTs from their website using the Pepe 2.0 coin. Other than payment utility for blockchain assets, Pepe 2.0, if allowed, can easily become a means of payment for goods and services. As Pepe 2.0 evolves, the creators will continue to improve its application use, and hopefully, it might have more value beyond being a utility token.
Security and Governance of the Pepe 2.0
Pepe 2.0 exists on the Binance Smart Chain which provides transparent and secure transactions. The team behind the project take 1% off every transaction to build the community. The funds also go towards advancing the utility of Pepe 2.0.
Holders of the token hold no governance rights, as all decisions are made by the creators. The creators have not yet released any roadmap for the future, so it is impossible to map out the vision of where the token will be in the next two to three years.
Risks and Challenges of Investing in Pepe 2.0
Pepe 2.0 is a penny cryptocurrency that has no utility; hence can be very risky and speculative. Here are the risks you should consider before investing:
Lack of utility: Cryptocurrencies without utility often lack a clear use case or purpose, making them susceptible to market sentiment and speculation. Utility tokens typically serve a specific function within a blockchain ecosystem, providing intrinsic value based on their utility. Without such utility, the value of these cryptocurrencies may be driven solely by hype and speculation, making them highly volatile and unpredictable. Pepe is a perfect example of a token driven solely by hype; however, understanding the hype market is key to investing in tokens like Pepe and Pepe 2.0. When you understand this, then you know that tokens likely to do well are those that the team spend sizeable amounts on marketing and advertisement, especially influencer marketing.
High Volatility: Penny cryptocurrencies are generally more volatile than established cryptocurrencies or traditional investments. Pepe 2.0 has a low market capitalization, and trading volumes make them susceptible to rapid price swings, and it may take only a few trades to significantly impact their price. This volatility can lead to substantial gains but also significant losses. As you can see, Pepe 2.0 enjoyed over 139,000% increase only within a few days from launch. Significant demand driven by marketing efforts or influencer support can rapidly push the price of the token. You should always monitor social chatter for penny cryptos to know when to buy and when the market is likely to rapidly climb. If you play your cards right, you may still gain significant income from Pepe 2.0.
Lack of Liquidity: Many penny cryptocurrencies suffer from low liquidity, meaning there are relatively few buyers and sellers in the market. The same can be said about Pepe 2.0. While the team puts aside a portion of its 1% fee for liquidity, it's quite low and may not make a difference in extreme cases like pumps and dumps. Also, it is almost impossible to sell or buy large quantities of Pepe 2.0 without upsetting the price. In a worst-case scenario, you may not even get a fair price for your token at an exit point.
Susceptibility to Pump and Dump Schemes: Pepe 2.0 has a low market cap and obviously lacks any oversight. First, we do not even know the creators, and that's an absolute red flag. The token is susceptible to market manipulations like Pump and Dump and rug pull. A rug pull occurs when the creators of a token take all investors' money and disappear into thin air. Rug pulls are not common, but they happen, so it's important to invest only what you are willing to lose and exit a position when you make your first good profit with the Pepe 2.0 token. For Pump and Dump, some unscrupulous individuals or groups may artificially inflate the price of a penny cryptocurrency (pump) through coordinated buying and then sell off their holdings (dump) at a profit, leaving other investors with losses.
Security Concerns: Smaller and less well-known cryptocurrencies may not have robust security measures in place. This leaves them vulnerable to hacking, fraudulent activities, and smart contract vulnerabilities, which could lead to the loss of funds for investors.
Regulatory Risks: Many penny cryptocurrencies operate in a regulatory grey area or may not comply with existing financial regulations. For example, Pepe 2.0 isn't regulated by the FCA or the SEC. Instead, it operates within a grey area that protects its existence, but then, the same grey area leaves visitors stranded if there ever was a security breach. On the other hand, the lack of regulation can increase the risk of regulatory crackdowns, which could lead to the suspension of trading or even the complete shutdown of the project.
Lack of Fundamental Analysis: Pepe 2.0 has no utility value, which means that there is little or no fundamental analysis for research. That means your trade is 100% speculative and depends only on market sentiments. Traditional valuation metrics like price-to-earnings ratios do not apply, and it becomes challenging to assess the long-term potential of the investment.
Project Abandonment: With no clear utility or use case, Pepe 2.0 is more likely to be abandoned by its development teams if it fails to gain traction. This could leave investors holding worthless tokens.
Before investing in Pepe 2.0, you must conduct thorough research and due diligence before investing in any cryptocurrency, especially penny cryptocurrencies. Diversifying your investments and only risking what you can afford to lose are critical strategies to mitigate risks when investing in highly speculative assets. Additionally, seeking advice from a qualified financial advisor can be beneficial to make informed investment decisions.
Your capital is at risk.
How To Buy Pepe Coin 2.0 in  2023– Conclusion
As we conclude how to buy Pepe coin 2.0, it's important to note the necessary precautions of buying penny cryptocurrencies. Pepe 2.0 is a meme coin. It has no utility. Its price is determined by demand and supply, and there is no information on the team behind the project. While the project might be great for short term investment, it may not work in the long-term. Always do your due diligence before investing in cryptocurrencies.
FAQs
What is the difference between pepe coin 2.0 and pepe coin?
Pepe 2.0 is the second installment of the Pepe universe. Pepe was the first token to be launched, and after a successful run, the creators built Pepe 2.0 to replicate the original token's success.
Is Pepe coin 2.0 worth buying?
Pepe 2.0 is a penny cryptocurrency. If prices swing in your favor, you will make incredible ROI. On the other hand, you can lose all your investment. Do your research before commiting funds.
Where can I buy Pepe coin 2.0?
You can buy Pepe 2.0 on the DEX platforms like LBank, Bitrue, Bybit, Bitget, BitMart, Poloniex, Kucoin, CoinEx, Uniswap –V2, Uniswap-V3, MEXC, Dignifex, and Gate.io.