Best Bitcoin Wallet in Canada – Pros and Cons
If you are based in Canada and looking to buy cryptocurrencies online you need to keep in mind the concept of storing them. The main reason to do that is that right now digital currencies are stored on the blockchain and to do that you will need to obtain a digital wallet.
In this guide about the best Bitcoin wallet in Canada, you will find many options in the market and get the best results you need to find the perfect balance between convenience and security in the process of buying Bitcoin and storing this cryptocurrency through different kinds of wallets that right now are gaining more and more importance around the world mainly in Canada.
How to Sign Up for a Bitcoin Wallet in Canada – Quick Guide
You can sign up for a Bitcoin wallet in Canada in just 3 quick steps:
Get a wallet
You need to know that a wallet is referred to as a program (software) used for storing and sending cryptocurrencies, like Bitcoin, and is available worldwide.
If you buy small amounts of this cryptocurrency it is better to use a software wallet that is free. But, if the idea is to buy large amounts you should use a hardware wallet (devices that store your bitcoins offline and protect your investment from hackers).
Your capital is at risk
Locate your Bitcoin address
Your Bitcoin address is what you give out when you want someone to send you a bitcoin, which consists of a long string of letters and numbers that starts with either 1 or a 3.
Buy Bitcoin
Actually, you can buy Bitcoin with different options and ways:
Use a broker, a company that will sell you cryptocurrencies like Bitcoin for a fee (BitBuy) which are beginner-friendly, fast but a little expensive especially by the fee factor.
Use a trading platform, websites that connect buyers and sellers anonymously but it requires advanced users because it is not so intuitive, but is a bit cheaper.
Also, if you can't or don't want to buy Bitcoin online you can use a Bitcoin ATM or Cash tellers when you deposit dollars in person.
Best Bitcoin Wallets in Canada 2023
Below we take a closer look at the best Bitcoin wallets in Canada.
1. Best Wallet- The best crypto wallet overall in Canada
Best Wallet is the best crypto wallet to use in Canada for a number of reasons. Firstly, the wallet is compatible with multiple blockchains which makes it easy to diversify your portfolio. Secondly, the wallet comes with a unique AI assistant feature that is able to provide real-time market insights, portfolio analysis and trading tips. Best Wallet is the first crypto wallet to offer this feature.
Best Wallet was created by a team of experts to provide both newbie and advanced crypto traders with a wallet that does everything. Key features of the wallet include Multi-Chain Interoperability, access to the web3 ecosystem, token staking and airdrops, early access to presale, a native marketplace, education and analysis tools, and exclusive market insight powered by AI.
With Best Wallet, traders can access the wider DeFi space and maximize their returns through crypto staking and airdrops. The entire platform is supported by the BWAT token- a utility token that will soon be available to purchase via presale. BWAT can be used for swapping, staking and platform voting.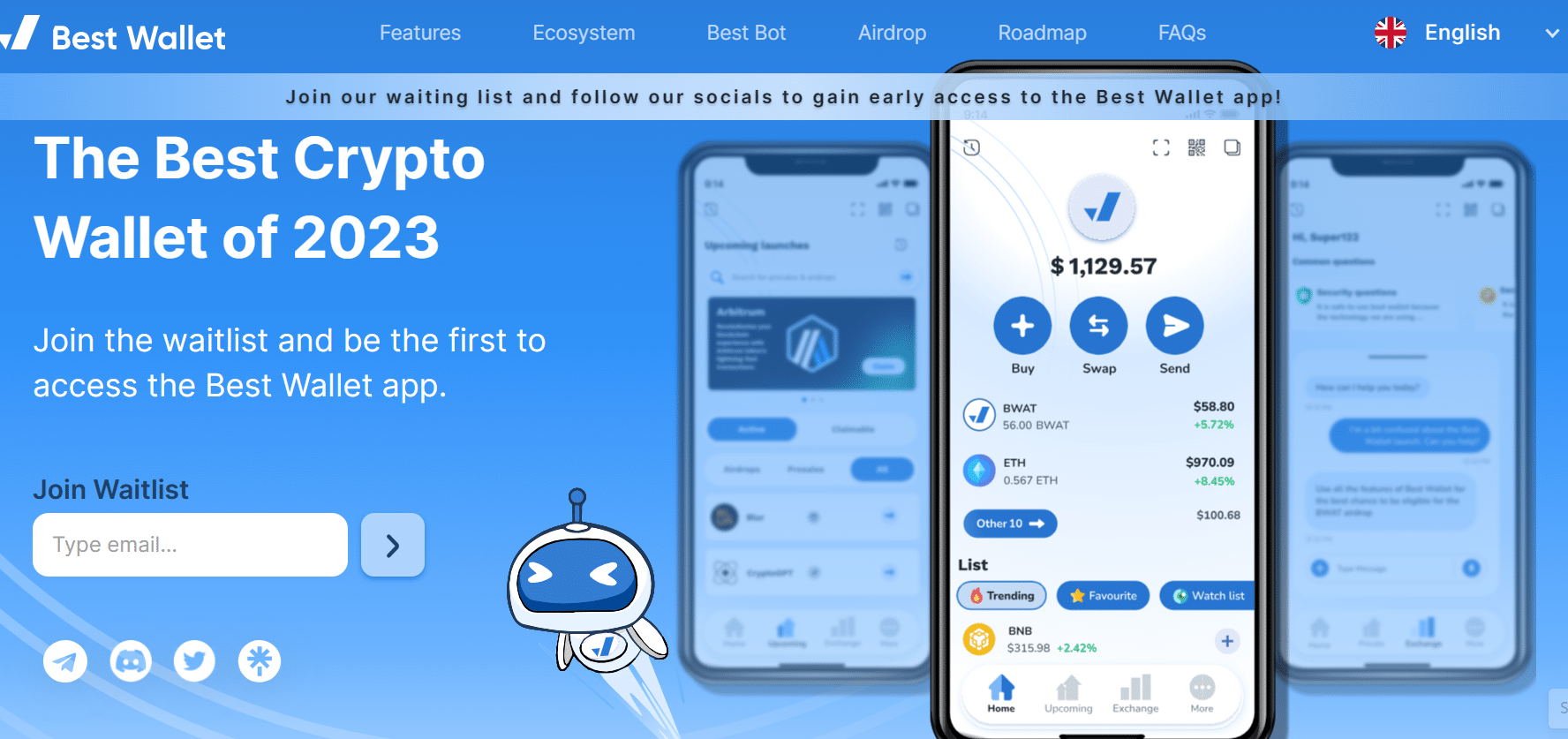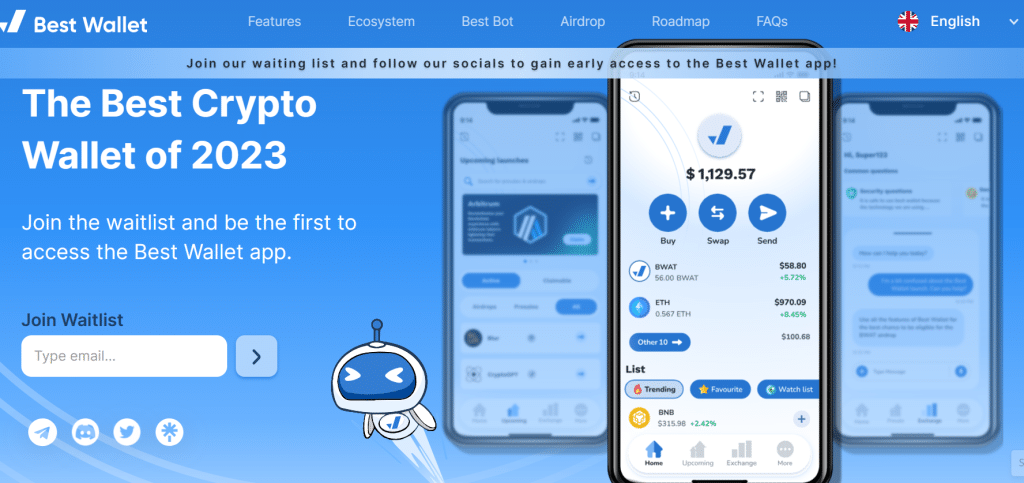 Best Wallet is a decentralized custodial crypto wallet which means that it is secured by blockchain technology. Users have complete control over their assets and can access their wallets with private keys.
Best Wallet is still undergoing development so the best way to sign up is to join the waiting list. Users on the waiting list will be given early access to the best crypto wallet in Canada before it is launched publicly.
Pros:
Cross chain interoperability for multi asset access.
The first AI-assisted crypto wallet.
Secured by blockchain technology.
Access to crypto presales and market insights.
Native NFT portfolio and marketplace.
Users can access DeFi apps.
Cons:
If you lose your private keys you will not be able to access your crypto.
Best wallet is not regulated in Canada.
Your capital is at risk
2. BitBuy - A top cryptocurrency exchange in Canada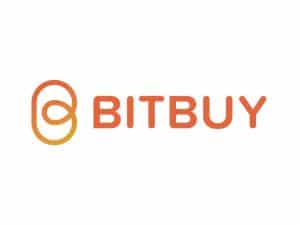 It is a cryptocurrency exchange founded in Toronto in 2013, with the intention of providing easy access to a variety of cryptocurrencies. It offers options for both beginners as well as advanced cryptocurrency traders in Canada, which transform this platform into one of the most established in the Canadian market.
It is popular in Canada because users can easily trade a number of digital currencies. Experienced traders can use advanced services such as over-the-counter (OTC) trading and brokerage. It is known for its competitive trading fees and excellent customer support. They have two different types of trading modes here: Basic & Advanced. Basic is for the easier deals when your action is not necessarily based on order patterns or order depth or anything like that. Advanced is for more professional traders who maybe want to use different charting tools etc.
BitBuy fees
| | |
| --- | --- |
| Fee | Amount |
| Deposit fee | 1.5% for Interac e-Transfer and 0.5% for bank wire transfers when you deposit in CAD but it is free if you deposit any cryptocurrency. |
| Trading fee | It starts at 0.10% per trade (buy or sell) |
| Withdrawal fee | 1.5% |
Pros:
Assets are insured and held in cold storage, which gives investors some kind of peace of mind
Strong reputation for exceptional customer support, with a knowledgeable and responsive teamю
Offers access to 15 coins including Bitcoin, Ethereum, AAVE, Chainlink, Polkadot, Uniswap, Bitcoin Cash, and more.
One-click trading for beginners and an advanced trading interface for experienced traders.
Offers email support for inquiries.
Instant verification is available for new clients.
User-friendly trading platform (desktop and mobile).
Fairly quick deposit times.
Has a referral program.
Offers a live order book.
Cons:
There is a fee to deposit and withdraw.
Only available to residents of Canada, and you cannot access it outside of Canada unless you connect using a VPN.
Limited range of cryptocurrencies.
No live chat support.
Your capital is at risk
2.Coinbase - Second-largest centralized crypto exchange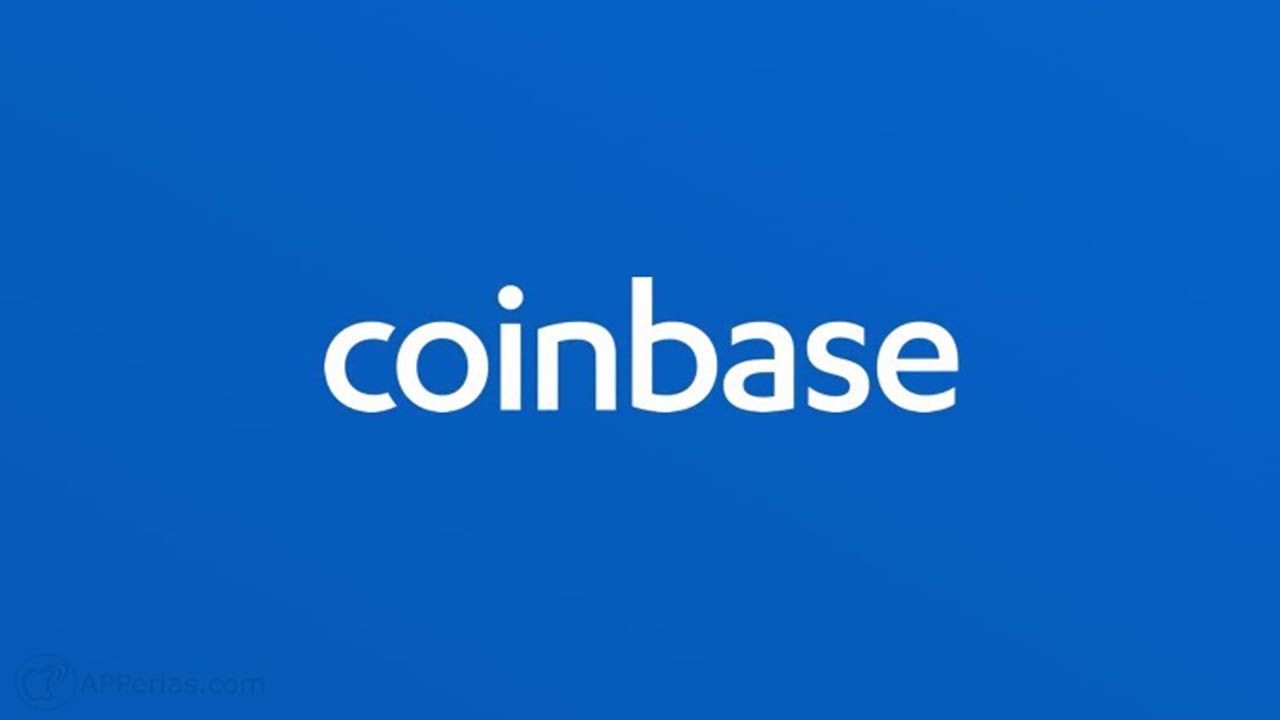 It was founded in 2012 in San Francisco by Brian Armstrong and Fred Ehrsam and promotes itself as the easiest place to buy and sell cryptocurrency, making it one of the oldest, and most well-established exchanges in the crypto space. The American-based exchange is now available in over 100 countries and all the 50 states in the US, except Hawaii. Coinbase is a fully regulated and licensed exchange, boasting over 68 million verified users, over 8,000 institutions, and about 134,000 ecosystem partners worldwide.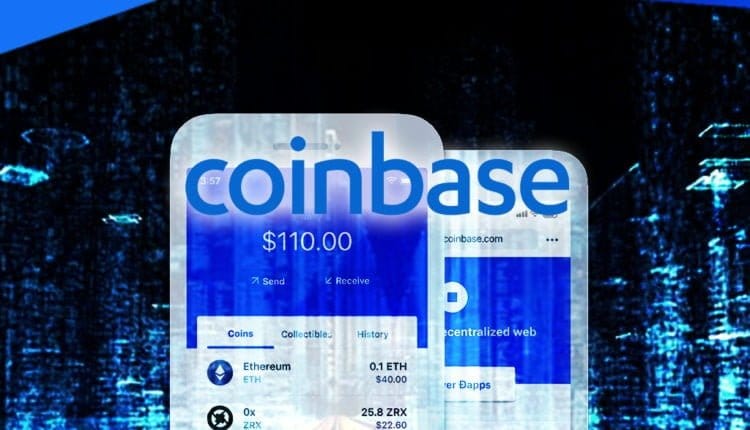 Initially, Coinbase only allowed for Bitcoin trading but has continued to add more crypto tokens and coins that fit its decentralized criteria supporting about 119 coins and having a daily trading volume of over 6.8 billion offering a good customer experience for newbie and expert users.
Coinbase fees
| | |
| --- | --- |
| Fee | Amount |
| Deposit fee | It depends on the amount and the payment method starting at 1.49% using a Bank account. |
| Trading fee | It can be between 0% and 0.5%  |
| Withdrawal fee | None  |
Pros:
Buy, sell, and store more than 100+ crypto assets.

Simple, beginner-friendly interface.

Educational investment resources to learn and earn.

Trade and manage your portfolio on the go with the Coinbase app.
Cons:
High trading and transaction fees.

Difficult to understand the fee structure.

You'll have to use Coinbase Pro to get at least lower fees.

Not available to Hawaii residents.
Your capital is at risk
3. Binance - The largest crypto trading platform in the world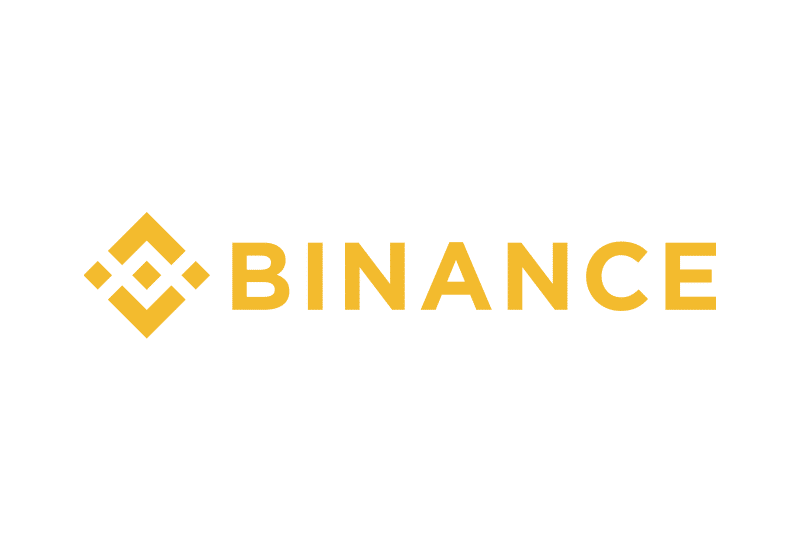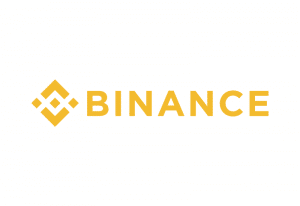 It is the largest crypto exchange in the world by trading volume and one of the fastest and lowest-cost exchanges, processing more than 1.4 millions of transactions per second at a maximum fee of 0.1% per transaction.
Binance was founded in 2017 by Changpeng Zhao. Initially, the exchange was based in Hong Kong but has since moved its headquarters to Malta to avoid trouble with Chinese authorities. Since its launch, the Binance exchange has become one of the most successful exchanges in the crypto space, offering over 300+ crypto assets and over 40+ fiat currencies.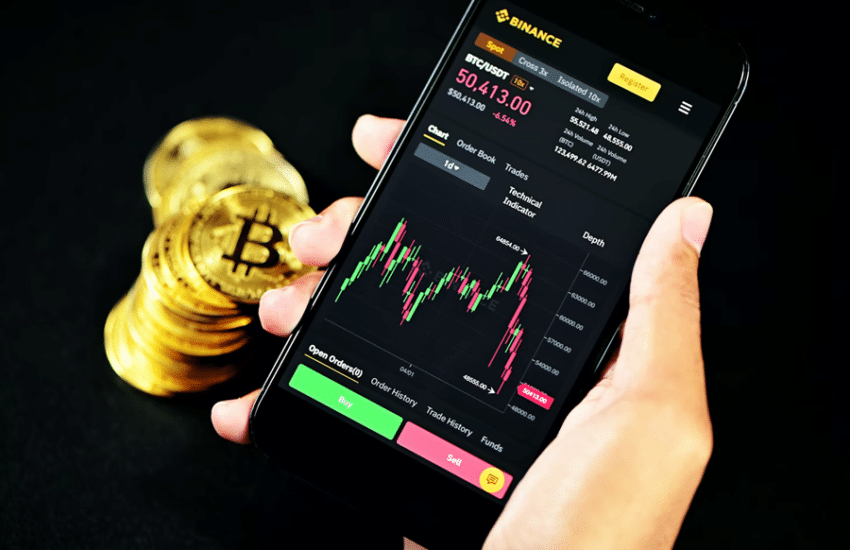 The platform is available to customers around the world and charges some of the lowest crypto trading fees. However, Binance isn't available in the United States and some places in Canada, and for that reason, Americans can only trade on Binance.US, a Binance version that's compatible with U.S. trading regulations.
Binance fees
| | |
| --- | --- |
| Fee | Amount |
| Deposit fee | None when depositing crypto tokens from an external wallet to your Binance wallet but it charges 0 - 3.5% depending on the deposit method used    |
| Trading fee | It can start in 0.1%, for Instant Buy/Sell can be 0.5% and for debit/credit card 4.5% |
| Withdrawal fee | It depends on the type of crypto asset you want to withdraw which varies from 0 to 2.5%. |
Pros:
Low transactions fees of 0.1% and below.

Supports a wide selection of over 300+ crypto assets.

Over 50+ fiat currencies supported.

Binance staking allows users to earn rewards on their crypto holdings.

Crypto to crypto trading pairs with Bitcoin and nine other digital tokens.

Different trading interfaces to accommodate every user trading experience.

The Binance mobile app enables users to access their accounts and trade on the go.
Cons:
The US version, Binace.US, is not available in some states.

Regulatory issues.

Customer support needs improvement.

Binance is not available in the province of Ontario in Canada.
Your capital is at risk
4. CoinCorner - One of the easiest trading platforms in the market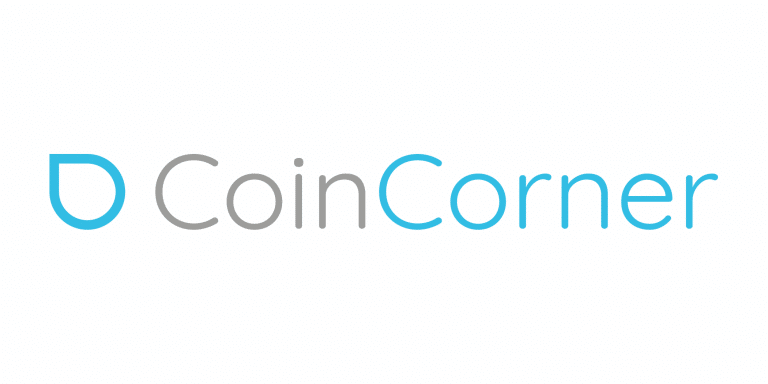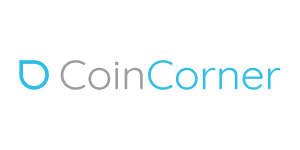 CoinCorner was established in 2014 in the Isle of Man by Danny Scott. This cryptocurrency broker provides a mobile wallet that allows users to sell, transfer, buy Bitcoin and other cryptos by offering various payment options. It has more than 2 million registered users and supports over 45 countries mainly in the United Kingdom.
This platform has become a pioneer in cryptocurrency exchange, and one of the best places to buy Bitcoin using a credit card. It is a well-known peer-to-peer exchange where users can trade cryptos with other users at competitive prices without any hassles. Recently this exchange has added more altcoins such as Ethereum, Litecoin, and Ripple. The coins offered by the platform can be purchased (with a credit card, debit card, bank transfer, SEPA, and Neteller), stored, or sold, but they cannot be withdrawn.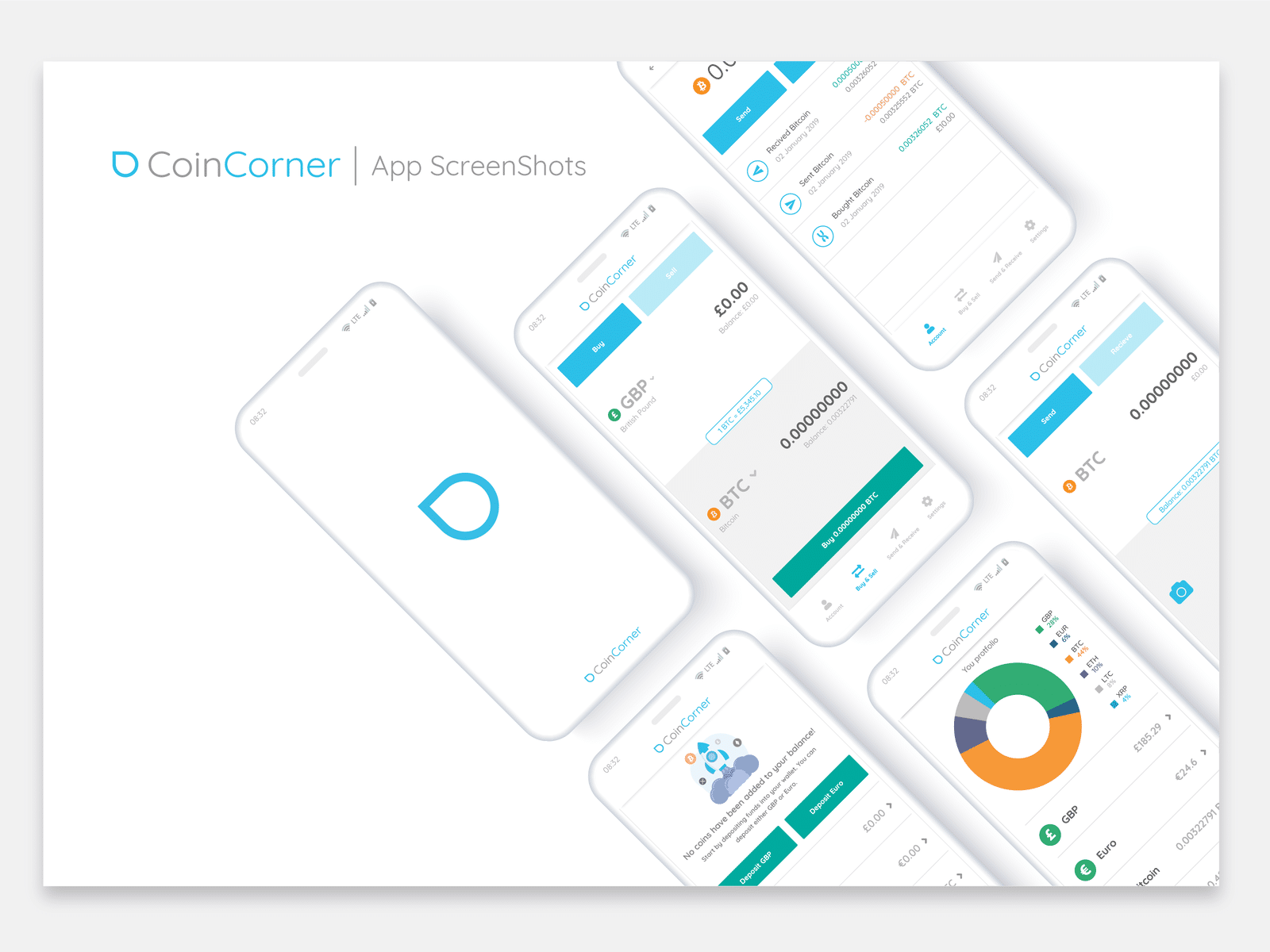 The platform is simple to use, and choosing the preferred cryptocurrency is very easy. It also allows the users to pay in fiat currencies like GBP and EUR with just a few clicks. In this way, the users can create a diversified investment portfolio with crypto-to-fiat and with this app you have the option of seeing your holdings by the use of charts.
CoinCorner fees
| | |
| --- | --- |
| Fee | Amount |
| Deposit fee | 3.2%, but it depends on the payment method |
| Trading fee | 0.10% - 1%, depending on the amount. |
| Withdrawal fee | It is based on the actual amount, which means that it will increase with the invested amount. It is 0.0008 BTC when you withdraw BTC. |
Pros:
This is regulated by the Isle of Man Financial Services Authority.

Lower fixed fees.

Offers educational resources for beginners.

Provides a wallet app.

This platform does not ask for verification for smaller purchases.

It offers a great intuitive user experience.
Cons:
Bank deposit and withdrawal fees are high outside the UK.

Few cryptos can be traded.

The registration process is a bit lengthy.

Limited coverage.

Only Euro and GBP fiat currencies are supported.
Your capital is at risk
5. WealthSimple - Good alternative for newbie users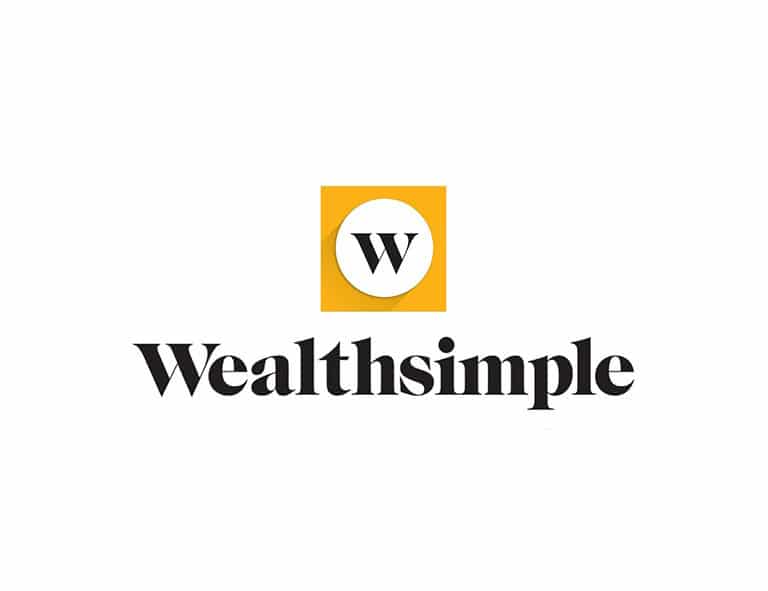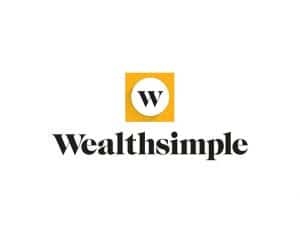 Wealthsimple is a full-fledged financial service that provides a simple and approachable means to wealth management for people who have little-to-no investing experience.
When it opened its doors back in 2014, the Toronto-based financial platform debuted as a robo-advisor but has since offered a variety of financial tools (online brokerage, hybrid bank account, crypto trading, and a tax-filing service) that continue to help Canadians prosper financially. The customers can also access these tools through a sleek mobile app, available on iOS and Android or through their online interface.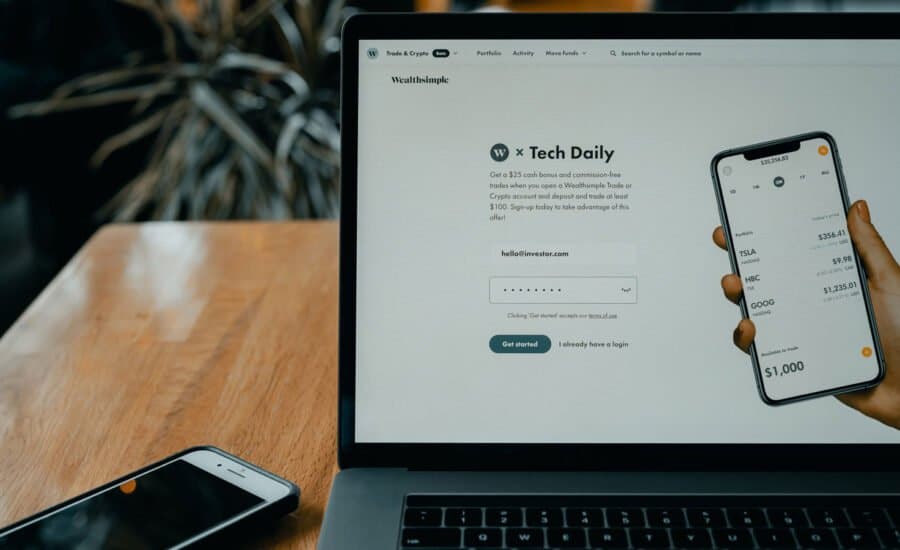 Wealthsimple currently has over $8 billion in assets under management for 1.5 million clients. In 2017, Wealthsimple expanded services to the United States of America and to the United Kingdom.
WealthSimple fees
| | |
| --- | --- |
| Fee | Amount |
| Deposit fee | 0.4% - 0.5% depending on the amount. |
| Trading fee | 1.5% for exchange rate fee to trade US stocks and ETFs. |
| Withdrawal fee | None |
Pros:
Access to human advisors.

Free portfolio analysis.

Socially responsible investment options.

No account minimum.

No additional fees.
Cons:
Higher account management fees.

Limited personal finance tools and portfolio options.

Delayed deposit times (specially with external banks).
Your capital is at risk
6. Crypto.com - An Advanced User-Friendly Crypto Trading Platform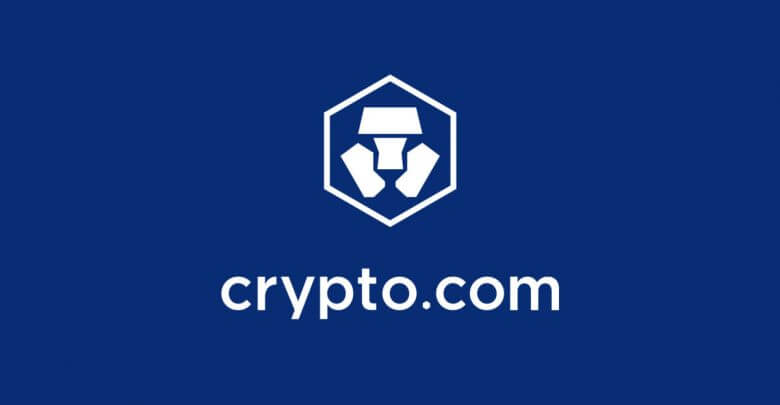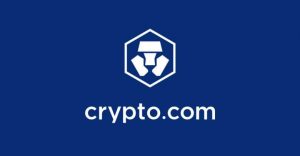 It is an affordable, all-in-one cryptocurrency platform established in 2016 in Hong Kong. It currently offers more than 150 cryptocurrencies to over 10 million customers worldwide and serves users in 90 countries. The long list of currencies, low pricing, and additional features make Crypto.com suitable for beginners to advanced cryptocurrency users but you need to know that beginners may find the plethora of features intimidating.
Overall, Crypto.com is best for those who want to do more with their cryptocurrency than simply buy and hold. It's actually a good platform for active traders and anyone interested in using crypto as an actual currency, not just an investment.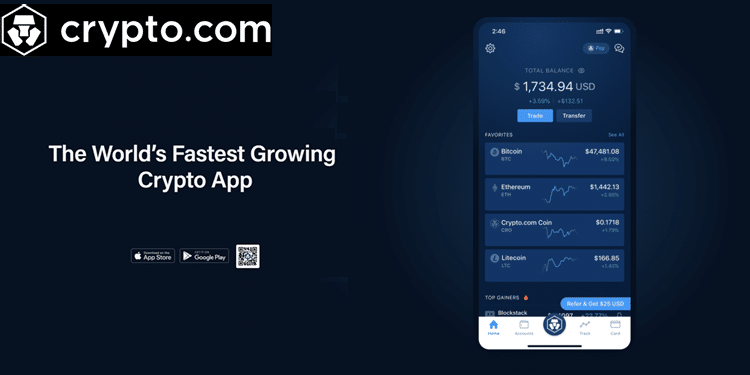 Users can buy, sell, and trade an extensive list of currencies, and enjoy relatively low trading fees. Additionally, the company offers cryptocurrency credit cards, a decentralized exchange, a standalone crypto wallet, and an NFT marketplace. It also allows users to stake their crypto, or hold it in a Crypto wallet for a set period.
Crypto.com Fees
| | |
| --- | --- |
| Fee | Amount |
| Deposit fee | Free |
| Trading fee | 0.036%-0.144% and varies based on cryptocurrency |
| Withdrawal fee | It can be variable |
Pros:
Transparent, low, and competitive fees with discounts availables.

Great for crypto payments.

Easy to convert money.

Visa card with cashback rewards.

Earn interest in crypto.

Cryptocurrency selection.

Strong security.

150+ coins available (including many altcoins, like SHIB, Dogecoin, Cardano).

Suitable for beginners and pro traders.

Fast and free CAD deposits.

20+ fiat currencies supported.
Cons:
Difficult to navigate.

Coins aren't universally available.

Poor customer service and support.

Lack of educational resources and information.

Trading fee discounts can be confusing to navigate.
Your capital is at risk
Bitcoin Wallets with the Best Rates
| | | | |
| --- | --- | --- | --- |
| Platform | Deposit fee | Trading fee | Withdrawal fee |
| BitBuy | 1.5% for Interac e-Transfer and 0.5% for bank wire transfers when you deposit in CAD but it is free if you deposit any cryptocurrency. | It starts in 0.10% per trade (buy or sell). | 1.5% |
| Coinbase  | It depends on the amount and the payment method starting at 1.49% using a Bank account. | It can be between 0% and 0.5% | None |
| Binance | None when depositing crypto tokens from an external wallet to your Binance wallet but it charges 0 - 3.5% depending on the deposit method used.    | It can start in 0.1%, for Instant Buy/Sell can be 0.5% and for debit/credit card 4.5% | It depends on the type of crypto asset you want to withdraw which varies from 0 to 2.5%. |
| CoinCorner | 3.2%, but it depends on the payment method. | 0.10% - 1%, depending on the amount. | It is based on the actual amount, which means that it will increase with the invested amount. It is 0.0008 BTC when you withdraw BTC. |
| WealthSimple | 0.4% - 0.5% depending on the amount. | 1.5% for exchange rate fee to trade US stocks and ETFs. | None |
| Crypto.com | Free | 0.036%-0.144% and varies based on cryptocurrency | It can be variable. |
What is a Bitcoin Wallet?
It is a software program used to store Bitcoin as well as other cryptocurrencies, like Ethereum or XRP, which contains a public and private key that provides access to a unique Bitcoin address. that ensures that only you, and anyone you give the code to, can open your Bitcoin wallet. It is actually, like a password on an online bank account. The main types of wallets in the market right now are desktop wallets, mobile wallets, web wallets, hardware wallets that can be used to store crypto offline, and paper wallets.
With a crypto wallet, you can store, send and receive different coins and tokens by accessing your wallet address. Bitcoin and any other cryptocurrency can be stored, transferred, or withdrawn. Some of these wallets just support basic transactions while others include additional features, like built-in access to blockchain-based decentralized applications commonly known as dApps among other things that may allow you to loan out your cryptocurrency to earn interest on your holdings.
Your capital is at risk
Bitcoin Paper Wallet vs Bitcoin Hardware Wallet
A paper wallet is a cold storage wallet and is like a normal document that contains your private keys, QR code, and cryptocurrency address. This wallet is considered extremely safe from hackers as they are not connected to the internet, but setting up and generating the paper wallet can be quite confusing and depends on the software used to create it. Moreover, since there is no backup for it, the users have to be careful in keeping it safe. 
It is created using a program that randomly generates a private and public key. The keys are unique and the program generating them is open source. When it comes to the cost factor, the paper wallet has a definite advantage as it can be used free of cost. These keys are printed in the form of a QR code, which can be scanned for all transactions giving complete control to the user, but you must realize that it is not the cryptocurrencies that get printed out on the paper as any other regular currency, but rather the information stored in a crypto wallet. You also need to keep in mind, that printing many private keys out onto paper can lead to confusion if they are printed on the same paper and even if you have those on multiple papers, it can become difficult to manage. For that reason sometimes is a better option to have a hardware wallet. 
A hardware wallet is a device, like a USB drive that can be connected to the computer using the USB port. It is a physical device that stores all your private keys securely. Since these are not connected to the internet, and the private keys are generated offline, it is considered a secure option. Additionally, it has security features that protect the device from malware and virus and hence that are difficult for hackers to steal. Also, you must know that this kind of wallets supports only a limited range of cryptocurrencies. If you want to use an unsupported cryptocurrency, you must wait for the developers to add support for it. Another thing to keep in mind is that they are not free but the price can be worth it if you own a significant amount of bitcoins or other cryptocurrencies.  
The idea behind hardware wallets is to isolate the private keys from online methods of storage, such as a computer or smartphone, which are more susceptible to being compromised by a hacker. Storing your private keys offline helps you with security because the hackers would have to physically steal your hardware device in order to gain access to a user's private keys. But even then, most hardware wallets require a PIN code for access, providing an added layer of protection. Most of these devices come with a display screen so that the private key is visible and comes with an easy-to-use interface. It has an option for backup recovery, which is not available in a paper wallet because if you lose the paper wallet and don't remember the private keys, your digital assets are gone.
How to Choose the Right Bitcoin Wallet for You
The best bitcoin wallet is based on several factors other than hardware and paper wallets, and each of these factors has been discussed in detail below.
Wallet Type
In order to choose the best Bitcoin wallet type for yourself, you should first determine what type of wallet you will use. There are five main wallet types, and these include:
In a paper wallet, you print off your key, typically a QR code, on a paper document. This makes it impossible for a hacker to access and steal the password online, but then you need to protect the physical document from risks like destruction, loss or theft of private key.

Hardware wallets are physical devices, like a USB drive, that are not connected to the web. To make transactions, you first need to connect the hardware wallet to the internet. There is typically another password involved to make the connection, which increases security but also raises the risk you may lock yourself out of your crypto if you lose the password. They are useful for those who are investing long-term and wary about leaving their coins on an exchange.
Desktop wallets, are programs you can download onto a computer to store coins on your hard drive. This adds an extra layer of security versus web and mobile apps because you aren't relying on third-party services to hold your coins. Still, hacks are possible because your computer is connected to the internet.
Mobile wallets are those that run as apps on phones, tablets, and other mobile devices. Transacting is easy as funds can be sent to other wallet addresses represented by QR codes. But, you need to keep in mind that while they are great for portability and convenience, they are also the least secure. Not only can the crypto wallet itself get hacked, but if someone steals your device they could also take your coins.
Web-based wallets, like Coinbase store your coins through an online third party. You can gain access to your coins and make transactions through any device that connects to the internet. These web-based wallets are frequently associated with crypto exchanges that allow you to trade and store crypto all in one place. While convenient, web-based wallets still hold many of the same risks as mobile wallets, by being connected to the internet also can be hacked. Though this is a rare occurrence and stolen funds have generally been replenished through insurance, you may not want to take this risk with your money.
Your capital is at risk
Custodian or Non-Custodian
With a non-custodial wallet, you have sole control of your private keys, which means that you have control over your cryptocurrency and all the funds are yours,  which eliminates a third party between you and your crypto.  
With a custodial wallet, another party controls your private keys. In other words, you're trusting a third party to secure your funds and return them if you want to trade or send them somewhere else. 
While a custodial wallet may be considered less secure than a non-custodial wallet, many prefer them because they don't require as much responsibility and are usually more convenient. Losing your password to a non-custodial wallet could be financially devastating if you do not take sufficient precautions. However, if you forget your exchange account password you'll likely be able to reset it. 
Non-custodial wallets can be browser-based, they can come in the form of software installed on mobile devices or on desktops, or they can be hardware devices, among other options. Although they can take many forms, the most secure way to hold your cryptocurrency is using hardware wallets.
Features
Although a Bitcoin wallet's main purpose is to store your coins securely, several of the best Bitcoin software wallets offer additional features and functionalities that can make them a good choice for you. Some of the main features that a good wallet can offer to you are security, reputation, access to private keys at all times, some kind of backup option that allows you to keep your investments safe, good fee customization, and even features like the option of personal notes, switching of local currencies and unlimited wallet creation to organize your funds.
Through the BitBuy Wallet, you can not only store and transfer bitcoins but also buy and sell this cryptocurrency investing in a good variety of other assets even if you are a newbie or an expert trader.
Supported Coins
It is common to find wallets that only support Bitcoin as the first and largest cryptocurrency. While they may also be able to store your bitcoins, the most popular online Bitcoin wallets are those that accept multiple coins such as Ethereum and Cardano. This is for one very simple reason: you may not wish to trade Bitcoins tomorrow even if you do today. When that happens, you will not have to search for a new wallet if your wallet already supports the other coins, instead of switching to them.
For that reason, you need to consider crypto wallets that are easy to use, secure, offering you even an exchange option, taking short periods of time in order to open them, and in some cases being free.
Best Bitcoin Wallet for iPhone and Android
As a general rule, some of the best mobile Bitcoin wallets are usually compatible with iOS and Android devices. However, some wallets are better suited to a certain kind of device, and this is a factor to consider when choosing the right one for you. In addition, to find the best Bitcoin wallet for you, there are some factors like the ease of use (interactive UI), developer community (maintenance), security and backup features (backup keys and pin codes), control private key (you own and control all your keys) and HD wallet (generation of new addresses automatically) and even the payment method.  With that in mind, some Bitcoin Wallets that right now are very good by being affordable for new users giving you security, and coin storage are Coinbase, Binance, Crypto.com, and Bitbuy mainly if you are a Canadian person. 
How to Get a Bitcoin Wallet - BitBuy
Step 1: Open a Trading Account
Create an account by going to the Bitbuy homepage and clicking on 'Sign up to get started'. You will need to enter your phone number, email ID, password, and referral code if you have been referred. Confirm your age and accept the Privacy Policy and Terms and Conditions. Finally, click on Create Account. You will then need to verify your email ID and phone number and enter some personal information in order to verify your new account. 
Step 2: Download the BitBuy Wallet to Your Phone
You can download BitBuy's App through Google Play Store and App Store for Android and IOS respectively. After that, you follow the steps in the first point up.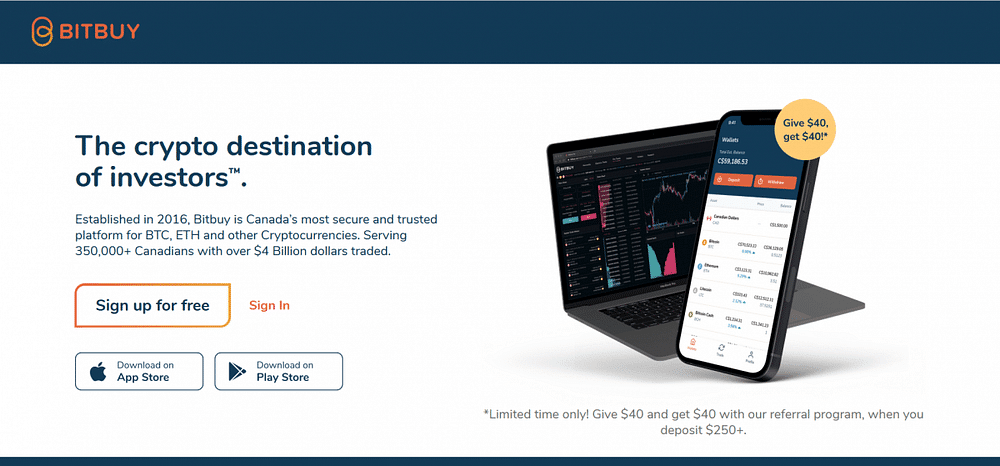 Your capital is at risk
Step 3: Add Bitcoins to your BitBuy Account
In order to add bitcoins, you need to log into your account and then click on the option Express Trade next to the Account button. 
Next, you need to keep in mind that you must stay in the buy section and then down below select the cryptocurrency that you want to buy (Bitcoin - BTC).
At this moment, you go to the Use Available Amount if you want to use all the money that you have put in the account or enter the amount that you wish.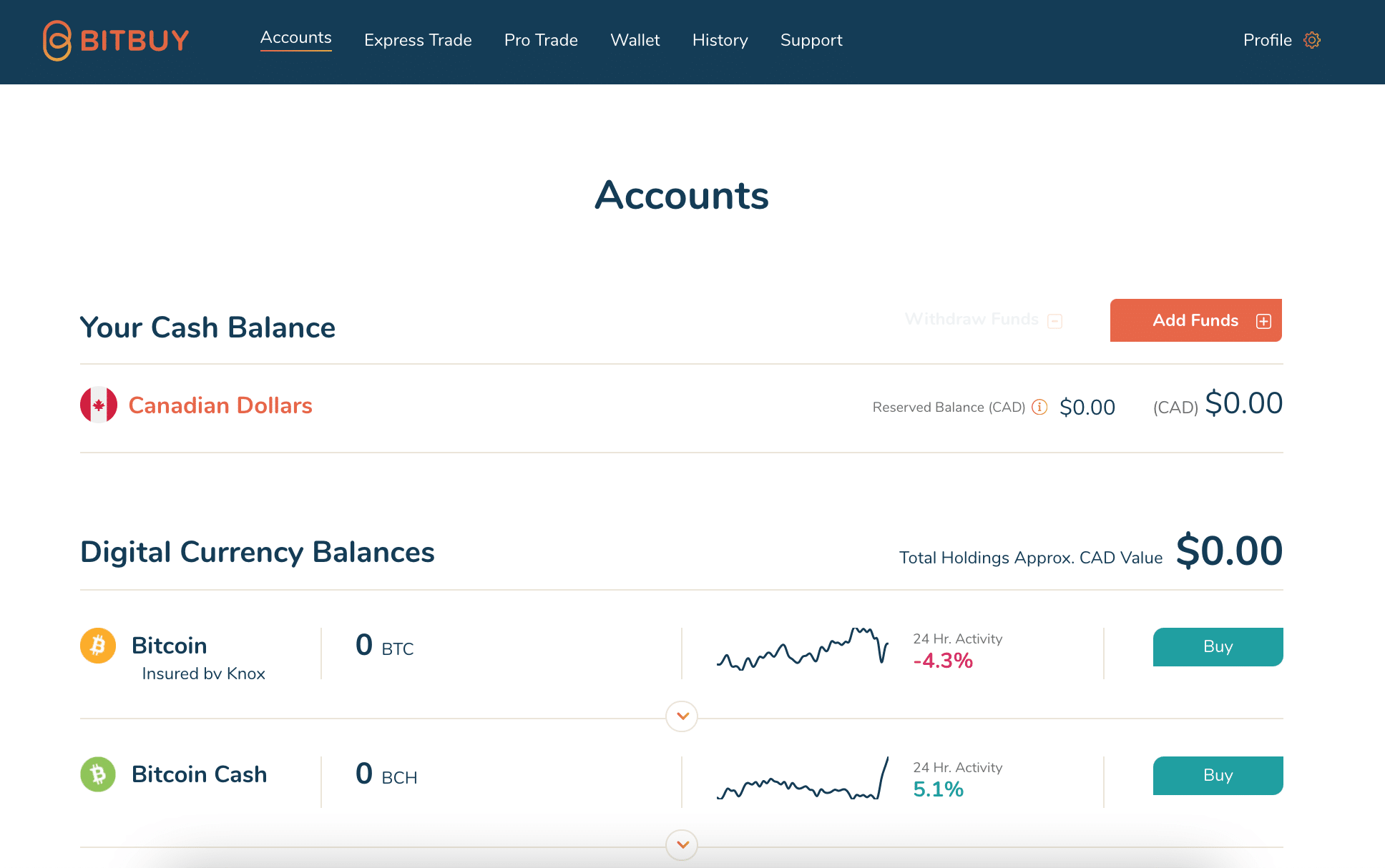 Then you just need to click on the option Buy Bitcoin and BitBuy will give you a Transaction Summary when you can see how much Bitcoin you will buy, the total value in CAD, the price per Bitcoin in CAD, and the Fee that corresponds to that transaction.
And the last part is to click again in Buy Bitcoin and it is done. At last, you just need to verify the transaction by going to the History button next to the wallet button and seeing all the information about your procedure.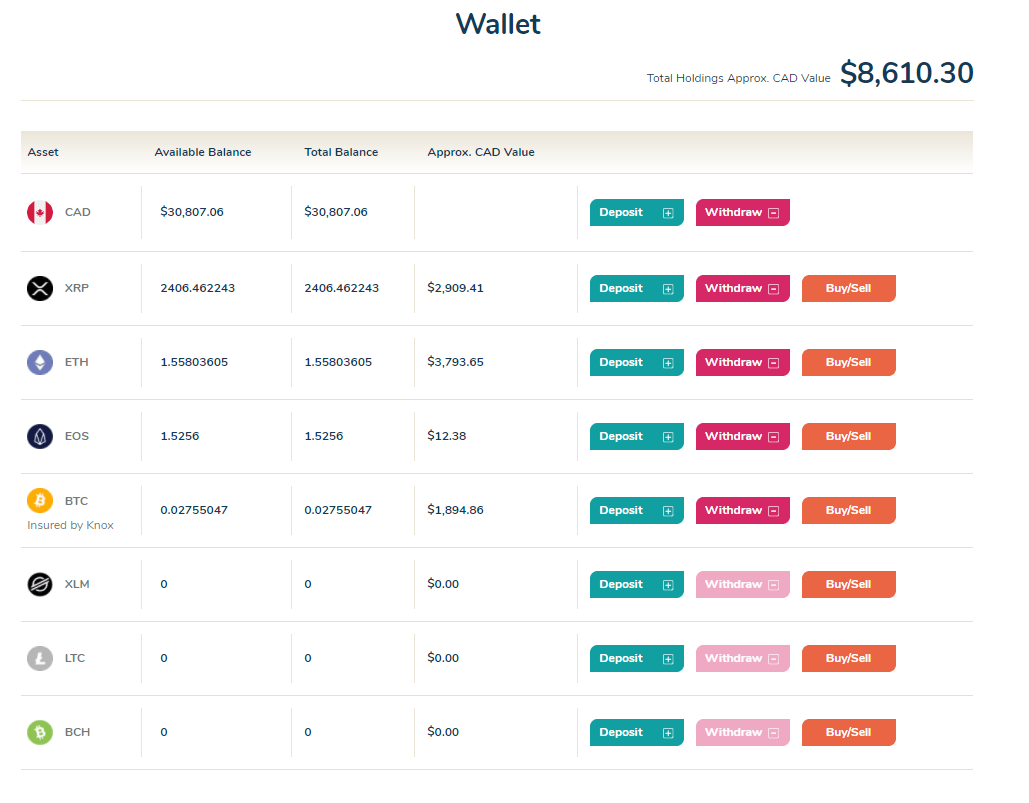 Step 4: Sell Your Bitcoins
The process of selling Bitcoins using BitBuy is quite similar to the buying process when you access your account and the Express Trade section, you just need to click on the Sell option and select the cryptocurrency that you want to sell (Bitcoin - BTC) selecting the amount and then pressing the Sell Bitcoin button down below, watching the Transaction summary and clicking again on the Sell Bitcoin button. At last, going to the history button you can see all the transaction information. 
It is important to know that the price and the fillable amount is approximate and subject to market volatility and liquidity of the BitBuy order book, which means that the buy and sell process in terms of the value can change and vary from time to time. 
Conclusion
This Bitcoin wallet gives the chance to buy Bitcoin, Litecoin, Ethereum, and other coins with Interface e-Transfer or bank wire for as low as 0.1% fees. The exchange has good support available through its live chat, or via phone & email. Fast way to buy bitcoins. Very high buy and sell limits. Bitbuy also is easy to use for beginners, but there are also valuable features like Pro Trade for seasoned traders even offering tools for the last ones.
BitBuy supports seven popular cryptocurrencies: Bitcoin, Bitcoin Cash, Ethereum, Litecoin, Ripple (XRP), and Stellar (Lumen). In addition to crypto pairings, Bitbuy also supports the largest number of crypto-Canadian dollar pairings in the market. It has a History page for tracking and reviewing transactions with three sections: Orders (are displayed with order type, order ID, date, quantity, price, value, and fee, Orders are classified as Completed, Open, Canceled, and OTC), Transaction (transaction type, date, amount, bank, method, and status) and Crypto Transaction (date, type, amount, coin, status, and blockchain record).
All of this and many more features put this crypto wallet between the best of their class focusing on Canadian users and doing a very good job in terms of security, access to all kinds of people by offering good customer services that teach and make a good trading experience for beginners as well as expert traders.
BitBuy - Best Canadian Bitcoin Wallet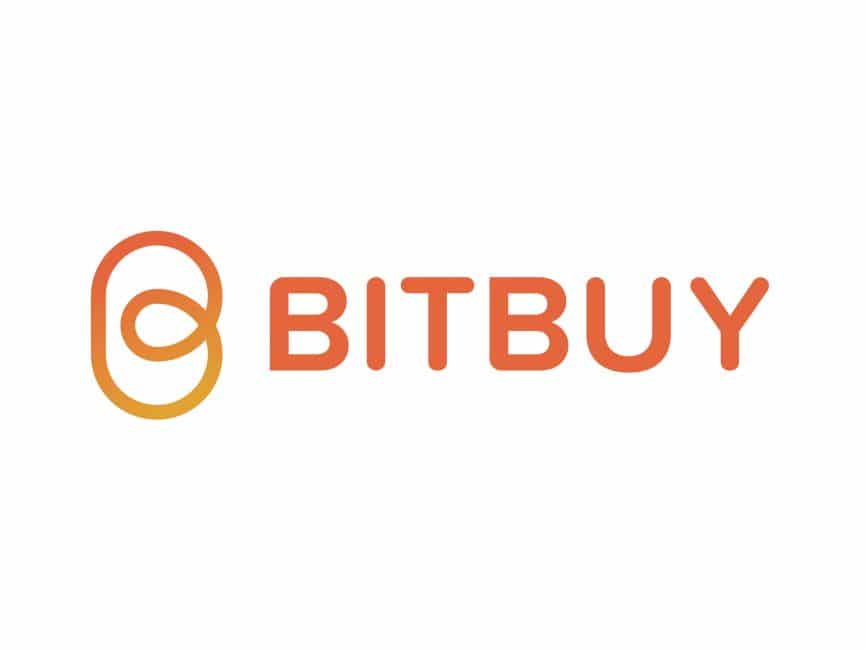 Your capital is at risk
FAQs
What is the best Bitcoin wallet for iOS?
What is the best Android Bitcoin wallet?
How do I check my Bitcoin wallet address?
What is the safest Bitcoin wallet?
What is the best anonymous Bitcoin wallet?
How do I keep my wallet private keys safe?
Can you store Bitcoin and Ethereum in the same wallet?