Pinterest, the social media platform allowing users to save and share visual content such as images, videos, and links, has been gaining popularity in recent years. While people of all genders use it, women are the pioneers of the platform. According to TradingPlatforms.com, 72.6% of the audience on Pinterest is female in the UK.
Speaking on the data, Edith Reads from TradingPlatforms said. "Women continue to lead the way in the Pinterest community, using the platform to express their unique interests and style. Their creativity and passion have helped shape the trends and movements on Pinterest. It is interesting to see how the platform empowers women in their endeavors."
Pinterest Usage by Women
Women comprise the majority of Pinterest users worldwide, at 76.2%. Although this percentage is slightly higher than in the UK, it is significant. Pinterest's popularity is growing, with the platform featuring among the top 15 social media by usage. The platform trails giant companies such as Facebook, YouTube, and WhatsApp.
Pinterest announced revenue growth of 11.9% to $2.6 billion in 2022, which is far less than the 55% rise it had in 2021.
Women comprise many Pinterest users because of the platform's focus on visual content. The platform allows users to create pictorial boards of images and videos related to their interests. This makes it an ideal platform for women interested in fashion, beauty, home decor, and other visually appealing topics.
Pinterest has become an essential tool for bloggers, influencers, and entrepreneurs. They use the platform to promote their content, products, and services. Many women have turned their passions into businesses, thanks to Pinterest.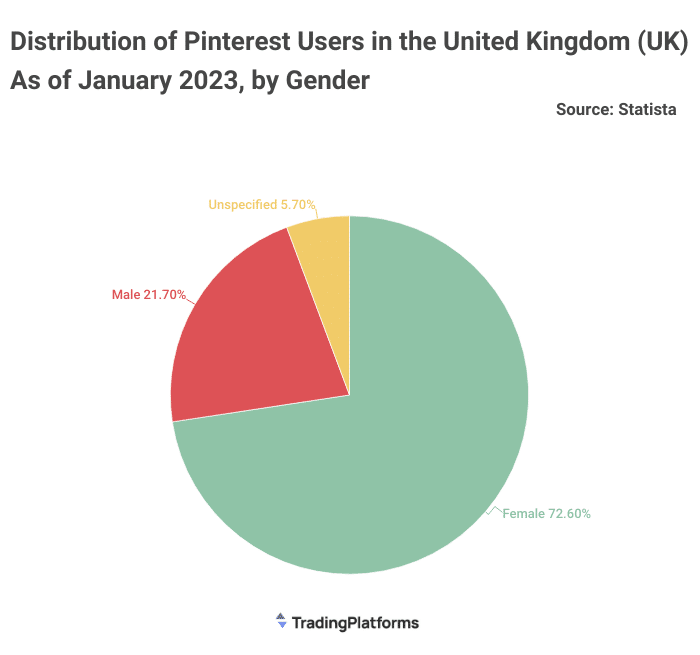 Women Pioneering Pinterest Usage
Since women make up such a large proportion of Pinterest users, they pioneer the platform's usage. Women have created communities and networks on Pinterest. They share content and ideas about their interests. Thus, they are instrumental in developing new trends and styles on the platform.
Recently, Pinterest has seen a surge in interest in sustainable fashion and eco-friendly products. Women have been at the forefront of this trend. They share information and inspiration on living more sustainably through their Pinterest boards.
Another way women have been pioneering Pinterest is through their use of the platform for business. Many women entrepreneurs have found success using Pinterest to promote their businesses. The avenue provides a valuable tool for driving traffic to their websites and increasing sales.