Ethereum's dominance in the smart contract market is undeniable. After successfully transitioning from proof of work to proof of stake, the Ethereum network has seen a massive increase in the number of active users and developers utilizing its blockchain-based services. This tremendous growth has pushed ETH-USD's dominance up 97% over the past 90 days, according to TradingPlatforms.com.
According to TradingPlatforms Edith Reads, "The Ethereum protocol has proven itself as the most reliable, secure, and flexible platform for smart contract development. We believe this surge in popularity is only just beginning and look forward to seeing more applications built on its network."
This amazing performance is in complete opposition to the rapid decline of FTX (FTT-USD). The collapse of this highly publicized crypto exchange is yet another example of how risks can quickly accumulate in the blockchain space. While there have been many theories as to why FTX failed, it's important to note that the solvency issues result from mismanaged risk by those responsible for overseeing the exchange.
It's clear that Ethereum has the upper hand when it comes to smart contract development, but there are still plenty of opportunities for other Layer 1 blockchains to compete. For instance, Solana (SOL-USD) is a relatively new platform offering fast and cheap transactions while promising low energy costs. However, despite its impressive features, the platform is still in its early days and needs to prove itself over time by attracting more developers and users.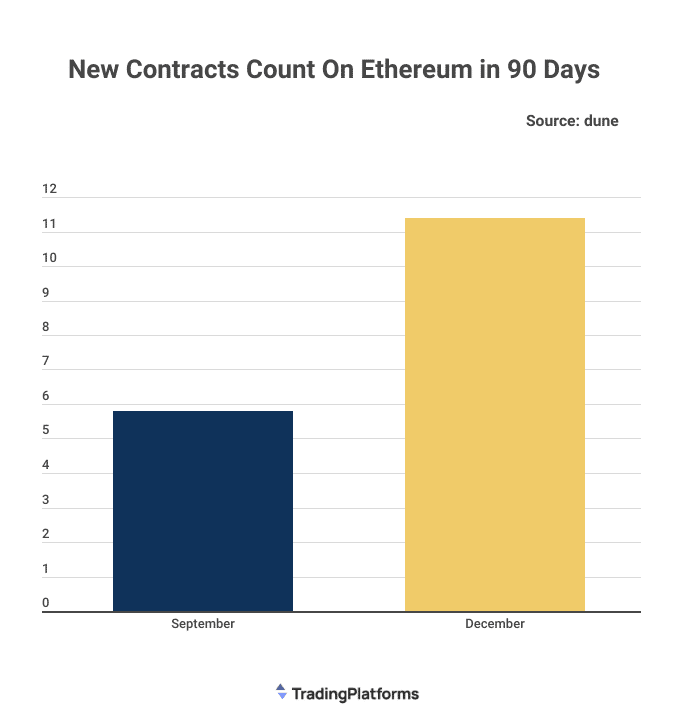 Why the Rise in Ethereum Dominance
Ethereum has the largest developer community and ecosystem. Thus, more tools and resources are available for Ethereum developers, and more people to collaborate. Also, a steady stream of new and innovative applications is being built on Ethereum. Thanks to its ability to host the most active users and projects. The blockchain has the most active and vibrant online and offline community, with regular meetups and hackathons happening worldwide.
Moreover, Ethereum has an established track record of successful project launches. This has created a level of trust and confidence in the platform, making it more attractive to developers.
Finally, Ethereum boasts faster transaction speeds and is relatively cheaper compared to its competitors. This makes it an ideal choice for applications that require low latency and instant transactions.