Employment has increased steadily since the depths of the Covid-19 lockdowns in 2020. According to TradingPlatforms.com, US jobs have grown by 18% and exceeded the pre-pandemic high of 152.5 million by one million jobs. This is a testament to the resilience of the US economy, which has managed to weather an unprecedented period of global economic disruption.
TradingPlatform's financial analyst Edith Reads commented on the data saying," It is clear that the US economy is continuing to show incredible resilience in the face of an ongoing pandemic and economic uncertainty. This bodes well for a rebound in consumer spending, which will be essential in order to sustain any kind of recovery."
Raise Interest Rates
Still, with wages failing to keep up and the Fed set to raise interest rates next week, questions remain about whether this recovery will be sustained.
The Fed is expected to raise interest rates next week, which could slow the recovery and dampen consumer spending. The CME FedWatch Tool puts the likelihood of such a hike at 79.4 percent with a rise of 50 basis points, while the probability of another 75-point hike stands at 20.6 percent. Market participants are now desperately hoping for signs of a slowing economy/labor market. Anything signaling a slowdown increases the chances of the Fed pivoting to less aggressive rate hikes going forward.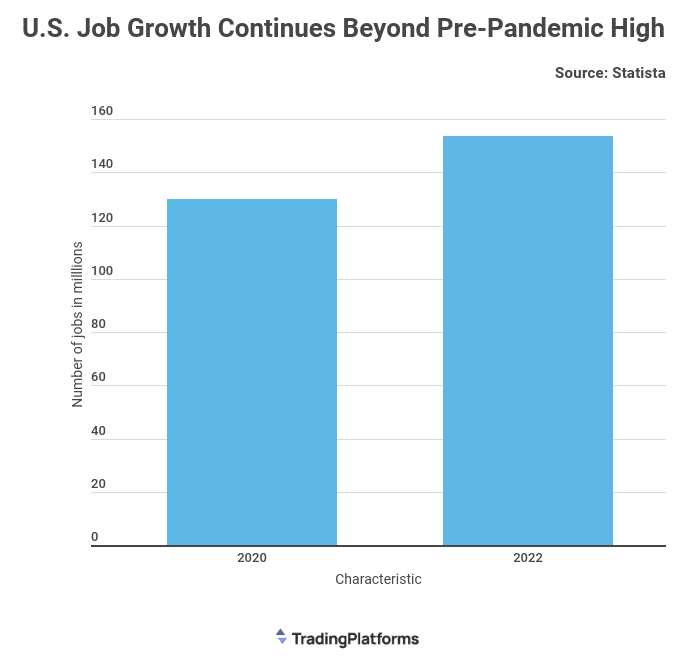 For now, it remains to be seen whether the US economy will continue its recovery or if rising costs and stagnant wages will temper consumer spending enough to derail the recovery. Either way, the next few weeks should provide investors and traders with a clearer picture of what the future holds for US jobs and the economy.
Ultimately, it's impossible to predict the future with any certainty. However, it is clear that US jobs data will be vital in determining what action the Fed takes moving forward and whether or not Wall Street's hopes for a slowdown are realized. Investors should remain vigilant and keep an eye on economic indicators such as US job growth over the coming weeks and months to gauge the health of the US economy and act accordingly.