Google pay has been gaining traction among shoppers primarily due to its convenience, security, and flexibility. With the ability to pay using their phones by simply tapping the device on POS terminals, customers can quickly and securely make payments in brick-and-mortar stores. According to TradingPlatforms.com, Google Pay solution has recorded a 91% increase in the number of merchants using its platform in the last two years.
Tradingplatform's financial analyst Edith Reads commented on the findings saying," T2P technology is quickly becoming mainstream and with more businesses embracing Google Pay, consumers are increasingly looking for new ways to pay. The shift towards tap-to-pay technology is further supported by the fact that customers find it easier and safer than traditional payment methods."
Contactless Payments
With Covid-19 now a part of everyday life, customers are increasingly opting for contactless payments using their phones. This is due to the safety factor it provides versus physical cards, which necessitate users to provide their card numbers and PINs. Additionally, customers don't have to worry about carrying multiple cards now that they can store all their cards in the Google Pay wallet and use them at checkout.
Google Pay solutions are also growing in mobile commerce, with shoppers accessing deals and promotions from the comfort of their homes. This has led to an increase in shoppers using the platform who want to make online payments quickly and securely.
Overall, Google Pay has become a popular payment solution due to its convenience and safety. Its surge in recent years is likely to continue as more shoppers realize the benefits it provides. As customer behaviour gradually shifts towards digital wallets, Google Pay's growth trajectory will no doubt remain on an upward trajectory.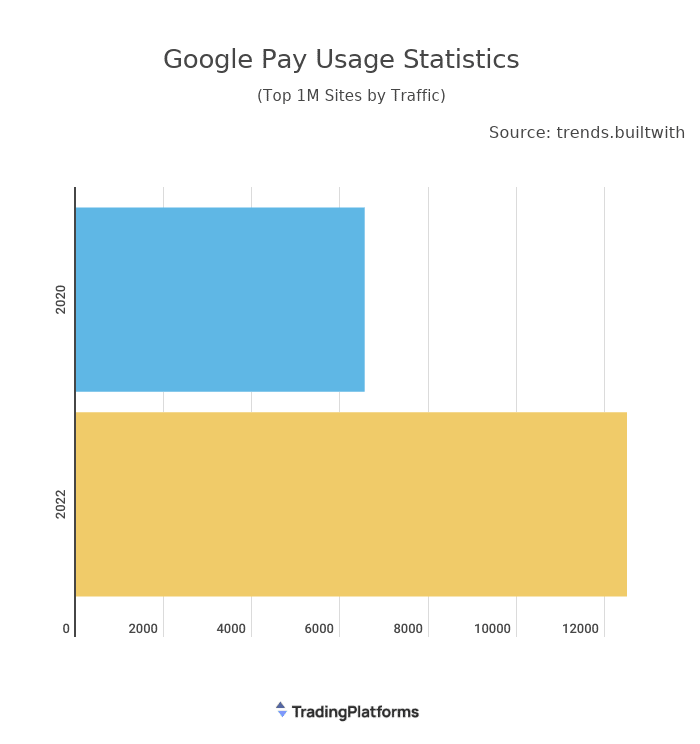 Challenges Facing Google Pay
It is important to note that while Google Pay has been gaining traction, there are still some challenges, such as a lack of awareness and limited merchant acceptance in specific markets. For the platform to attain further growth, these issues need to be addressed through increased marketing efforts and better merchant support. As long as Google Pay continues to innovate and provide value to its users, it will remain one of the most popular digital payment solutions in the future.
Google Pay is undoubtedly here to stay, and with its convenience and security, more customers will likely turn to Google Pay for their payment needs. In the end, it looks like T2P technology is here to stay and that Google Pay will remain a significant player in the payments industry for years to come.