Changes in weather and climate patterns are already affecting economies and societies worldwide, and the problem is only getting worse. Despite overwhelming evidence that climate change is real and caused by human activity, some companies are still working against efforts to mitigate the problem.
One of those companies is Toyota. The Japanese automaker has been ranked as one of the companies exerting the most negative influence against climate change, with a score of -42%, according to TradingPlatforms.com.
Speaking on the data, TradingPlatforms specialist Edith Reads said. "The findings show that some of the world's largest companies are playing a major role in exacerbating climate change, which is already costing the global economy trillions of dollars and putting millions of people's lives at risk."
Toyota has been criticized for lobbying against stricter emissions standards and its production of gas-guzzling SUVs.
In recent years, the company has made some progress on environmental issues, setting goals to cut emissions from its vehicles and factories. But it still has a long way to go to catch up to its rivals. The company has also been criticized for its environmental record in its home country of Japan.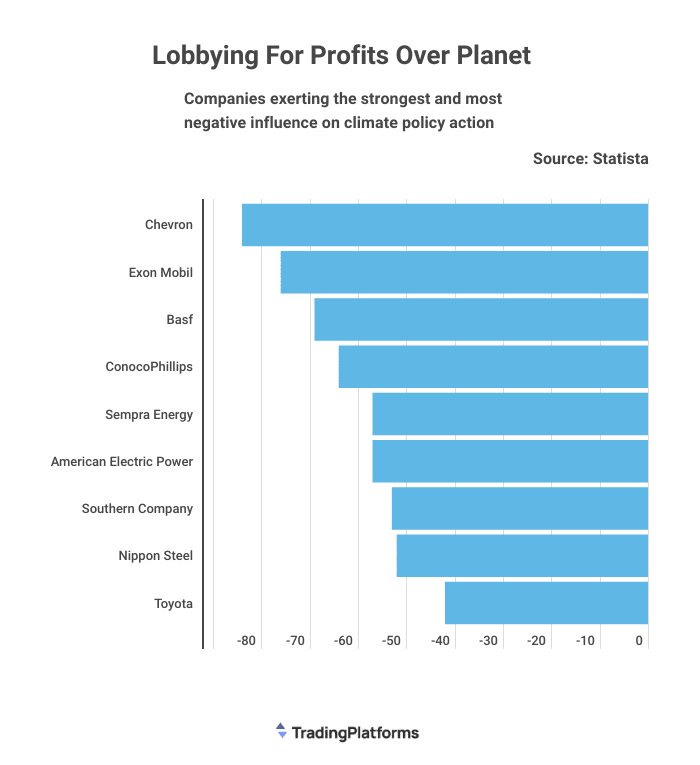 Electric Vehicles Are the Solution
Electric vehicles (EVs) offer a cleaner and more efficient alternative to gas-powered cars, and their adoption is crucial for meeting climate change goals. But Toyota has been slow to embrace EVs, instead investing heavily in hydrogen fuel cell technology, which is much less developed than EV technology.
Toyota sells many hybrid vehicles. But, those cars combine an electric motor with an internal combustion engine and, as a result, continue to emit emissions.
The German machine, Mercedes Benz, is among the companies making positive moves. Yet, despite their high performance on climate change, they still fell short of the global climate targets.
Furthermore, Mercedes still produces fossil-fuel vehicles. This undermines the efforts it makes to mitigate climate change.
Joint Efforts Are All We Need to Save Our Planet
Fossil fuels like gasoline and diesel emit CO2 into the atmosphere, a chemical that contributes to global warming. The increase in levels of greenhouse gases such as carbon dioxide (CO2) and other gases like nitrous oxide (N2O), methane (CH4), and hydrofluorocarbons (HFCs) is leading to a warming of the Earth's atmosphere. This, in turn, is causing changes to the climate that are already beginning to become apparent.
Emissions of greenhouse gases (GHG) from transportation account for approximately 27% of the total GHG emissions in the US. This percentage makes transportation the primary source of GHG emissions in the United States.
Between 1990 and 2020, the absolute level of greenhouse gas emissions produced by the transport sector went up. Although other industries are also to blame, transport is the most notorious.
Currently, climate change is a significant concern across the globe. Therefore, there are efforts to ensure mitigations are working. The situation calls for joint action, and companies like Toyota must play their part.