Carbon emissions from streaming video are increasing as more people subscribe to services like Netflix and Amazon Prime. According to Tradingplatforms.com, streaming 30 minutes of Netflix content releases about 1.6 kilograms of CO2, equivalent to driving 4 miles in a typical passenger vehicle.
Tradingplatforms Edith Reads states," Streaming services are becoming increasingly popular, but they also come with an environmental cost. Netflix is not unique in having a large carbon footprint from its data centre operations. Most major tech companies have significant footprints as well. "
Reads continued," What is notable about Netflix, however, is that the company has been vocal about its commitment to reducing its emissions. It has set some ambitious goals, including becoming carbon-neutral soon. "
Popular Netflix Hits
Some of Netflix's famous shows, such as Squid Game, Stranger Things, Money Heist and Bridgerton, have been popular worldwide. The video streaming company has recently stated that fans clocked up more than 6 billion hours watching the top 10 shows in the first 28 days after each show was released.
CO2 emissions from data centers are not only due to the streaming of content but also from the company's operations, including its data center infrastructure and employee travel.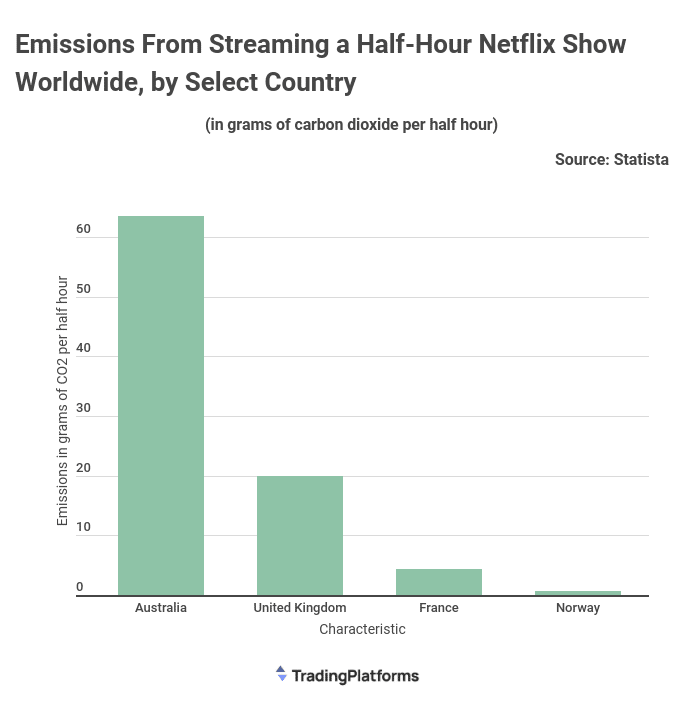 Net Zero Greenhouse Gas Emissions
Netflix has pledged to curb its emissions and attain carbon neutrality soon. To achieve its goal, Netflix will need to improve the efficiency of its data center operations and invest in renewable energy. The company has already made some progress on this front, but there is still room for improvement.
Netflix has said that it will continue to publish data on the emissions from its most popular shows. As the company works to reduce its emissions, this data will likely become increasingly important in understanding the environmental impact of streaming services.
Netflix recently announced that it plans to achieve net zero greenhouse gas emissions by the end of 2022. This follows similar announcements from other prominent Silicon Valley companies such as Microsoft, Apple and Facebook. In the UK, several companies, including BT, the BBC and Sky, have committed to reaching net zero by 2030.
While it is clear that Netflix is taking steps to reduce its emissions, the company still has a long way to go in terms of reducing its overall energy footprint.