The most worrisome trend in crypto crime is the startling increase in funds stolen from DeFi protocols, particularly the cross-chain bridges. A significant portion of the value stolen through Defi protocols can be traced back to malicious actors with ties to North Korea. Highly skilled hacking groups such as Lazarus Group have taken credit for some of the thefts. According to data from TradingPlatform.com, North Korea is responsible for the theft of almost $1B worth of cryptos in 2022.
Speaking on the data, TradingPlatform's analyst Edith Reads said. "There has been a series of attacks on DeFi platforms. The attacks seem well organized and coordinated. However, there are measures in place by different players in the crypto space to overcome this. $30 million of stolen crypto recovered from North Korean hackers gives hope. It is a win for every crypto enthusiast. It will boost confidence among the crypto investors and even attract those with reservations on crypto security."
Criminal Activity Has Reduced in the Crypto Space
An alarming trend is that despite the general decline in the value of digital assets, illicit crypto activity looks more robust. According to the data, illegal transactions plummeted by 15%, yet, lawful transactions fell by more than double that rate.
Hackers stole over $600 million from the Ronin bridge of Axie Infinity in March. Besides, the Horizon bridge of Harmony lost $100 million in June.
While hackers remain a substantial risk, there is a massive decrease in criminal activity across all aspects of crypto. This year, the $1.6 billion stolen in crypto-related scams is 66% less than the $4.2 billion stolen in 2021. Also, the Hydra marketplace crackdown in April has contributed to the 43% drop in revenue on darknet marketplaces this year.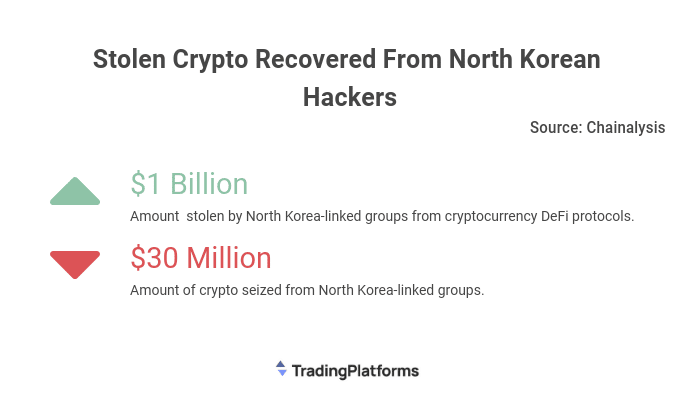 Be on the Lookout
Even though criminal activities in crypto have gone down, don't lower your guard. The decline might be due to crypto winter forcing people to shy away from crypto investments.
During a market slump, criminals have less opportunity to profit from their schemes. Very few people are willing to venture into risky investments—thus few opportunities for fraud. 
If you want to avoid being a victim of fraud when buying cryptos, you must do your homework first. Be aware of investments that promise significant returns with little or less risk. If something seems unbelievable, it probably is. You should also not put in more money than you can afford to lose.