The trading volume of non-fungible tokens (NFTs) is seeing consistent growth. The growth results from the increase in the number of celebrities and firms transitioning to the metaverse. Coupled with the public's awareness of the existence of NFTs and the metaverse, the trend maintains an upwards trajectory.
According to the data from TradingPlatforms.com, the total volume of NFTs exchanged recently surpassed 20 million ETH in Q2 2022. That volume translates to a total value of $65 billion.
Commenting on the data, TradingPlatforms Edith Read said, "NFT popularity is growing with every passing day. The celebrity wave influences people to possess these digital assets. Besides, the prevailing "crypto winter" has made people shift to NFTs."
NFT Market to Grow by $147.24 Billion in 2026
The NFT market is expected to increase by 147.24 billion dollars between 2022 and 2026, at a CAGR of 35 percent. Behind that high demand is an increasing number of big brands embracing the NFT market. There's also an upsurge in fractionalized NFTs and a growing rollout of AI applications.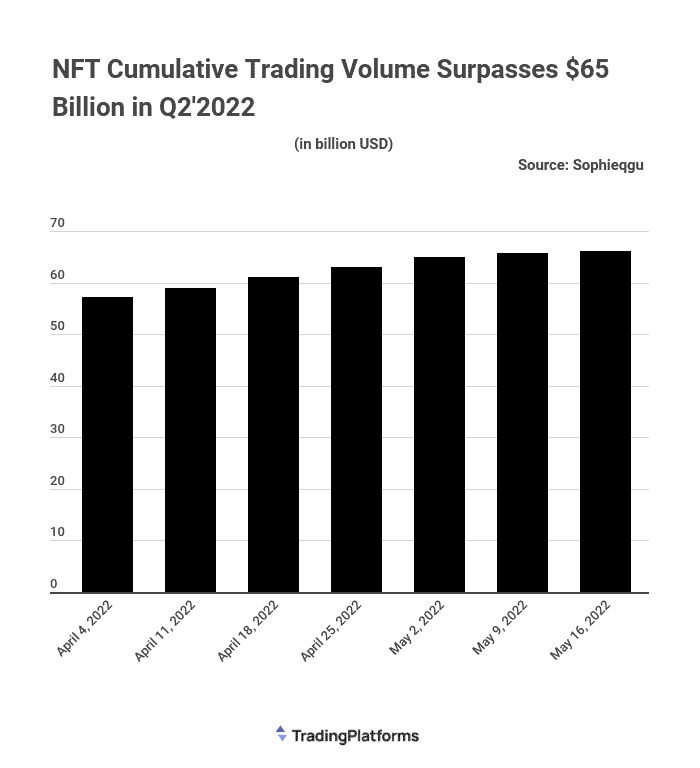 In addition, increasing digital asset investments may influence the NFT industry further. Moreover, there is a huge desire to own NFT due to its security of ownership.
Most investors who purchased cryptos at much higher prices hold off on closing their holdings in the red. They would much instead look for possibilities to invest in other crypto assets. NFTs provide them with a greater likelihood of profiting from their investments.
NFT Overflows With Believers
Marie Tatibouet, the chief marketing officer (CMO) for Gate.io, is one of the enthusiastic members of the crypto community. She is optimistic about the growth prospects of NFTs in the future.
During the Paris Blockchain Summit, she agreed with Kevin O'Leary of the television show Shark Tank on his belief that the NFT market has the potential to outperform Bitcoin (BTC) in market cap.
"Absolutely. I believe this with 100% certainty because the NFT market can be so many different things. I really do think that, for example, all the art pieces will have NFTs or fractionalized NFTs as well associated with them. However, this might not happen right away, but sometime in the next ten years, I am almost certain it will."
Andy Jassy, the CEO of Amazon Inc., clarified that the e-commerce giant was not considering introducing crypto as a payment mechanism. Yet, he claims he might envisage a future in which it starts selling NFTs.