The global market for fintech apps has seen consistent expansion over the past few years. Since the initial outbreak of Coronavirus, its growth pace has gone up. According to data from TradingPlatforms.com, the total number of downloads of fintech apps globally surpassed 6.1 billion in 2021. The growth represents a year-over-year increase of 25.2%. Besides, the total installations of Fintech apps reached an all-time high of 1.74 billion in Q1, 2022.
Analysts from TradingPlatforms link the growth to COVID-19 and increased adoption of smartphones. "COVID-19 saw movements restricted, and physical transactions became impossible. Therefore, several people turned to fintech apps to execute online transactions. Since then, fintech adoption keeps growing." TradingPlatforms' Edith Reads stated. She went on. "The high adoption of smartphones is playing a part in the surge. Everyone wants all services at their fingertips, and smartphones allow them to download the Fintech apps for use."
Fintech Apps are Becoming More Popular in Asia
After experiencing a temporary drop at the onset of the COVID-19 epidemic, Fintech apps began to take off in Asia. South East Asia (SEA) and India served as the main markets. From pre-pandemic levels in Q4 2019, overall downloads increased by 44% to 880 million in Q1 2022. Payment, banking apps, and cryptos were the key growth drivers. The quarterly downloads also rose in both Latin America and Europe.
With downloads in the region soaring from 6M in 2020 to 21M in 2021, SEA has demonstrated its promise as an emerging market for fintech apps. According to the research, South East Asia downloaded 7 percent of the Top 50 Fintech apps in Q1 2022.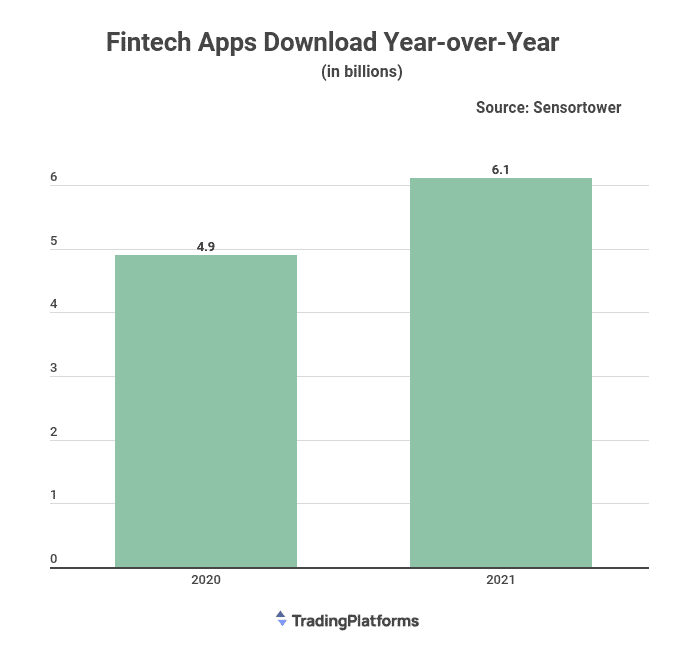 Increase in Compatibility With Financial Services Fuels Fintech's Adoption
An increase in compatibility with the financial services industry's ecosystem and growth in cryptos' market value and initial coin offerings are the primary factors driving the market. This tech contributes to generating speedier transactions and minimizes the total cost of ownership (TCO).
Yet, uncertainty over the regulatory requirements and frameworks are the main hindrance to the growth of fintech. In addition, the use of digital technologies in the financial sector is exploding.
Marketplace financing, Mobile money, and Robo-advice are examples of how fintech operates. Also, Crypto-asset and insurance technology are more examples of developments in fintech. These changes can create more varied, dynamic, inclusive, and effective markets. Nevertheless, they also have the potential to increase concentration.