The internet has become such an integral part of our lives that it's hard to imagine living without it. We use it for entertainment, social interaction, business, and education. More and more countries are recognizing the importance of affordable internet access and are working to increase access and subsidize subscription prices. 
According to the TradingPlatforms.com data presentation, Ukraine has the cheapest fixed-line broadband internet globally at $6.40 per month. Moldova, Russia, Belarus, and Kazakhstan also offer internet at cheaper prices. These countries, besides Ukraine, were former members of the Union of Soviet Socialist Republics (USSR). 
Edith Reads, the TradingPlatforms.com's financial analyst, observes, "Ukraine's mobile and fixed broadband infrastructure is excellent, allowing internet providers to avail large data amounts at a lower average internet cost. This means that Ukrainians can enjoy fast, reliable internet access at a fraction of the cost of their counterparts in other countries.."
Global Internet Cost Comparison
Eritrea has the most expensive fixed-line broadband internet, with an average package cost of $2,666.00 per month. It also has the highest internet cost-to-speed ratio of $1,590 per Mbps monthly. This price is seven times more than you'd incur for similar bandwidth in Niger, the second most expensive county.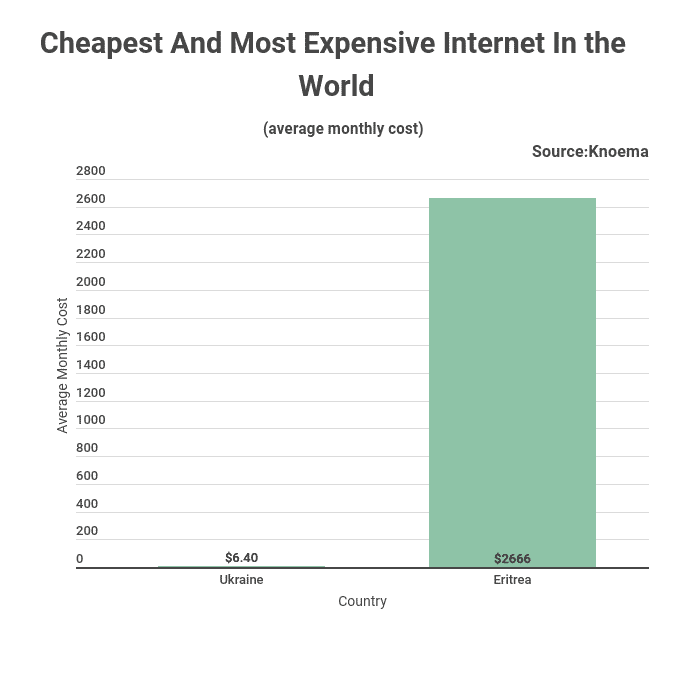 TradingPlatfrom's analysis covers 211 countries whereby internet users in more than 41 percent (87 states) pay an average cost not exceeding $1.00 per Mbps per month. 81 percent of them, i.e., 171 countries, pay an average monthly charge of $1.00 but not exceeding $10.00 per Mbps. 
The United States is on the lower end of the chart, occupying position 131 in terms of cheapest internet connectivity. Internet subscribers in the US pay an average monthly charge of $60.00 per month. Consequently, the US is at position 26 regarding the monthly average price per Mbps.
Average Cost of a Monthly Package in the Largest Economies
Among the largest economic countries, Saudi Arabia has the highest monthly internet cost for fixed-line broadband internet. Internet subscribers in this country pay a monthly charge of $107.27.
On the other hand, Canada, the second most expensive country, has an average monthly charge of $76.14. Meanwhile, the US, the third most expensive largest economy, has a $59.99 average monthly charge.
Australia and Japan came fourth and fifth with $59.25 and $48.37, respectively. With an average monthly charge of $43.43, Spain came sixth, while Germany followed closely with an average monthly charge of $41.46. 
The United Kingdom, Italy, and France took the remaining positions to make the top ten most expensive countries for internet connectivity. The United Kingdom charges $34.78, Italy $32.73, and France charges $32.16 per month.
Average Cost per Mbps per Month in Largest Economies
In this category, Egypt comes first as the most expensive for average internet cost per Mbps per month with $3.97. Australia is the second with $1.88, while the US is the third with $1.06.
Brazil, Canada, and Japan charge $0.94, $0.94, and $0.82, respectively. Saudi Arabia follows with $0.77, Indonesia with $0.56, France with $0.48, and Germany charges $0.42 per Mbps per month.