Dell Technologies, an American multinational technology company, is transforming the enterprise technology market. The firm designs and manages award-winning products and services that enable its customers to create their digital futures faster than ever before. For these reasons, its revenue has been on an upward trajectory. 
According to an analysis by TradingPlatforms, Dell Technologies' revenue has spiked by 99% from 2016 to 2022. The annual revenue for 2022 was $101.197B. This was a 16.76% increase from 2021. In 2016 Dell's annual revenue was $50.9B.
Edith Reads, TradingPlatforms' financial expert, says, " The growth was driven by Dell Technologies' ability to deliver solutions that meet customer needs and drive innovation across its portfolio of products, services, and solutions. Additionally, the company has been able to meet the growing demand for cloud computing and security services through the use of artificial intelligence (AI) and machine learning technologies."
Fourth Quarter and Full-Year Fiscal 2022 Financial Results
Dell Technologies operates across three business units: Infrastructure Solutions Group (ISG), Client Solutions Group (CSG), and VMware. The CSG business segment includes branded hardware such as desktops, notebooks, and peripherals like monitors and projectors. 
The ISG incorporates the company's various activities in the storage, server, converged systems, and cloud solutions market. ISG has utilized the expertise EMC has had across these fields. Previously, VMware was also part of the segment. In 2021,  Dell Technologies spun it off as a separate corporate entity.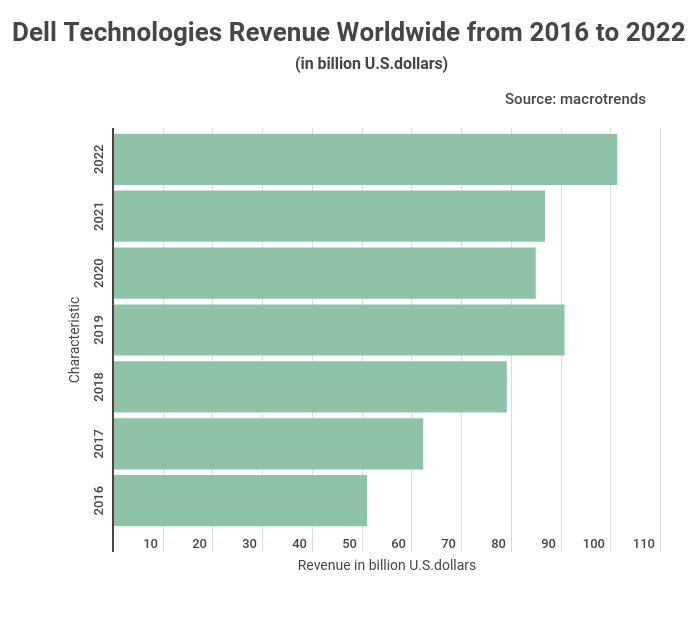 Client Solutions Group had a great performance in Q4 of the 2022 fiscal 2022 year. The company's revenue for the quarter was $17.3 billion, up 26% year-over-year. The record results were driven by $12.9 billion in commercial revenue – a 30% increase year-over-year (YOY) – and $4.4 billion in consumer revenue – a 16% increase YOY.
Operating income was $1.2 billion, or about 6.7% of Client Solutions Group revenue. Client Solutions Group delivered record revenues of $61.5 billion for the full year, up 27% from the previous year. In addition, Client Solutions Group's full-year operating income was $4.4 billion, a 31% increase versus the prior year.
On the other hand, Infrastructure Solutions Group's revenue for the fourth quarter was $9.2 billion, up 3% YOY. Storage revenue was $4.5 billion, while servers and networking revenue was $4.7 billion – up 7% YOY. In addition, the group had an operating income of over $1 billion. For the full year, the revenue was about $35 billion, with an operating income of $3.7 billion.
Market Leader in the Virtualization Market
VMware is a cloud computing and software virtualization company working in the areas of hybrid and multi-cloud, networking, and security. Dell's acquisition of VMware reflected the changing market environment from traditional, hardware-based enterprise storage to hybrid cloud services.
VMware has been widely adopted in the cloud computing space by providers such as Amazon, Microsoft, and IBM having partnerships with VMware.
Dell Technologies focuses on helping customers manage their data needs for the future. With this acquisition, Dell is looking to take advantage of all that VMware offers. With VMware, Dell can compete with other companies in the area of cloud computing and handle multi-cloud operations better than ever before!
Dell strives to fulfill the ever-evolving storage needs of end-users and organizations throughout the globe. Every day they innovate storage technologies, services, and solutions to push technology boundaries and expand capabilities to stay ahead of the growing demands placed on storage. 
In addition, the company focuses on building next-generation solutions that help customers derive greater business value from their data, develop new competitive advantages and reduce costs.