When traveling for business, you have comfort and ample rest. You are able to attend meetings fresh and sharp. Here's where the Business Class comes in. 
Leading airlines recognize the huge potential within this market segment and are investing significantly in it. Some like Singapore Air have cut themselves a niche for providing the best Business Class flying experiences.
According to a TradingPlatforms' market analysis, Singapore Air offers the best Business Class experience globally. The site bases its conclusions on a study that compared offerings by different carriers. In the study, the airliner scored 9.57 out of 10 for its business class service quality.
"Singapore Air has a fifty-year-old tradition of guaranteeing its customers luxury travel," says TradingPlatforms' Financial Lead Edith Reads. She adds, "The carrier understands the importance of comfort to its business travelers and pulls all the stops to ensure they have a wholesome experience. Its motivation is to get you well rested and fired up for your meeting on landing."
So what's the secret to Singapore Air's success?
Singapore Air goes out of its way to guarantee you a fulfilling journey on board. The seats offer you two seating positions, Lazy Z and Sundeck. The former is a cradling position that centers and balances your weight while sitting.  And the latter is a lounging position allowing you to stretch while resting your legs on an ottoman.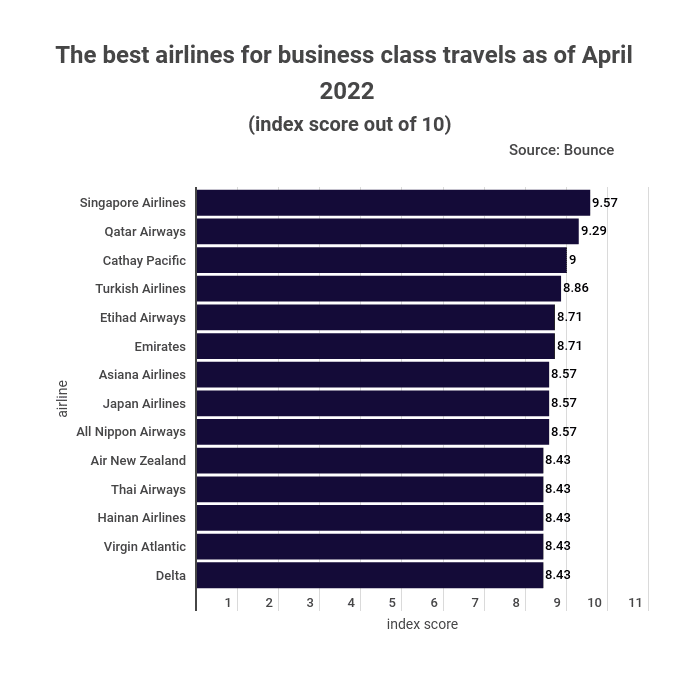 Additionally, the seats transform into a full bed should you want to turn in. The bed has a cushioned headboard, linen, a duvet, and pillows, enhancing your sleeping comfort. You also have a console for storing your laptop and all the ports to power your devices.
The airline also allows you to reserve your main course a day before your flight. On offer are different creations from renowned international chefs. Again you have access to full table services with beverages to complement your food.
You also have a selection of 1,800 entertainment options courtesy of KrisWorld inflight entertainment. Here you can watch movies, Tv shows, music, and play your favorite games on a personal 18-inch LCD HD screen with noise-canceling headphones. And depending on the flight, you can catch up with family and friends via the internet and chat.
Asia-based airlines top in business class traveling
TradingPlatforms' presentation shows that Asia-based airlines dominate the top ten list. Qatar Airways took the second spot in the study with a score of 9.29. And following closely in the third spot was Hong Kong's Cathay Pacific with a score of 9,0. Other Asian carriers making the top ten include Etihad, Emirates, and Japan Airlines, among others.
Europe has two representatives making it to the top ten. The continent's top-placed carrier, Turkish Airlines, took the fourth spot with an 8.86 score. Meanwhile, British airliner Virgin Atlantic took the tenth spot after scoring 8.43 points.
Oceania and North America had one representative each. New Zealand's Air New Zealand and America's Delta tied in the tenth spot with 8.43 points. They hold the position jointly with three other air service providers. Africa and South America miss out on the top ten slots.