Coca-Cola is the most popular drink in the world, and the brand name is enough to make anyone want to consume it. The brand's strong presence in the global market makes it more trustworthy and good for consumption.
Coca-Cola has managed to bring happiness to consumers around the world. According to an analysis by TradingPlatforms, the world-class company remains the strongest brand in the US, with a Brand Strength Index (BSI) score of 93.3 out of 100. 
Moreover, Coca-Cola has a corresponding elite AAA+ rating. The BSI score ranking is based on its Brand Loyalty and Recommendation Forecast data reflecting consumer perceptions, preferences, and intentions – both online and offline.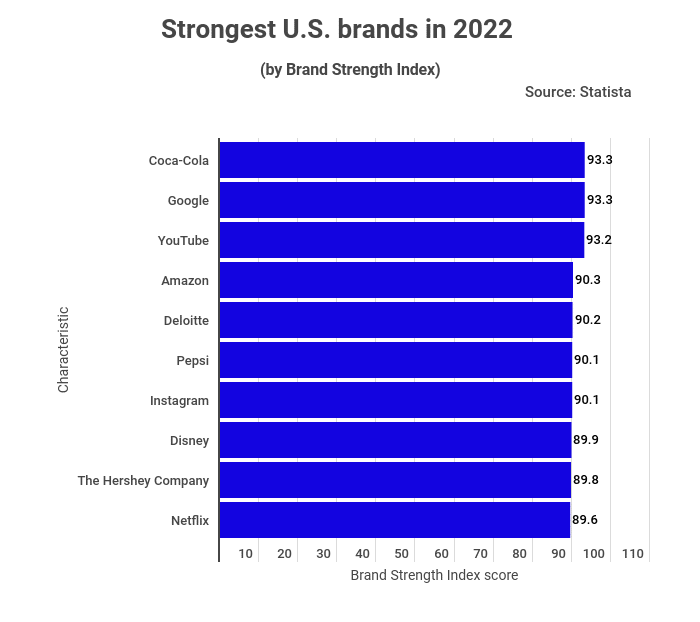 Coca-Cola's strong approval
TradingPlatforms' financial expert Edith Reads says, "Coca-Cola's brand strength is undeniable. Largely due to the prominence of its core drink in the consumer's mind, as well as more recent innovations such as new flavors and lower sugar variants."
She adds, "This BSI score is a measure of consumer loyalty, which is only achieved through an outstanding level of brand awareness and strong consumer approval ratings."
Coca-Cola launches new Zero Sugar Zero Caffeine drink
To date, Coca-Cola has a strong track record of loyalty in the market, with positive consumer feedback for over a century. In addition, the company has sold its products in more than 200 states and territories.
In a time of rising health consciousness, the company has focused on providing low-nutrition and alternative products like Coke Zero to meet consumers' needs. Coca-Cola recently announced the launch of Coca-Cola Zero Sugar Zero Caffeine, a take on the Coca-Cola Zero Sugar taste. This new variant will be available across 2L PET bottles and multipack 330ml cans.
At the same time, it has made strategic decisions to leverage e-commerce to ensure brand availability in an era of interrupted supply chains. Coca-Cola's digital strategy has also boosted their sales apart from their solid product strategy that saw them successfully navigate to the top.
Coca-Cola targets online engagement
Coca-Cola started as a soda fountain drink at drug stores in 1886 and was later sold in bottles for commercial use. The overall theme for this beverage is 'Taste the Feeling,' which focuses on celebrations and shared experiences experienced through drinking Coca-Cola beverages. There are many variants of coke like sugar-free coke, diet coke, and zero-calorie coke, among others.
During the pandemic of 2021, Coca-Cola launched a campaign focusing on celebrating life and shared experiences – 'Together Tastes Better' – to promote home consumption of Coca-Cola products. 
Coca-cola's strong online presence
From the onset, Coca-Cola's online ordering and delivery were fraught with security concerns and restricted usage due to quarantines at that time. So the company also launched the myCoke mobile application, enabling online orders delivered directly to your fridge!
The company has built a strong presence across digital and social platforms using its flagship brands to encourage online engagement and community actions.