According to the TradingPlatform.com analysis, the estimated number of visitors to the superrare.com website reduced by approximately 33 percent. In September 2021, there were over 1.8 million visitors to the websites. However, in March 2022, the total number of visitors had significantly downgraded to about 1.2 million.
The first decrease in visitors happened in October 2021 when more than 100 thousand visitors failed to visit the site. Similarly, the following month saw a major blow to the website. It recorded a drop in the visitors' traffic by more than 300 thousand from the previous month. This brought the total number of visitors to 1.4 million. 
According to Edith Reads, the TradingPlatform's financial analyst,  "In the next four months after November 2021, the total number of visitors to the website remained constant at 1.4 million. However, things turned to the worst as March approached. The total number of visitors further dropped by more than 200 thousand. This drop reduced the number of visitors to the website to 1.2 million."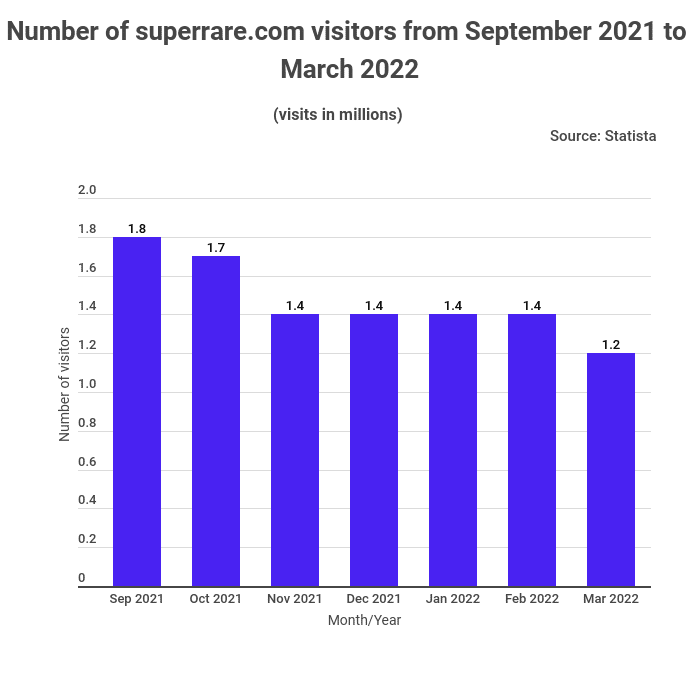 NFT art market boom
The NFT art market experienced a boom in March 2021. This resulted from Christie's selling Beeple's digital collage for USD 69.3 million. Up to date, this transaction remains the most expensive NFT transacted globally. 
NFTs stored in the blockchain are useful in the art market as proof of a digital work's authenticity. Artworks linked to the NFT can be sold online and physically simultaneously. 
More investors have shown interest in these digital artworks. This has led to the collectibles NFTs and arts generating a combined sale of more than $11 billion. This sale has been on a significant uptrend since 2020. However, from April 2021, the monthly NFT sales value for artworks has significantly decreased, reflecting the decrease in the estimated number of visitors to the superrare.com website.
Global online art market insight
The global online art market consists of investors who buy and sell antiques, works of art, and digital artworks through online platforms. Online transactions account for more than 10 percent of the global art market value. 
However, things took a positive turn for the online industry in 2020 as the COVID-19 pandemic approached. As a result, digital sales went up as health measures were put to combat the pandemic. The market maintained this trend to 2021, with growing interest in NFTs and crypto art. As a result, their sales went up to more than $13 billion.