Cybercrime is a multi-billion dollar industry, and it's increasing. It takes countless forms, from hacking and identity theft to fraud, malware, and ransomware. Moreover, it harms individuals and businesses in nearly all industries. New research shows that the rise of IoT devices and increased interconnection of people and firms are fuelling the rise in internet crimes.
TradingPlatforms.com has been studying the trends in internet crime. It concluded that 2021 was a record-breaking year for the vice. That was a $2.7B gain from the 2020 figures. 
Edith Reads, TradingPlatforms' financial expert, says, "The Internet, with its vast resources and low barriers to entry, has made it easy for fraudsters to set up shop. Today it has become a playground where organized criminal networks conduct their business with wanton abandon."
She further holds that increased interconnection narrows the gap between cybercriminals and their victims. Today's internet thieves are a sophisticated lot who use very subtle means to breach private data. Part of their attack strategy leverages weak passwords or poor password hygiene to steal from unwitting users.
The different faces of internet crimes?
TradingPlatforms' analysis shows that internet fraudsters preferred phishing over any other con scheme in 2021. Cyber cons using phishing techniques were able to make away with $2.4B, the largest amount of the stolen funds. 
Cryptocurrency scams were the second most popular kind of con. These accounted for the loss of $1.6B, the second-highest.  These kinds of crimes had grown roughly sevenfold from 2020's figures.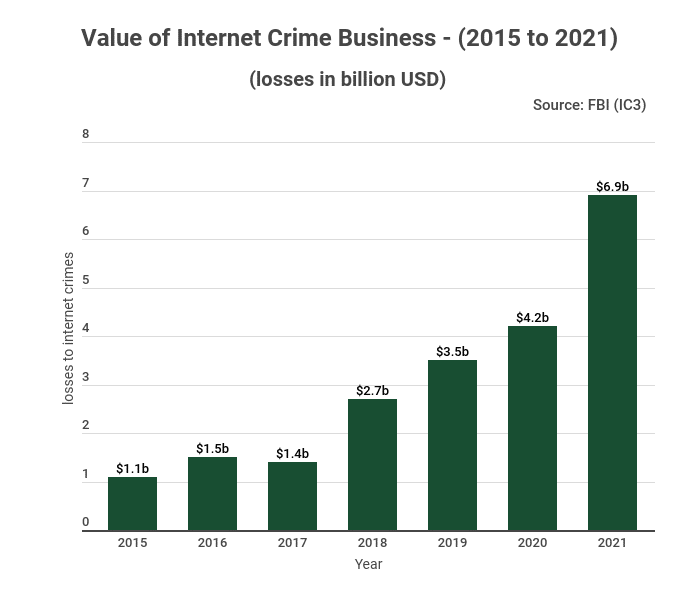 Cheating the way into a victim's heart
Confidence fraud (Romance scam) led to the loss of $956M, the third-highest. Here the fraudster assumes a fake online identity to gain their prey's confidence and affection. They dupe them into giving them money and then disappear.
Support Fraud and ransomware were the other popular con methods. Whereas the former resulted in a loss of over $347M, the latter's figures stood at $49.2M.
Who's at most risk of cybercrimes?
Senior citizens are the biggest victims of internet crimes. This age group lost the most in dollar value, with a total of $1.68B or 24% of the $6.9B stolen by internet scammers. 
Two major reasons explain why they are the most vulnerable group. For starters, they tend to be less savvy about online security. They are also more trusting and unaware of internet fraud schemes.
The 50-59 years age group follows in second place, having lost $1.26B. And rounding up the top three is the 40-49 years group that lost $1.19B.
Under 20's suffered the least loss
Meanwhile, the under 20 age group suffered the least loss at $101.4M. The group also had the least number of victims. This age group is also the most tech-savvy of all. So they are better placed to detect and avoid internet scams.