Alibaba has recorded the highest brand value loss in the first quarter of 2022. The brand value of the famous online trading platform has plummeted by 42%, according to data from tradingplatform.com
Edith Reads from tradingplatform.com attributes the drop to a return of normalcy as the world is facing out Covid-19. She said,
"As coronavirus was taking over the globe, many people turned to online shopping. It was the safest way to get their products as physical contact was restricted. Investors couldn't fly across the continents to make purchases, and trading platforms were making huge profits. However, that is not the case since 2022 began. There is a return to normalcy, and international flights have resumed. Most clients are opting for physical shopping, which explains the huge loss Alibaba is recording."
Strict lockdowns in China
Alibaba Group Holding, China's most prominent tech business, has been down for days on worries that the country's stringent lockdowns will harm its economic growth. The Chinese government has adopted a stringent zero-COVID policy across the country following a new wave of infections. 
The IT stock has dropped, and there is no indication that this trend will reverse. This is making investors more negative about Chinese equities.
China's COVID restrictions are far from complete, and some analysts fear that they will eventually extend to Beijing. Retail sales and industrial production have already slowed due to the lockdowns.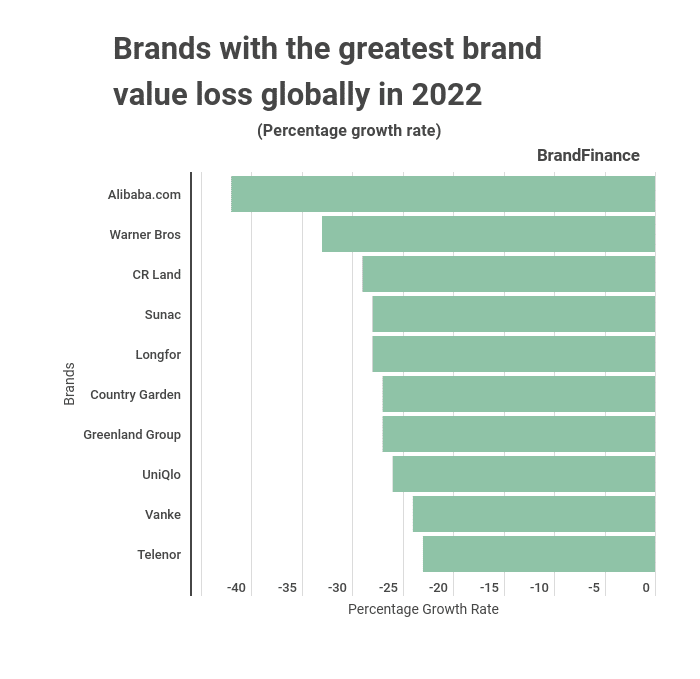 According to The Wall Street Journal, retail sales fell 3.5 percent year over year in March, while industrial production increased only 5%, compared to projected 7.5 percent. With no end in sight to the zero-COVID policy, Alibaba investors and Chinese stock investors, in general, could expect additional share price declines shortly.
Chinese officials penalized Alibaba after an anti-monopoly investigation by imposing a $2.8 billion fine. The fine was massive and left a significant dent in the online trading platform. The penalty came when Alibaba was rallying to break out of the downtrend. 
Moreover, authorities halted the $34.5 billion Ant Group IPO. Alibaba's fintech unit was planning to list in Shanghai and Hong Kong. The Shanghai exchange suspended the IPO listing due to the company's failure to meet its regulatory standards. According to an analyst from Tradingplatforms.com, all these events have made Alibaba vulnerable.
The major brands' trend
There is a mixed-signal on notable brands' performance in 2022. Tech conglomerates and other businesses harnessed technical innovation to dominate the 2022 brand ranking. This is unsurprising given that the epidemic brought many elements of life into the digital realm, accelerating the demand for digital solutions.
 Tesla surpassed Apple as the quickest growing brand globally, with a rate of over 157 % in 2021. On the other hand, brands in hard-hit industries reported some of the highest brand value losses in recent history. Warner bros experienced a value loss of 33% second to Alibaba. The Warner Bros loss might be attributed to its recent merger.