Apple spends the least percentage of its net sales on Research and development (R&D) among the GAFAM firms. That's according to a recent tradingplatforms.com data analysis. The website's analysis indicates that Apple spent $18.75 or 7% of its net sales on R&D.
While explaining these figures, TradingPlatforms' Edith Reads had this to say: "Apple has been an outlier on many fronts, including spending on R&D." She added, "The firm still upholds Steve Jobs' mantra that innovation shouldn't be a factor of one's expenditure. Rather it's about the personnel you have, your leadership qualities, and how you sync those two."
Meta had the highest R&D expense to revenue ratio
Meta (Facebook until October 2021) had the highest R&D budget as a percentage of net sales. The social media giant spent $18.45B on that endeavor which comes to 21% of its 2020 revenue. 
The firm that prides itself in innovation and disruptive technologies has invested heavily in AR/VR, artificial intelligence, Blockchain, and crypto. It is also pursuing an interest in machine learning, NLP, and cybersecurity. Following the unveiling of its Facebook Reality Labs, the company has concentrated its efforts in the AR/VR space.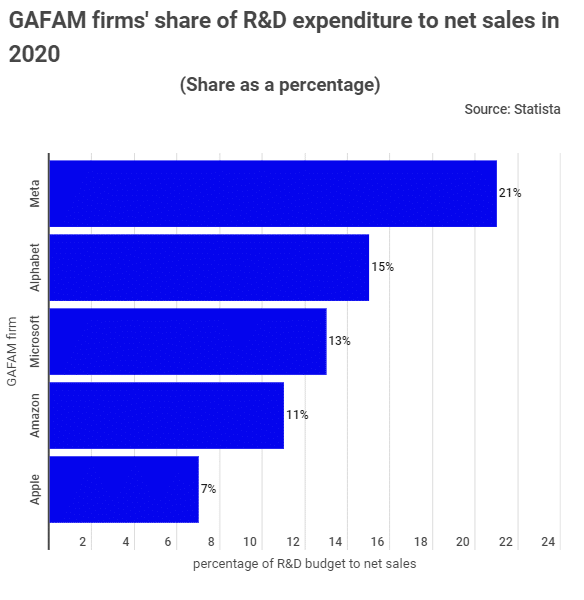 AI central to Google's doubling R&D budget
Google's parent company Alphabet had the second-highest R&D spending to revenue ratio. In 2020, Alphabet spent $27.57 billion on its research and development endeavors. That translates to 15% of its total earnings of roughly $183B.
The company's current R&D budget is more than double its 2016 figures. That tallies with its forward-thinking philosophy, to which AI development remains central. Alphabet's CEO Sundar Pichai has emphasized that much in a recent earnings call, partly explaining the 1,817 patents it acquired in 2020.
Wide-ranging interests behind Microsoft's 13% R&D spend 
Microsoft's 2020 R&D spending was $19.27B, maintaining the 13% allotment to its income that it has always had for that cause. The software giant is pursuing various technologies, applications, and platforms hence the spending. 
Besides redefining productivity and business functions, it's also building an intelligent cloud platform. Moreover, it's developing more immersive personal computing experiences. Its research outfit, Microsoft Technology Licensing LLC (MLT), won 2,905 patent applications in 2020.
Finally, Amazon had the fourth-highest R&D spending to income ratio among the GAFAM firms. Its $42.74B outlay for the cause amounted to 11% of its net earnings. In 2020, it won 2,244 patents centering on advanced technologies, including AI, computer vision, and machine learning.
R&D remains pivotal to Apple's future
In its 2020 10-K filing, Apple acknowledges that it's operating in a highly competitive market. Additionally, limited product life cycles and advancing industry standards, among others, characterize that market. As such, R&D is pivotal to its long-term growth and competitiveness. 
It holds that intentional investments in that space are crucial to developing new and enhanced products and services. Those developments are vital in achieving its fundamental business strategy. That's because they help maintain a consistent supply of quality products and services to its market.
Besides IP licensing, it's also for third-party acquisitions in the business and tech spheres. The firm has a rich repository of IP rights, having acquired 2,791 patents in 2020.