The world is increasingly shifting to online markets for just about anything, and the art industry isn't to be left behind. Although a huge chunk of art enthusiasts still prefer to buy physical art, the online market is quickly catching up, as the numbers suggest. 
According to data presented by Tradingplatforms.com, the US online art market is expected to exceed $5.8 billion this year. The market has been growing steadily over the last two years. Online art sales spiked in 2020, probably owing to the pandemic that significantly boosted online sales.
"Online art is definitely becoming more popular and the market size will just keep growing as more people are drawn towards it. Newer technologies, such as blockchain are revolutionizing the space and I believe DeFi, NFTs, and Web 3.0  will play quite the significant role in boosting the market even further," Says Edith Reads of TradingPlatforms.com. 
Pandemic caused 98.5% surge in market size
When the Covid-19 pandemic hit in 2020, the world was forced to rethink most of its systems, among them shopping. As people globally were forced to stay in their homes, online shopping became a hit, which caused an increase in most markets, including online art. 
In the US, the online art market recorded a 98.5% surge, growing from $2.67B in 2019 to $5.3B in 2020. The market then increased by 6.6% in 2021, bringing its size to $5.65 billion. Forecasts now show that it could get to $5.81 by the end of this year.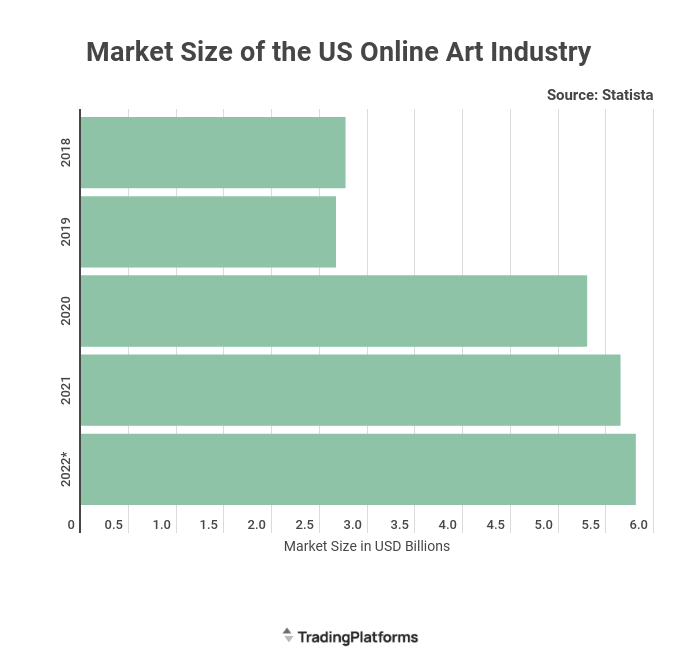 2020 was indeed a turning point for the online art industry, as online sales of the art and antiques market rose by 106% to reach $12.4 billion. The sales rose even higher to $13.3 billion in 2021, accounting for about a fifth of the global art sales. 
Crypto art and NFTs driving factors for the industry
For the last two years, crypto art and the craze around NFTs has resulted in increased interest in the online art scene. The March 2021 sale of Beeple's digital collage for $69.3 million stirred interest among art and blockchain enthusiasts. 
The NFT craze is not about to simmer down. New collections keep coming up by the day as the advent of Web 3.0 and the metaverse draws near. It's safe to assume that the online art market will only keep increasing and could even surpass the forecasted amount, especially if more industry giants hop onto the NFT and crypto art wave.