Coinbase has long been a trailblazer in the crypto world, and it's showing no signs of slowing down. The crypto exchange has registered tremendous growth in the last few years of its operation. Per a tradingplatforms.com analysis, Coinbase verified users have grown threefold in the last four years to stand at about 90 million today.
Coinbase's performance has attracted the attention of crypto market analysts. One of them is tradingplatforms.com's Edith Reads. She avers that the exchange's impressive run is a precursor to more growth in the future.
"Coinbase's growth has been nothing short of explosive," she said. "Reaching the 90 million verified users milestone is the culmination of a consistent pattern of growth for the company. It speaks volumes of the level of confidence that users have on the platform. One can only expect Coinbase to further grow its numbers as cryptocurrencies become more mainstream." 
Such sentiments are music to the ears of crypto users and Coinbase's shareholders. Many would-be crypto adopters are wary about the safety of the trading platforms available. But by Coinbase continuing to attract users, it sends the message that it is a safe and dependable site. For the shareholders, it firms up their faith in investing in it.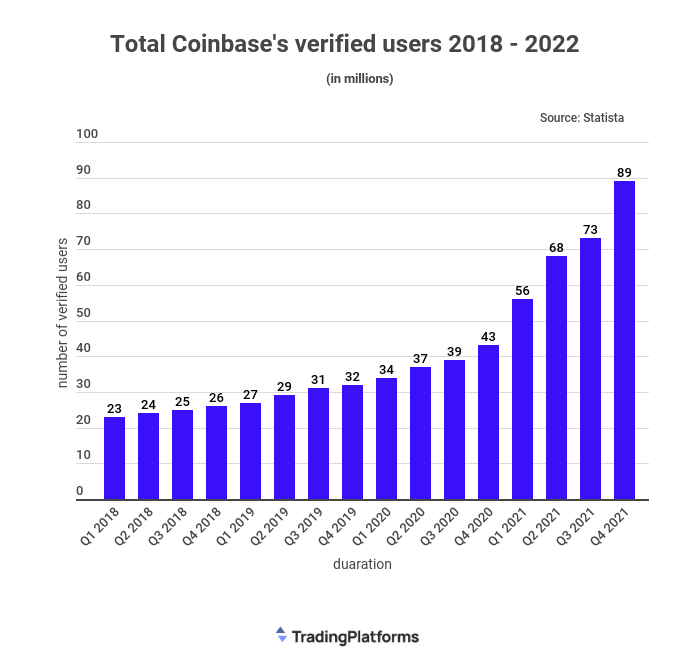 So, why are Coinbase verified users growing?
Several factors explain Coinbase's success. It was among the first platforms to offer an easy method for buying Bitcoin (BTC) with fiat currency (such as USD). This move increased its accessibility to users since they didn't require other cryptos first before transacting. It also eased the conversion of BTC and other cryptos to fiat currencies.
Secondly, its website and app provide a simple and intuitive user experience. This feature takes the complexity out of crypto trading. It has remained a go-to site for many first-time crypto adopters.
Affordability and innovation
Moreover, it charges some of the lowest transaction fees. Thus it remains attractive to users keen on lowering their trading costs. Besides, Coinbase supports the trading of over 100 digital assets in 100 plus countries.
Coinbase is also one of the most innovative companies in the field. It has been expanding its product portfolio consistently over the years. For instance, it offers Coinbase Prime, a one-stop crypto management and custody tool. Its Coinbase Card allows customers to spend their cryptos anywhere Visa is accepted.
Coinbase's woes
Coinbase hasn't had it easy despite its successes. In the past, the site has experienced outages owing to increased traffic. That has inconvenienced users and left them dissatisfied with its services.
Users have also complained of an unresponsive customer support team. Several of its users reported losing their funds to hackers. They claimed that the exchange's customer care team wasn't as helpful in resolving those issues as they'd expected.
In October 2021, Coinbase acknowledged that hackers had exploited its 2-factor authentication system to access user accounts. Following that breach, up to 6,000 users lost their funds. The company accepted liability and committed to reimbursing them the lost funds. It also undertook to help them regain their accounts and fortify its authentication systems.
Founded in 2012, the company has its headquarters in San Francisco. It has also been a significant player in the institutionalization of cryptos. It has opened its services to institutional investors such as hedge funds and family offices.