More than a decade after the first digital currency came into existence, it's safe to say that cryptocurrencies are a revolutionary invention, if the many use cases are anything to go by. The Russian invasion of Ukraine in February has just proven how useful these currencies can be in times of uncertainty. 
Since the first attack on 24th February, Ukraine has been receiving digital token donations from all across the world. According to reports by Tradingplatforms.com, crypto donations total to about $100 million, not counting the amount the country raised from its NFT sales. 
"Although it is quite unfortunate that it has to be under these circumstances, it's amazing that we can now see how crucial digital currencies are. Ukraine can easily receive donations from all around the world and the amount amassed ‌just goes to show how powerful these virtual assets are." Edith Reads from TradingPlatforms.com gave her opinion on the matter. 
Digital assets play a crucial role in the war
Two days after the first attack, the Ukrainian government posted on Twitter that it was accepting crypto donations and provided two addresses for the funds. Our reports show that the government collected $10.2 million in crypto assets within four days of the announcement.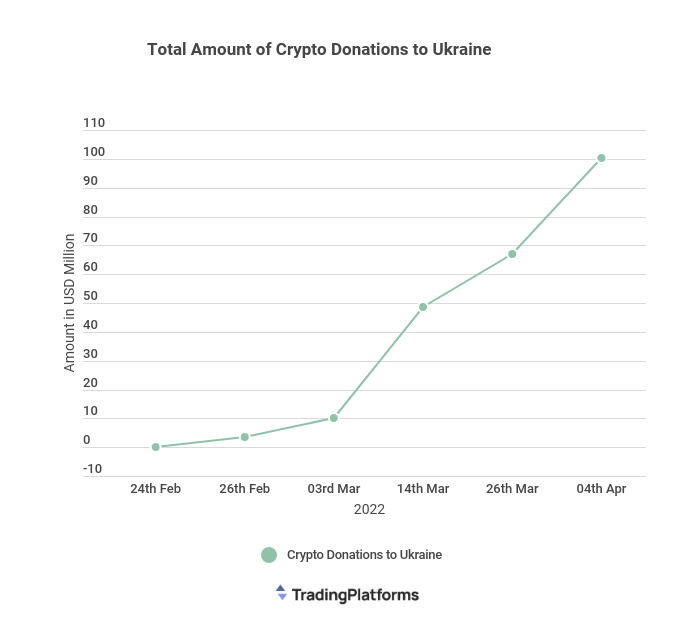 Ukraine further passed the Virtual Assets Law about a month later. Thanks to this law, crypto operations by both domestic and foreign exchanges are now legal in Ukraine. 
The move by Ukraine is a major push for the global scene and comes at a critical time when many countries are considering their stance on regulating digital assets. On the one hand, there are parties like El Salvador that are intent  on creating a crypto hub within their borders. On the other hand are countries like China, which have long since wiped out crypto trading and mining. 
It remains unclear what effect Ukraine's moves have on the global crypto market, although there's no denying that it is a major plus for the crypto global mass adoption movement. 
Ukraine's crypto donations marred with scams 
Undoubtedly, the crypto donations come in handy for the country under attack. Ukraine has been using the donations to buy non-lethal products, including food, fuel, and bulletproof vests for their military. 
However, we cannot ignore the increasing rate of scam projects. Further analysis into the data we collected at TradingPlatforms.com shows that a huge chunk of the donations sent to Ukraine were scam projects. 
The surge in global crypto attention stemming from Ukraine's recent crypto activity has also attracted a sizable number of malicious developers. Several humanitarian campaigns designed to raise donations for Ukraine turned out to be scams, with the people behind it making away with anything between hundreds and thousands of dollars, before being pulled down.