Over the last few months, NFTs have created quite a buzz in the crypto world, which has led to numerous marketplaces coming up by the day. For some time now, OpenSea has been the most preferred platform for trading NFTs, but recent data shows that this isn't the case now. 
According to data compiled by Tradingplatforms.com, LooksRare recently overtook OpenSea and has had a higher trading volume over the last seven days. The platform had a 32.56% increase in volume last week, recording sales of $664.25 million. On the other hand, OpenSea had a trading volume of $577.25 million, which was also an increase of about 18% week by week. 
"LooksRare capitalized on OpenSea's shortcomings and came up with a more friendly and easier platform. This has been a significant reason as to why LooksRare has been performing quite well ever since its launch, and we are yet to see the best of it." Edith Reads from Tradingplatforms.com remarked.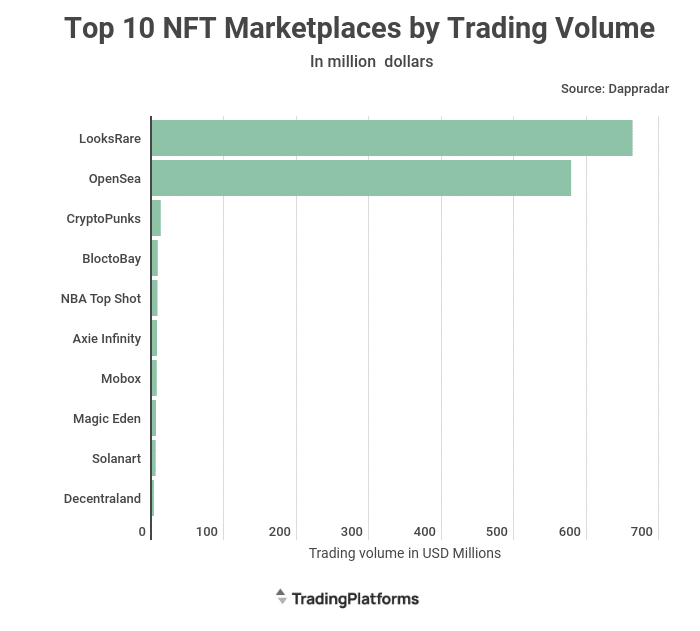 Ethereum-based marketplaces take the lead
Marketplaces built on Ethereum are still leading in NFT trading volume, despite the scrutiny from the crypto community. One of the biggest challenges of these platforms is the high gas fees stemming from ethereum's PoW mechanism. 
That said, these platforms remain popular, perhaps owing to the number of users on the Ethereum network. CryptoPunks, Axie Infinity, and Decentraland are notable ethereum-based marketplaces with the top 10 highest trading volumes over the last week. 
It's worth noting that LooksRare and OpenSea control a significant percentage of the NFT trading volume. The two are the only platforms with sales over $500 million. CryptoPunks comes third after OpenSea, with a volume of $12 million, which is quite a considerable gap from OpenSea's $578 million. 
LooksRare capitalizes on community to stand out
The new NFT marketplace launched earlier in the year and has had quite an impressive strategy. The platform places the community first, and as stipulated in its documents, LooksRare reserved about 75% of its tokens $LOOKS for its users. 
During the platform's launch in January, LooksRare airdropped its tokens to NFT traders who had previously used OpenSea. The platform also has a reward system for token holders and stakers, a move that has garnered massive community support for LooksRare. 
Clearly, LooksRare has positioned itself as a community-centric NFT marketplace and is aligning itself entirely with the concept of Web 3.0 and decentralization, according to community members. 
Although only time will tell whether LooksRare's reward system is sustainable, it is undeniable that the platform provides much-needed competition to OpenSea. It will be interesting to see how things unfold as NFTs become more popular.