Finnish tech firm Swappie is Europe's fastest-growing company. According to a TradingPlatforms.com data analysis, the startup grew by a CAGR of 477% to top a 1000 strong field. The study considered companies with exceptionally robust sales growths.
Speaking on the results, TradingPlatforms' Edith Reads said, "The world is embracing circular economy in light of its environmental advantages. That explains why startups like Swappie have made such robust growths in a relatively short while.
Lithuanian digital health solutions provider Kilo Health emerged second with a CAGR of 450%. And rounding up the top three was UK procurement firm OCI Group, which had a CAGR of almost 410%. This year's listing was dominated by Italian entities (235), followed by German (194) and English (155).
Carving a niche for itself
Since its establishment in 2016, Swappie has continued to carve itself a niche for refurbishing iPhones. Its founder Sami Marttinen says its 2020 sales were€98m ($107.648m). He adds that its 2021 figures will more than double that.
The firm serves 15 markets across the EU. Such is the confidence that the company inspires that it has recently received an injection of €108m (about $118.7m) from investors. It intends to use those funds to expand its production capacity.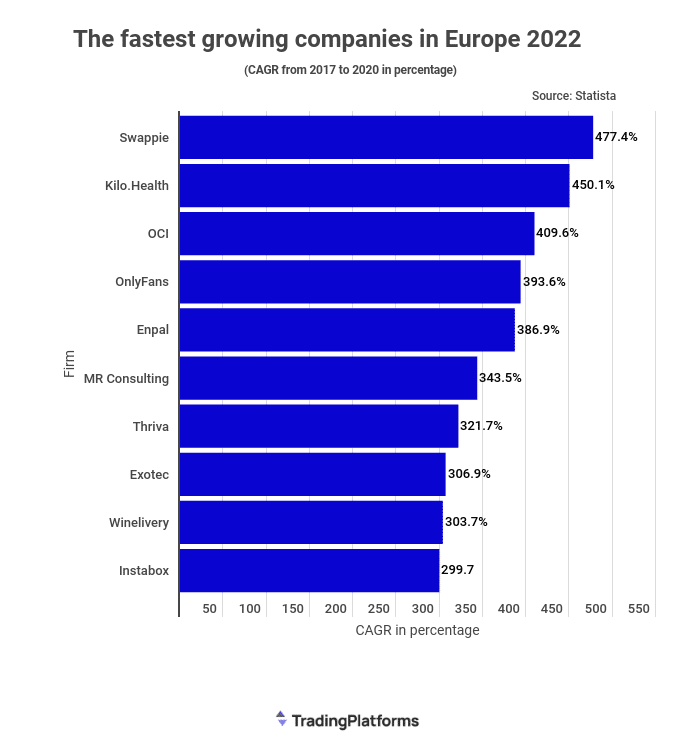 Sanitizing Europe's pre-owned smartphone space
Marttinnen explains that Swappie grew out of his frustration falling prey to an internet scam. He had bought a preowned phone from an online marketplace. Little did he know that the purchase would turn out to be a con job. 
The police would later reveal to him how rampant such scams were. That revelation birthed the idea to sell genuine, high-quality remodeled phones.
Mainstreaming ownership of refurbished iPhones
The founder affirms that his firm draws motivation from the second-hand car market. Its goal is to popularize the buying of used smartphones to the level of second-hand cars. 
Its mission is to mainstream the ownership of refurbished phones.
Again, Marttinnen is concerned about the impact on the environment resulting from the low uptake of restored phones. He wonders why only about 5% of the population buys such phones as compared to about 50% who do used cars.
What's propelling Swappie's growth?
Changing public perceptions of the environment has been a boon for the young company. The younger generation is increasingly adopting sustainable production, which is the essence of Swappie's business venture. Consequently, they form the core of its customer base. 
Moreover, there's a push towards owning older phone models cheaply. New smartphones are often dearer. Plus, there isn't much difference between them and their predecessors at times. 
This shift emboldens the startup that the market for top-quality remade phones will expand. Currently, Swappie is focussing on reconditioning iPhones only. But it remains open to restoring other brands in the future.