Toyota expects to sell 3.5 million electric cars per year by 2030. That's per a data presentation by tradingplatforms.com. This is a bold move for the company that has historically focused on hybrid and fuel-cell technology rather than all-electric vehicles (EVs).
"Toyota's announcement is an indication of a larger trend in the global automotive industry," says tradingplatforms.com's Edith Reads. "Battery-electric vehicles are becoming more affordable and reliable over time, increasing consumer demand driving innovative approaches to EV production. And with increased demand for EVs, governments are instituting incentives to encourage their purchases over their traditional counterparts."
Toyota's big bet on sustainability
Toyota says it will be investing 2 trillion yen ($17.6 billion) in battery vehicle technology. That's an increase over its previous commitment of 1.5 trillion yen ($13.6 billion).
The company joins a growing number of automakers making significant commitments to sustainable transportation. Though famous for its hybrid models, Toyota has been lagging in offering pure EVs. Therefore, it'll have to ramp up its production significantly to meet the 3.5M EV goal. 
The move is part of Toyota's alignment with regulations that many countries are adopting in the transport sector. These regulations are increasing the difficulty of carmakers to continue to produce gas-powered vehicles.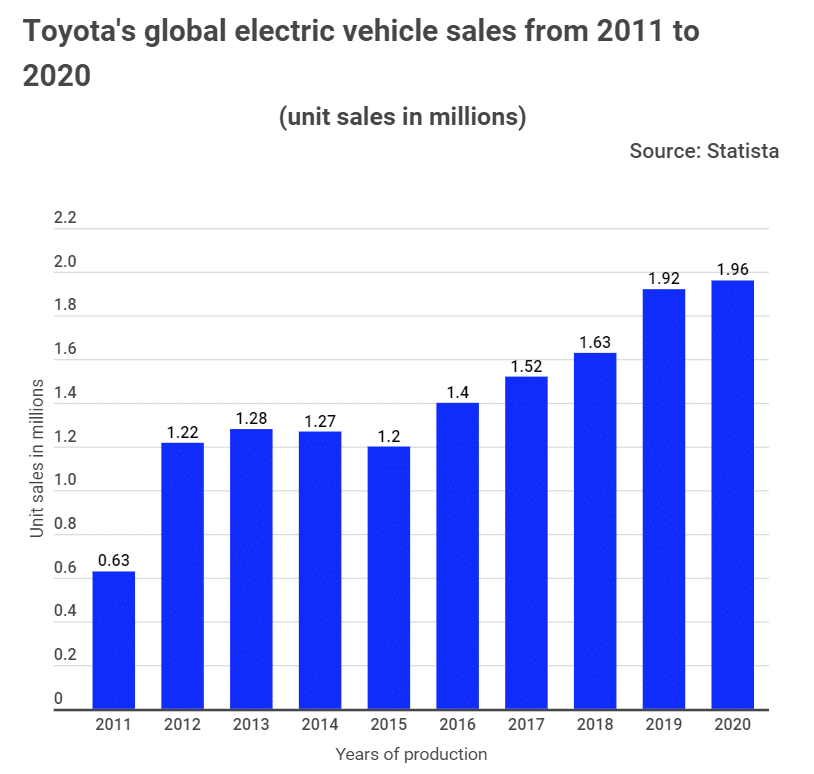 Toyota is working on EV models
The company is already working on several hybrids and electric vehicle models. These include an electric SUV and a hybrid minivan that it'll release later this year. It's also planning on releasing a fully electric urban commuter vehicle.
In November 2021, the firm unveiled its bZ4X all-electric SUV. The SUV runs on its innovative e-TNGA platform. This car resembles Toyota's famous Rav-4, but on a completely different platform. It has a yoke in place of the regular steering wheel and supports recharging via solar power.
Moreover, Toyota is planning the global release of 15 EVs by 2025. Seven of these will be "bZs" of which the bZ4X is the pioneering model. According to the firm, bZ is an acronym for beyond zero. This series of vehicles go beyond just-zero emissions. It'll produce the bZ4Xs in Japan and China and worldwide shipments by mid-this year.
The carmaker considers e-TNGA the platform that'll help it hasten its production of new EVs. That's because it reduces development time by allowing the simultaneous design of different models. The platform is compatible with a wide variety of vehicles. Moreover, one can adjust the battery and motor to any EV model. This ability gives Toyota a wider reach of consumers.