According to data recently presented by tradingplatforms.com, tech giant Apple accounts for the two most popular headphone brands in the US market. 
The data showed that 34.4% of headphone users prefer AirPods. Further, 15% of headphone users favor products from Beats by dr. dre, another Apple-owned company. 
When asked to comment on the findings, Edith Reads from tradingplatforms.com had this to say, "I think Apple's success with the airpods only goes to further cement its position as a leading brand and industry giant. The company received quite the backlash with the airpods launch and we cannot forget how memes kept circulating in 2017. But who's laughing now? Apple knows its tech stuff and it keeps proving time and again that its prowess in the tech field is unmatched."
Samsung, Sony among other popular headphone brands
It's clear that AirPods are the pack's leader, going by the difference between the first two popular headphone brands.  
The research data by tradingplatforms.com presented the top most popular headphone brands. BOSE, a company that primarily focuses on audio equipment, came in third place. BOSE accounts for 12.5% of the market and is followed closely by Samsung at 12.2%. JBL  headphones come in next, with an 11.4% dominance.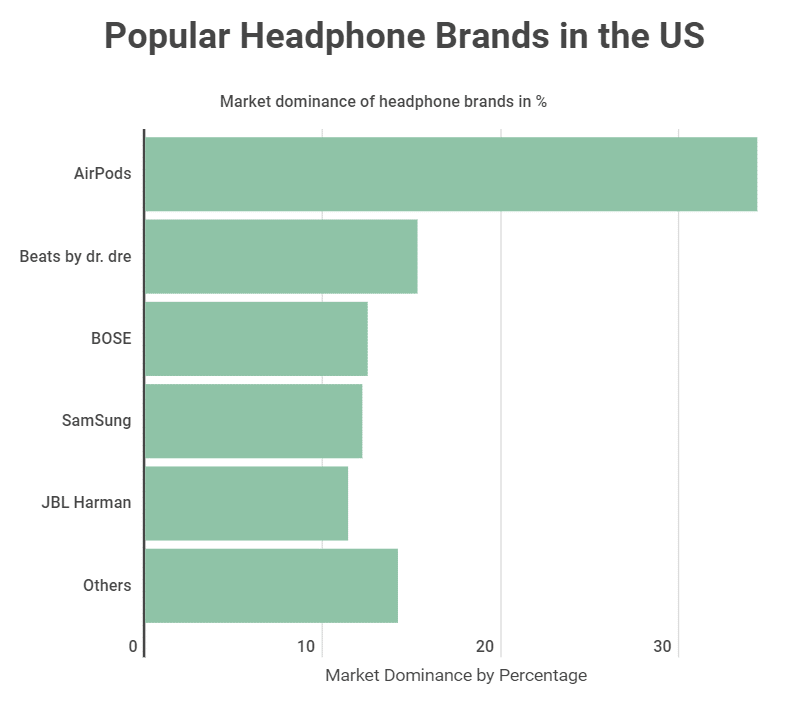 In 2019, the global market for headphones and earphones was valued at $25.1 billion. Given the increased preferences for enhanced audio experiences, we can expect the market to blow up as more technological advancements fuel its growth by the day. 
Airpods follow other products' suit with a dramatic growth
Apple has always been a global leader in innovative electronic solutions, a factor that has played a significant role in the company's drastic growth over the decades. Now, it seems that the AirPods are no exception. 
These numbers come five years after Apple launched its first wireless headphones in 2017. Then, AirPods were received with skepticism, mainly because of their high price. However, they have grown to become the company's hottest products, generating about $85 million in sales in 2021. 
This was a slight drop from the previous year when sales hit the coveted $100 million mark. Like many other tech products, 2020 was quite massive in sales, probably due to the shift from office-based to working from home job models. In 2020, AirPods generated around $114 million of the company's total $274.52 billion net sales that year.