Walt Disney is one of the renowned motion picture producers in the world. Besides its fame for Pixar and Marvel movie studios, it owns popular amusement parks and resorts. Again the company is an innovator in the TV network space. It has recently ventured into the Subscriber Video on Demand (SVOD) market with the launch of its Disney+ platform.
A new report indicates that the popularity of Disney+ is surging. Per a tradingplatforms.com's data presentation, the SVOD platform grew its Q1 subscriber base to 130 million. That's a 37% growth from its Q1 2021 figure of 94.9M.
The development has attracted the attention of tradingplatforms.com's Edith Reads. Asked to comment on the data, here's what she said. "Despite its relative newness in the SVOD market, Disney+ is carving itself a substantial share. And it owes much of that to its unique catalog and pricing structure. Looking at the trends, it's fair to say that it'll boss SVOD services by 2026."
Disney's soaring subscription base
Two years into its launch, Disney+ has witnessed an uptick in its paid subscriptions base. Today it serves 53 nations across the Americas, Europe, and APAC regions. Consequently, its numbers have continued to soar.
Again, Disney+ is looking to further add to its subscription base. In a recent announcement, the platform indicated that it was eyeing operations in over 40 nations and eleven regions globally by September 2022. The new markets will cover Africa, Europe, and the Middle East.
Moreover, Disney+ has already surpassed its target of 60-90M subscribers by 2024. Besides the timeline, what makes that an exceptional feat is how it compares to Netflix's growth. The market leader needed nearly a decade to register those numbers. That's notwithstanding that it had less competition and a calmer market compared to Disney+.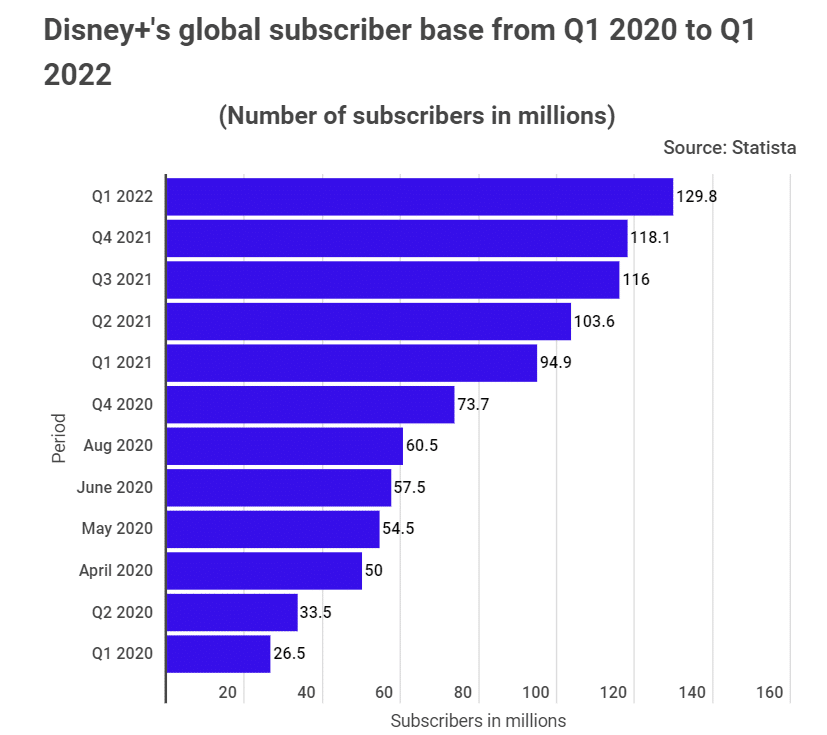 Defining the entertainment scene
And notwithstanding its youthfulness in the video streaming space, Disney+ has remained resilient in turbulent times. For instance, it grew its U.S audience by 44% amid the COVID-19 crisis. Likewise, it increased its share of American viewers consuming its offerings by 68%. All that indicates that it's resonating with the American public.
It's such data that has Walt Disney's CEO Bob Chapek buzzing about Disney+'s future. He asserts that the platform will continue defining the entertainment scene. That's because of its creative capabilities, unique culture in the entertainment space, and unparalleled collections of assets.
That said, Disney's SVOD has a lot to do if it's to catch up with Netflix. The premier video streamer has been making headways of its own. Buoyed by demand arising from the pandemic, it has grown its customer base to over 220M.
One area it has to improve on is its program offering. Its selection of programs and movies pales in comparison to established outlets. For instance, its catalog consists of roughly 2K movies and television shows.  On the other hand, Prime Video, its other significant competitor, boasts of more than 44K different titles.