For many looking for a freer and more equitable financial playground, Defi is the answer. Its elimination of centralized authorities not only gives users more say over their funds. It also expands financial inclusion and cuts transaction costs and time. It's no wonder that many have taken to it readily.
But the Defi market is also teeming with malicious actors. These continue to steal from the unsuspecting investors, as a tradingplatforms.com's data presentation shows.  That data shows exit scams or rug pulls contributing over $2.8B of the $7.7B the sector lost to theft in 2021.
Tradingplatforms.com's Edith Reads has been dissecting the data. "In 2021, exit scams grew by 36% from the 2020 levels," she said. "And the main reason driving this kind of scam is the decentralization of Defi platforms. That aspect provides an opportunity for malicious individuals to set up and execute con schemes due to the weak regulatory framework. Anyone can set up a crypto project here without much of an audit."
Notable crypto rug pulls of 2021
Notwithstanding their dominance in DEXs, exit scams also found their way to centralized exchanges(CEXs). The largest of these heists occurred over the Thodex CEX. This CEX's CEO made away with more than $2N of investor's funds, the largest heist in the year. 
AnubisDAO was the largest Defi rug pull by value. The project took off on the premise that it would provide decentralized, readily available money.  A mix of assets would underpin the project.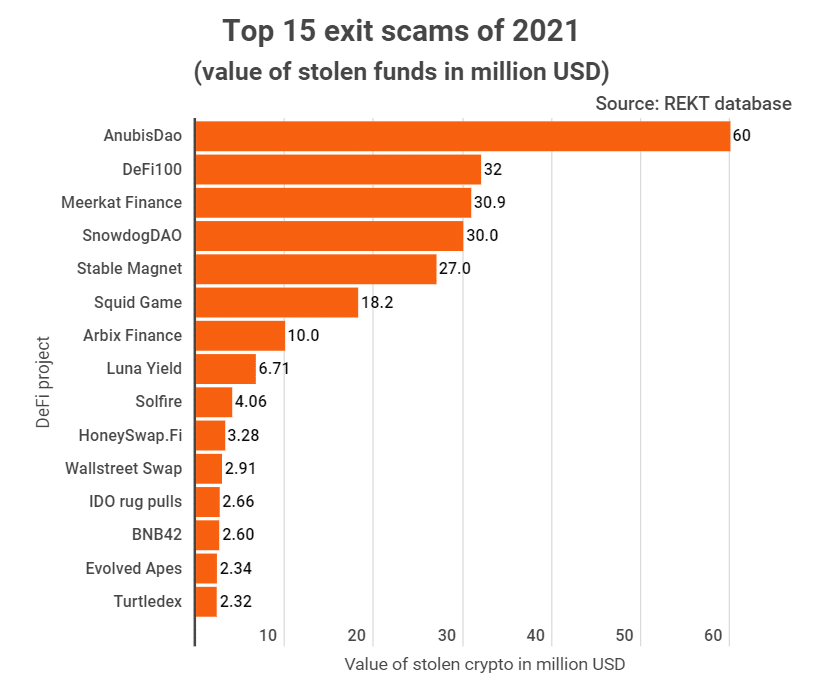 Investors received the project's ANKH token for funding its liquidity pool. Despite not having a whitepaper and its developers using pseudonyms, it raised some $60M. It held the funds in wrapped Ethereum.
The developers then vanished with the funds, moving them to new addresses. Besides AnubisDAO, other notable rug pulls involved Uranium finance, DeFi100, Meerkat Finance, and Snowdog Dao. The four collectively ripped investors off of $140M.
The various faces of DeFi Scams
DeFi scams come in varied forms. As stated earlier, exit scams are increasingly becoming the medium for pulling off such heists. That said, there are other forms through which fraudsters pull off their con.
One of these is the Honeypot. Here the project dupes the victim with promises of massive returns. That's usually accompanied by much hype and a marketing frenzy. Once the token's value has risen to a certain level, investors find that they can't access their funds at all.
Another way is through Flash loan attacks. These involve a bad actor borrowing a lot of non-collateralized loans. Then they manipulate the asset in question's price before reselling it on a different exchange. They repeat the process swiftly in multiple exchanges before vanishing.
Exploits on their part entail malicious actors hacking into the project's hot wallets. They then siphon the funds to wallet addresses of their choice.
Identifying and mitigating DeFi scams
Getting to tell the signs of a crypto scam is the first step to avoid falling victim to them. A major telltale sign of a scam project is that the team has a dubious reputation. There's very little if anything to vouch for their expertise in running such projects.
Another red flag is the absence of a whitepaper. Alternatively, the team provides one that's sketchy or poorly done. The whitepapers are a crucial document as it shares the team's philosophy. 
Further, unscrupulous teams will bait you with projections of unrealistic returns. More often than not, these too good to be true projects are just that. Again, such projects have very few token holders and usually list on little-known exchanges.  
To protect yourself from crypto fraud, you need to check the team thoroughly. Also, ensure that the project has a whitepaper that details its pain points. Besides, be wary of easy money-making schemes. Additionally, choosing a cold wallet over a hot one is a plus.