Facebook splashed $20.1M in lobbying in 2021, making it the highest spender in the tech sector. That's according to a recent data presentation by tradingplatforms.com. Facebook's expenditure also grew by 2% from its 2020 figures of $19.7M.
Likewise, the firm broke its record for the highest quarterly spend. Its Q4 2021 lobbying budget surpassed the $5.4M mark. That figure eclipsed its Q1 2020 high of roughly $5.3M.
Other big spenders
Amazon took the second spot with an expenditure of $19.3M. This figure also represented an 8% jump from its 2020 lobbying bill. The firm's LD-2 listing reveals that it canvassed on several issues. Among these were telehealth, EV charging, counterfeits, high skilled immigration and postal charges.
Despite placing seventh in the list, the Entertainment Software Association (ESA)recorded the largest leap in expenditures. The firm spent $6.7M in 2021, a 37% leap from its 2020 outlay.
Oracle and Qualcomm also had splashes of their own. Both forked out $9.1M in their 2021 lobbying activities. Whereas the former's budget swelled 12% from its 2020 levels, the latter's was a 15% growth.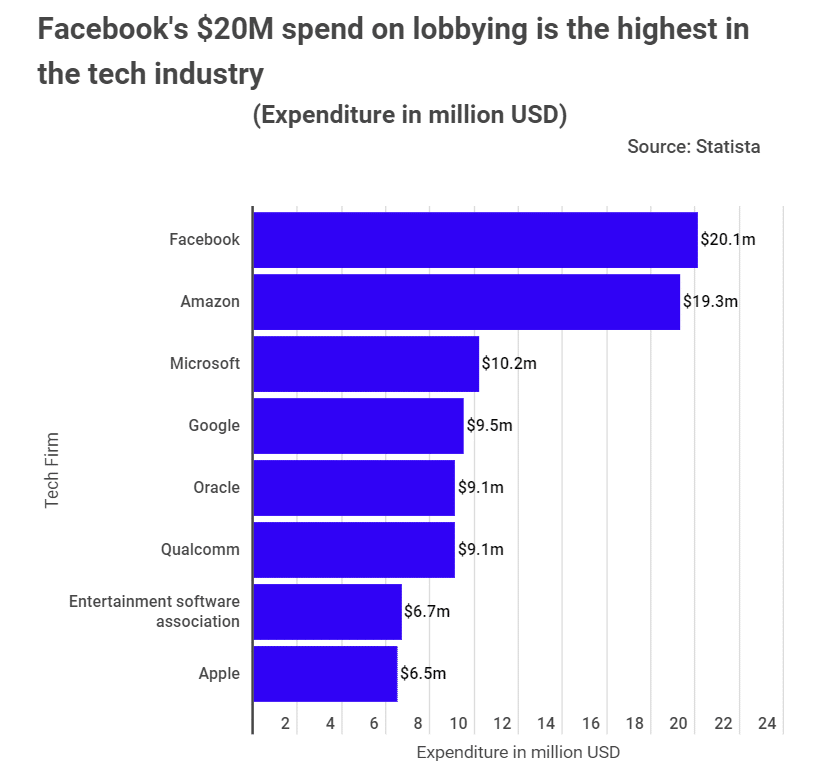 The remaining GAFAM members spent a collective $26.2M. Microsoft saw its costs rise by 8% to close at $10.2M. On the other hand, Google spent $9.5M, representing a 7% jump from the previous year's spending. 
Finally, Apple incurred the least in its charm offensive. The iPhone maker spent $6.5M, a drop of 3% from the previous year's spending. Apple owes that drop to the less scrutiny it faces compared to its counterparts.
What's driving Facebook's ballooning lobbying budget?
Tradingplatforms.com's Edith Reads links Facebook's expenditure to the heightened scrutiny it's facing. 
She says, " Events surrounding the 2020 election have brought Facebook's operations into question. Concerns about its data handling have many legislators and policymakers pondering increased scrutiny of the space. In turn, this has heightened spending on lobbying to get their voices heard."
Most of Facebook's lobbying sought to persuade lawmakers to shelve bipartisan bills targeting Silicon Valley's questionable business practises. Besides the thorny privacy issues, it also pursued misinformation, AI and election integrity.
The tech industry is opposed to the American Innovation and Choice Online Act. This legislation seeks to block dominant firms from adopting anti-competitive stances. These include using their platforms to discriminate against their competitors.  
The bill recently received the Senate Judiciary Committee's nod. And legislators suggest amending it to enhance its industry-friendliness.