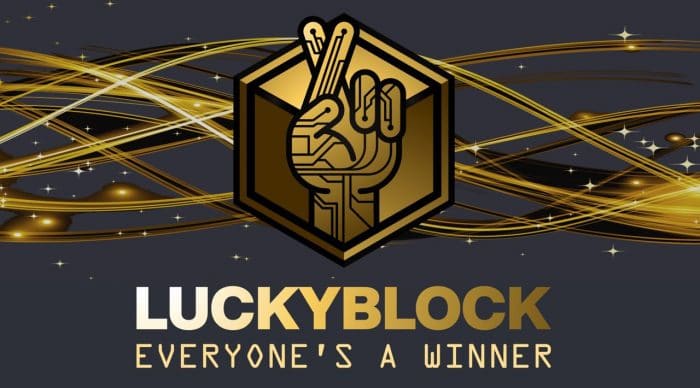 Lucky Block, the blockchain-based lottery platform is on course to achieve a Binance listing in February as it has already been listed on CoinGecko and CoinMarketCap. It has also broken through the $100 million market cap threshold in less than 24 hours, which is indicative of the positive trajectory the blockchain-powered lottery platform is on.
On the decentralized exchange PancakeSwap, which just became available about 24 hours ago, the coin price touched $0.001021 at 07:00 GMT this morning (January 28th). As a result, the investor who bought in the presale at $0.00015, representing a gain of 580%, gained 78%.
Many persons have benefited by the second presale price of $0.00019, which represents a gain of 437%. There was such a high demand for this innovative token that the presale was completely oversubscribed after hitting its hard cap 11 days before the schedule. As per its website, Lucky Block raised $5.7 million through its presale from investors.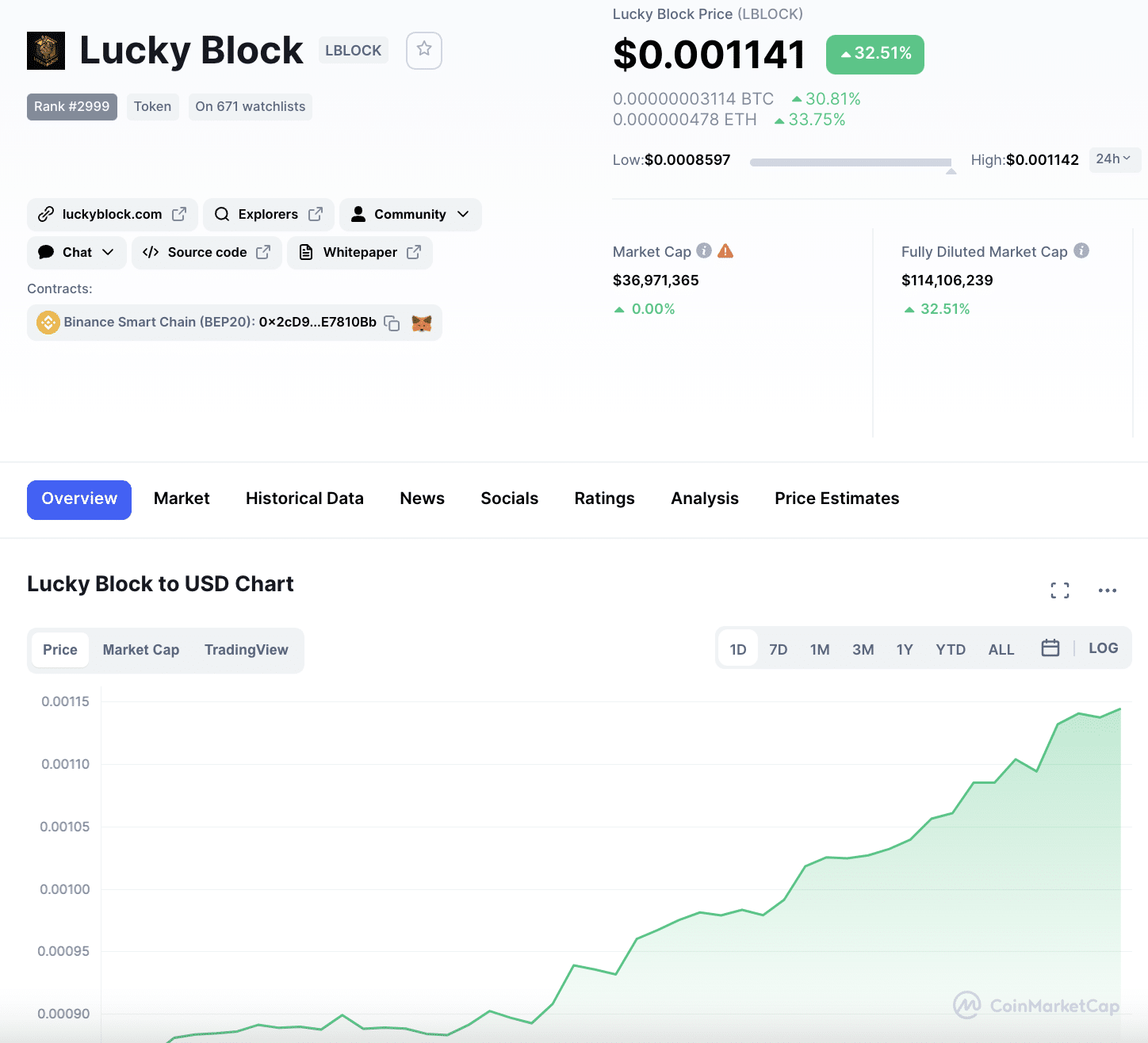 In addition to its 102 million market capitalization, Lucky Block currently has a total supply of 100 billion tokens. On the back of Coinmarketcap's listing as the global market leader for cryptocurrency analytics this morning, further upward pressure on the price is expected on the cryptocurrency.
Lucky Block held 8,611 tokens during its presale, which has increased to 11,000 now, a 27.7% increase in the last week as it looks to start trading on the two major exchanges, FTX and Crypto.com.
Cryptocurrency is a highly speculative and volatile asset class, so only invest what you can afford to lose and do your own research. Your capital is at risk.
A transparent and fair system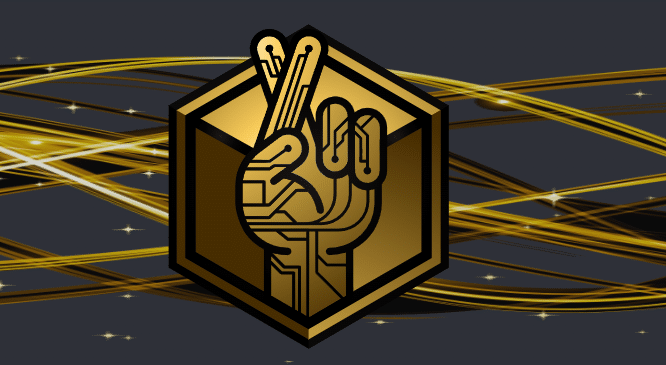 The CEO of Lucky Block, Scott Ryder, expressed characteristic understatement regarding the ideal launch of Lucky Block, its approaching exchange listings, marketing approaches, and its growth objectives.
"We expect our FTX and Crypto.com listings to be signed off fairly soon, and that is in no small part attributable to the strength of our offering in terms of the product, as much as the smoothness of the launch rolled out by my team," said Ryder.
"I take this opportunity to thank all those who are supporting the project and to welcome those who have just heard about us."
Ryder added: "Right now, we are laser-focused on getting the word out there about how lotteries will be transformed for the better – for charities, players, and investors – by leveraging blockchain technology with Lucky Block. Everyone likes to play the lottery, from Asia to North America."
"We want people to be able to do that on a transparent and fair system that they have a stake in and can benefit from whether they buy tickets or not."
Earlier this month, Lucky Block, a cryptocurrency company based out of the United Kingdom, donated $5,000 in crypto to the British Red Cross.
The business proposition is its core value
Among the reasons Lucky Block has become so successful are the solid business foundations behind the platform, which is intended to disrupt the $330 billion lottery industry and disrupt other industries like gambling, NFTs, and the wider metaverse.
Lucky Block takes a fair and transparent approach to all of its operations. The charitable foundations will benefit from 10% of any proceeds from ticket sales. In contrast, players will benefit from better odds than those offered by traditional lotteries. Unlike traditional lotteries, the Lblock lottery will pay a dividend to token holders following every draw.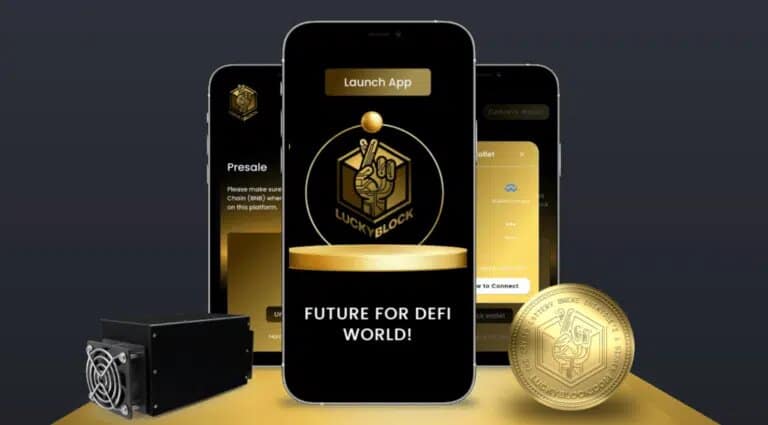 If you are holding Lblock tokens for a year, the dividend yield you would earn is 19.2 percent per annum (APY), according to predictions described by Lucky Block as conservative.
Cryptocurrency is a highly speculative and volatile asset class, so only invest what you can afford to lose and do your own research. Your capital is at risk.
Binance nears its listing in February – milestones along the way
It has taken a vibrant community of thousands of lottery platform supporters to bring together the platform's fast-growing Telegram Group, which is home to more than 22,000 members hailing from countries all over the world.
Lucky Block is currently working on a development plan that will allow the Lblock token to be listed on Binance, one of the largest crypto exchanges in the world. During this round of development, they are hoping to accelerate the process.
There is no reason to doubt that the teams' projection for a Binance listing in February will come to fruition, with successive milestones having already been achieved in a timely fashion. However, although the project's leaders have found success, they are now bringing the token to Binance carefully calibrated.
In addition to the usual crypto media essentials, including Coinmarketcap advertising, the company will launch a global marketing campaign using Facebook and Instagram.
A similar campaign will be launched on the UK's public transport system in the first week of March, complete with posters on the tubes and buses that will boost the advertising campaign. Additionally, the platform will target more global cities as it tries to fulfill its mission as a People's Lottery on a global scale.
A new Lucky Block mobile app will be launched on March 21st, with the first drawing held on the evening of March 25th. As part of Lucky Block's expansion plans in various cities worldwide, the company has already lined up deals with three of the world's premier bar chains. 
Listings coming soon:
FTX

Crypto.com

Kucoin

OKex

Binance
Since CoinGecko and CoinMarketCap have already added Lucky Block to their lists of coins, it is already ahead of schedule in achieving those milestones. Moreover, Lucky Block can also be found on Poocoin and Dextools.
As well as support coming from the sister projects of Lucky Block, partnerships have also been created with the decentralized exchange DeFi Swap and the community-driven protocol StakeMoon (SMOON) to make the network even more robust.
Lucky Block will also be listed on Coinsniper, an educational and community-based platform devoted to informing users about new cryptocurrencies.
Cryptocurrency is a highly speculative and volatile asset class, so only invest what you can afford to lose and do your own research. Your capital is at risk.
Marketing campaign expands globally
The LuckyBlock marketing campaign is ramping up in the wake of PancakeSwap's initial public listing on January 26th to support listing efforts and drive interest in the lottery platform. The initiative will include paid advertisements on key cryptocurrency sites like CoinmarketCap and CoinGecko and social media platforms, print, and outdoor advertising. 
A social media campaign is expected to boost the popularity of Lucky Block's global lottery platform by enlisting the help of ambassadors and influencers, many of whom enjoy a high level of celebrity status in the UK, the home country of the platform with plans to replicate the campaign internationally.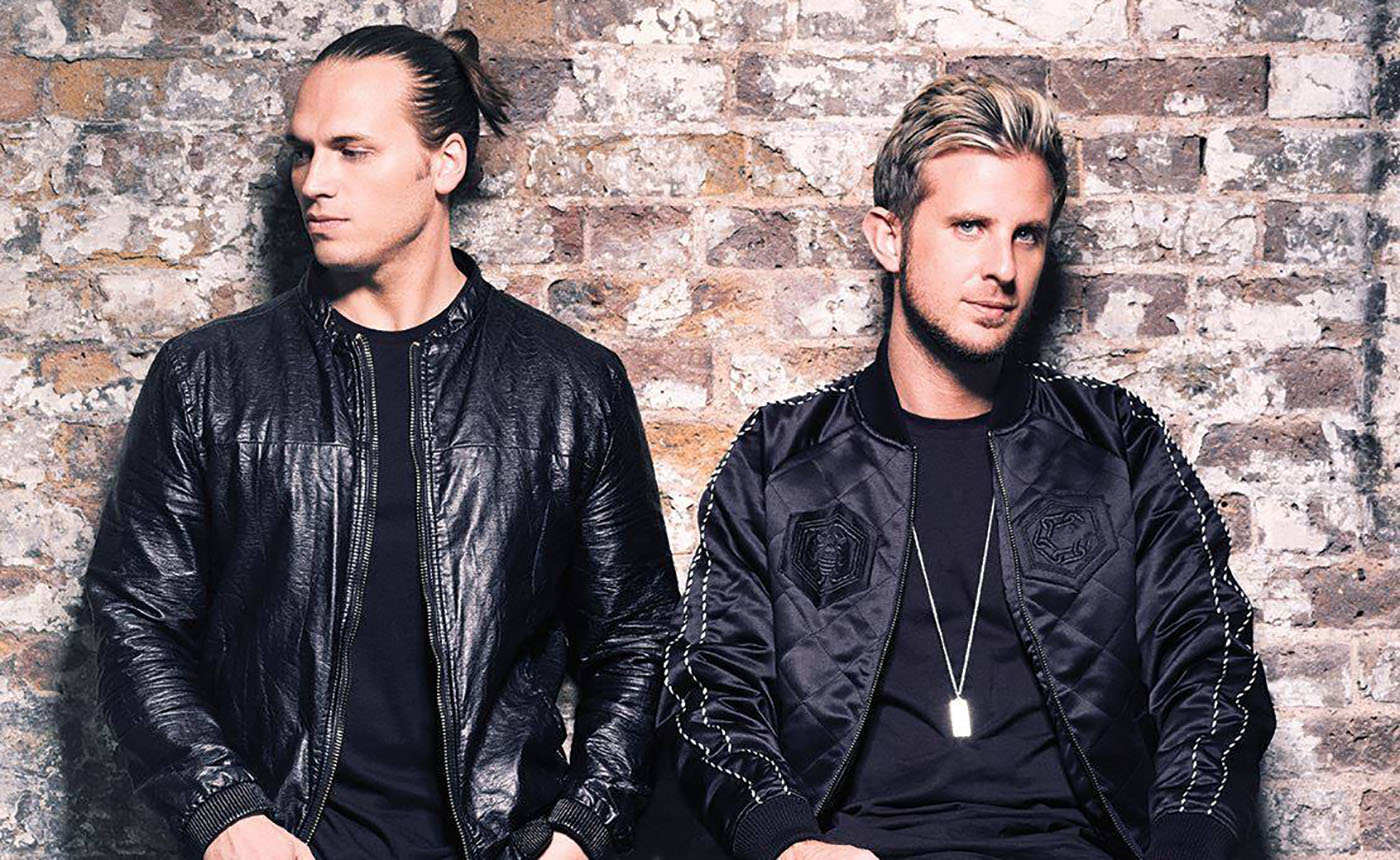 It is not merely English duo Sigma and Love Island contestant Jamie Jewitt who are among the Lucky Block's main supporters, but also the singer Sonique and R&B artist Kele Le Roc.
It has been announced that the team will launch a high-profile video marketing campaign on Facebook and Instagram in February, in addition to a series of marketing campaigns to promote the team's tips and 10% referral program.
Cryptocurrency is a highly speculative and volatile asset class, so only invest what you can afford to lose and do your own research. Your capital is at risk.
The Lucky Block Release

The Lucky Block platform runs on the Binance Smart Chain, and the Testnet will go live in early March, with the development team in full swing testing various lottery offers to improve the product.
App development and website development continue at a steady speed. A website and app will be launched together on March 21st so that tickets will be available for Friday's evening draw on the 25th. 
Only those who downloaded the app will receive dividend payments from the Lucky Block platform. The app will serve as the primary hub of the Lucky Block platform.
LBlock app provides LBlock holders and lottery players with a security system, allowing them to access their LBLOCKs like a bank account.
Check the dividend percentage calculated in the app.

Stay up to date on dividend payments.

Monitor live jackpot amounts as well as the history of jackpot winners.

Receive notifications the moment important news about LBLOCK is posted. 

Track the progress of your donations.

Decide which charity you think should receive funds by voting on this page.
Tickets are $5 each.
Listed below are a few other Lucky Block dates you should keep an eye out for:
iOS & Android apps will be ready for testing on February 14th, 2022

macOS & Windows will be ready for testing on March 7th, 2022

Launch lottery app for ticket purchases on On March 21st, 2022 

Lucky Block's first Friday night lotto draw takes place on March 25th, 2022
Cryptocurrency is a highly speculative and volatile asset class, so only invest what you can afford to lose and do your own research. Your capital is at risk.