American tech giant Apple has quadrupled its revenue over the previous 11 years. That's according to data presented by tradingplatforms.com. 
The data showed that the firm's 2021 revenues hit the $ 365.82 billion mark. This figure represents a four-fold increase from its 2011 revenues. Then, Apple had recorded an income of $108.2 billion before expenses.
Apple's consistent growth
Speaking on the development, tradingplatform.com's Edith Reads says, " It isn't surprising that Apple has consistently grown its revenues since 2010. One thing working for it is that it has grown an unmatched brand loyalty. Through its regular release of avant-garde products, it has gained a following that competitors can only envy."
This development is welcome news for Apple's current and potential investors. Apple's stock( AAPL) under Tim Cook's leadership has grown tenfold over the same time. At press time, AAPL was trading at $179, an increase of almost 1400 percent from its 31 December 2011's adjusted value of $13.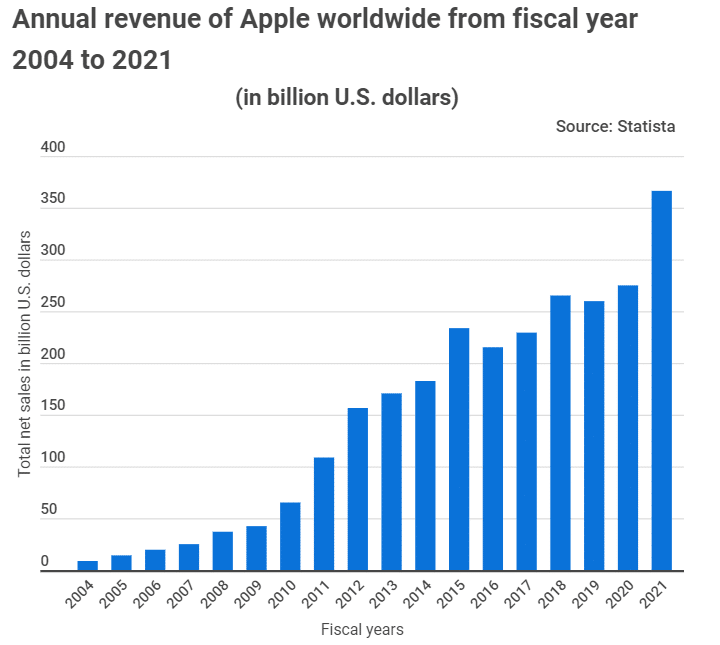 Again, its market cap has grown significantly. At a $2.9 trillion cap, it is a heart-bit away from hitting the $3 trillion mark. As such, it remains the most valuable company by market capitalization globally. 
Moreover, Apple's performance in the last decade has beaten the S&P 500 3 to 1. Barring any sudden shifts, these indicators point to a healthy trading future.
So what's pushing Apple's remarkable performance? 
The available data points to three main factors. First is the growing demand for the firm's flagship product, the iPhone. 
According to Statista, iPhone sales contributed 47 per cent, the lion's share, of the firm's revenue. Additionally, it reaped big from the home, accessories, and wearables services.
Secondly, the firm showed remarkable resilience despite the COVID-19 challenges. Whereas other firms took massive hits from the pandemic, Apple registered growths. Its Q4 2021 results, for instance, show that it made over $ 83 billion. That's a growth of 29 per cent basing on year on year data.
Finally, the differentiation of its products gives it the edge over the competition. Besides the phone sector, it has etched its name in the PC, tablets, and smartwatch markets. It's also making headway in the smart home sector with its HomeKit smart home product.
Since its inception in 1976, Apple.Inc has cut a niche for electronics, software, and online services. Today it's the most prominent IT firm by revenue. The California headquartered outfit is the fourth largest PC and smartphone seller.