Quantum Trade Wave Review 2023 – Unbiased Trading Platform Review
Fact Checked
Everything you read on our site is provided by expert writers who have many years of experience in the financial markets and have written for other top financial publications. Every piece of information here is fact-checked. We sometimes use affiliate links in our content, when clicking on those we might receive a commission - at no extra cost to you. By using this website you agree to our terms and conditions and privacy policy.
Quantum Trade Wave is a modern trading platform that allows trades, analysis, reports, and charts to be run on Bitcoin and other cryptocurrencies. The versatility of this platform makes it ideal for novices and experienced traders, as it offers a range of trading pairs and over 150 coins to choose from.
The following sections are dedicated to analyze the most relevant aspects of the platform in detail. To learn more, keep reading our Quantum Trade Wave review.
Quantum Trade Wave Review 2023 – Overview
Platform type:
Crypto Robot
Cost:
$250
Regulated?
No
Type of assets available:
More than 150 assets, including Bitcoin, Ethereum, Solana, Tether, and Avalanche
Main pros:

Provides an easy sign-up process
To help traders make better decisions, it offers charting tools and a robo advisor.
The site offers a practice mode to help traders refine their skills
More than 150 assets are supported

Main cons:

There is no information available regarding the website's creators
As far as autonomous trading is concerned, it is unclear
There isn't a clear description of the site's features
Minimum deposit of $250. Given the lack of information available to traders, this is a big commitment

Legit or scam?
Legit, but approach with some caution
Your capital is at risk.
Quantum Trade Wave Trading Platform – Full Unbiased Review 2023
It is important to fully review new trading platforms before making any investment decisions. Here, we take a full unbiased look at Quantum Trade Wave to decide whether it is worth using in 2023
What Is Quantum Trade Wave?
With Quantum Trade Wave, you can trade Bitcoin and other cryptocurrencies on a contemporary platform. This tool empowers traders of any proficiency level to excel in the cryptocurrency market through various tools such as analysis, reporting, and charting.
Quantum Trade Wave claims to support more than 150 cryptocurrency assets and a wide range of financial instruments. There is no specific information about these instruments yet, but the platform proudly offers Ethereum, Solana, and Ripple among its cryptocurrency options.
A key feature of this platform is its ability to offer advanced charting and analysis tools. In addition to real-time trend analysis, these tools can identify patterns in real-time. Their role is similar to an automated trading platform for guiding investors through the volatile crypto market. While the platform implies such functionality, it does not explicitly state it.
Education, portfolio management tools, and social trading are all part of Quantum Trade Wave's offerings beyond market analysis. As a result, investors can interact with a community while trading. There is also mention of copy trading, but only a few details are available.
How Does Quantum Trade Wave Work?
With Quantum Trade Wave, manual trading takes precedence over the approach of algorithmic trading platforms. Charting and analysis tools can help traders make informed investment decisions, while investors must manually place trades themselves.
Quantum Trade Wave offers educational resources and timely news updates as part of its commitment to assisting traders to make the most of these tools.
The user must make a minimum deposit to activate these manual trading features. Depositing $250 serves as the initial capital for buying and selling cryptocurrencies. Before engaging in actual trading, Quantum Trade Wave recommends using the demo account to practice.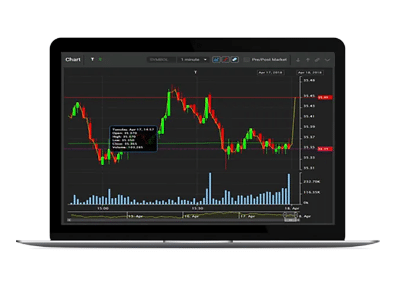 Even though the platform mentions that social trading is available, there needs to be more transparency about the participating investors.
In general, Quantum Trade Wave operates similarly to conventional automated trading platforms. Some elements, such as charts, advanced trading capabilities, analysis tools, and educational materials, must distinctly differentiate it from standard cryptocurrency trading systems. Several third-party reviews indicate that account managers are pivotal in advising investors when they trade cryptocurrencies.
Quantum Trade Wave Pros and Cons
Like any Bitcoin robot, Quantum Trade Wave has both advantages and disadvantages that traders should be aware of.
Pros:
A focus on informed manual trading.
Tools for charting and analysis.
Updates on educational resources and news.
Practice mode for refining skills.
Social trading features are available.
Guidance in trading from the account manager.
Familiarity with the conventions of trading.
It claims to offer a trading platform with a user interface.
Provides a practice mode account for new traders.
Customer service is available 24/7.
Cons:
This website provides little information about the tools available – the majority of information is fluff.
A $250 minimum deposit is required to use the trading platform.
Multiple copycats are active online.
Quantum Trade Wave does not provide any information regarding the developers of the site.
Your capital is at risk.
Key Features of Quantum Trade Wave
The following is a list of features that Quantum Trade Wave claims to offer:
✔️ Broad Selection of Coins and Virtual Assets
As of now, Quantum Trade Wave supports 150 cryptocurrencies, such as Bitcoin, Polkadot, Ethereum, Solana, Ripple, and other new cryptos. Several other financial instruments have also been hinted at on the website, but exact details are unavailable.
✔️ Charting Tools
The real-time market data that is offered by the platform can be used by traders to identify patterns, analyze trends, and determine the best trading strategy to use. This feature can also be used to spot competitive pricing based on cryptocurrencies such as Bitcoin, Polkadot, Ethereum, Solana, Ripple, and Tether.
Traders of all kinds can trade confidently and accurately with versatile charting tools. Quantum Trade Wave encourages users to conduct information-based trading rather than gambling with algorithmic trading models.
✔️ Automated Trading Capabilities
Using a mathematically arranged set of algorithms, Quantum Trade Wave is able to spot profitable trading opportunities around the clock. It is possible to traders to automate the trading process with this feature however, the platform encourages users to conduct their own research alongside the automated trader.
When using an automated trading tool, no emotions or sentiments are involved which means that human error is eliminated. A key advantage of automated trading is its ability to make decisions independently without being influenced by fear, irrationality, or compulsion.
✔️ Educational Resources
Traders of all skill levels will find abundant educational content on the crypto trading platform. This includes guides and blog entries geared towards both novices and seasoned traders. This platform offers a wealth of information about cryptocurrency trading, from easy-to-follow tutorials to comprehensive analyses.
To help traders make informed and dependable trading decisions, Quantum Trade Wave's educational content is carefully curated.
✔️ Portfolio Management
Quantum Trade Wave provides several tools and functionalities for managing trading portfolios. It stands out from its competitors due to its unique ability to track portfolio performance in real time and assess valuation holistically.
The Quantum Trade Wave software provides interactive charts and graphs and dynamic visualization of market trends. This information can give traders valuable insights to predict market fluctuations and respond accordingly.
✔️ Price Alerts
Quantum Trade Wave allows users to set custom alerts and receive notifications when assets reach preset price levels. This feature can be used similarly to crypto signals.
✔️ Social Trading
Quantum Trade Wave claims to let investors become part of a community using its social trading facilities. According to the website, users will gain insights into the investment strategies of other traders through social trading.
Your capital is at risk.
Quantum Trade Wave Platform Fees
When choosing a trading platform, it is crucial to understand the fee structure. Platforms with a transparent fee structure are preferred because it is easy to work out how much profit you could make per trade. Here is an overview of some of the fees that are charged by Quantum Trade Wave.
Trading Fees
There are no details about fees provided by Quantum Trade Wave. Moreover, we shouldn't assume the platform doesn't charge a fee since it doesn't declare that blatantly. We recommend speaking with your account manager during sign-up to learn more about the fee-related details.
Deposit and Withdrawal Fees
It has been reported that Quantum Trade Wave does not charge fees for deposits or withdrawals. Unfortunately, there is no information on this matter on the website. Platforms such as Quantum Trade Wave don't charge these fees.
Inactivity Fees
Some crypto robot trading platforms may charge inactivity fees if an account remains dormant for too long. Even if a user is not actively trading, these fees are usually charged to cover the costs of maintaining the account. Quantum Trade Wave doesn't explicitly mention inactivity fees on its website, so we couldn't determine whether it charges them. However, It is important to remember that not all platforms charge them.
Portfolio Management Fees
Users can typically have more direct control over their trading decisions through automated trading platforms such as Quantum Trade Wave, which employ algorithms and predefined trading strategies. Hence, portfolio management fees might not be applicable in the same way as traditional investment services.
Quantum Trade Wave Minimum Deposit
Users must deposit a minimum of $250 to access the Quantum Trade Wave trading platform. This is high compared to other trading platforms. The website does not provide any information about whether or not it is possible to withdraw the minimum deposit after funding your trading account.
What Payment Methods Are Available on Quantum Trade Wave?
With Quantum Trade Wave, users can deposit a minimum of $250 after signing up. Bank transfers and all mainstream debit and credit cards are accepted for funding the trading account.
To withdraw funds from Quantum Trade Wave, users must go to the software's dashboard, select the withdrawal option, and select the amount and payment channel they prefer. According to the website, withdrawals take up to 24 hours.
Is Quantum Trade Wave a Legit Trading Platform?
There is a need to evaluate the available facts, information, and potential gaps to determine the legitimacy of the Quantum Trade Wave.
This website exhibits a straightforward and conventional design at first glance. Navigation across various devices is seamless, with consistent functionality. An oversized logo isn't unusual for a platform of this nature.
There are, however, certain areas of the website that need more information. In particular, the upper section must provide more insight into available tools. Providing "top-notch" charting tools without providing detailed information falls short. Numerous features are mentioned but have yet to be explained in depth, especially since the content appears more promotional than substantive.
Furthermore, the platform's mandatory deposit requirement prevents firsthand evaluation. As a result, it is crucial to source reviews from third parties or based on user experiences.
During our Quantum Trade Wave Review, we took a look at user ratings and reviews that have been left on the web. Other trading platform reviews have also struggled to find any in-depth detail about the platform and warn readers about the risks involved with using Quantum Trade Wave. Reviews tend to be bullish, discussing similar topics. The platform's modest return on investment (ROI) is the focus of a few negative reviews, while others strike a balanced tone.
Due to the mixed feedback, determining the platform's authenticity remains challenging. Any investment commitment should be preceded by independent testing.
Quantum Trade Wave Security and Regulation
The use of bots to trade crypto is completely legal. Technical trading bots have been tested and proven in stock and forex markets. There are, however, some brokers that do not allow the use of bots, including crypto trading brokers. However, no observant institution regulates them. You should double-check the platform and site before risking your money.
It is also worth noting that it is not legal to use unregulated trading platforms in the US. Therefore, Quantum Wave Trade is not available to US traders. 
Who Are the Team Behind Quantum Trade Wave?
There needs to be more information available about the makers of Quantum Trade Wave. The site appears to have been developed by a team of traders and developers, but this is only speculation. Although it is not uncommon for crypto-related sites to lack information about their owners, things have changed this year; many people are seeking regulated trading platforms. Therefore, you should exercise caution when trading on this Quantum Trade Wave.
Quantum Trade Wave Claimed a Success Rate
The Quantum Trade Wave website does not state a success rate. There is no promise of profitable returns on the website, which means that traders should approach the trading platform with caution. However, it could also be taken as a good sign that Quantum Trade Wave doesn't make any bold or false claims. The website does not mislead traders with the promise of high returns.
Is Quantum Trade Wave Linked to Any Celebrities or Reputable Organizations?
It is widely believed that Quantum Trade Wave has attracted the attention of celebrities and big brands because of its high ranking on Sitejabber. No proof supports these claims, so it's not true. Instead of focusing on celebrity endorsements, we recommend assessing the site based on its pros and cons.
How To Use Quantum Trade Wave in 2023 – Beginner's Guide
Here is a guide on how to use Quantum Trade Wave in 2023. Before signing up to the platform, conduct thorough research to ensure that the platform is legit.
Step 1: Register for an Account
On the home page, you will find the signup form near the bottom of the hero section. Name, phone number, and email address must be entered. You will also be asked to create an account password.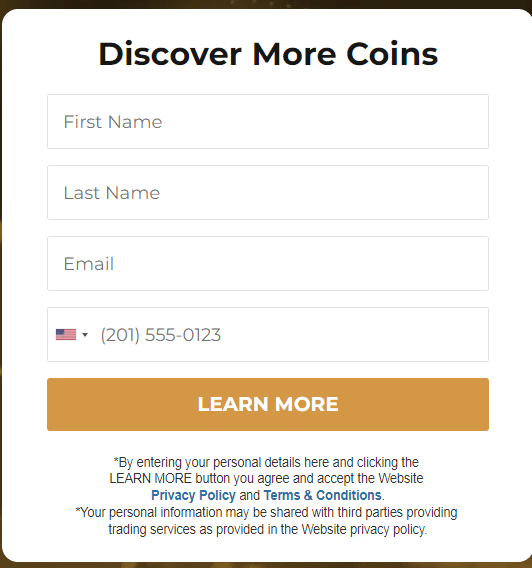 Your capital is at risk.
Step 2: Complete Phone Call Verification
After providing your details to the platform, you will be called by a partner broker to discuss your trading experience and goals. The phone call is also used to verify your account. Keep your phone nearby so that you can easily answer the call.
Step 3: Deposit Funds
After speaking with your account manager, you will receive a link to deposit funds and start using the trading platform. Use one of the available payment methods to make the deposit.
Step 4: Use the demo account to practice trading
Quantum Wave Trade's demo account is accessible after depositing funds, allowing users to explore all its features and functionalities. You can better understand how the platform works by practicing trading strategies with a demo account without risking real money.
Step 5: Start live trading
After funding the account, you can begin live trading. You should conduct your own research and analysis as well as using the automated tools to place trades. This will reduce the risks involved with trading and ensure that you are in control of the trades that are placed.
How to Close a Quantum Trade Wave Account?
Quantum Trade Wave does not provide information about deleting an account on its website. To terminate your account, we recommend contacting customer support.
How to Withdraw Funds from Quantum Trade Wave?
Users can withdraw funds using the same methods used to make deposits, and the withdrawal process is free of charge.
Quantum Trade Wave Review 2023 – Conclusion
Quantum Trade Wave is a new cryptocurrency trading platform that provides automated trading features that can be used to trade passively. By providing accessible charting and analysis tools, the platform claims to simplify trading for all experience levels.
Our experience with some review sites was generally positive; however, substantial information gaps and multiple websites with identical names complicate our platform evaluation. It is, therefore, advisable to take a cautious approach when considering Quantum Trade Wave's services.

Your capital is at risk.
FAQs
Is Quantum Trade Wave a safe trading platform?
Can you make money with Quantum Trade Wave?
Is Elon Musk linked to Quantum Trade Wave?