How to Invest In Moderna Stock in December 2023
Fact Checked
Everything you read on our site is provided by expert writers who have many years of experience in the financial markets and have written for other top financial publications. Every piece of information here is fact-checked. We sometimes use affiliate links in our content, when clicking on those we might receive a commission - at no extra cost to you. By using this website you agree to our terms and conditions and privacy policy.
Disclosure
The investing information provided is for educational purposes only. Trading platforms does not offer advisory services, nor does it recommend or advise investors to buy or sell stocks, securities or other investment vehicles. Some or all of the products displayed on this page are from partners that compensate us. It may influence the products we cover and the location of the product on the page. Nevertheless, our research and analysis is unaffected by our partners.
Moderna Therapeutics is a well-known pharmaceutical company that specialises in vaccine technologies. The company has led the race in developing a vaccine for Covid-19 helping the Moderna share price to surge higher.
In this guide we discuss 'How to Invest in Moderna Stock,' and review the company's financials and price history.
4 Provider that match your filters Providers that match your filters
Fixed commissions per operation
How to Invest in Moderna Stock – Quick Steps
If you only wish for us to provide quick instructions on how to invest in Moderna stock, then we show you how to do so in the steps below.
Create Your Account — Start by creating a trading account on your chosen platform and complete the sign-up process.
Verify Your ID — Next, verify your ID by providing your driver's license, passport, or ID.
Deposit Funds — Deposit funds that you will use as your initial investment through one of the numerous supported payment methods.
Invest in Moderna Stock — Finally, search for Moderna stock on your platform's search bar and enter the amount you wish to invest in the stock and confirm your transaction.
Step 1 – Choose a Stock Broker
To start stock trading, you need to choose the right broker that can cater to your investing needs. In the sections below, we review some of the popular brokers that allow investors to purchase Moderna stock.
1. eToro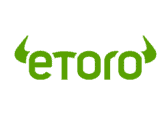 eToro is a popular trading platform with more than 26 million global users. eToro provides a high level of safety and security as they are regulated and licenced all over the world including by the UK FCA, CySEC, ASIC, FINRA, and others. This ensures your money and data are secure and safe.
eToro offers more than 2,500+ instruments to trade and invest in, 100% commission-free. You can also purchase fractional shares so you can really get ahead even with a small account.
One of the popular features of the eToro platform is the fact it is also the world's largest social trading platform and copy trading platform. This means you can search the performance of other traders using the filters of key metrics provided by eToro and then have their trades copied onto your own account.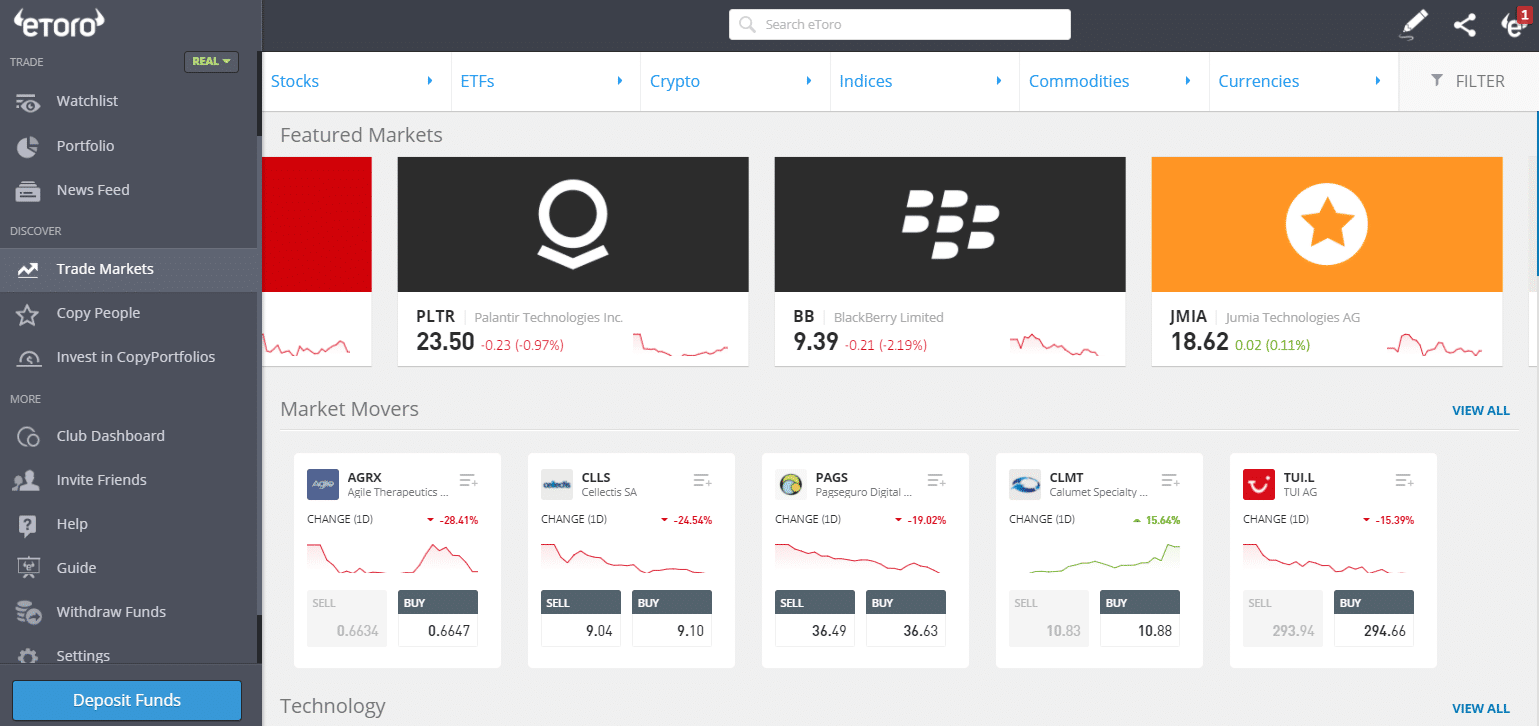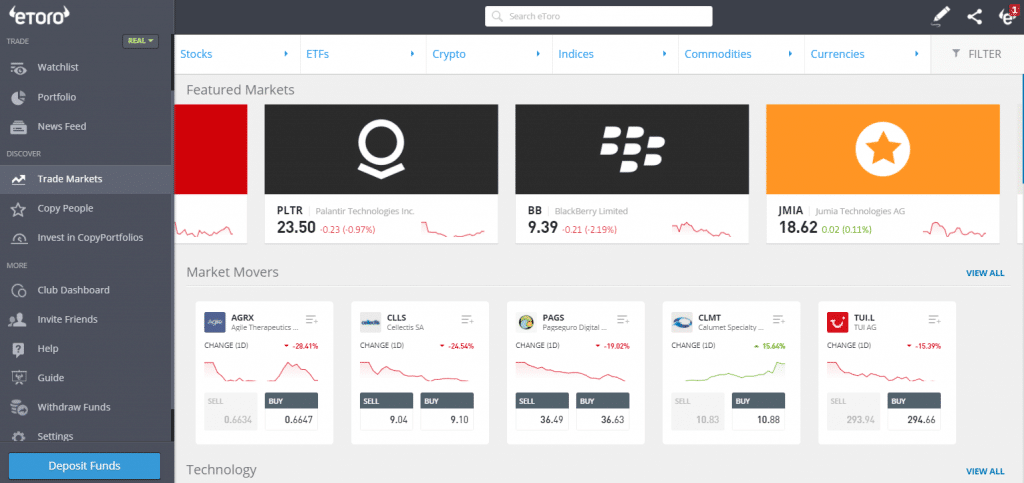 Copy-trading allows you to build a portfolio passively while learning the secrets of the pros along the way. While there are thousands of stocks you can trade or copy, you can also access other markets like currencies, indices like the Dow Jones 30 index, commodities, cryptos (such as Bitcoin), and ETFs. This means you could do your own investing while having a portion of your funds copying some of the skilled traders around.
If you do prefer a more passive way to invest in the markets you can also access the eToro CopyPortfolio feature. These are ready-made portfolios constructed and managed by the eToro Management Investment Committee that cover different market themes such as Renewables, Vaccines, CyberSecurity, Big Pharma, and more.
Getting started with eToro is simple as an account can be opening in just a few minutes. You can deposit funds starting at just $10  using bank transfer, debit/credit cards, and e-wallets like PayPal.
| | | | | | |
| --- | --- | --- | --- | --- | --- |
| Stock Broker | Minimum Deposit | Fractional Shares? | Pricing System | Cost of Buying Stocks | Fees & Charges |
| eToro | $10 | Yes – $10 minimum | 0% commission on ALL real stocks, spreads for CFDs | Market spread is not included when purchasing real stocks | No Deposit fees, $5 withdrawal fee, $10 inactivity fee, no account management fees. |
Your capital is at risk. Other fees apply. For more information, visit etoro.com/trading/fees.
Step 2 – Research Moderna Stock
In order to decide whether or not to invest Moderna stock, it is important you do your research into the company. In the sections below, we talk about the company in general, along with a history of the Moderna stock price.
What is Moderna?
Understanding the company you are investing in is essential. The more you know and understand how it makes its money, the more likely you'll stick with the company as the share price moves up and down.
Moderna is a biotechnology company based in the United States, specialising in vaccine technologies. The company focuses on vaccines that can be given through mRNA (messenger RNA) technology which involves inserting synthetic sequences into human cells which then reprograms the cells to prompt an immune response.
The company only launched in 2010 and went public in 2018. It is now a leader in the production of a vaccine to help fight off Covid-19.
Moderna Stock Price
Moderna's stock price has been on an incredible run higher since its IPO (initial public offering) in December 2018 on the technology-focused NASDAQ stock exchange. The IPO went down in the history books as the biggest one ever for a biotech company, raising more than $7.5 billion.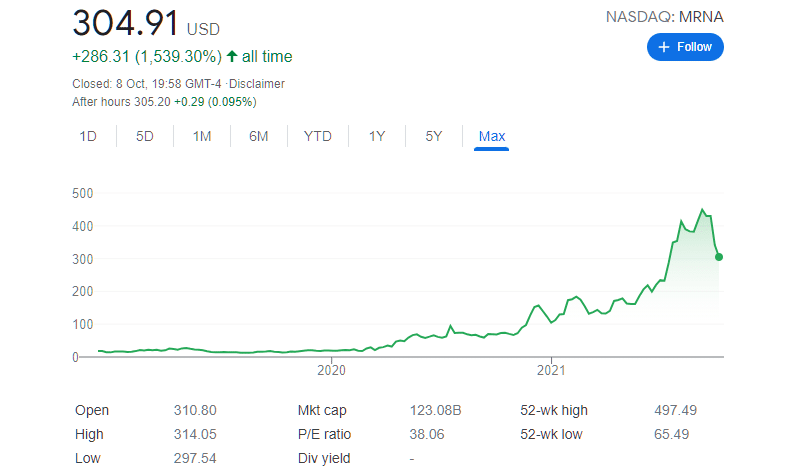 Since going public on December 6, 2018, at an IPO price of $23 per share, the stock has risen sharply to gain more than 1,500% since. The current Moderna market cap is more than $123 billion – up nearly $100 billion in the last year alone due to the coronavirus pandemic.
The record high for the stock was $449.38 recorded on September 10, 2021. With the current price trading below this, it is no wonder demand for learning how to invest in Moderna stock has increased.
Moderna Fundamentals
Moderna's income was actually falling from 2017 to 2019 before a huge increase over the pandemic in 2020. During this fiscal year, Moderna's revenues increased 1,234.4% to more than $800 million largely due to the Moderna coronavirus vaccine.
The cash flow for the company is also looking strong with cash flow per share at 9.23 and revenue per share at 16.29. The Moderna price-to-earnings ratio (p/e ratio) is 38.06 which is healthy when looking at the biotech sector as a whole. Most profitable biotech companies trade at 25 to 40 times their earnings.
Moderna's balance sheet shows 8.99% total debt to equity and 6.46% long-term debt to equity figures. The current ratio of 1.24 is in a healthy range well.
Moderna Dividends
Unfortunately, Moderna does not pay a dividend and is unlikely to do so in the near future. This is common for technology companies and biotechnology companies.
As these companies are considered high-growth, they tend to reinvest any profits back into the business to grow more, rather than pay out dividends to shareholders. In some cases, this can lead to a higher stock price in the long run.
For example, Apple went public in 1980 and did not start paying a dividend till 2012 as it reinvested all the profits back into the company to grow to a certain level.
Moderna ESG Breakdown
As institutional investors are now focused on the ESG (Environment, Social, Governance) ranking of a company it is worthwhile taking into consideration. Unfortunately, Moderna has a low to average ESG ranking and trails behind the average for the biotech industry.
The average ESG ranking for more than 938 biotech companies is around 75%. Moderna scores only 45% so is trailing behind some of its peers.
Moderna Covid Vaccine
Currently, Moderna has more than 24 experimental drugs and vaccines in development for cancer and infectious diseases. The company's only commercial product is the Moderna Covid-19 vaccine which is probably the most well-known. The codename for this vaccine is mRNA-1273 and is sold under the brand name Spikevax.
It was only in March 2020, that the CEO of Moderna Stéphane Bancel told the Trump (now Biden) administration that Moderna could have a Covid-19 vaccine within a few months. The next day, the company received $483 million in funding to develop it and an FDA approval for clinical trials.
By December 2020, phase III clinical trials were completed and the Moderna Covid-19 vaccine was approved for emergency use by the FDA and other regulators. The price tag was $32 – $37 per dose. Moderna's second Covid-19 vaccine entered into phase I clinical trials on March 15, 2021.
On June 25, 2021, the FDA added a warning to Moderna's vaccine for Covid-19 regarding rare cases of myocarditis (heart inflammation). In October 2021, a Bloomberg report highlighted Nordic countries such as Finland, Sweden and Denmark restricted the use of Moderna's Covid-19 vaccine in young people due to they myocarditis side effect.
Step 3: Open Account & Invest
Now that you know everything you need to know about Moderna stock, you can analyse the information and make a decision on whether or not you wish to invest in the industry.
Should you choose to do so, you may want to pick a suitable brokerage that will cater to your investing needs. In the sections below, we will show you how to begin trading with the chosen broker of your choice.
Open Your Trading Account
Head over to the homepage of your chosen broker and begin the account set-up process. You will be required to fill in your personal details – including your full name, email address and mobile number. Create a username and password for the platform to continue.
Verify Your Identity
Most popular brokers are regulated – which is why users may be required to verify their accounts. To do this, simply upload proof of ID (a copy of your driver's license or passport) and proof of address (a copy of a bank statement or utility bill). Once these documents have been uploaded, your broker should verify them in a couple of minutes.
Deposit funds
The next step is to deposit funds into your trading account. Most brokers may support 1 or more of the following payment methods:
Credit card
Debit card
Bank transfer
e-wallet
Choose your preferred payment option and deposit the funds into your account.
Invest in Moderna Stock
Once your account has been funded, proceed to search for Moderna stock on your platform's search bar. Fill in the amount you want to credit into the trade, and confirm your transaction.
Conclusion
In this guide, we have reviewed and analysed the Moderna stock, along with the company's fundamentals and past performance. These pieces of information can be used by you to review and make an investment decision on whether or not you choose to invest in the stock.
FAQs
How much is Moderna stock?