Cardano Price Prediction 2023 – Buy or Sell?
Fact Checked
Everything you read on our site is provided by expert writers who have many years of experience in the financial markets and have written for other top financial publications. Every piece of information here is fact-checked. We sometimes use affiliate links in our content, when clicking on those we might receive a commission - at no extra cost to you. By using this website you agree to our terms and conditions and privacy policy.
Though cryptocurrencies have been around for a while now, there is still an air of uncertainty and volatility surrounding many crypto assets. However, many crypto investors will agree Cardano is one of the most promising crypto assets in the market. In this blog, we'll discuss the Cardano price prediction for September 2023 and beyond and whether or not you should buy or sell the token. So, if you're curious about this cryptocurrency, read on!
Cardano Price Prediction- Overview
If there is anything the crypto market has taught us in the past few months, it is that crypto investment is a risky venture. Hence, it is difficult to predict the future price of crypto accurately. Crypto analysts have relied on fundamental and technical analysis in price prediction. Both forms of analyses were employed to predict the future price of Cardano (ADA) in this Cardano price prediction.
In sum, ADA is the native token of the Cardano blockchain platform. The network can handle a variety of transactions and has the potential to expand in the future. As a result, many believe that ADA is a strong long-term investment opportunity. Keep reading to delve into the specifics of why you might want to watch this token.
Cardano(ADA) At A Glance
Before the Cardano Price Prediction. Let us dive into what Cardano is about, its tokenomics, and use cases.
What is Cardano?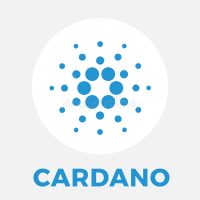 Cardano is the first proof-of-stake blockchain platform based on peer-reviewed research and created using evidence-based techniques. It combines cutting-edge technologies to give decentralized applications, systems, and societies unmatched security and sustainability. ADA is the utility token of the Cardano blockchain, used as a medium of exchange. Cardano was founded in 2017 and was given its name in honour of the Italian polymath Gerolamo Cardano. The 19th-century mathematician Ada Lovelace, widely considered the first computer programmer, inspired the naming of the native ADA token. The coin has several applications on the blockchain.  Developers use the coin to power the smart contracts running on the Cardano blockchain. They also give holders voting power when deciding on important features to improve the platform.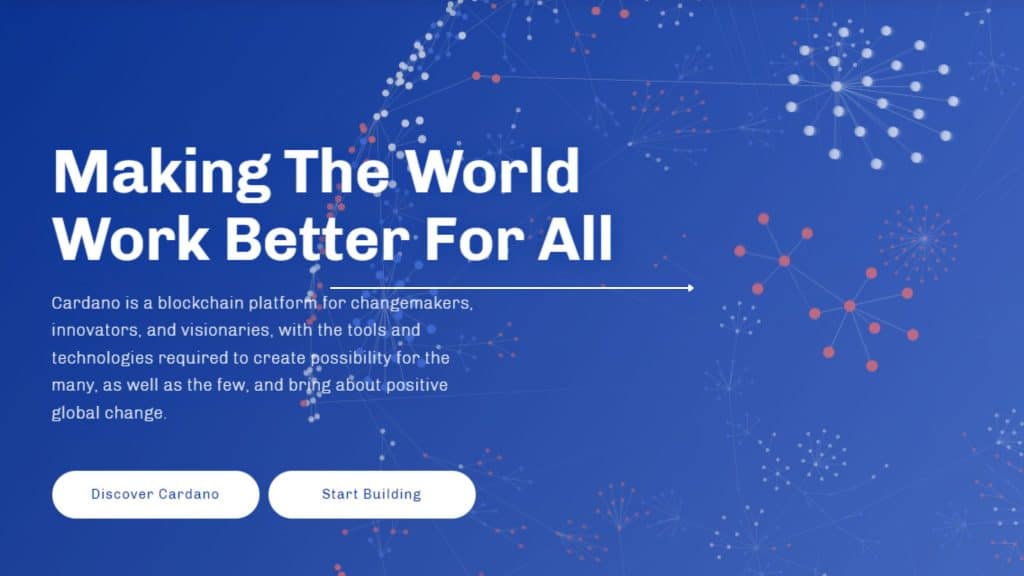 Cardano is secured with its two-layer design; the Cardano Computation Layer (CCL) is used to run smart contracts, and the Cardano Settlement Layer (CSL) handles transactions. Cardano runs a proof-of-take protocol that ensures high transaction speed and allows stakers to earn crypto without necessarily buying more. Also, it is environment-friendly, unlike the proof-of-work that expends a lot of energy.
ADA tokenomics
The maximum supply of ADA, the native token of Cardano, is 45,000,000,000. As of November 2022, there are 34.4 billion tokens in circulation. All 25,927,070,538 ADA were sold to investors during the genesis block distribution. Of that sum, 5,185,414,108 ADA (20%) were distributed to the three major corporations (IOHK, EMURGO, and Cardano Foundation).
As a result, during Cardano's official launch, 31,112,484,646 ADA was available, with a total of 13,887,515,354 ADA set aside as the reserve for staking incentivization. ADA's market cap is currently around $11.3 billion, and a total supply of 35.1 billion tokens.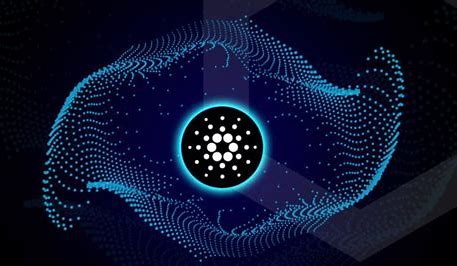 Who is the team behind Cardano?
Charles Hoskinson, who co-founded the Ethereum network, founded Cardano. He is the CEO of IOHK, the company that developed the blockchain for Cardano. Hoskinson is not only a technology entrepreneur but also a mathematician.
Cardano (ADA) use cases
Many use cases for Cardano cut across different sectors like education, governance, retail, etc.
Education
The Cardano blockchain has Atala PRISM, an ID & credentials solution. Atala PRISM secures academic certifications within an immutable and tamper-proof ecosystem, empowering students to own and share their achievements and institutions to verify those credentials instantly. Atala PRISM simplifies this process by enabling individuals to share verifiable credentials instantly.
The program gives students ownership and control of their academic achievements, with no third-party intermediaries, while removing friction and costly inefficiencies from the process. Resulting seamlessly for students and job seekers to prove who they are and what they have achieved.
Retail
Atala SCAN leverages blockchain technology to offer the solution to the problem of counterfeiting. Atala SCAN is a tamper-proof system to establish product provenance and be auditable to ensure every product sold is certified original.
Agriculture
Farmers, haulers, and retailers can use blockchain for product certification and traceability, from farm to table, using systems like Atala Trace and EMURGO's proprietary traceability solution for transparency in the supply chain.
Governance
The processes in place for issuing and verifying credentials are fundamentally flawed. For instance, the document and control remain with the issuer rather than the individual, which places a heavy reliance on third-party organizations to confirm the document's validity. Depending on the location and response time of the issuing body, this usually includes a manual, expensive, and time-consuming process.
By deploying a digital identity service, Atala PRISM fixes this problem. Atala PRISM uses blockchain technology to provide users complete control over their credentials, which they can quickly verify and share from any location at any time.
Finance
Before accepting new clients into financial institutions or other organizations, identity verification is a vital step. For instance, creating a new bank account takes weeks in certain nations. Other administrative procedures, including applying for a passport, take considerably longer. The onboarding process is time-consuming and resource-intensive; it frequently involves several third parties, each of whom has its fees, etc.
Atala PRISM can speed up and simplify onboarding using reusable, verified credentials. Atala PRISM leverages blockchain technology to provide a one-click user experience.
Healthcare
Counterfeit and substandard medications seriously endanger the public's health, and genuine manufacturers suffer huge financial losses. More than 50% of medications sold online, according to the World Health Organization (WHO), are  fake or substandard.
Blockchain technology can solve this challenge. Atala SCAN's ability to authenticate and verify pharmaceutical products' sources and supply chains ensures global patient safety and well-being.
Cardano recent upgrades
In September 2021, Cardano rolled out the Alonzo upgrade, which ushered in smart contract functionality. This formed the basis of Cardano entering the decentralized applications (dApps) space. Alonzo is named after American mathematician Alonzo Church, considered one of the founders of computer science. This Alonzo upgrade is part of the Goguen era phase of the project's roadmap. In February 2022, the number of Cardano wallets broke the three million mark. Since December 2020, it has surged by 1,200%, from 190,000 to over 3,000,000. This coincided with an increase in smart contracts following the Alonzo Upgrade, and Cardano surpassed the 1,000 smart contracts milestone on Jan. 27, 2022.
The project is currently in the Basho era. The Cardano Basho era is one of optimization, enhancing the network's scalability and interoperability. Basho focuses on improving the Cardano network's fundamental performance to better support growth and adoption for applications with huge transaction volumes, as opposed to previous development eras, which were more concerned with decentralization and new functionality. This includes the Vasil hard fork. By offloading work from the main chain onto a sidechain, sidechains operate as a sharding mechanism to boost the network's capacity. Additionally, they are used to add test features without compromising the security of the main blockchain.
Cardano Price History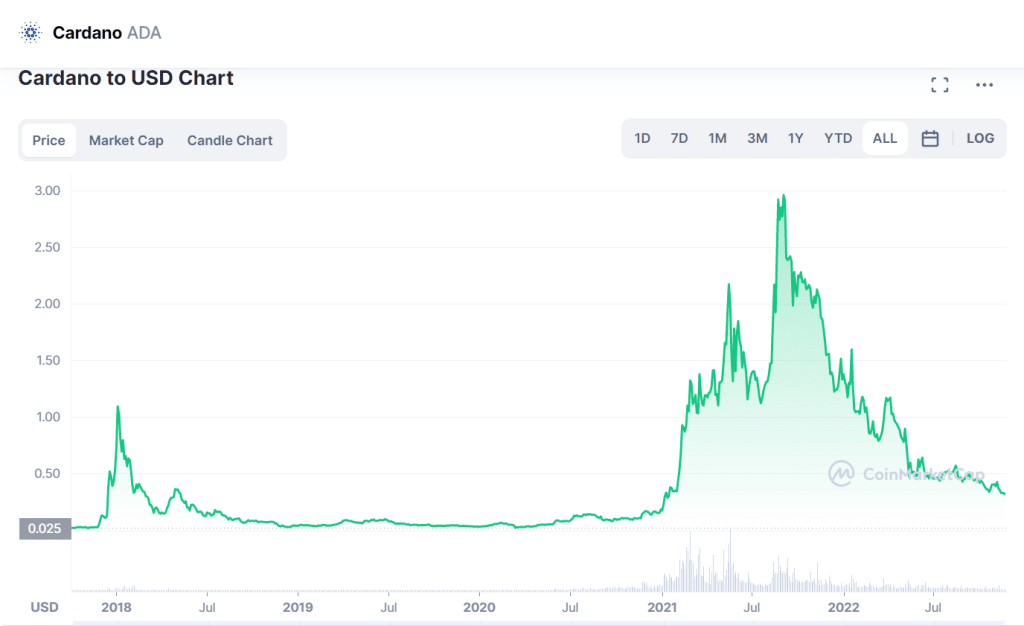 When Cardano was launched in October 2017, each ADA token was around $0.02. The token crossed the $1 mark in January 2018, a 1200% jump in just 3 months. This did not last long, as the token experienced a dip to $0.15 by April 2018. The price of ADA was not eventful for the next two years. The coin's price started increasing at the turn of 2021, and by February, it crossed the $1 mark for a second time. By May 2021, it had already crossed the $2 mark. The news about the Alonzo upgrade helped drive the price even higher and almost crossed the $3 mark by reaching $2.9 in September 2021. However, the buzz waned off, and the token ended the year at $1.3.
How Has Cardano Performed So Far in 2022?
2022 has not been the best year for Cardano and the investors. The token began the year at $1.3, but the price was almost less than $1 by the end of the month. By the end of February, it was already less than $1. This was just the beginning of the decline, as the price was lower than $0.5 at the end of May. Since then, it has consistently declined and was $0.4 at the start of November.
Why has Cardano dropped?
There is no one answer to why Cardano has dropped in price recently. However, some school of thoughts blame it on the general collapse of the crypto market and that there are other new profitable investments available at this time, so competition. Governments worldwide have been making it difficult for crypto projects due to different regulations.
What Is the Current Price of Cardano?
Cardano (ADA) is currently priced at $0.3. The Vasil hard fork deployed in September created a little buzz around the project and caused a 10% increase in the price, but that was just for a short period.
Cardano Price Prediction 2023
Although many people still believe that the project has great potential,  Cardano price prediction for the end of the year does not look promising. Analysts claim the Cardano (ADA) price may go as low as $0.24 before the end of  2023.
Cardano Price Prediction: Fundamental Analysis
The fundamental analysis is important in Cardano Price Prediction because it looks at the company's inherent value behind the project. The project has a positive outlook in this regard for several reasons. The first one is utility. There is a wide range of use cases for the project around education, retail, healthcare, governance, etc. Secondly, the team behind the project have shown a willingness to improve the ecosystem continually, as evidenced by the series of upgrades that has happened since the project launched to improve scalability, introduce programming, and decentralization.
Cardano Price Prediction: Technical Analysis
The crypto winter has made Cardano price prediction tricky. The technical analysis looks into metrics like trade volume, market cap, etc. This is where several concerns have been raised about the token as we head into the year's final weeks. As of the time of writing this, the 24-hour trade volume of ADA is around $220 million. With a market cap of $11.1 billion, the 24-hour volume per market cap value is 0.02. This shows that the token is not showing positive signs in terms of liquidity.
Cardano Latest News
Cardano is releasing a new privacy blockchain and a new token.
The Cardano ecosystem is releasing a new privacy-focused blockchain called Midnight and a token called DUST to accompany the new network. One of the numerous side chains now being deployed around Cardano is called Midnight, which is powered by zero-knowledge-proof technology. Midnight will advance past privacy-coin projects by offering zero-knowledge-proof smart contracts.
According to Charles Hoskinson, when permission is granted, the system will balance preserving privacy with allowing regulators and auditors a backdoor into the system.
Cardano to get its first fully dollar-backed stablecoin
Cardano will release the new USD-backed stablecoin USDA, the first fully fiat-backed, regulatory-compliant stablecoin in the Cardano ecosystem according to EMURGO, the commercial division of Cardano. According to EMURGO, USDA "leverages the stability of the U.S. Dollar combined with Cardano's security, low fees, and eco-friendly blockchain" and offers "locks in the value of investors' crypto assets by pegging 1:1 to the U.S. dollar, reducing volatility, and unlocking fast global transactions without legacy banking and payment infrastructure delays."
USDA may go live on the Anzens platform in Q1 2023. This will enable users to tokenize their USD into USDA through credit/debit cards, wire transfers, or the conversion of ADA.
Upcoming Events That Could Affect the Price of ADA
There are upcoming events that could greatly impact the price of ADA, including the launch of their Voltaire update. The Voltaire era of Cardano will offer the remaining components needed for the Cardano network to evolve into a self-sustaining system. Participants in the network will be able to utilize their stake and voting rights to influence the network's development after implementing a voting and treasury system. All the previous upgrades have caused a positive impact on the price of ADA, and the Voltaire update should not be an anomaly.
Also, the introduction of a new network on the Cardano blockchain can attract crypto investors into looking at the ecosystem. This can influence the price of ADA, which is the native token of the ecosystem.
ADA Price Prediction : Will Cardano Go Up in ?
ADA has underperformed in the last few months. It is nowhere near the predicted point about a year ago. Also, it is already out of the Top 10 cryptocurrencies by market cap. All these facts are just pointing to the negative path ADA is treading. However, the price of ADA may go up before the end of the year, as news about upcoming upgrades can drive investors' interest. Still, it is not certain whether the percentage increase will be considerable or negligible.
Cardano Forecast:What Could Affect the Price of Cardano Over the Next Year?
Many things could affect Cardano price prediction over the next year. Some key risks and uncertainties include whether the platform will be able to maintain the scaling up and become a major player in the cryptocurrency market again, and whether major retailers will accept Cardano  (One of the most liquid use cases of Cardano is Retail). As such, it's important to stay up-to-date on all the latest news and price movements and make an informed decision about whether to buy or sell Cardano at any given time.
Why Might Some Investors Consider Investing in Cardano Right Now?
Cardano is a cryptocurrency that has a strong team behind it. Some investors are considering investing in Cardano because of the constant upgrades the team is introducing to improve the ecosystem. Several partnerships in the works could also drive value higher down the road. Only few projects can match the utility Cardano provides. Investors want to get on such projects. Finally, it is advisable to invest in a coin that is down rather than joining when it is high. This alone can tempt any crypto investor into investing in Cardano right now that it is down.
Cardano Price 2022: Why Might Some Investors Avoid Cardano Right Now?
It's been a tough few months for Cardano (ADA), with the price of the coin dropping significantly in recent months. While many experts remain bullish on the long-term prospects of cryptocurrency, there are a few reasons why some investors might avoid Cardano at this moment. For one, the ADA coin price has still not recovered to its all-time high of $3.1. Cardano is currently 90.3% below its all-time high. Secondly, some analysts believe that the future for Cardano is uncertain and that there may be more volatility ahead.
However, the crypto winter has been hard on all cryptocurrencies and not just Cardano alone. Hence, you should not be too negative on Cardano price prediction as the charts may change course soon.
Cardano Price 2022: How to Invest in Cardano (ADA)
If you're looking to invest in a blockchain platform with the potential to change the way we live and work, Cardano is a good option. If you wish to invest in Cardano, follow these steps:
Create an eToro account
eToro is unquestionably one of the best cryptocurrency trading platforms. The platform is, first and foremost, heavily regulated by the CySEC and the FCA. This is particularly important in cryptocurrency markets because it guarantees that any cryptocurrencies you trade with eToro are done safely and without risking your money. The fact that eToro is a 100% commission-free trading platform is perhaps what makes it so appealing for trading Cardano. You will be charged a platform fee either monthly or annually after registering for free.
Sign up to eToro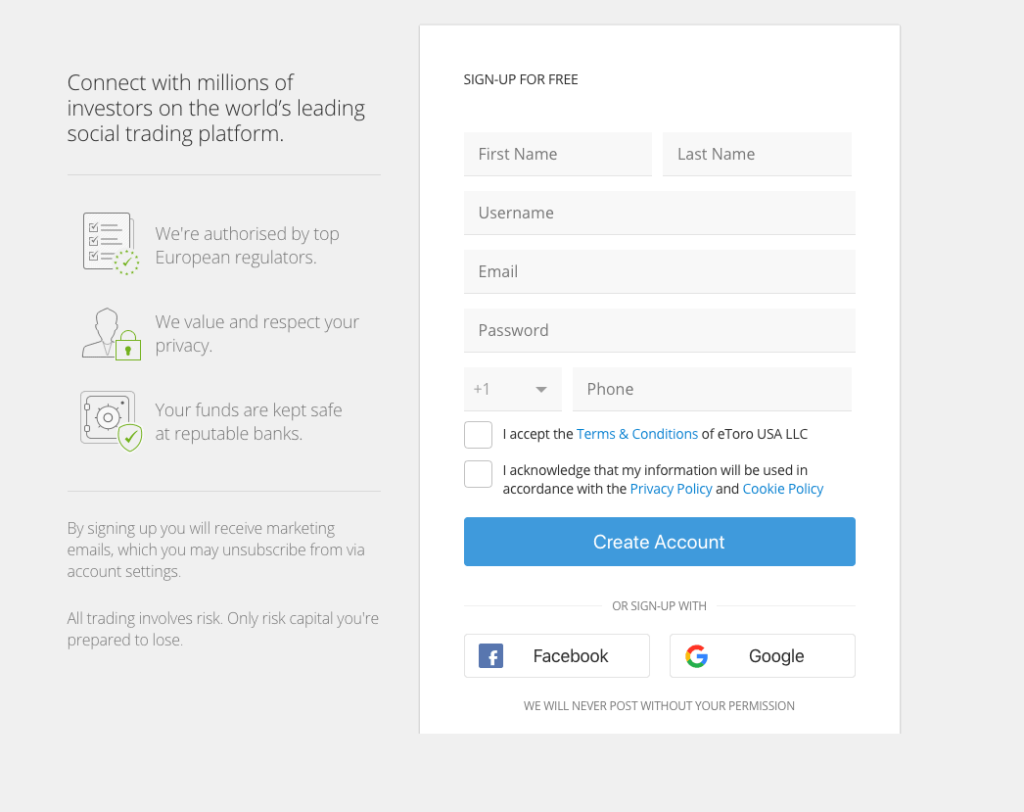 To apply for an eToro investment account, you'll need the following:
To be 18 years or older (we'll ask for proof)
To live in one of the countries where we offer our services (we'll ask for proof; check our blocked countries here)
A computer and/or smartphone connected to the internet
A valid phone number connected to your smartphone
A valid email address
Here is how to create an eToro in five simple steps:
Go to eToro.com and go to the eToro 'Create an account page
Choose a username, enter your email address, and set a password. Alternatively, you can sign up with your Facebook or Google accounts.
Check eToro's Terms and Conditions, Privacy Policy, and Cookie Policy, and tick the boxes to accept them.
Click the 'Create Account button.
Check your email inbox and verify your email address.
If you skipped the verification step after creating the account:
Go to Settings, enter your eToro account, click on Settings, and then account.
Under Credentials, click the 'Verify' button next to your email address.
Check your email inbox. You will see an email from [email protected].
Click the 'Verify now button.
You will be redirected to the eToro platform and see a confirmation message.
To add your personal information to customize your account to your level of investment skills:
Click on the 'Complete Profile' button.
Read the message that pops up and click 'Continue.'
Fill out your basic personal information to match your Proof of Identity.
Click on the arrow to continue.
Enter your address, which needs to match your Proof of Address.
Enter your place of birth and country of citizenship. You may be asked to complete the ID number.
Select your answers to complete the investment knowledge assessments.
Accept the Terms and Conditions.
Phone verification is part of the mandatory account verification process at eToro. To verify your phone number on your eToro investment account:
Go to Account Settings (or enter your eToro account and click Settings in the left-hand menu, then click account).
Under Credentials, click the 'Add' button next to your phone number.
Enter a valid mobile phone number and click 'Continue'.
Type the SMS code you received on your phone.
Click 'Verify' and check the green banner at the bottom to confirm your phone is verified.
Verify ID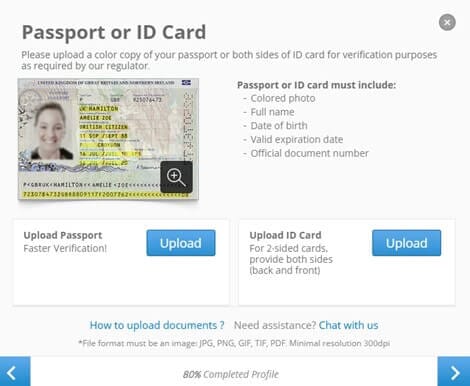 You need a copy of your valid passport or both sides of your government-issued identification card to verify your identity. This copy must contain the following:
Full Name
Date of Birth
Photograph
Valid Expiry Date
To prove your address.
This should be a different document from your proof of identity. The proof of address must have been issued in the last 3 months (except valid government-issued identification documents, such as a driving license) and must contain the following information:
Your name
Your current residential address
The date of issue
The issuing authority
A reference to the issuing authority (logo, contact information, website, etc.)
Deposit funds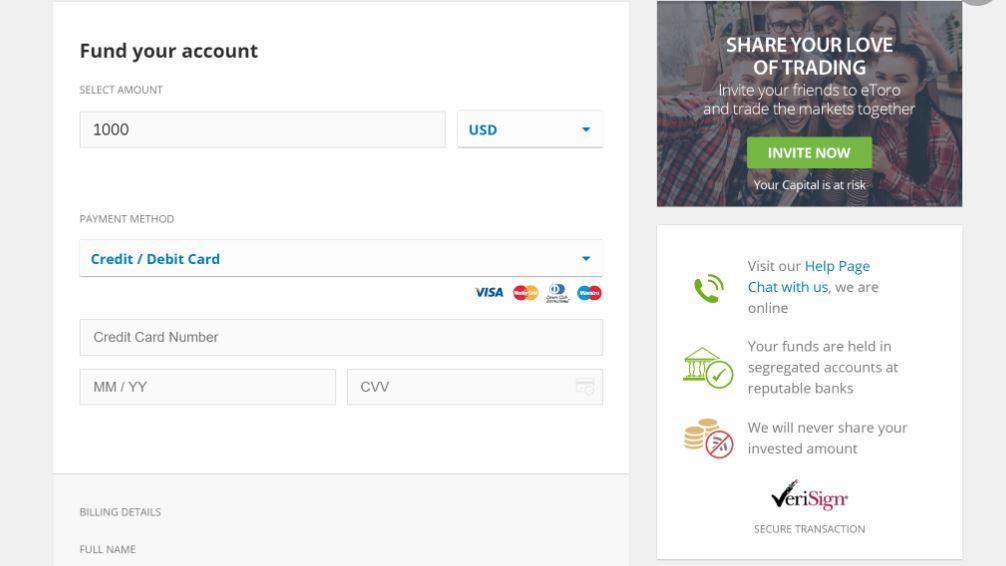 To deposit funds in your eToro account, you can choose from any of the available methods of payment in your country and follow these instructions:
Log in to the trading platform
Click on 'Deposit Funds'.
Enter the amount and your preferred currency.
Select the method of payment from the dropdown menu and complete the transaction
Search for ADA
Now that your funds are available in your account, you'll be ready to go! Simply navigate to the trading platform and search for Cardano (ADA). Click on the trade pair order you want to execute.
Place an order
After choosing the trading pair (something like ADA/USDT), click the "BUY" button to execute the order and confirm the transaction.
Transfer crypto to a cold wallet
If you're looking to move your Cardano (ADA) from eToro to a crypto wallet, here are the simple steps:
Click on the "Portfolio" tab of your account.
Click on the crypto you would like to transfer.
You will see all of your open trades for that cryptocurrency. Click on the specific trade you would like to transfer.
On the "Edit Trade" screen, click "Transfer to Wallet"
Review the transfer's details. Click "Transfer" to initiate the process.
You'll get a notification to let you know your request has been sent. "Pending Transfer" will appear in the trade line. Until the transfer process is completed, you can cancel your request.
What Are the Best Alternatives to Cardano Right Now?
There have been many debates on the future of Cardano and if it's advisable to jump on it now. However, there are some new and exciting crypto projects out there that are alternatives to Cardano. Here are the best alternatives to Cardano right now:
Cardano Price Prediction 2023 – Conclusion
In this blog, we have looked at the future of Cardano by checking on its fundamental and technical analysis. Truly, 2022 has not looked like Cardano's year, and the coin reaching $1 before the end of the year would be a miracle. Although, with new upgrades coming up, the coin might begin to recover next year as the question on everybody's lips is "Will Cardano rise soon?". So, if you are going to invest in it now, know you're doing it for its long-term prospects.
Frequently Asked Questions
How much will ADA be worth in 5 years??
How much will Cardano be in 2030?
Is Cardano worth investing in?
What is the future of ADA?