Fidelity vs Vanguard – Which Broker Is Best in 2023
Fact Checked
Everything you read on our site is provided by expert writers who have many years of experience in the financial markets and have written for other top financial publications. Every piece of information here is fact-checked. We sometimes use affiliate links in our content, when clicking on those we might receive a commission - at no extra cost to you. By using this website you agree to our terms and conditions and privacy policy.
New investors are all too familiar with the challenge that comes with picking a trading platform that ticks all the right boxes. This Fidelity vs Vanguard review seeks to find the right broker that suits your trading needs.
In this comparison, we explore all the key metrics from fees to account types to help you make the best choice for your investment goals. Keep reading to find out which broker takes the number one spot on our list.
Fidelity vs Vanguard Comparison
No. of shares
N/A
Most of US-listed companies
Fixed commissions per operation
Funds
$0
Free for Vanguagrd funds
What are Fidelity and Vanguard?
Both Fidelity and Vanguard are US-based online trading platforms that allow you to trade and invest in tradable assets from the comfort of your own home. After you've opened an account, and deposited funds, you will have unrestricted access to heaps of financial instruments right at your fingertips.
Fidelity is a US-based broker that was established in 1946 and is regulated by the US Securities and Exchange Commission as well as the Financial Industry Regulatory Authority. Fidelity is home to more than 35 million traders worldwide. This broker offers low-cost, commission-free US stock and ETF trading.
On the other hand, Vanguard is also a US-based broker that was launched in 1975. This brokerage firm is regulated by the Financial Industry Regulatory Authority and the US Securities and Exchange Commission. Vanguard is home to around 20 million investors and is famous for its Vanguard exchange-traded funds. Vanguard's ETFs have low expense ratios with an average of 0.12%.
Fidelity vs Vanguard Tradable Assets 
Starting with Fidelity, this broker offers a variety of trading products including US and international stocks, ETFs, mutual funds, government and corporate bonds, and options. As you may have guessed, Fidelity is unique in that it offers access to the international stock market, especially as the majority of US-based brokers only provide US stocks. Some of those statistics include 22 different stock markets, 80 ETFs, over 100,000 bonds, and 9 options markets.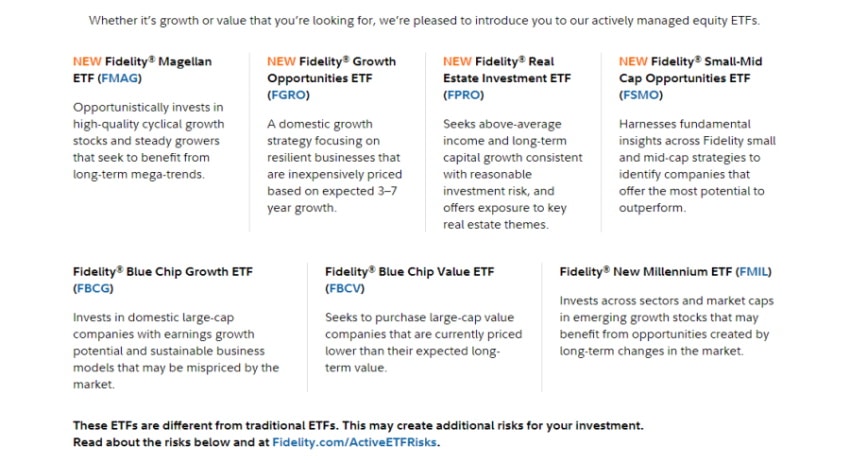 If you are interested in forex, futures, crypto, or CFD trading then unfortunately both brokers are not suitable for your needs.
Turning our attention to Vanguard, this broker also offers the same financial instruments as Fidelity, however, Vanguard only covers the US market which means that if you want to buy and sell international stocks this broker isn't for you.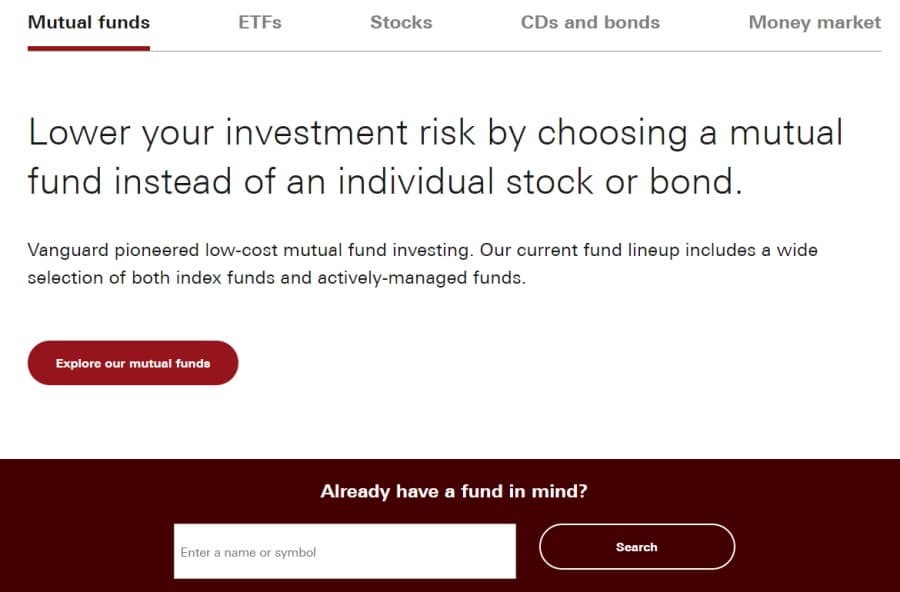 With that said, Vanguard gives you access to 4 US stock markets, over 2,000 ETFs, mutual funds from third-party providers including BlackRock, more than 13,000 bonds, and options.
Managed accounts
Both brokers are suited to short and long-term investors who are seeking managed investment options.
Fidelity provides access to a variety of managed accounts such as Fidelity Go which is a robo-advisory service, featuring a $10 account minimum and a 0.35% annual fee. In short, robo-advisors are fully automated trading services that are based on financial criteria that you set as a trader.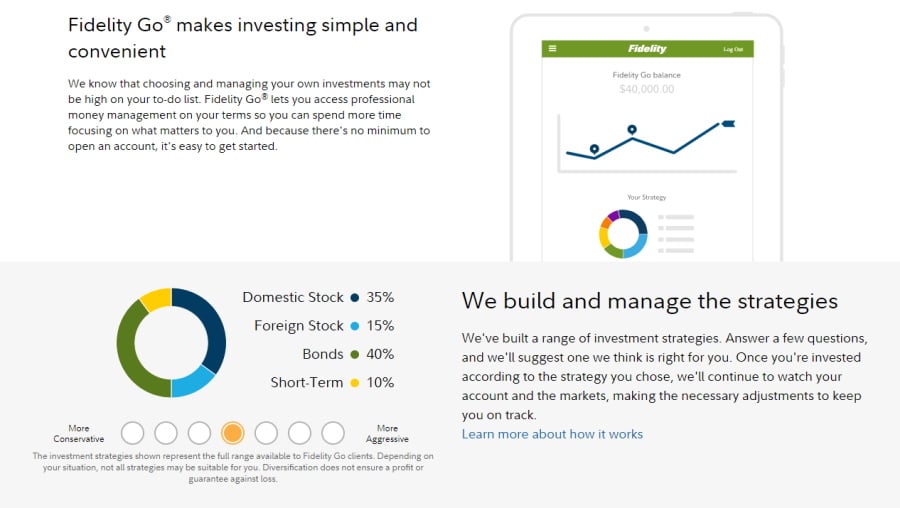 Vanguard also offers a managed account service, which is perfect for new investors looking for investment management support and a hands-off approach to online trading. The help you receive will come from a financial advisor and Vanguard's robo-advisory services. Once you have provided your trading goals, the advisor will create a managed portfolio that is both tailored to your needs and is rebalanced according to a set schedule. The minimum investment for Vanguard's personal advisor service, known as Vanguard Personal Advisor Services, is $50,000 and includes a 0.30% annual management fee. This is an algorithm-driven service that helps to create investment portfolios which means you don't have to worry about asset allocation as the robo-advisory service does it for you.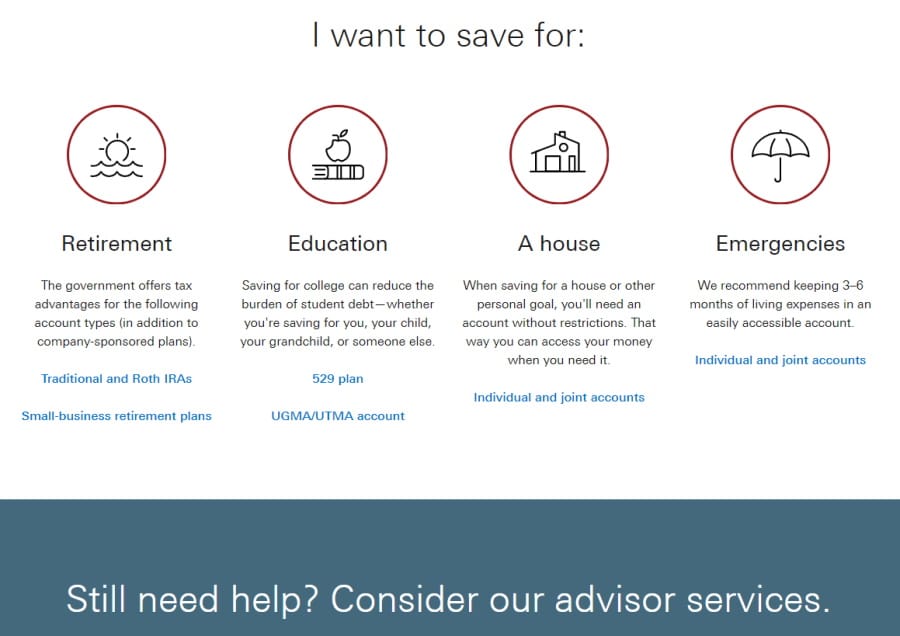 Fidelity vs Vanguard Account Types
In this section of our broker comparison, we take a look at the types of accounts that both platforms provide. Put simply, both brokerage firms offer a plethora of accounts tailored to almost every need. These range from individual brokerage accounts, retirement accounts such as Roth IRA accounts and Self-Employed 401(k) accounts, to education savings accounts and managed accounts.
Depending on what your trading goals are and your current situation you are likely to find the right account type that suits you.
Fidelity vs Vanguard Fees & Commissions
Fidelity's trading and non-trading fees are low with 100% zero-commission US stock and ETF trading. On the flip side, if you are planning to trade international stocks then the fees are average but do bear in mind that most US brokers do not give you access to international markets.
Vanguard provides commission-free ETF trading as well as several bonds and mutual funds. Like Fidelity, Vanguard also has low non-trading fees. When it comes to Vanguard's trading fees these are fairly average compared to other brokers. The fee structure is clear yet convoluted because the fees vary depending on your account balance.
For instance, let's examine the trading fees when using a Vanguard standard brokerage account with a balance of anything up to $50,000. While you will pay $0 commission for ETF trading and treasury bonds, you will have to pay $7 for the first 25 trades in the space of 12 months, which falls to $20 after that, in commission for stock trading, and $20 commission for mutual fund trading. If options trading is more your style then you will pay $7 in commission as well as $1 for every options contract.
In comparison, if you are interested in buying and selling US stock then Fidelity offers US stock trading on a zero-commission basis, whereas Vanguard charges a $7 commission per 25 trades in 12 months which then jumps to $20 per trade after that.
Margin trading
In short, margin trading is when you loan funds from your chosen brokerage firm to buy more shares than you would have been able to with your own account balance. As with any loan you will be required to pay interest otherwise known as a margin rate. This can constitute a large chunk of your trading costs.
As such, the USD margin rate for Fidelity is 8.3% and for Vanguard is 8.5%. Both brokers use a volume tier to determine their margin rates. They apply a base rate with an added premium, based on the financed sum.
Mutual fund fees & US Treasury bonds
Transaction-fee and non-Fidelity funds are rather high in contrast with other brokers on the market. Having said that this broker offers more than 3,000 free mutual funds. Should you sell these funds within a 60 day period after the transaction has been made then you will incur a $49.95 fee.
When you trade Vanguard mutual funds and approximately 3,000 other mutual funds, you will not be charged any commission. But, if you sell them within 2 months of buying them, you will pay a $50 sale fee.
Both brokers do not charge commission for buying US Treasury bonds.
Non-trading fees
Both trading platforms have low non-trading costs including no deposit fees, no inactivity fees, and no withdrawal fees for ACH transfers.
Here's a comprehensive breakdown of the key trading and non-trading fees charged by both Fidelity and Vanguard:
| | | | | | | | | |
| --- | --- | --- | --- | --- | --- | --- | --- | --- |
| | Inactivity fee | Deposit fee | Withdrawal fee | Account fee | Stock fee | ETF fee | USD margin rate | US Treasury bond fees |
| Fidelity | No | $0 | $0 | No | 0% | 0% | 8.3% | $0 |
| Vanguard | No | $0 | $0 | No | $7 per trade for first 25 trades per 12 months | 0% | 8.5% | $0 |
Fidelity vs Vanguard User Experience
When it comes to user experience, our broker comparison found that Fidelity has a better and smoother layout and structure in contrast to Vanguard.
The Vanguard web trading platform has a nice design but in terms of navigating your way around and finding exactly what you are looking for can be difficult at times. Another point worth noting is that you cannot customize the trading platform whatsoever.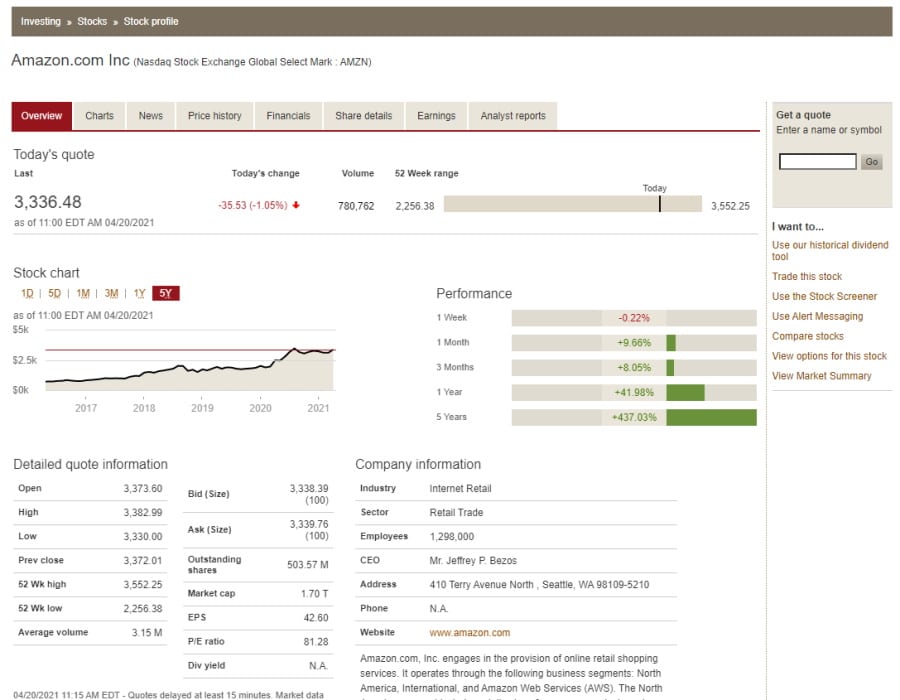 On the other hand, Fidelity's web trading platform is user-friendly and well designed. In terms of search functionality and navigating your way around, all you have to do is type the name of the stock or asset into the search bar and the predictive search function presents relevant and related topics or assets.
Let's have a look at a real example. Let's say you wanted to trade Amazon stocks; simply type the ticker symbol AMZN into the search bar to gain access to heaps of information about the stock including charts, news and events, research reports, analyst opinions, and more.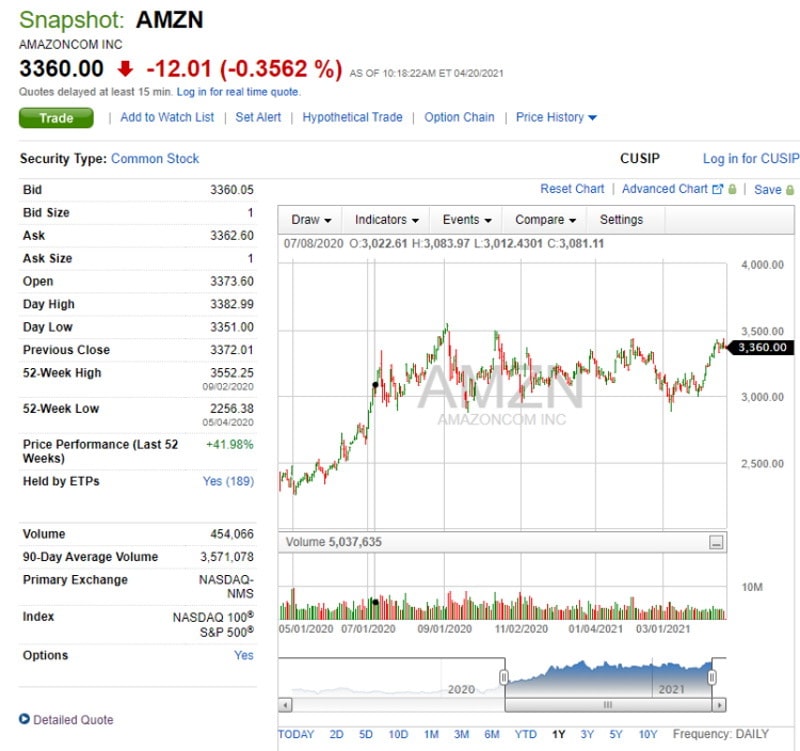 Alerts and push notifications
With Fidelity, you can also set a range of price and news alerts as well as push notifications to keep you in the loop at all times. You can set up SMS and email notifications, and if you use the mobile trading app you can also allow push notifications. To set an alert, all you have to do is find the stock or asset you are interested in trading and press the set alert button.
You can also set alerts with Vanguard but these are limited when compared to the options available at Fidelity. For example, you can set price alerts for ETFs and stocks but these are only available via email.
Order types
Placing order types on Fidelity's web trading platform is easy and straightforward. These range from basic to advanced order types, therefore, suiting both beginner and experienced investors at the same time. From market orders and stop limit orders to multi-contingent orders and trailing stop limit orders Fidelity has it all. To place the order type, simply click the dropdown menu on the trade page and select the one you want.
On the flip side, Vanguard also gives you access to order types, however, these are basic order types such as market and stop orders which may not be sufficient for more experienced investors.
Fidelity vs Vanguard Mobile App
Both US-based brokers give you the option to trade and invest via a mobile trading app. These are compatible with Apple and Android mobile devices.
The Fidelity mobile trading app is easy and simple to use. It supports a one-step login process and also offers biometric authentication which is very convenient. When it comes to navigating your way around, the search functions are great allowing you to find the stocks and assets you are looking for with ease. Placing order types is done with the click of a button and you can also set mobile push notifications to help you stay updated with all your trades and market movers.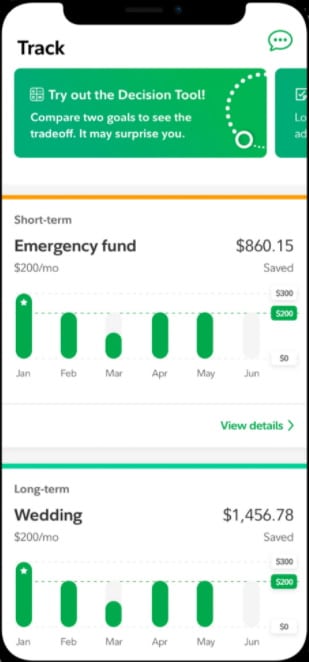 The Vanguard mobile trading app is called Vanguard Investors and is compatible with both Android and Apple devices. It offers a user-friendly interface and is built with a modern simplistic design which makes it easy to find what you want. In terms of security, Vanguard Investors supports two-step login authentication as well as other convenient features such as FaceID on iPhones. When it comes to finding your chosen asset simply type the name into the search bar and it will display relevant results. Placing order types is simple enough, just by selecting the one you want. However, during our research, we found that the Vanguard mobile app does not offer the option to set price alerts or push notifications which is disappointing.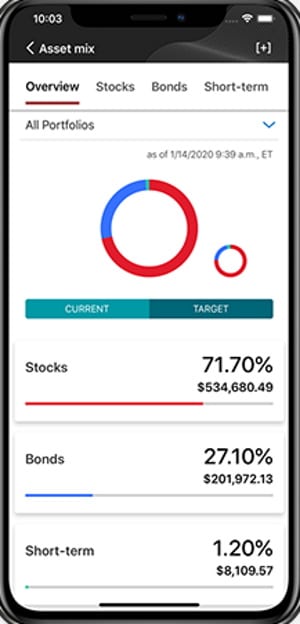 Fidelity vs Vanguard Trading Tools, Education, Research & Analysis
Thus far in our broker comparison review, we have explored a range of key metrics including tradable assets, account types, fees and commissions, and more. In this segment, we will examine the trading tools and educational resources that both brokers provide.
Trading ideas
With Fidelity, you can access trading ideas for financial instruments such as ETFs, mutual funds, and stocks. When it comes to trading ideas for stocks you can access analyst opinions and a summary score that is generated from over 20 analysts' reviews. Most of the research available is sourced from third-party providers such as Morningstar.
Turning our gaze to Vanguard now, trading ideas with this broker are predominantly centred on stocks and are sourced from third-party providers like MarketGrader and Argus.
Fundamental data & Charting
Both Vanguard and Fidelity provide real-time fundamental data for stocks, ETFs, and funds. You can access financial statements for the last 5 years and more.
If you are an advanced investor with a preference for extensive charting tools then Fidelity will be the better choice for you. This is because you can customize the charts easily and have access to around 50 different technical indicators. On the other hand, you cannot edit or customize the Vanguard charts and there are only 15 technical indicators available.
Education
Starting with Fidelity, if you navigate to the Fidelity Learning Centre you will find a wide range of resources broken down into categories such as investment products, trading and investing, personal finance, and tools and demos. The written content is great and very informative, offering everything you need to know about investing and trading. Additionally, you can even access upcoming events and join webinars. There is even a search bar where you can type your question or topic to find relevant information and materials.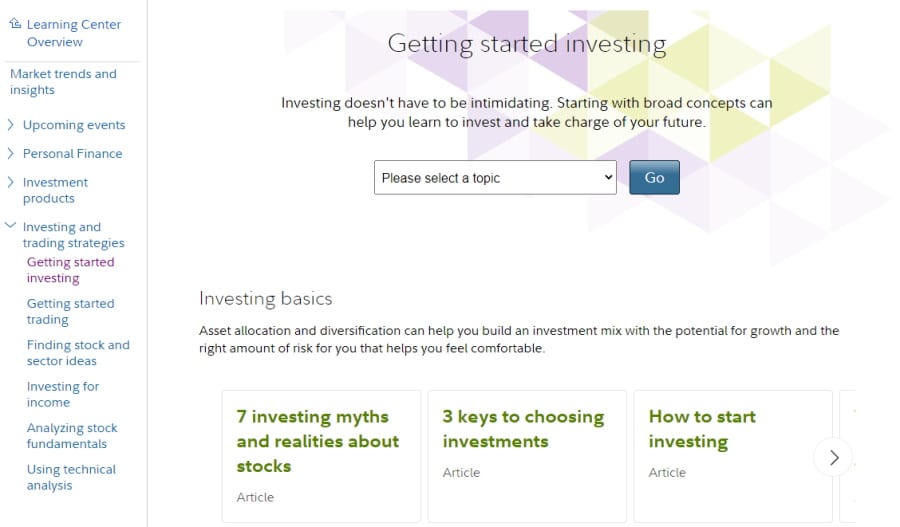 Vanguard offers educational video content, webinars, and relevant articles that are primarily aimed at beginner traders and cover general subjects including yield curves and the different types of financial instruments. If you are interested in webinars then you'll be pleased to find out that there are interactive webinars held once per month. Most of the educational resources can be found under the News and Perspectives section on the web trading platform.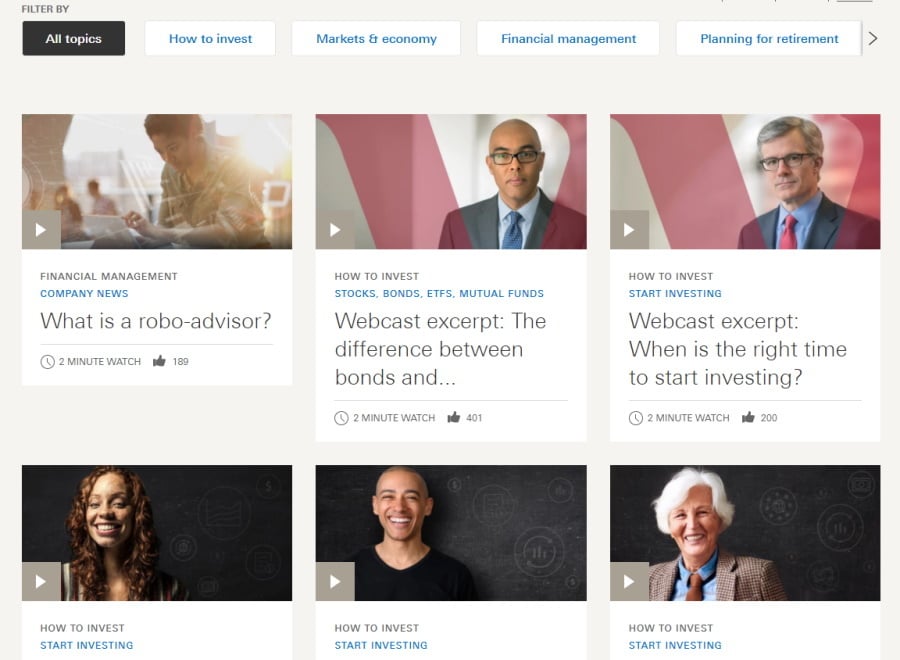 Fidelity vs Vanguard Demo Account 
Simply put, a demo account allows you experience online trading without the risk of losing real capital. This is because a paper trading account gives you virtual funds to trade with. This way you gain investing experience without having to worry about risk tolerance.
Out of both brokers, only Fidelity offers a demo account that is accessible via its desktop trading platform called Active Trader Pro. According to Fidelity some of the features it offers include a fully customizable data display, access to delayed streaming data, and a range of technical filters.
Fidelity vs Vanguard Payments
With Fidelity, there are no deposit fees and you can use ACH transfers, checks, and e-wallets including PayPal to deposit funds into your account. However, credit and debit cards are not supported deposit methods. ACH transfers usually take 2 business days to process. Additionally, there are no withdrawal costs when you use ACH (Automated Clearing House) withdrawals.
Similarly, Vanguard users benefit from $0 deposit fees, but can only use checks and ACH/wire transfers to deposit funds into their accounts. E-wallets and debit/credit cards are not available payment methods. An ACH transfer to deposit funds took on average 2 working days to process. There are no withdrawal costs either when using ACH withdrawals, however, there is a $10 withdrawal fee when you use a US domestic wire transfer.
| | | | | | |
| --- | --- | --- | --- | --- | --- |
| | Minimum Deposit | Deposit Fee | Processing Time | Withdrawal Fee | Payment options |
| Fidelity | $0 | FREE | 2 days with ACH transfer | FREE | ACH transfers, checks, e-wallets |
| Vanguard | £100 | FREE | 2 days with ACH transfer | FREE | ACH transfers, checks |
Fidelity vs Vanguard Customer Service
You can contact the customer support team at Fidelity via live chat, email, and telephone. The waiting and response times can be longer during busy periods. Customer support is not available 24 hours 7 days a week. For instance, the live chat is available during 09:00 and 22:00 ET on weekdays and 09:00 and 16:00 ET on weekends. You can expect to receive a response to your email request within one business day.
Vanguard's customer services are fast and provide relevant information via email and phone. On the other hand, live chat is not supported by the broker and can only be contacted at 08:00 – 22:00 ET on weekdays. You can also contact them by US Mail.
Fidelity vs Vanguard Safety & Regulation
When it comes to choosing a broker you need to make sure they are regulated by top-tier financial authorities. This is to protect your funds and safeguard against any malpractice. Both Fidelity and Vanguard are heavily regulated by the US Securities and Exchange Commission and the Financial Industry Regulatory Authority.
If you choose either of these online brokers you will be covered by the Securities Investor Protection Corporation (SIPC). Should either broker become insolvent this covers you against the loss of capital and tradable financial assets. The SIPC protection is limited to $500,000 including $250,000 for cash claims.
It's also worth noting that both brokers do not offer negative balance protection. This means that if your account balance goes into the negatives you will not be covered.
Fidelity vs Vanguard vs eToro
Based on our reviews of both brokers we recommend Fidelity because:
It offers more markets and products,
Allows you to gain exposure to international stock markets,
Offers a demo account via its desktop trading app Active Trader Pro
Provides 50 technical indicators
Charges 0% commission on US stock and ETF trades
However, when can take a different perspective when we add a third broker into the mix – eToro. In short, eToro is a social trading platform that offers 100% commission-free stock and ETF trading.
eToro is now home to more than 20 million investors and has a range of innovative trading features and assets on offer. eToro is mainly a CFD and forex trading platform, but you can also trade stocks, ETFs and a variety of cryptocurrencies including Bitcoin trading.
| | | | | | | | | | |
| --- | --- | --- | --- | --- | --- | --- | --- | --- | --- |
| | Minimum Deposit | Deposit Fee | Processing Time | Withdrawal Fee | Dealing Fee | CFD Commission | Inactivity Fee | Platform Fee | Stamp Duty Tax on UK Shares |
| eToro | $200 (about £160) | 0.5% | Instant, apart from bank transfers | $5 (about £4) | FREE | 0% | $10 per month after 1 year | None | None |
Fidelity vs Vanguard – The Verdict
This Fidelity vs Vanguard comparison has examined the most important elements that make up each broker. From tradable assets, security, and regulation, to fees and commissions we have explored them all. As a result, you should now be more than capable of making the right decision based on your trading goals. Also, if you would like to check out more of our broker comparisons, then why not read our Stash vs Robinhood review here.
However, when we threw eToro into the equation we found that this social trading platform is by far the best online broker to pick in 2023. For example, you can trade cryptos, stocks, CFDs, and ETFs without paying a penny in commission.
Furthermore, you also have access to social trading and copy trading features including CopyPortfolios which allows you to copy the trades of advanced eToro investors like-for-like by simply clicking the 'copy' button.
So, if you want to start trading with 100% zero commission from the comfort of your own home and on the eToro mobile trading app, click the link below!
eToro – Best Online Broker in 2023 – Trade ETFs with 0% Commission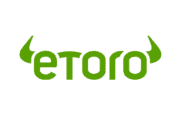 Your capital is at risk. Other fees apply. For more information, visit etoro.com/trading/fees.
FAQs
Vanguard vs Fidelity, which is cheaper?
How to buy stocks on Fidelity?
How to withdraw money from Fidelity
How to open a Vanguard account?