Fidelity vs TD Ameritrade – Which Broker Is Best in 2023
Fact Checked
Everything you read on our site is provided by expert writers who have many years of experience in the financial markets and have written for other top financial publications. Every piece of information here is fact-checked. We sometimes use affiliate links in our content, when clicking on those we might receive a commission - at no extra cost to you. By using this website you agree to our terms and conditions and privacy policy.
Choosing the right online trading platform to meet your needs as a trader can be daunting. What assets are offered? Are there any non-trading fees? These are exactly the type of questions we will answer in this Fidelity vs TD Ameritrade review.
We walk you through each and every subject you need to consider when picking the right broker for you. This includes fees, tradable shares, payment options, demo accounts, and more. Read ahead as we reveal the cheapest trading platform for 2023.
Fidelity vs TD Ameritrade Comparison
Fidelity
Visit Site
Investing involves risk, including risk of loss.......
TD Ameritrade
Visit Site
Your capital is at risk.......
Fixed commissions per operation
What are Fidelity & TD Ameritrade?
Amongst the best-rated trading platforms, Fidelity and TD Ameritrade are online brokerage firms that enable you to purchase and sell financial instruments, assets, and much more at the click of a button or swipe of a finger. All you need to do is create an account with the trading platform of your choice, make a deposit, and you will then have access to 0% commissions on online stock, ETFs, and options trades. Another point worth noting is that the 0% commission applies to U.S. exchange-listed stocks, ETFs, and options.
Both Fidelity and TD Ameritrade offer stocks, indices, commodities, forex, and ETFs. As both trading platforms offer online stock, option, and ETF trades on a commission-free basis, deciding which broker to choose from Fidelity vs TD Ameritrade can be tricky.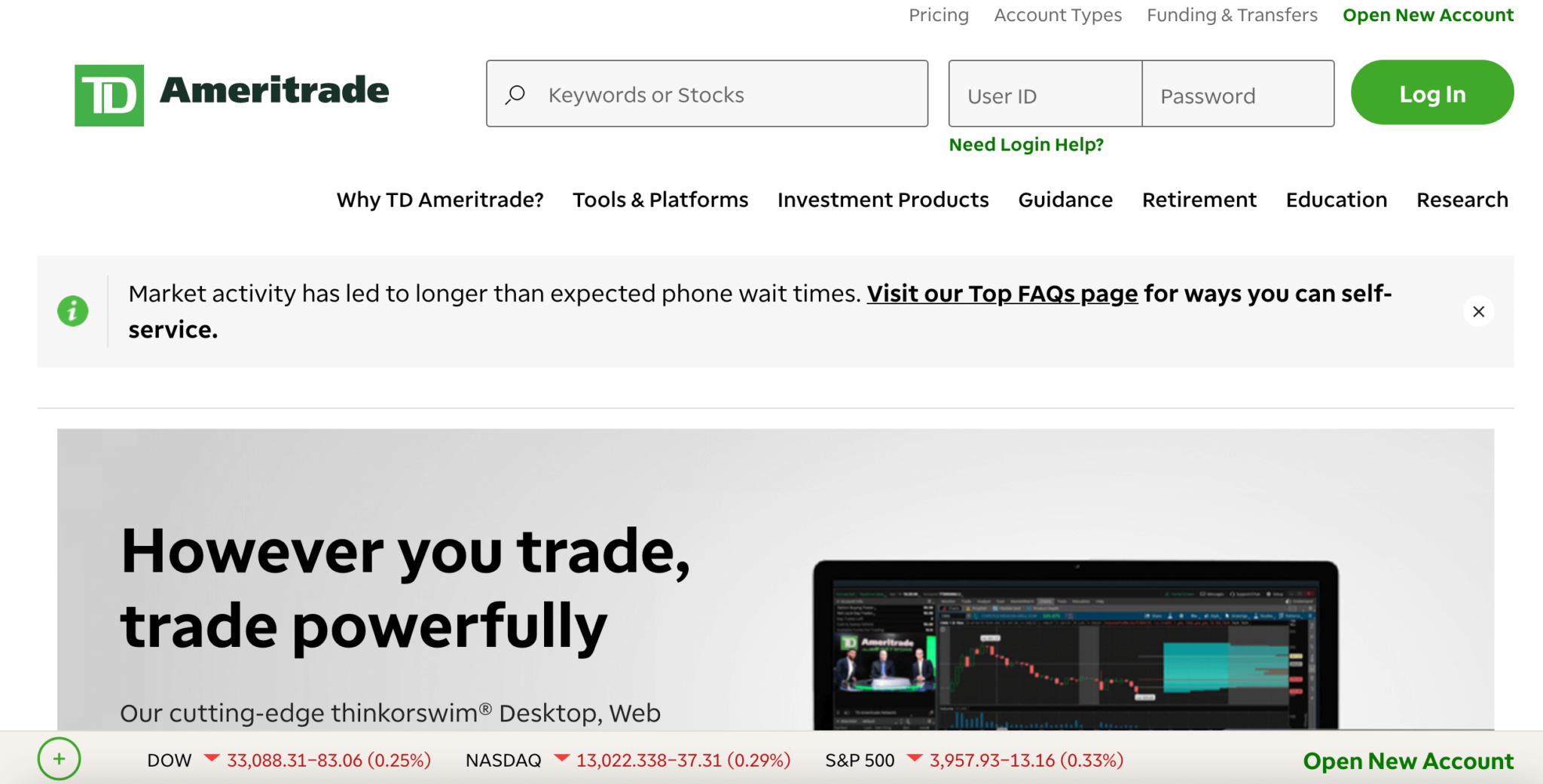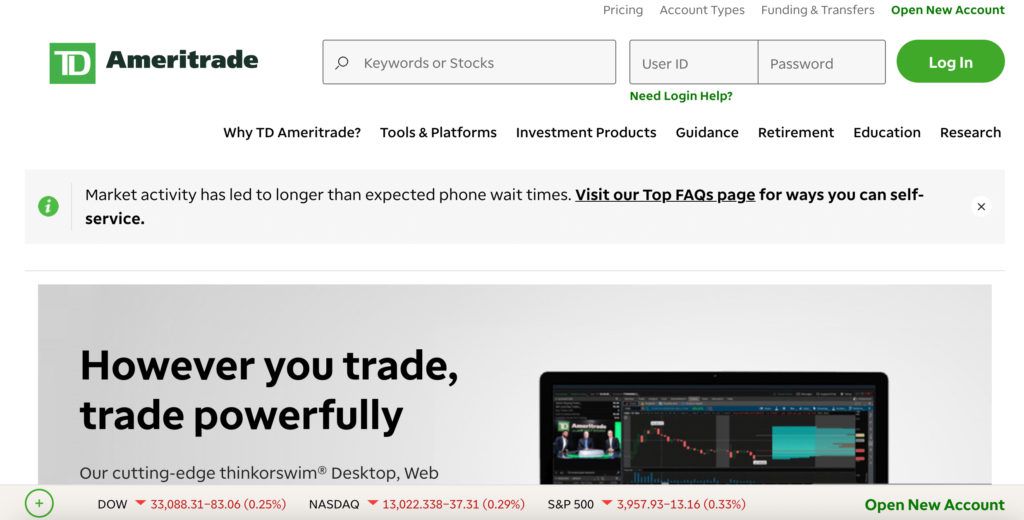 While other well-known brokers such as eToro and Robinhood are thought of as fairly new in the world of online trading platforms, TD Ameritrade is a US brokerage giant that was first established in 1975. Simply put, if there is a financial market that particularly takes your fancy and you want to invest in, it is highly likely that you will find it at TD Ameritrade.
For instance, in the stock department alone you will come across hundreds if not thousands of shares across both US and international marketplaces. Similarly, this covers the chance to invest in newly launched IPOs (Initial Public Offerings). If passive investing suits your trading style more then you will be pleased to read that TD Ameritrade is home to more than 11,000 funds.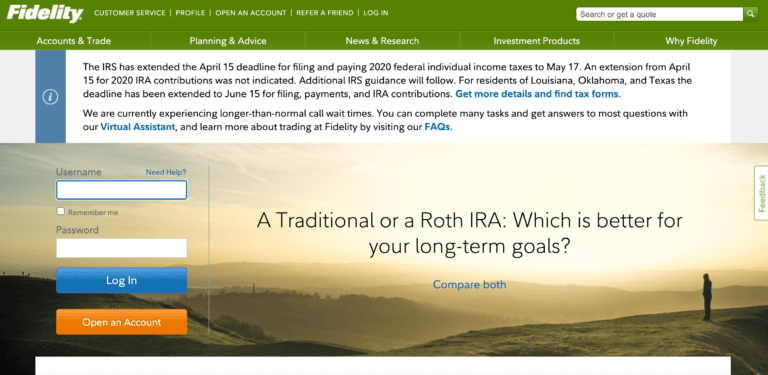 It wouldn't be a Fidelity vs TD Ameritrade without reviewing some of what Fidelity has to offer. Simply put, Fidelity offers commission-free trading on all U.S. stocks, ETFs (including indices) and charges $0.65 per option contract (including indices). Additionally, Fidelity traders also have access to analyst reports covering in excess of 4,500 stocks and incorporates over 20 independent, third-party research sources.
Both Fidelity and TD Ameritrade offer their trading services either online or via their trading platform mobile apps. In terms of the fundamentals, Fidelity and TD Ameritrade are regulated by the U.S. Securities and Exchange Commission (SEC) – which reinforces the brokers' commitment to protecting its traders and investors. Fidelity has more than 47,000 associates, with its international presence covering nine other nations which include North America, Europe, Asia, and Australia.
Fidelity vs TD Ameritrade Tradable Assets
Moving on to the next section in our Fidelity vs TD Ameritrade review, we are going to uncover the type of assets you can trade and invest in.
Let's begin our review of these two online brokers: Fidelity Investments and TD Ameritrade.
Starting with Fidelity, this trading platform offers a wide range of tradable assets. These include Individual Bonds, Bond Funds, Fixed Annuities, Separately Managed Accounts, CD Ladders, Bond ETFs and the list goes on.
As we have already discussed both Fidelity and TD Ameritrade offer $0 commission on online stock, ETF, and options trades. TD Ameritrade also has an abundance of tradable assets ranging from stocks, stock splits, options, ETFs, mutual funds to futures and forex.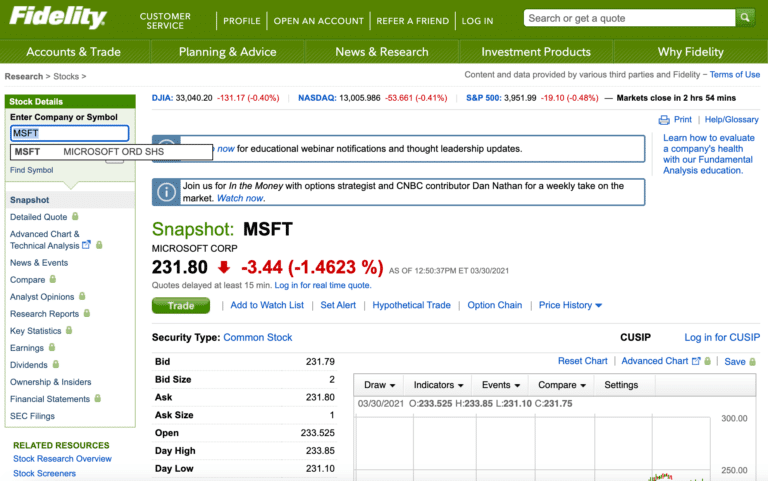 With a broad selection of commission-free ETFs, TD Ameritrade certainly has all the interactive tools that both beginner investors and experienced traders need to understand, allowing you to tailor your trading experience to your trading style and needs. TD Ameritrade's ETFs are brought to you by some of the top companies in the financial sector.
Fidelity offers its account users a variety of investment options such as the US and international stocks, mutual funds, and ETFs. Global stock trades are available from 25 countries. ETFs and Mutual funds from Fidelity cover almost any other investments to help suit your needs as a trader.
This trading platform supports more than 10,000 mutual funds and a bunch of ETFs, as well as it is Fidelity and iShares ETFs all based on a commission-free basis. Something that sets Fidelity apart from its competitors is its selection of EFTs and mutual funds. This includes more than 3,500 zero transaction fee mutual funds and over 350 0% commission ETFs.
With a Fidelity brokerage account traders have access to CDs and market bonds.
Active investors also have access to options and more than 30 forex currencies (foreign exchange) via Fidelity Capital Markets. For those traders who want to trade commodities there is a range of options from precious metals like silver, platinum, and gold.
TD Ameritrade provides its users with access to a wide range of tradable assets from ETFs, and stocks to futures, forex, and mutual funds. After investing in ErisX, TD Ameritrade has intentions to also start offering cryptocurrencies.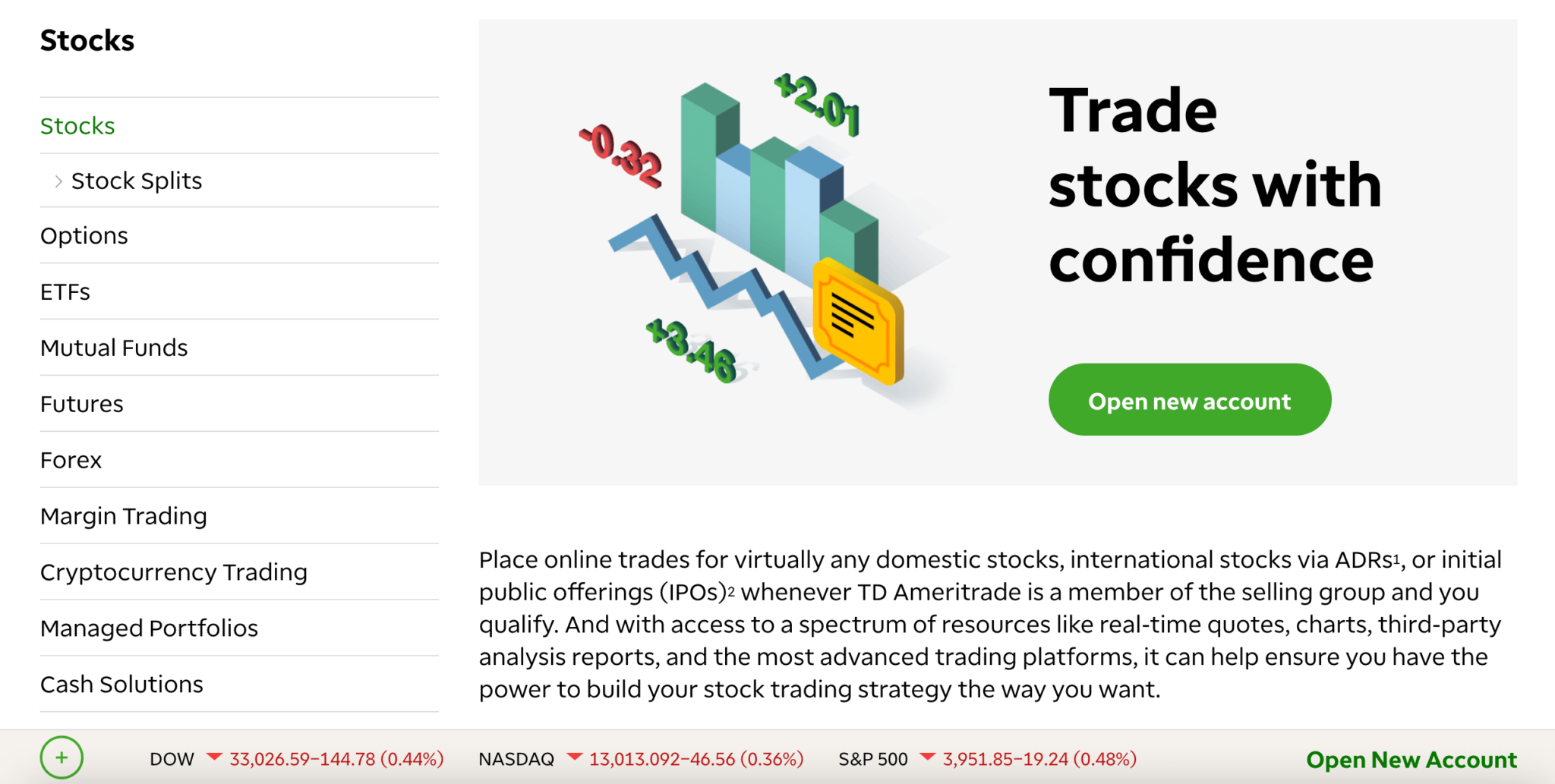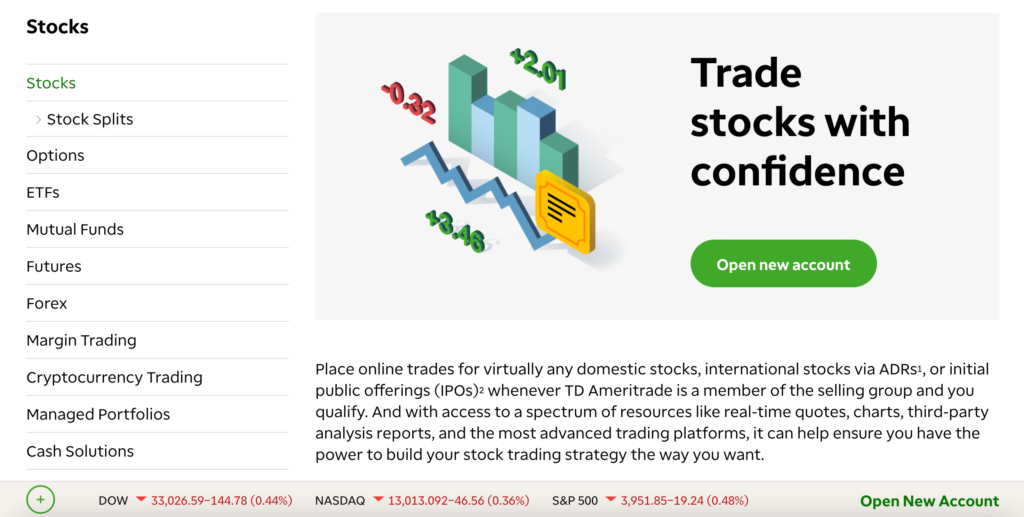 When TD Ameritrade traders invest they have the option to make the most of dividend reinvestments and initial public offerings or IPOs as they are commonly known. However, If you want more of a hands-off approach, the managed portfolios service could be a wise alternative.
TD Ameritrade offers more than 300 ETFs that are commission-free and over 4,000 mutual funds without a transaction fee.
Fidelity vs TD Ameritrade Account Types 
In this section of our Fidelity vs TD Ameritrade review, we examine the stockbroker account types that are on offer by both online trading platforms. Put simply, both Fidelity and TD Ameritrade offer more than just one type of trading account.
When it comes to opening a trading account with Fidelity there are so many different options to choose from. Not only is the process simple and can be done in a matter of minutes, but it ensures that each trader can make the most out of their chosen account type based on their trading experience and investing needs.
Fidelity's account types are broken down into 10 key areas, these include:
Investing and trading:
Brokerage Account
Cash Management Account
Brokerage and Cash Management
The Fidelity Account® for Businesses
Saving for retirement
Rollover IRA
Traditional IRA
Roth IRA for kids
Inherited IRA
Inherited Roth IRA
SEP IRA
Self Employed 401(k)
SIMPLE IRA
Investment-Only Plans for Small Business
401(k) Plan for Small Businesses
Managed accounts
Fidelity Go
Fidelity Personalized Planning & Advice
Portfolio Advisory Services Accounts
Fidelity Tax-Managed U.S. Equity Index Strategy
Fidelity Equity-Income Strategy
Fidelity® International Equity Strategy
Fidelity® Tax-Managed International Equity Index Strategy
Fidelity® U.S. Large Cap Equity Strategy
Fidelity® Core Bond Strategy
Fidelity® Intermediate Municipal Strategy
Breckinridge Intermediate Municipal Strategy
Saving for education
529 Account
Custodial Account
Saving for medical expenses: Health Savings Account (HSA). Saving to Achieve a Better Life Experience (ABLE): The Attainable Savings Plan. Charitable giving: Fidelity Charitable. Estate planning and trusts: Trust account & Estate. Annuities: Fidelity Personal Retirement Annuity, Deferred Fixed Annuities, Immediate Fixed Income Annuities, Deferred Income Annuities. Life insurance: Universal Life, Term Life Insurance.
When it comes to TD Ameritrade there are also a number of account types on offer ranging from standard accounts, retirement accounts, education accounts, specialty accounts, to managed portfolios and margin trading accounts.
Simply put, the Standard Account is TD Ameritrade's most basic account. This trading account gives traders access to a range of different investments. Opening a new account requires a $50 deposit while a required minimum balance of $2,000 is set for its margin accounts.
TD Ameritrade has a variety of options available which means that whatever your trading demands are this broker is more than capable of meeting your investment needs.
Perhaps you are considering managed portfolios, much like robo-advisors, traders can create an account with a minimum balance of $5,000. Bearing this in mind, advisory fees are applied to professionally managed portfolio accounts at TD Ameritrade.
Fidelity vs TD Ameritrade Fees & Commissions
When it comes to pricing, fees, and commissions both TD Ameritrade and Fidelity are basically identical. In addition, both trading platforms offer no account minimums.
| | | |
| --- | --- | --- |
| Fee | TD Ameritrade | Fidelity |
| Stock trading fee | $0 | $0 |
| ETF Trades | $0 | $0 |
| Inactivity fee | Free | Free |
| Withdrawal fee | $0 for ACH, $25 for wire transfer | $0 |
Fidelity is a step ahead of the rest of its competition for very low trade commissions. Options trades have a $4.95 fee along with $0.65 cents per contract and there is no fee for trading US Treasuries.
There are more than 300 ETFs available for Fidelity traders. Purchasing and selling mutual funds is commission-free.
In terms of account service fees, there are none and for the majority of Fidelity trading accounts, there is a minimum first investment. Traders can expect to pay anything from 0.20% to 0.90% depending on which managed account they choose. As far as the Fidelity robo-advisor account is concerned its users are charged 0.35% without a minimum deposit fee.
For traders looking to invest in either stocks or ETFs – TD Ameritrade charges no commission at all. Options are also subject to very competitive prices, with the brokerage charging $0.65 per contract. When it comes to getting started with this top-rated trading platform, TD Ameritrade can be accessed through the mobile app or online via desktop.
In any case, there aren't any minimum deposits and traders can fund their accounts via bank transfer. This is often processed straight away by TD Ameritrade. In terms of fundamentals, TD Ameritrade is regulated by all US financial authorities – meaning that traders can rest assured that their money is safeguarded properly and professionally.
Fidelity vs TD Ameritrade User Experience
In terms of user experience, our Fidelity vs TD Ameritrade review found that overall both trading platforms are designed for both the new trader and the more experienced and seasoned investor.
When it comes to Fidelity, many of its resources are aimed toward the less experienced trader, however, Active Trader Pro and extensive educational materials make it a great choice for all types of traders.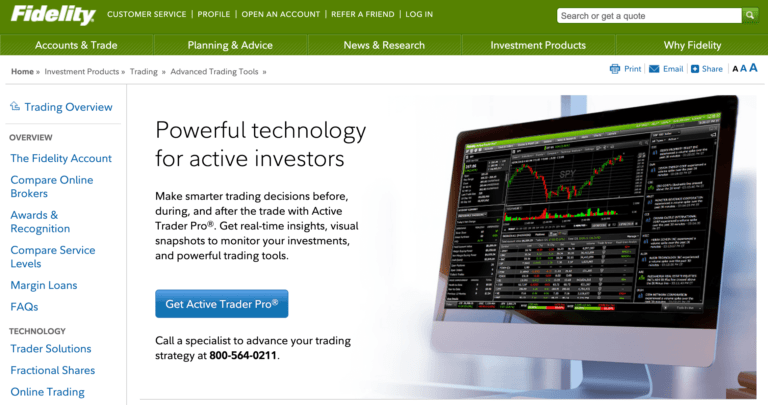 A small minority of highly experienced investors have argued that Active Trader Pro is no match for the trading platforms at TD Ameritrade but most traders are often satisfied with Fidelity's standards and services.
Seeing as TD Ameritrade gives its traders access to multiple trading platforms and thorough educational resources, it has everything that both new and experienced traders need to meet their investment requirements. New traders would find everything they need with the standard web trading platform and mobile applications. On the other hand, experienced investors may feel more comfortable with TD Ameritrade's Mobile Trader or Thinkorswim.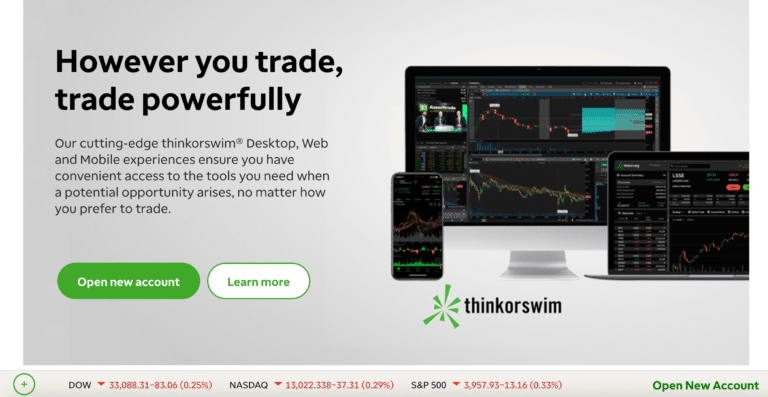 Most brokers often adhere to either the new trader or the experienced investor, but in the case of TD Ameritrade, it prides itself on offering resources, tools, and options to suit any trader's needs. This gives it a strong foothold over the rest of the brokers in the financial industry.
Fidelity vs TD Ameritrade Mobile App
On the go mobile trading is currently amongst the fastest developing areas in the investment world. When push comes to shove, having the ability to trade assets wherever you find yourself is becoming an expectation rather than a privilege. For instance, you may decide to cash out a stock investment straight away, rather than waiting until you get behind a desktop.
With this in mind, it goes without saying that both Fidelity and TD Ameritrade offer well-rounded trading apps. Both brokers offer apps that are supported by Android and iOS mobile devices.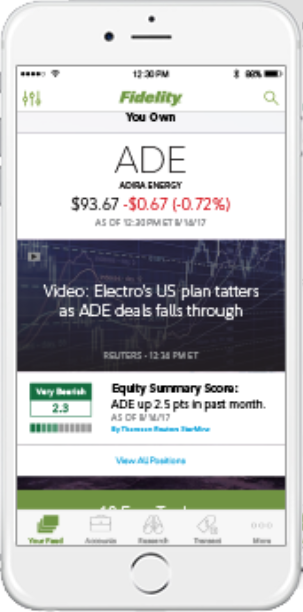 The TD Ameritrade mobile app is designed for everyday traders with a dashboard that can be custom-tailored to meet their trading needs. Navigating your way throughout the app is simple and easy and offers a variety of trading features that most traders will be happy with. Streaming watch lists can be customized and synchronized with your trading account. In addition, the mobile app includes features such as financial news from reputable sources, charting, price alerts, as well as research analysis. When it comes to buying and selling assets this is straightforward also. TD Ameritrade's thinkorswim platform also makes the US-based broker a perfect option for more advanced traders.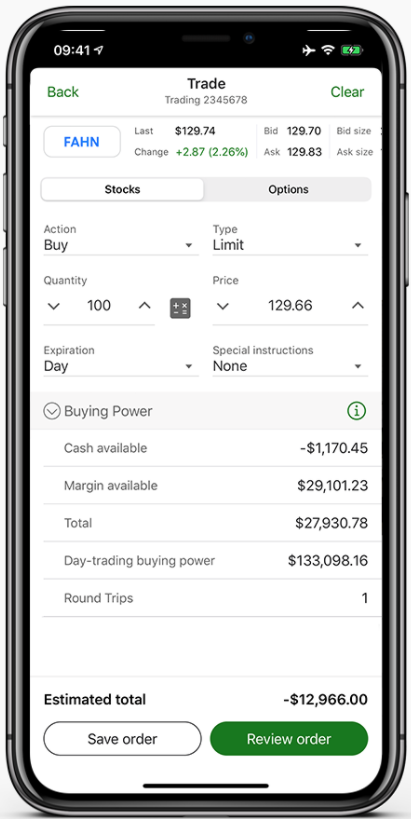 Fidelity Spire, NetBenefits, and its main mobile app are the three mobile trading apps that Fidelity offers. The mobile experience is user-friendly and is easy to use, making it a sound choice for new and experienced users.
Fidelity vs TD Ameritrade Trading Tools, Education, Research & Analysis
When it comes to trading tools both Fidelity and TD Ameritrade offer a range of useful tools to suit any trader's requirements and wants.
Fidelity's trading platform offers everything traders and investors require to manage an investment portfolio successfully. Fidelity's Active Trader Pro is the popular desktop platform of choice for many active traders, which is primed with various trading tools.
The website watch list makes it simple to switch to equity research and placing a trade is easy through docked order tickets. When it comes to charts, Fidelity's Active Trader Pro makes charting clear and offers more than 20 various drawing tools, user profiles that are customizable, chart trading, and much more. In terms of identifying trending technical patterns Trading Central is also included.
Options trading with Fidelity is also made easy and provides a range of useful trading and analysis tools. Simply put, Fidelity secures a place amongst the top-rated brokers for day trading.
Now, in terms of TD Ameritrade; regardless of whether you are considering the day, options, or futures trading, thinkorswim desktop is a great choice. And for new traders, TD Ameritrade's thinkorswim web is very good.
As far as charting is concerned, thinkorswim is a top choice for investors. With a couple of clicks, traders can access various charts that all stream real-time financial data. With more than 400 technical studies available there is enough for all types of traders with TD Ameritrade.
The TD Ameritrade Network is the trading platform's financial network that offers live streaming. The TD Ameritrade Network broadcasts live throughout all days of the week and incorporate a blend of market analysis and trader education.
Fidelity Viewpoints is the broker's research tool that offers live market commentary. As well as streaming from credible and reputable sources such as Bloomberg TV there are annual sector forecast reports that point out important trends and market movements.
Fidelity vs TD Ameritrade Demo Account
At this point in our review let's compare Fidelity vs TD Ameritrade with respect to demo accounts.
Firstly, when looking at Fidelity the only demo account available is the 'Test Drive Fidelity's Active Trader Pro Demo'. However, paper trading is not an option here as it is simply for informational purposes to give new traders a chance to experience what it would be like to trade for real using a fictitious account. Signing up for a Fidelity demo account is simple and easy, provided that you are in the US, and offers a fully customizable dashboard, the ability to transition between concept and trade via virtual account data, and stay up-to-date with all the latest technical and market filters.
Secondly, when it comes to TD Ameritrade if you are new to the trading scene or just contemplating creating an account with the trading platform, there are ways you can practice investing before using real funds. Thinkorswim, accessible as both a mobile application and desktop trading program, includes a demo account called paperMoney, where virtual funds can be used to place fictitious investments. The use of TD Ameritrade's demo trading tools comes without account fees or minimum deposits.
Once you have opened an account you have access to buying power worth $200,000 of paper funds. Traders can place orders for stocks, ETF's, futures, options currencies, and more. But, mutual funds and bonds are not available, meaning that they're not an option for paper trading.
Fidelity vs TD Ameritrade Payments
With TD Ameritrade there are five options when it comes to funding your account. These include:
Electronic bank deposits
Wire transfers
Checks
Account transfers from other firms
Physical stock certificates
In terms of Fidelity, there are a number of payment methods available from ATM/Debit Card, Mobile Payments, to Bill Pay, and Check-writing.
| | | | | |
| --- | --- | --- | --- | --- |
| | Minimum Deposit | Deposit Fee | Processing Time | Withdrawal Fee |
| Fidelity | $0 | $0 | 1 to 3 business days | $0 |
| TD Ameritrade | $0 | $0 | 1 to 2 business days | $0 |
Make no mistake about it – both Fidelity and TD Ameritrade make the deposit and withdrawal process simple and streamlined. The processing time will depend on the type of payment method you choose. This is because both brokers provide a full suite of supported payment methods. This includes bank transfers, debit/credit cards, and even e-wallets such as Paypal.
Fidelity vs TD Ameritrade Customer Service
Our Fidelity vs TD Ameritrade comparison review found that both trading platforms offer customer support services. In some cases, you will be connected to an agent immediately. But, during busy periods, waiting times may be lengthy.
TD Ameritrade offers a variety of frequently asked questions, as well as phone support that is available in both Spanish and Chinese. The broker also offers TTY services which are available from 8:30 AM – 5:30 PM ET, Monday to Friday. TD Ameritrade provides 24/7 phone support, in addition to chatbots on Twitter and Apple Business Chat.
On the other hand, Fidelity takes advantage of TD Ameritrade in that it offers a virtual chatbot assistant. The trading platform's customer service is open 24/7 for general inquiries. It also features the ability to share your screen with a Fidelity customer service representative. Contact with customer services is available via email if your question or request is not urgent.
Fidelity vs TD Ameritrade Safety & Regulation
As with the majority of US brokers, TD Ameritrade is regulated by the SIPC or Securities Investor Protection Corporation. Banking products are covered by the FDIC (Federal Deposit Insurance Corporation). The FDIC insures accounts up to $250,000. The SIPC covers traders' accounts up to $500,000 when it comes to securities and up to $250,000 when it comes to cash. This SIPC insurance safeguards your account from malpractice and liquidation.
In addition, TD Ameritrade is a member of the NFA (National Futures Association) and FINRA. You can also purchase shares of the trading platform which is listed on the NASDAQ.
Fidelity is regulated by multiple financial authorities such as FINRA, the SIPC, and the SEC or Securities and Exchange Commission. Additionally, Fidelity is a New York Stock Exchange member, which means that it also falls under the NYSE set of regulatory standards.
Being a privately owned firm buying or selling Fidelity stock is out of the question. The SIPC insures investment account funds while the FDIC covers bank accounts. The SIPC covers anything up to $500,000 in terms of securities and $250,000 in terms of cash for each account.
Fidelity vs TD Ameritrade vs eToro
This Fidelity vs TD Ameritrade review has looked at all the elements there are to help you gain a better understanding of the two trading platforms. We reviewed tradable markets, payment types, customer service, fees, regulation, safety, and more. With this in mind, you should now be able to make an informed decision as to which broker is best tailored for your trading needs.
With that said, after conducting a thorough eToro review, we found that eToro is by far the better trading platform of the other two brokers in question. eToro allows you to buy and sell stocks, ETFs, and cryptocurrencies. eToro also supports automated trading services, as well as copy trading and essentially – its fees are more competitive.
| | |
| --- | --- |
| Fee | Amount |
| Stock trading fee | Free |
| Forex trading fee | Spread, 2.1 pips for GBP/USD |
| Crypto trading fee | Spread, 0.75% for Bitcoin |
| Inactivity fee | $10 a month after one year |
| Withdrawal fee | $5 |
Fidelity vs TD Ameritrade – The Verdict
To summarize, both Fidelity and TD Ameritrade are incredibly popular brokers – and for good reason. For example, both platforms allow you to buy shares and options commission-free, both are simple and straightforward to use, and both offer a wide variety of instantly processed payment options.
When it comes to deciding between Fidelity and TD Ameritrade our review found that either brokerage firm offers a variety of features and tools to meet any trader's needs. This is because of a number of reasons. Firstly, they offer very low trading costs such as free stock and ETF trading, they have fully-fledged desktop trading platforms and top-rated customer support.
But, if you're a trader searching for an automated stock trading platform, forex trading platform, or Bitcoin trading platform, eToro has everything covered. eToro is a broker that you can fully rely on to meet your trading needs then eToro is by far the best option for you. eToro is the world's top social trading platform that is home to more than 20 million users.
The minimum deposit on eToro is just $200 and you start trading from $25+. When it comes to the types of tradable assets, eToro supports multiple asset classes. eToro supports 2,400 stocks throughout 17 diverse markets. For instance, traders can purchase shares in companies based all over the world as well as tons of European exchanges.
In addition, eToro gives its traders access to more than 250 ETFs and 16 cryptocurrencies. If you're looking for a commodity trading platform, eToro supports an array of options. Similarly, if you're interested in forex trading, eToro also offers a huge forex trading facility. Simply put, all financial markets at eToro come with zero-commission trading. There aren't any ongoing fees that make eToro a perfect social trading platform for beginners and those seeking a low-cost provider.
eToro also stands apart from the crowd in that it is a day trading broker that offers 0% commission on stocks as well as its copy trading feature. If you are looking to take your first steps into the online trading markets, copy trading is a great place to begin. Copy-trading gives new traders the opportunity to learn from advanced investors.
eToro – Best Trading Platform with 0% Commission to Trade ETFs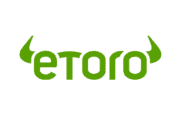 Your capital is at risk. Other fees apply. For more information, visit etoro.com/trading/fees.
FAQs
Who bought TD Ameritrade?
How does Fidelity make money?